Buffalo Hasselback Potatoes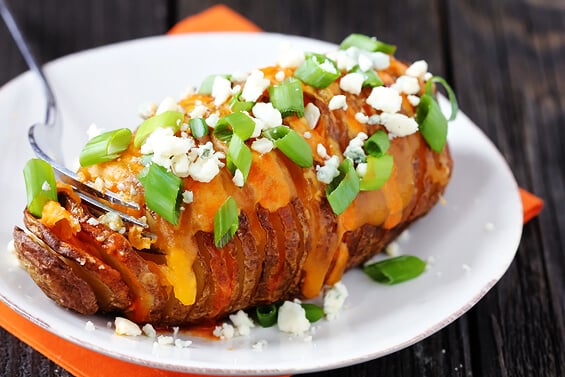 Ok, I've been itching to try the whole hasselback potatoes trend ever since they blew up on the blogosphere awhile back.  So today I decided to whip out some hot sauce and try making some Buffalo Hasselback Potatoes!
I admit.  As much as I like playing with food, I've always been iffy about all of the slicing involved in hasselback potatoes.  But seriously, people, it took less than a minute per potato.  WAY easier than expected!!!  Then baked them up and topped them with some cheddar and blue cheese (you can choose one or both), some green onions, and lots of buffalo sauce, and holy moly.  The experiment worked.  These were fantastic!!!
Loved all of that classic buffalo flavor with the spuds, and much to my surprise the potatoes didn't dry out either!  They were nice and crispy on the outside, and cooked and soft on the inside.  And of course, bursting with buffalo goodness.  Next time I think I may try them with some smaller Yukon or red potatoes to serve them more as little bite-size appetizers, but these definitely make a fabulous side dish.  Or main dish.  You choose.  ;)
I guess the fad was popular for good reason.  Give these a try!!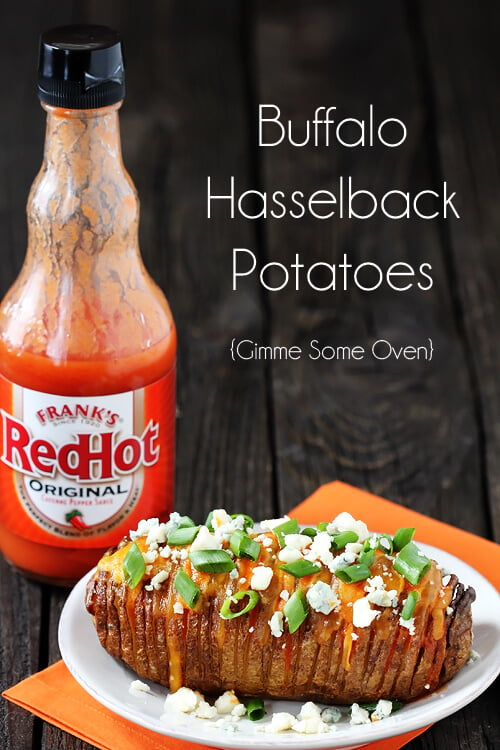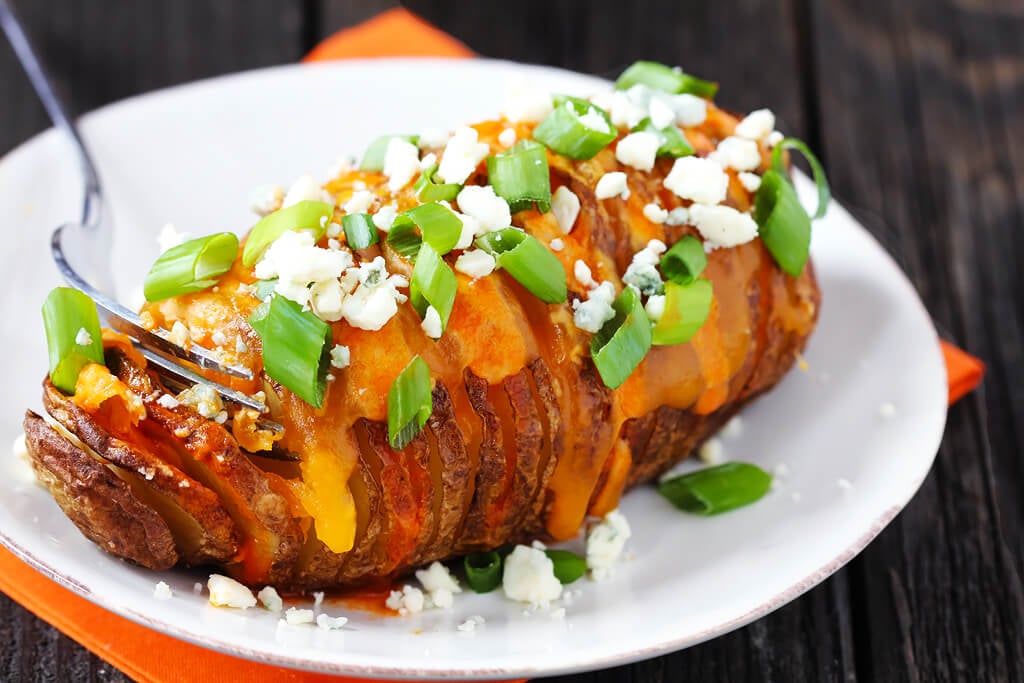 Buffalo Hasselback Potatoes
Hasselback potatoes "go buffalo" in this spicy and delicious recipe!
Ingredients:
4 baking potatoes (I used Russett), well-scrubbed
4 Tbsp. melted butter or olive oil
sea salt and freshly-cracked pepper
4 Tbsp. hot sauce (I used Frank's)
1 (additional) Tbsp. butter, melted
1 cup shredded cheddar cheese
1/2 cup crumbled blue cheese
1/2 cup thinly-sliced green onions
Directions:
Preheat oven to 425 degrees.
To slice your potatoes, make sure first that they are each laying nice and flat without wobbling. You may need to cut off a thin slice on the bottom to even them out. Then take a sharp paring knife and begin to make vertical cuts along the potato, about 3mm apart, and cutting 3/4 of the way down the potato (nearly to the bottom). Try to keep the cuts fairly even, but if you accidentally cut off a slice, it's not the end of the world! Just squeeze the pieces back together. ;)
Once you have cut the potatoes, brush the outsides of each potato liberally with the melted butter (or olive oil). Try to also gently open a few of the slits to get some butter down in there. Then sprinkle some salt and pepper all over the potatoes, and lay them out on an aluminum-foil-covered baking sheet. Bake for about 60-70 minutes, removing 2-3 times during baking to re-baste with the butter that will collect on the bottom of the baking sheet. Bake until the centers of the potatoes are cooked, and the edges are slightly crispy and a little wilted around the edges. The potatoes will fan open a bit during cooking.
While the potatoes are cooking, whisk together the hot sauce and additional tablespoon of melted butter to make your buffalo sauce.
Once the potatoes are remove them and immediately sprinkle with shredded cheddar cheese. Then drizzle with the buffalo sauce as much as you would like. Garnish with the crumbled blue cheese and sliced green onions. Serve immediately.
All images and text ©
If you make this recipe, be sure to snap a photo and hashtag it #gimmesomeoven. I'd love to see what you cook!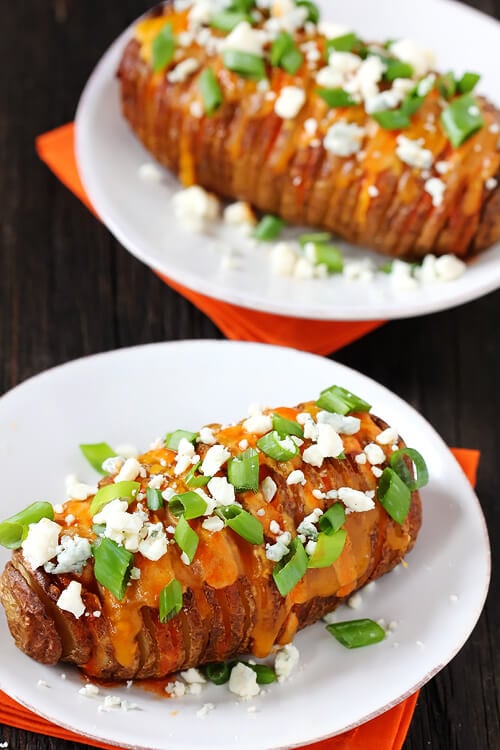 Ali's Tip:
These would also be wonderful topped with some crisp bacon, or buffalo chicken!