Butternut, Bacon, Spinach and Feta Pizza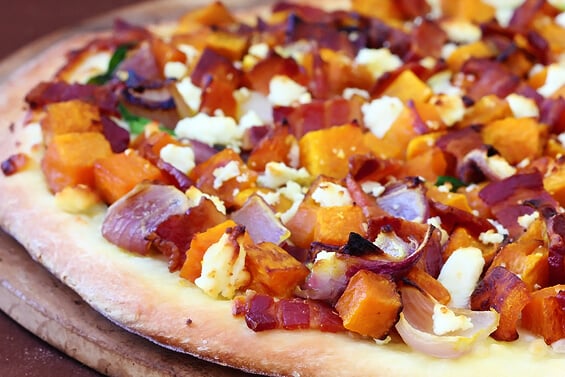 Many of you know that I was a super-picky eater growing up.  But one of my absolutely-positively-no-good-very-bad "foods" to avoid was….dum dum dum…crust.  Oh my goodness.  I avoided it like the plague, which happened to drive my Grandma Ebright crazy.  The more I picked it off of my toast, my pizza, the bottom of my rolls, and the edge of my brownies…the more determined she became in her mission to convince me otherwise.  We would have lengthy discussions about how the crust was made from the "same ingredients" as the yummy, soft center of my toast.  And of course about how it was "never good to waste food".  She even persuaded a gullible, straight-haired little me that eating crust would make my hair curly!  (Which briefly "worked", until a question to my hairdresser set the record straight!)
Thankfully, the pendulum eventually swung, and I became a total crust-loving foodie.  And Grandma's disapproving looks eventually turned to amusement at family gatherings as she watched me choose the end of a loaf of bread, or finish off entire pieces of pizza, or even (gasp!) show her pages from my food blog.  I still think of her every time I bite into a slice of toast though.  :)  Love and miss her.
Athenos (the maker of some rockin' feta) has recently introduced a new grandma character of their own — Yia Yia.  She's the quintessential traditional Greek grandmother who's not always the most approving, but her love for family and the quality, simple, fresh ingredients in Athenos is strong.  Which totally rang true when I used their feta in this a-mazing autumn pizza.  It combines the butternut squash and bacon combination I used in one of my favorite pasta recipes with some fresh spinach, red onions, and yummy feta.  And holy cow.  I took some to the guys in my band to taste-test, and even they (who called it a "girly" pizza before trying it) gave it a big thumbs up.  No sauce or herbs needed.  The ingredients make this pizza fantastic….crust and all.  :)
So in honor of Yia Yia and my grandma (who nurtured and set the example in our family of an incredible love of reading!), we are giving away one $50 Amazon gift certificate this week.  You can use it to buy a pizza stone, cookbooks, music for dancing in the kitchen, or even a pro-crust brownie pan…you name it!  The winner will also receive coupons for free Athenos feta, and a fantastic serving platter and utensils.  Read below for details and enter to win!
***This giveaway is now closed.  Congratulations to our winner, KellyBeth!***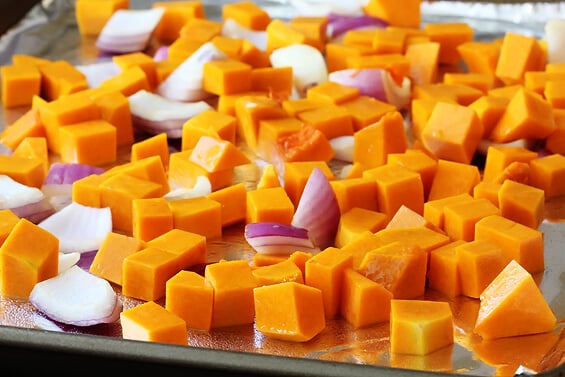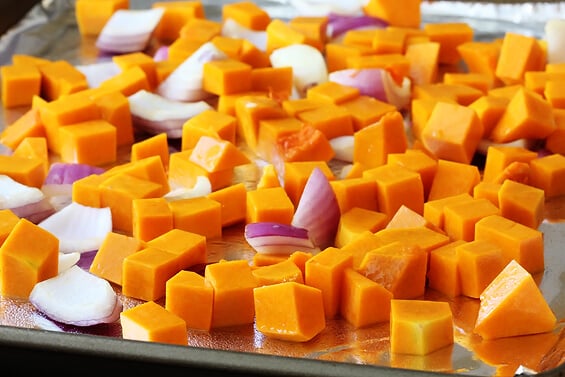 Butternut, Bacon, Spinach & Feta Pizza
You will love this delicious Butternut, Bacon, Spinach and Feta Pizza recipe! It's comforting, delicious, flavorful and easy to prepare.
Ingredients:
1 butternut squash, peeled, cored and diced into 1/2″ cubes
1 small red onion, peeled and quartered
4 Tbsp. olive oil
kosher salt and freshly-ground black pepper
1 medium pizza crust
1 cup shredded Mozzarella cheese
2 cups loosely-packed baby spinach
6 slices lean bacon, cooked and diced into 1/2″ pieces
1/3 cup crumbled ATHENOS feta cheese
Directions:
Preheat the oven to 400°F (200°C). In a large bowl, toss together the butternut squash, onion, and 2 tablespoons olive oil, then spread the mixture in a single layer on a baking sheet. Season with salt and pepper. Roast in the oven for about 30 minutes, stirring and turning the vegetables about halfway through.
Brush the remaining 2 tablespoons olive oil over the top of the pizza crust. Leaving a 1″ border for crust, toss the Mozzarella cheese evenly over the center of the crust. Layer with spinach, then bacon, and the squash/onion mixture (breaking up the onions if needed). Then sprinkle the top with feta cheese.
Bake pizza according to recipe/package instructions. Or bake for 10-12 minutes, until crust is slightly golden and the Mozzarella is melted. Slice and serve immediately.
All images and text ©
If you make this recipe, be sure to snap a photo and hashtag it #gimmesomeoven. I'd love to see what you cook!
Ali's Tip:
If butternut squash is not in season, this would also be delicious with sweet potatoes!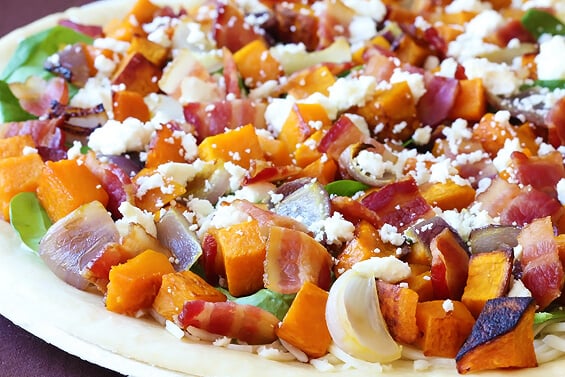 $50 Amazon Gift Certificate Giveaway
Giveaway Prizes:
$50 gift certificate to Amazon.com
Serving platter and serving utensils
5 free coupons for ATHENOS feta
Entry requirements:
How to Enter: Leave a comment on this page mentioning a story about a favorite Yia-Yia figure in your life, or your favorite way to use ATHENOS feta cheese.
Required: You must include your email address in the comment form. I will need it to contact you should you win.
Deadline: October 10, 2011 at 11:59pm Central Time
2 Opportunities for extra entries:
Twitter: Copy this exact text into a tweet, and then post a link to your tweet in a comment below — "Enter to win a $50 Amazon gift certificate from @athenos at @gimmesomeoven this week! http://bit.ly/o4AZMA #giveaway #recipes
Facebook: "Like" Gimme Some Oven on Facebook, and leave a comment here saying you have done so.
Facebook: "Like" Athenos on Facebook, and leave a comment here saying you have done so.
~~~~~~~~~~~~~~~
The Fine Print: No purchase necessary to enter. Winner will be selected at random by Gimme Some Oven using Random.org.  Entries that do not follow the entry requirements will not be considered. Winners will be notified via email and will have 48 hours to confirm receipt of the email. If the winners do not reply within 48 hours, another winner(s) will be selected. Giveaways will be mailed to the winners' address.  This post is sponsored by Athenos. Kraft Foods is providing the prizes for this program at no cost to me.  However, my opinions are entirely my own and I have not been paid to publish positive comments toward Athenos products.  This program is not administered or sponsored by Kraft Foods or its affiliates, but solely by Gimme Some Oven.
***This giveaway is now closed.  Congratulations to our winner, KellyBeth!***