Butterscotch Birds' Nests (or "Haystacks")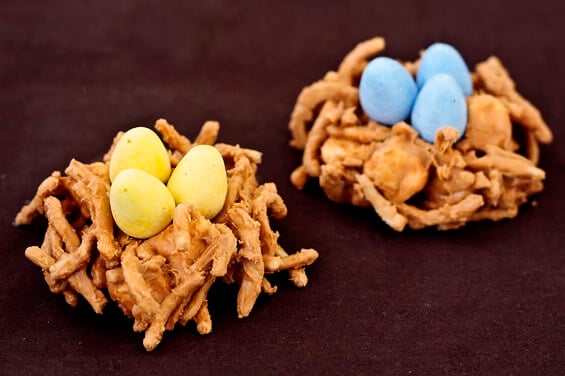 For some reason, my neighborhood grocery store decided to place their Easter candy aisle this year smack in the middle of….the produce section.
Surprising?  Yes.  Brilliant marketing?  I'm beginning to think so.  :)
Needless to say, somehow I came home with an assortment of gorgeous little fruity and chocolate eggs.  But rather than just sit in a candy bowl (where they're certain to disappear instantly at our house), I decided to get a tiny bit crafty and whip up some of my favorite no-bake cookies to go with them.
Commonly known as "haystacks" (in the fall) or "birds' nests" (in the spring), these little cookies have been a favorite ever since I was a kid.  With just four ingredients (or five if you count the chocolate), they're guaranteed to be super easy, super sweet, and SUPER delicious!  They're a great project as well for kids, since they don't need to go in the oven, and they're fun to mix up.
But just know — if you love butterscotch, it's nearly impossible to have just one!  :)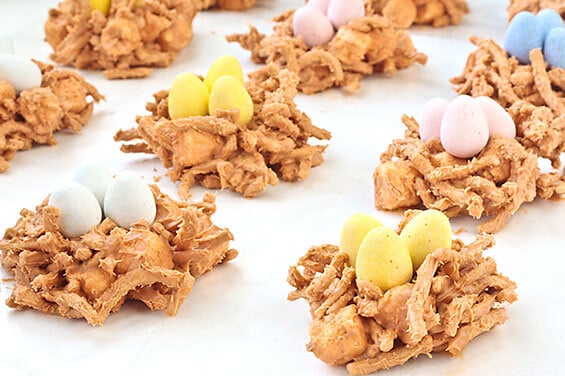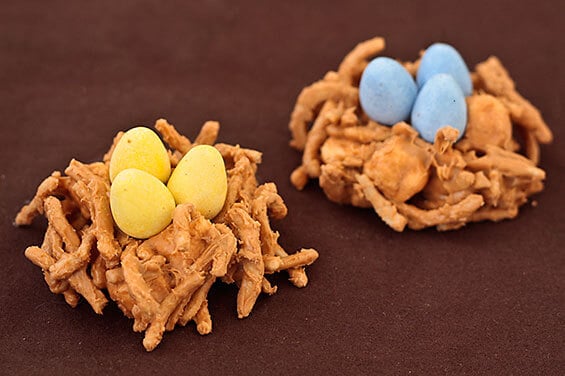 Butterscotch Birds' Nests (or "Haystacks")
You will love this Butterscotch Birds' Nests (or "Haystacks") Recipe! Such a creative and sweet treat to celebrate Easter with little ones!
Ingredients:
1 (12 oz.) bag butterscotch chips
1 cup peanut butter
2 cups miniature marshmallows
6 oz. chow mein noodles
candy eggs, for decor (optional)
Directions:
Line a cookie sheet (or two) with waxed paper.
In a microwave-safe bowl, carefully heat the butterscotch chips until they are melted. (I generally microwave for 30 seconds, then stir. And then continue heating/stirring in 10-20 second intervals until the chips are melted. Be careful that they do not burn!)
Then stir in the peanut butter, and mix until it is melted and the mixture is smooth. Add the chow mein noodles and marshmallows and continue stirring until everything is evenly coated.
Drop by spoonfuls onto the waxed paper. Let cool until they are hardened.
**If you are wanting to make the birds nests, carefully press down the center of the cookies as soon as you drop them onto the wax paper. And then gently lay your candy eggs in the center. Let cool until they are hardened.**
Recipe from my mom.
All images and text ©
If you make this recipe, be sure to snap a photo and hashtag it #gimmesomeoven. I'd love to see what you cook!
Ali's Tip:

Feel free to add in any nuts and/or coconut to these cookies too.  They also taste great made with melted white chocolate or semi-sweet chocolate chips as well!