Cacio e Pepe
This traditional Cacio e Pepe recipe only takes about 20 minutes to make, with 4 easy ingredients.  It's the perfect impromptu recipe for pasta night!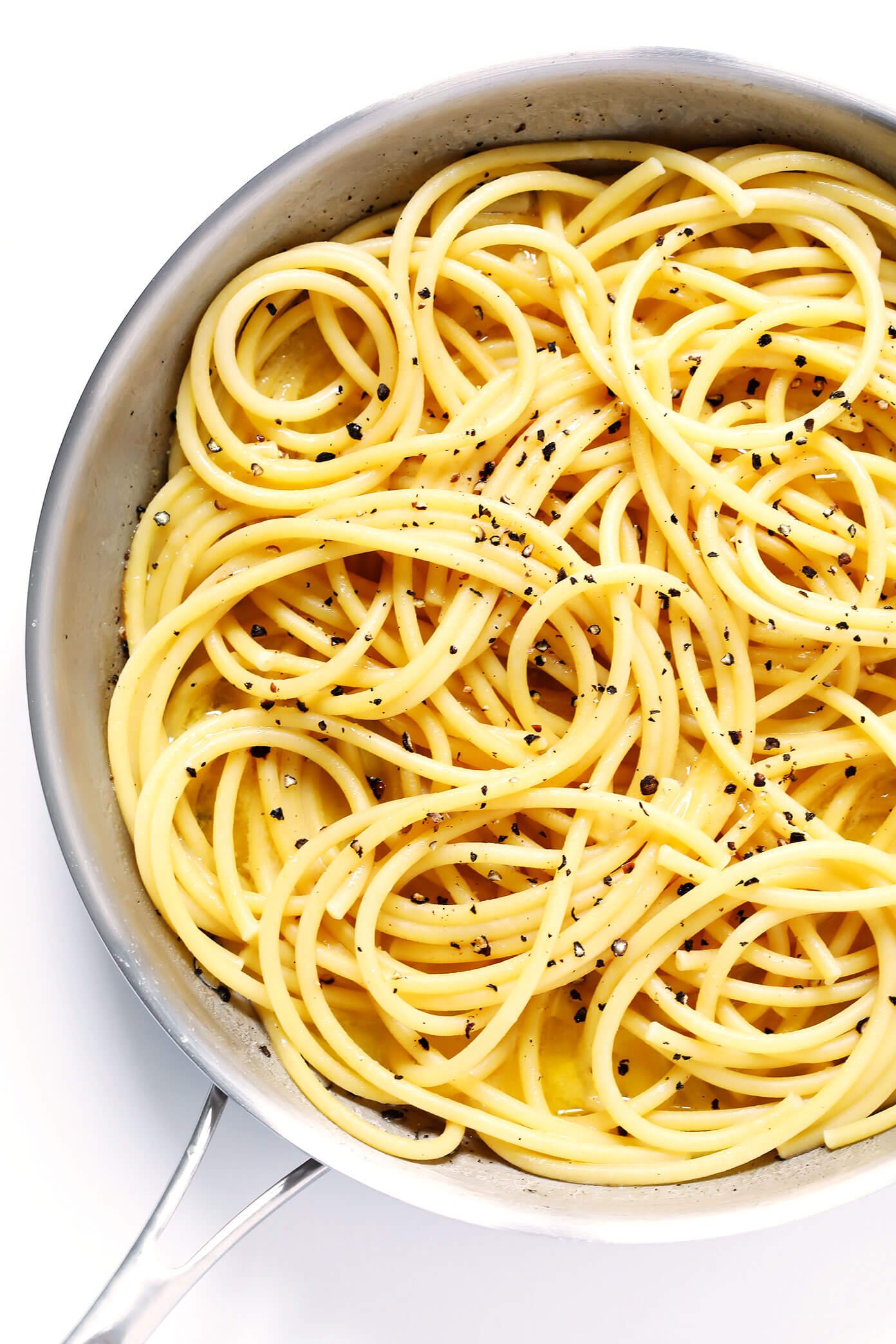 Friends!  Gather round.  It's time that we have a heart-to-heart today about the magical pasta recipe that's nearest and dearest to mine.
Classic cacio e pepe. ✨✨✨
As any of you who follow along on Instagram well know, Barclay and I have a bit of a thing for this classic Roman pasta.  We make it (ahem, at least) once a week.  Usually with an enormous salad, a bottle of rioja, and a side of Netflix — a combo that we wholeheartedly recommend.  Usually on whichever day of the week feels the craziest, since it's easy to whip up in just 20 minutes, and calls for 4 simple ingredients that we always have on hand.  And usually — well, let's make that always — it totally hits the spot.
Anyway, after posting a little step-by-step video for how to make cacio e pepe recently on Instagram stories, I got a flood of comments from you all asking for my exact recipe.  Ha, which I admittedly totally did not have.  It has always been one of those improvised add-a-little-of-this-then-maybe-a-little-more-of-that kind of meals for me.  But, this week, I pulled out my measuring cups and legit measured everything and snapped some photos to share with you.  So at the risk of adding one more cacio e pepe recipe to the thousands already online, I humbly present to you my tips for how to make some stellar cacio e pepe.
Fair warning.
It's just about the easiest and most delicious thing ever.
Cacio e Pepe Recipe | 1-Minute Video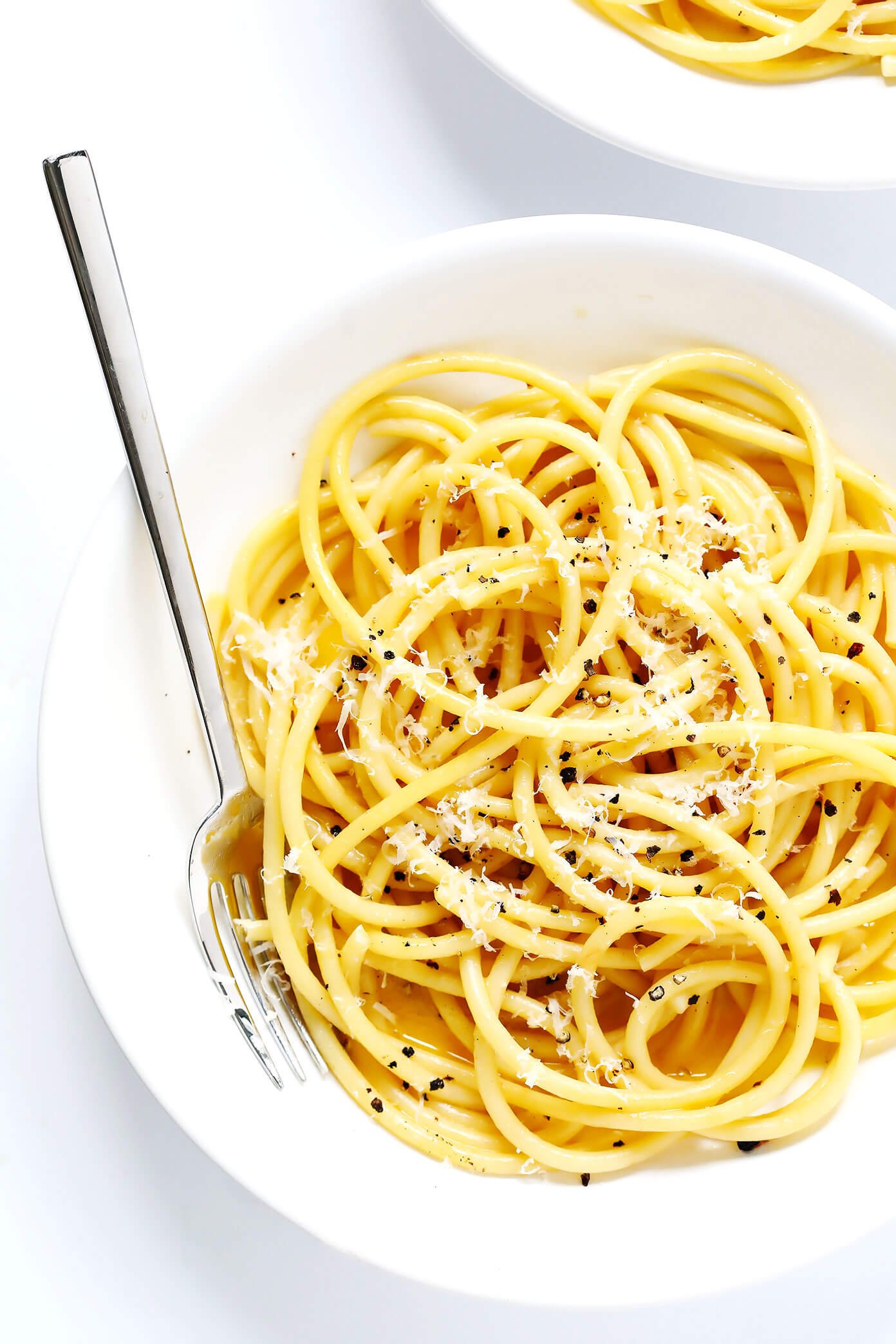 What Is Cacio e Pepe?
Ok, so first things first — what exactly is cacio e pepe?
Literally translated, it means "cheese and pepper" pasta.  Traditionally, that has included Pecorino (or Parmesan) for the cheese, and loads of freshly-cracked black peppercorns for the pepper.  But instead of just sprinkling those on top, the cheese and pepper magically come together with the starchy pasta water and some butter (while the pasta is cooking) to form the most luxurious cheese sauce.  It's 4-ingredient magic.
Also, this Italian dish originated specifically in Rome.  And sure enough, when Barclay and I were there last month, we saw it listed on the menu literally everywhere.  We were more than happy to do lots of taste-testing "research".  (When in Rome, right?!)  But we were pleasantly surprised to find that — I think because the dish truly is so simple — our version tasted totally on par with all of the cacio e pepe we tried in Italy.  Win-win!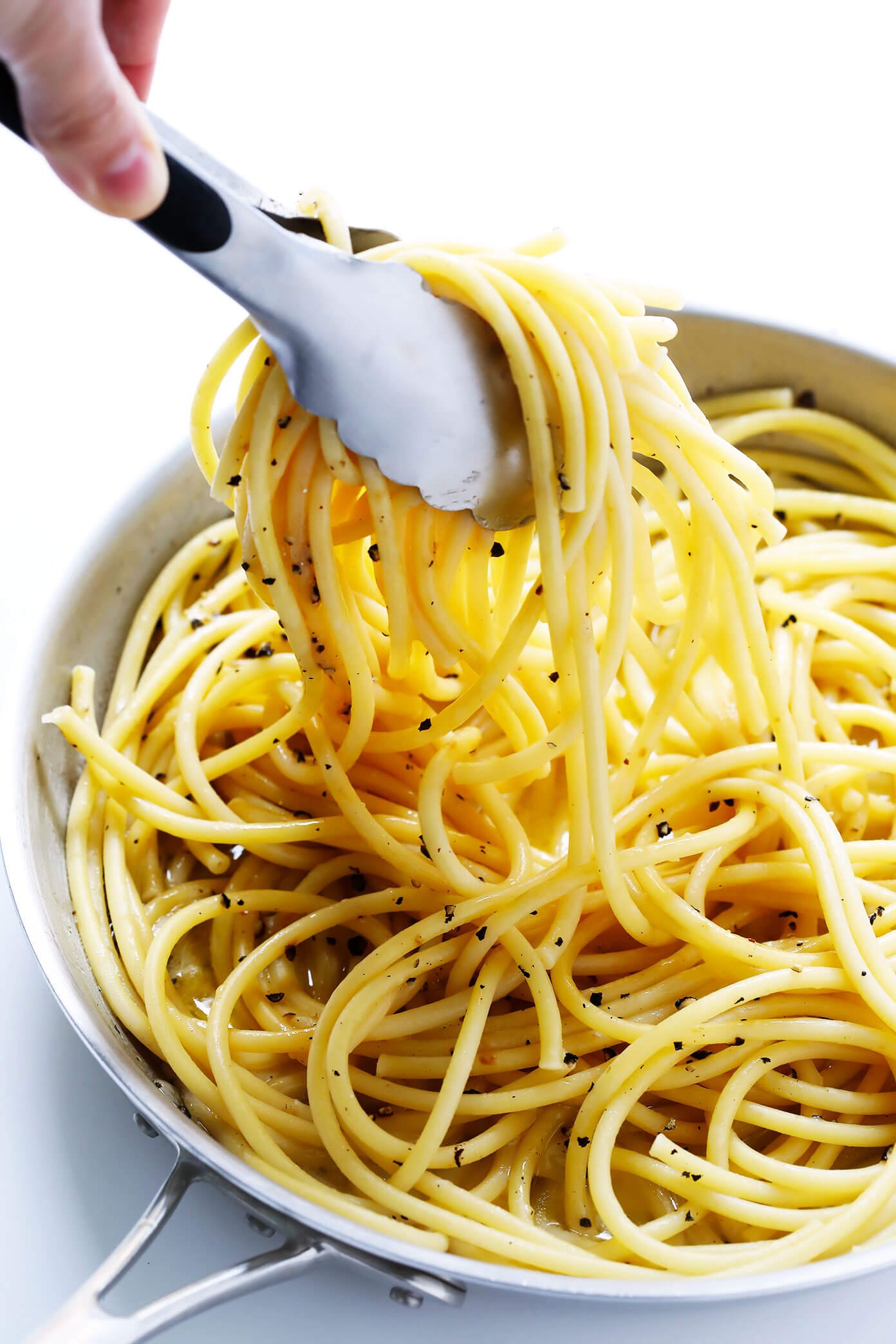 Cacio e Pepe Ingredients:
So what are the four magical ingredients in Cacio e Pepe?  You'll need:
Pasta: Noodles are traditional for this dish, but really any shape of pasta will work.  We usually use bucatini, spaghetti or linguine.
Pecorino or Parmesan: A good, aged Pecorino cheese is also traditional in cacio e pepe.  But we often make ours with Parmesan (or a blend of the two) when we don't have Pecorino on hand.  Major note about cheese though — you must-must-must use freshly-grated cheese for this dish.  The pre-grated stuff in the refrigerated section (or in that famous green jar) won't melt well into this sauce, and will instead make it all clumpy and weird.  Trust me.  Freshly grated for the wine.
Freshly-cracked black pepper: I really love a nice coarse grind for cacio e pepe, but we did note that in Rome, almost everyone used a really fine grind.  Up to you!  If you do use a finer grind, note that you will not need to add quite as much pepper.  And again, freshly ground pepper will taste worlds better here.
Butter: I like to use butter in the sauce for extra flavor, but you could also sub in olive oil if you prefer.
Also, you'll need lots of water to cook the pasta, generously-seasoned with sea salt (which will help add to the flavor of the sauce).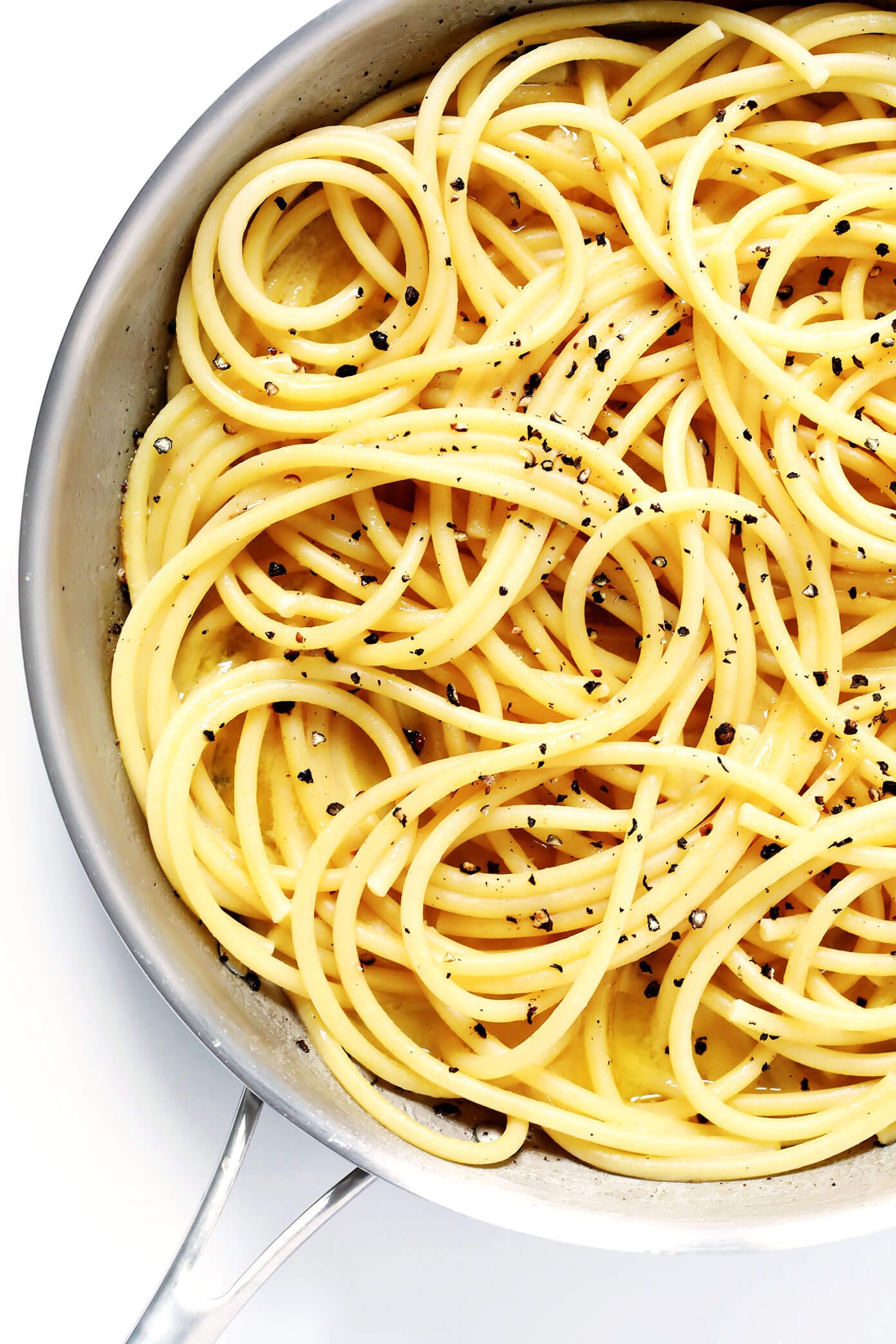 How To Make Cacio e Pepe:
Of course, you could make a delicious meal simply by tossing some pasta with butter and Parmesan.  But the secret to cacio e pepe is all in this classic method.  Simply…
Cook your pasta.  In a large stockpot full of generously-salted water (<– read this for how much salt to use!), boil your pasta until it just barely al dente.  You want to avoid over-cooking the pasta here since it will cook a bit more in the pan with the sauce.

Edited to add: I've had a few of you recommend cooking the pasta in considerably less water than usual so that it's extra starchy.  Then when you add that water to the sauce, it will help prevent the sauce from clumping.

Then meanwhile, make your sauce.  Multitasking!  At about the same time that you add the pasta to the boiling water, add your butter to a large sauté pan (large enough to hold the pasta) and melt over medium-heat.  Then add in your black pepper and let it cook for another minute or so.  Then very carefully, scoop out about 1/2 cup of the starchy hot pasta water and add it to the butter mixture, which will immediately bubble up.  Give it a good whisk to combine.  Then remove pan from heat, wait for 3 minutes, add in the grated cheese, and whisk quickly until completely combined.
Combine the pasta and the sauce.  Then, once the pasta and sauce are ready to go, reserve an extra 1/2 cup of starchy pasta water from the stockpot and set it aside.  Strain your pasta completely, and let it rest for 2-3 minutes to cool off a tiny bit.  Then add half of your pasta to the sauce, give it a good toss, add the remaining, and toss until combined.  The heat of the pasta will help to melt the cheese and form that silky, luxurious sauce.  That said — if the sauce starts to look a little dry, don't hesitate to add in a splash or two of that reserved starchy pasta water.

Edited to add: In order to help prevent clumping, you want to avoid having both the pasta and the sauce be too hot when they are combined.  Otherwise, the cheese will overheat and clump together, instead of melting into the creamy sauce.  So be sure that both your sauce and pasta (and any additional starchy pasta water that you add) have cooled off just a bit before tossing them together.

Then…serve!  I recommend topping yours with a little extra cheese and pepper.  Because…cacio e pepe.  ;)
See?  So easy!!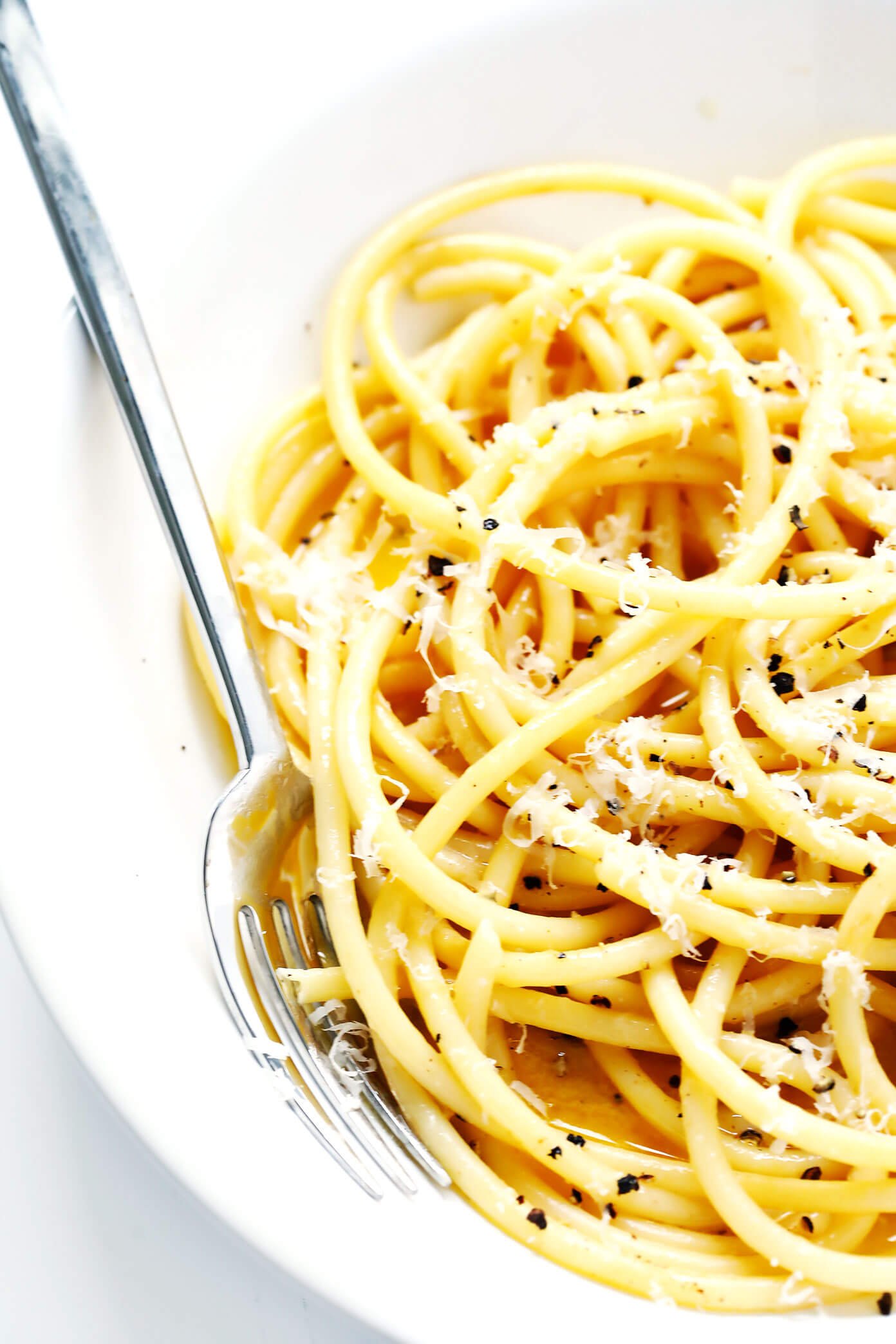 Cacio e Pepe Variations:
That said, as much as we love the classic 4-ingredient recipe, cacio e pepe is easy to customize with add-ins.  Some of our faves include:
garlic
crushed red pepper flakes
greens (wilted spinach, kale, collards, etc.)
veggies (zucchini, mushrooms, asparagus, and roasted red peppers are a few of our faves)
proteins (I love occasionally adding some bacon or shrimp to this)
a sprinkle of nuts (pine nuts, walnuts, etc.)
That said, more often than not, we usually stick to the classic recipe and just serve veggies and salads and proteins (if any) on the side.  But feel free to customize this dish and make it your own!
Bottom line, if you're new to cacio e pepe, I just highly recommend giving it a try.  You may just end up with a weekly cacio e pepe tradition yourself.  ;)
Cacio e Pepe
This traditional Cacio e Pepe recipe only takes about 20 minutes to make, with 4 easy ingredients.  For extra flavor, feel free to sauté 2 cloves minced garlic in the butter along with the black pepper.
Ingredients:
8 ounces pasta (I recommend bucatini, spaghetti, or linguine)
3 tablespoons butter
1 teaspoon freshly-cracked, coarse black pepper
1 1/3 cups freshly-grated* Pecorino or Parmesan cheese (or a mix)
Directions:
Cook pasta in boiling generously-salted water according to package instructions, until it is just barely al dente.  (Again, just want to emphasize that it's important that your pasta water is well-salted, since this will help to flavor the sauce as well as the pasta itself.  I also recommend cooking the pasta in less water than usual, so that the water is extra-starchy.)
Meanwhile, melt the butter in a large sauté pan over medium heat.  Add the pepper, and cook for 1 minute.  Then ladle out about 1/2 cup of the boiling starchy pasta water, and slowly add it to the melted butter mixture.  (Be careful, it will bubble up vigorously when added.)  Whisk until combined.
Remove pan from heat, and let it rest for at least 3 minutes.  Gradually add in the cheese, and whisk until combined.
Once the pasta is ready to go, reserve an extra 1/2 cup of starchy pasta water from the stockpot and set it aside.  Strain your pasta completely, and let it rest for 2-3 minutes to cool off a tiny bit.  Then add about half of your pasta to the sauce, give it a good toss, add the remaining pasta, and toss until completely combined, adding in a splash of the reserved pasta water if needed if the sauce starts to seem dry.  Taste, and season with extra salt, if needed, and toss to combine.
Serve warm, garnished with extra cheese and pepper.
*Freshly-grated cheese in this recipe is a must.  If you use the pre-grated cheese, it will not melt well into this cheesy sauce.  So grab a block of cheese and a grater, and you should have plenty of time to make it happen while the pasta water comes to a boil.
Also, I've received some comments from readers who have had trouble with their cheese clumping.  To help prevent that, I recommend:
Using freshly-grated cheese that is grated as finely as possible.
Using less water while cooking your pasta, so that it is extra starchy (this will help the cheese sauce come together)
Resting both your cheese sauce and cooked pasta off the heat for at least 2-3 minutes after cooking (before combining the sauce and pasta) so that they can cool off slightly, and not overheat the cheese.
If it still continues to clump, you can try tossing the cooked pasta and cheese sauce together in a separate serving bowl, to minimize the heat.
All images and text ©
If you make this recipe, be sure to snap a photo and hashtag it #gimmesomeoven. I'd love to see what you cook!