Cajun Chicken Pasta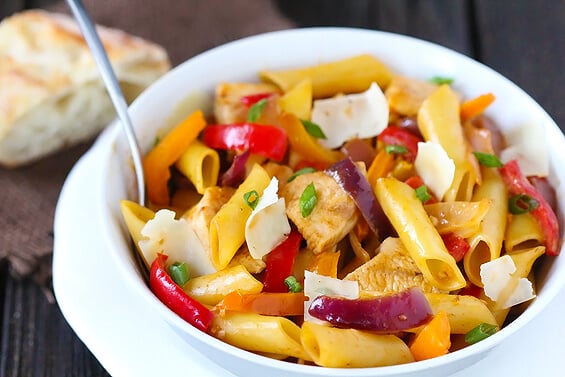 A few weeks ago on a rainy evening, I randomly bumped into an old roommate at Target.  And, yes, pretty sure we were those people who stood there right in the middle of the hustle and bustle of carts catching up on our life stories for an hour.  It was so great to see her!  But sure enough, when there was still more to share and the store was nearing closing time, the conversation came to — "We should do dinner!"
So this week we did!  I invited some of the old crew to also come along, and we all spent an evening together at my place sharing a wonderful meal together, some of our favorite nostalgic wines from back in the day, and hours upon hours of conversation about the joys and answered prayers from the past year, some tearful honest moments about the lows, hilarious dating stories for better and worse, cheers over a new engagement, and endless hilarity and laughs.  I love these friends!
This post, of course, is about the meal I served — Cajun Chicken Pasta.  Well actually, I served them Cajun Shrimp Pasta, but (as often happens in blog world) I didn't get time to snap photos before they arrived.  And later this week, I was seafood-ed out.  So I remade this with the classic chicken, which reminds me of an old dish I used to have at Chili's as a kid!
Once again, the sauce somehow mysteriously didn't show up in the photo.  But I promise it's there, and it's super Cajun-y tasty!  And while it does call for cream, it doesn't include much cream.  So I would go so far as to say that it's a little lighter than many creamy Cajun sauces.  Regardless, definitely a fabulous recipe that my friends all raved about, and I happily enjoyed even for the second time in a week.  I think you'll enjoy it too!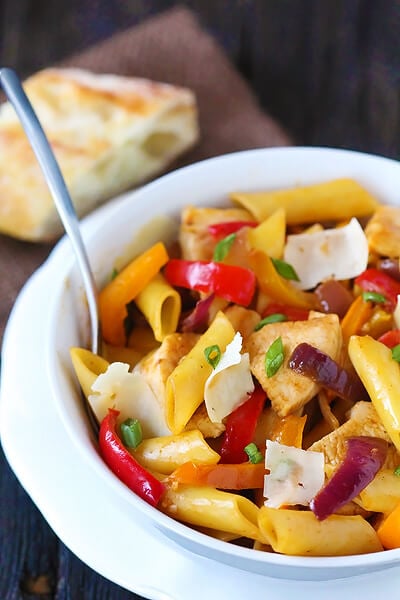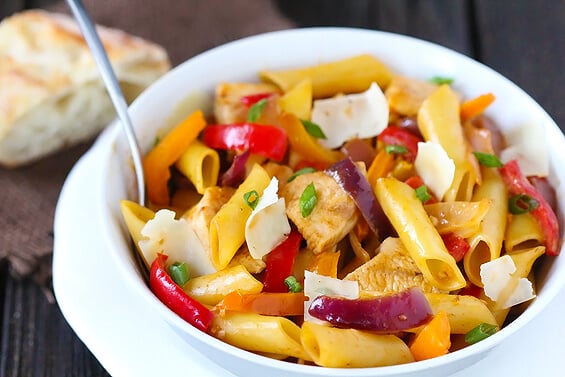 Cajun Chicken Pasta
Classic Cajun Chicken Pasta, made with a heavenly Cajun cream sauce.
Ingredients:
3 Tbsp. olive oil
2 boneless skinless chicken breasts, sliced thin
2 1/2 Tbsp. Cajun seasoning, divided
3 small bell peppers, cored and thinly sliced (I used a red, orange and yellow bell pepper)
3 roma tomatoes, diced
1 medium red onion, peeled and thinly sliced
3 cloves garlic, minced
1 Tbsp. butter
1 Tbsp. flour
1/2 cup dry white wine
1 cup chicken stock
1/2 cup heavy cream (or you can reduce to 1/4 cup)
pinch of cayenne pepper
12 oz. dried pasta of your choice (I used penne), cooked in generously-salted water until al dente according to package instructions
sliced or grated Parmesan cheese, for garnish
thinly sliced green onions, for garnish
Directions:
Heat 2 tablespoons olive oil in a large skillet over medium-high heat. Add the sliced chicken breasts and sprinkle evenly with 1 tablespoon of the Cajun seasoning. Give them a quick stir to combine. Then saute for 5-7 minutes, stirring occasionally, until chicken is cooked through and is no longer pink. Remove chicken with a slotted spoon and set aside in a large bowl.
Add an additional 1 tablespoon of olive oil, then add the bell peppers, tomatoes and onion. Saute for 5 minutes, stirring occasionally. Then add garlic. Continue sauteing for an additional 3-5 minutes until the edges of the veggies begin to brown just slightly. Transfer the veggies with a slotted spoon to the bowl with the chicken and set aside.
(I recommend adding the pasta to the boiling water at this point.)
Add the tablespoon of butter to the skillet, and once it is nearly melted, sprinkle the flour over it. Stir together to make a roux, and then cook for an additional minute, stirring occasionally. Add the white wine, and stir immediately to combine it with the roux, being sure to also scrape the brown bits on the bottom of the pan to grab that extra flavor. Let the wine reduce for 2 minutes, then add the chicken stock. Reduce heat to medium-low, and let simmer for 5 minutes to reduce. Add the cream, pinch of cayenne, and remaining 1 1/2 tablespoons of Cajun seasoning, and stir until combined. Season with additional salt and pepper if need be.
Add your cooked pasta, chicken and veggies to the sauce and stir until evenly combined. Serve the pasta garnished with Parmesan and sliced green onions.
Ali's Tip:
This is also fantastic when made with a pound of (shelled and deveined) shrimp! Just substitute it for chicken, and sauté it with the Cajun seasoning of medium-high heat until cooked and no longer translucent. We loved it!
All images and text ©
If you make this recipe, be sure to snap a photo and hashtag it #gimmesomeoven. I'd love to see what you cook!