Cajun Shrimp Alfredo Casserole
This Cajun Shrimp Alfredo Casserole is overflowing with zesty shrimp and veggies and rice, it's easy to prep in advance, and it's SO creamy and comforting and delicious.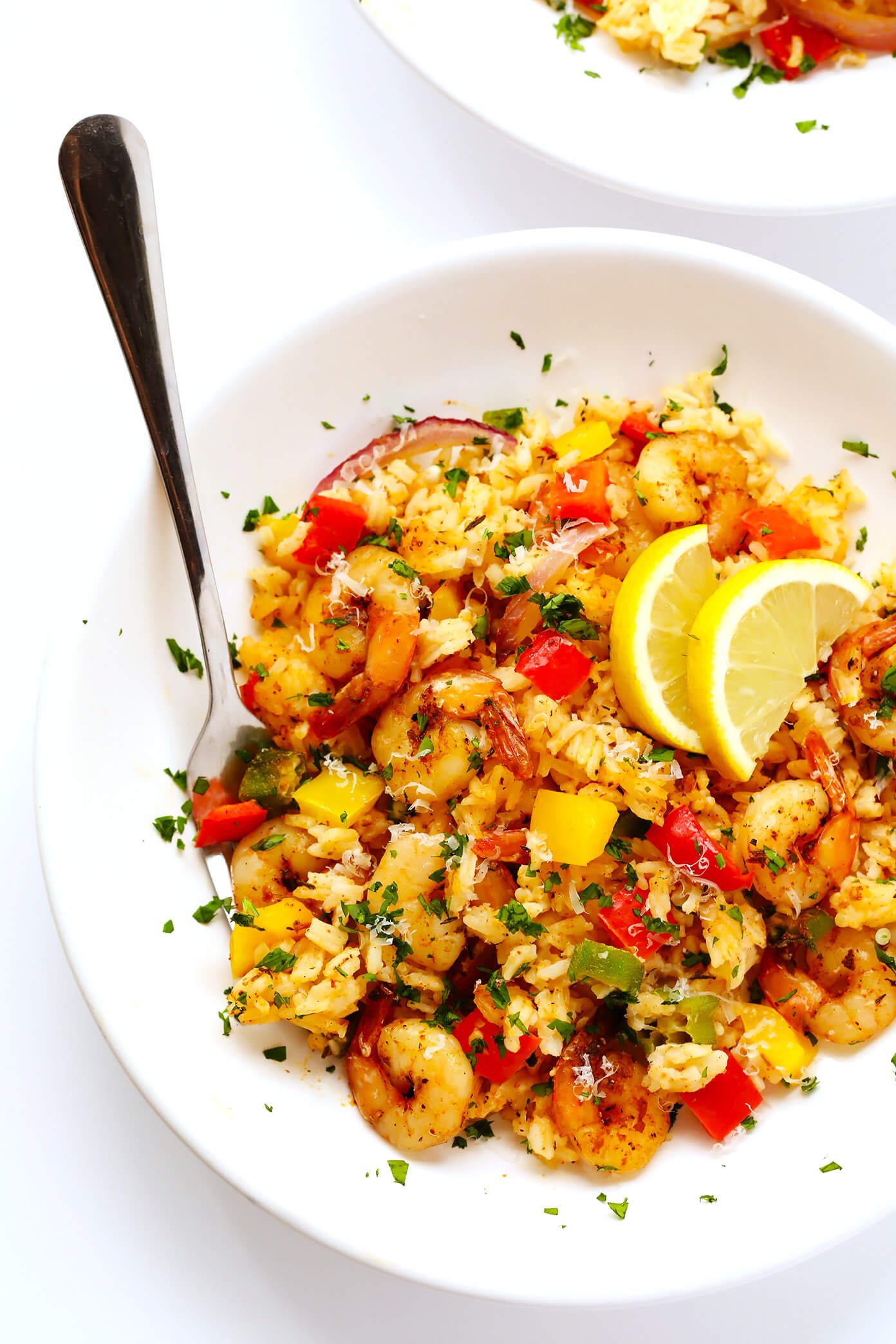 Hola from Barcelona!  🙋
Today marks two weeks that we've been living in Spain, and — oh man, you guys — we are absolutely loving it.  For a thousand reasons, this city just feels so magical…and exciting…and quirky, and delicious, and fun, and nuanced, and richly diverse, and alive, and literally full of surprises around every corner we turn.  And we are soaking up every minute of it.
That said, at two weeks in, I feel like it's a constant back-and-forthness each day between feeling like we're just on vacation here…and feeling like we actually live here.  😂
Probably about half of the time, it still just feels like we're here on this extravagant trip — wandering down charming new streets for the first time, Yelp-ing new restaurants to try, taking long walks on the beach (omg, the beach!!), hearing different languages spoken around us all day long, freaking out over all of the adorable twinkly lights and banners strung everywhere you turn.  But on the other hand, it's kind of amazing how half of the time, this place is already totally starting to feel familiar.  Like we really do live here!  From waking up each morning in the same cute little apartment to the sound of our neighborhood pigeons, to knowing the twisty-turny routes to our favorite market and coffee shop and yoga studio and El Corte Inglés now by heart, to speaking Spanish all day long, to getting a wave from Alejandro at the wine shop next door each time we take our dogs out for a walk.  In two short weeks, it's kind of amazing how natural this place already feels.
Without a doubt, though, we've agreed that are two things that make this place feel like we actually live here more than anything — having our pups here, and cooking here.  I don't know about you all, but there's always been something so grounding for me about going to the market, bringing home groceries, and actually cooking a homemade meal that always makes a new place feel more like home.  And while our tiny kitchen here still only boasts the single sauté pan and saucepan that it came with — plus an Instant Pot, which I'm thrilled to say just arrived from Spanish Amazon — Barclay and I have already had lots of fun cooking dates putting them to use.
One of our favorite recipes so far?  This zesty and comforting Cajun Shrimp Alfredo Casserole.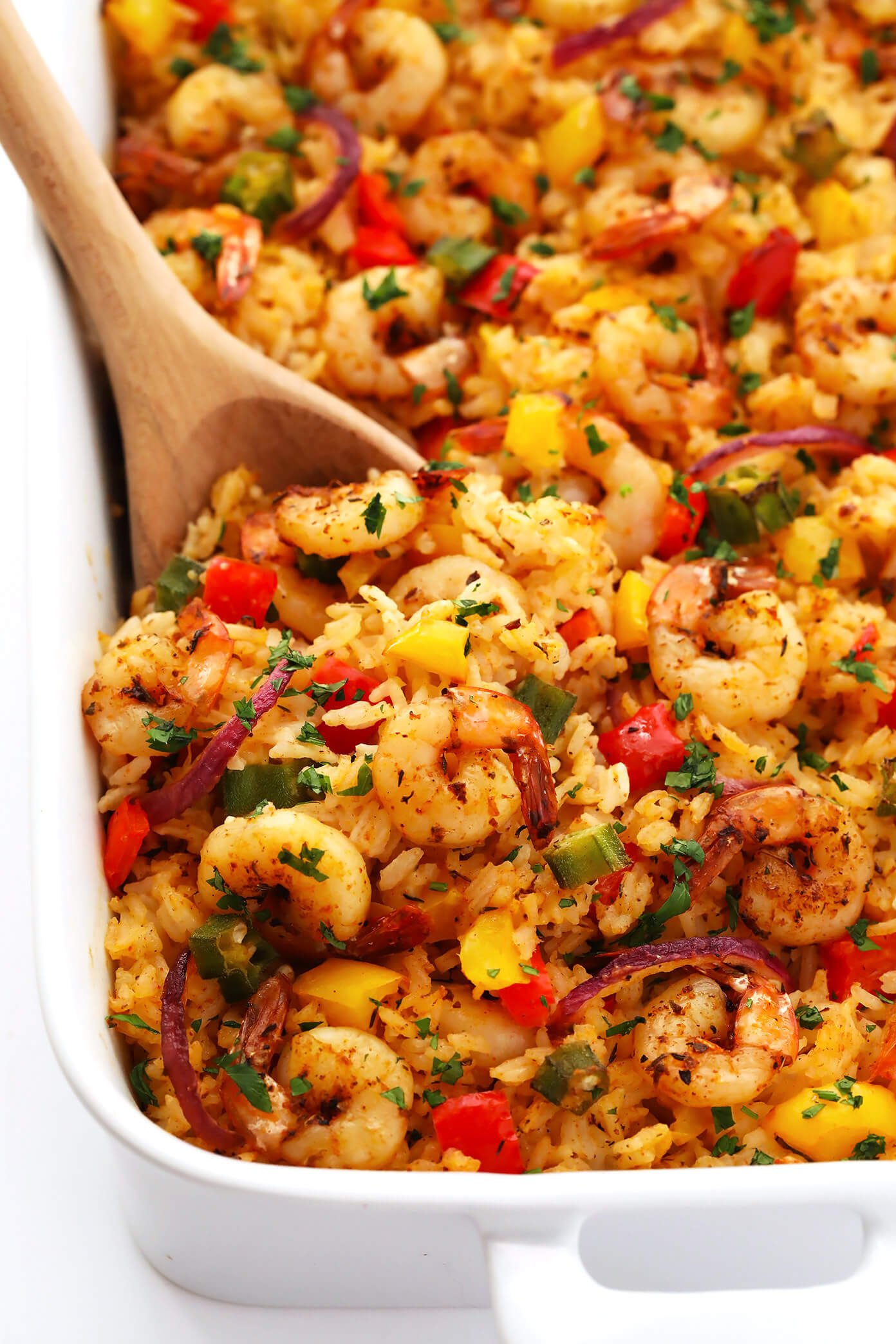 Why Cajun, you ask?
Ha, well, on the day that we cooked this, we went grocery shopping at a cute little market nearby that was overflowing with colorful bell peppers, fresh shrimp, and — of course — rice galore.  But when we got home, we realized that we still hadn't purchased any spices for our kitchen yet here in Spain.  😂  Thankfully, I had packed a few of my favorites (that I thought might not be available here) in my suitcase to bring over from the States, including a trusty tin of Old Bay.
So…Cajun food it was!
Also, ha, our small sauté pan that came with the apartment wasn't quite big enough to hold all of the rice and veggies and shrimp that we had prepared.  So I whipped up a simple Cajun alfredo sauce, stirred everything together in a large baking dish, and popped it in the oven to cook a bit longer.  Then once it was ready, we sprinkled it with lots of extra Parm and parsley and lemon juice.  And sure enough, it ended up turning into a total comfort food win.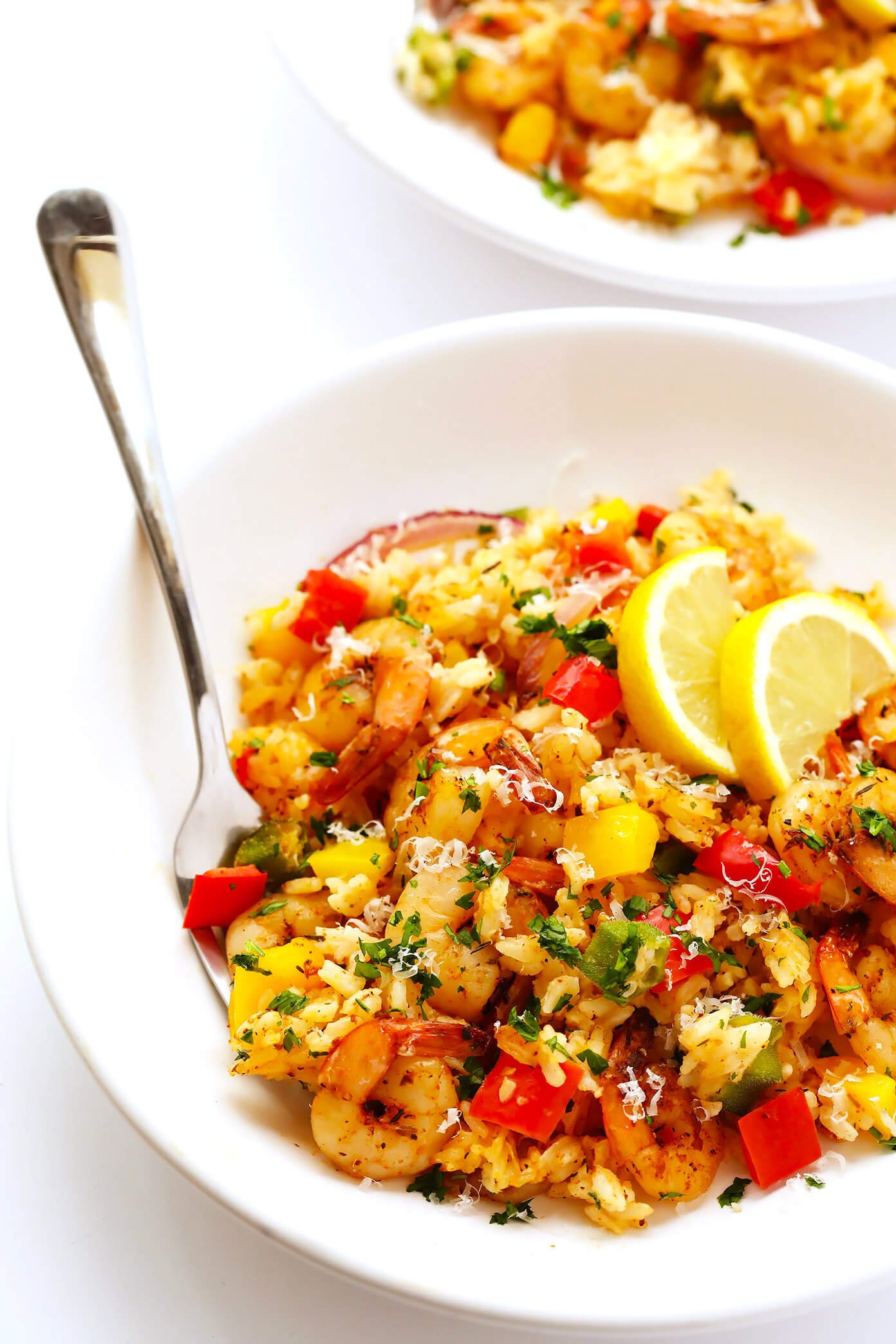 I mean, I don't know how you can really go wrong here.  Zesty shrimp and veggies, creamy (and lightened up) Cajun alfredo sauce, lots of hearty rice — win-win-win.  😊  PLUS, if you happen to be cooking for a crowd, this dish could be easily made a few hours ahead of time, then heated in the oven just before serving.  And of course, if shrimp isn't your thing, chicken and/or sausage would totally work here too.
So cheers to comfort food all around…wherever in the world it may find you.
Enjoy, everyone!
Cajun Shrimp Alfredo Casserole
This Cajun Shrimp Alfredo Casserole is full of bold and zesty flavors, it's easy to prep ahead of time, and it's totally comforting and delicious.  Feel free to sub in chicken or smoked sausage in place of the shrimp (or to go along with the shrimp), if you'd like.
Ingredients:
Cajun Shrimp Alfredo Casserole Ingredients:
2 pounds raw, peeled, large shrimp (tails on or off)
Kosher salt and freshly-cracked black pepper
2 tablespoons extra virgin olive oil (or butter), divided
2 large bell peppers, cored and thinly sliced (I used one red, one yellow)
1 small red onion, peeled and thinly sliced
2 cups sliced okra, fresh or frozen
2 cloves garlic, minced
5 cups cooked rice
1 batch alfredo sauce (see below)
toppings: lots of fresh lemon slices/wedges, finely-chopped fresh parsley, extra Parmesan cheese
Alfredo Sauce Ingredients:
1 tablespoon extra virgin olive oil or butter
4 cloves garlic, pressed or finely-minced
3 Tablespoons all-purpose flour
1 cup chicken or vegetable stock (or you can use milk instead)
1 cup milk (I used 2%)
3/4 cup freshly-grated Parmesan cheese
1 tablespoon Old Bay seasoning
1/4 teaspoon Kosher salt + 1/4 teaspoon freshly-cracked black pepper
Directions:
To Make The Cajun Shrimp Alfredo Casserole:
Heat oven to 350°F.
Season the shrimp on both sides with a few pinches of salt and pepper.  Heat 1 tablespoon olive oil (or melt butter) in a large sauté pan over medium-high heat.  Add the shrimp and sauté for 5 minutes, stirring and flipping occasionally, until the shrimp are pink and cooked through.  Transfer shrimp with a slotted spoon to a clean plate, and set aside.
Heat the remaining olive oil (or butter) in the sauté pan.  Add bell peppers and onion, and cook for 5 minutes, stirring occasionally.  Add in the okra and garlic, and cook for 3 more minutes, stirring occasionally.
Transfer the cooked shrimp, veggie mixture, rice and alfredo sauce to a large mixing bowl, and toss until evenly combined.  Pour the mixture into a 9 x 13-inch baking dish, and spread out evenly.
Bake uncovered for 15 minutes.  Remove from oven, and serve immediately, garnished with toppings (<– including lots of fresh lemon juice, it's a must!).
To Make The Alfredo Sauce:
Heat olive oil (or melt butter) in a large sauté pan over medium-high heat. Add garlic and sauté one minute, stirring occasionally, until fragrant. Sprinkle with flour, and stir to combine. Sauté for an additional minute to cook the flour, stirring occasionally.
Slowly pour in the chicken broth, whisking to combine until smooth. Whisk in milk until combined, and bring the mixture to a simmer.  (Be careful not to let it boil.)  Reduce heat to medium-low, and cook for an additional minute until the sauce has thickened.  Then add in the Parmesan cheese, Old Bay, salt and pepper, and stir until the cheese melted.  Remove from heat and set aside.
All images and text ©
If you make this recipe, be sure to snap a photo and hashtag it #gimmesomeoven. I'd love to see what you cook!