Cake Batter No-Bake Cheesecakes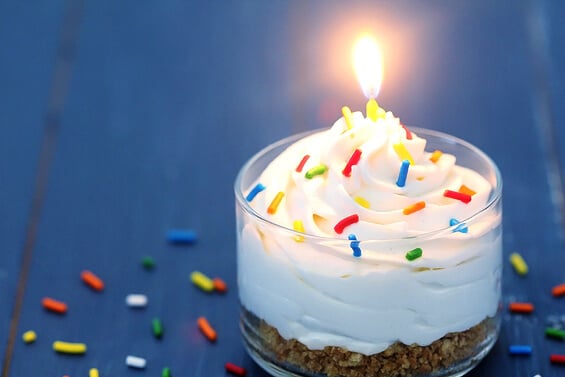 Happy blogiversary to you…happy blogiversary to you….happy blogiversary "Gimme Some Ovennnnn"…..
It's true.  My little blog officially graduated out of the not-so-terrible twos and turned THREE today!  Wahoo!!!
I can hardly believe it.  Three years ago, I started this site on a total whim, knowing absolutely nothing about photography, blogging, web design, and honestly, fairly little about cooking.  I was just a girl who had no fear trying new recipes, and was excited to share what little I knew with friends and family.  Never in my wildest dreams, though, would I have imagined what my little site would grow to be.  And of course, far better, the amazing people it would allow me to meet!  I know I've said it countless times, but you all have been such a gift to me, and your encouragement over the years has meant so much.  It has been so much to learn about this whole blogging world with your support, and I still pinch myself whenever I hear that someone has actually made one of my recipes!  Such a little miracle to me.  :)
So from the bottom of my heart, many thanks again for continuing to follow along recipe after recipe.  I'm so grateful for you all, and can't wait to see what this next year holds in store!
And in true Ali fashion, I decided to make a birthday "cake" recipe that harkened back to childhood.  I don't know if I have admitted this before, but for probably the first 15 years of my life, my birthday dessert of choice was always a Jello no-bake cheesecake.  True story.  LOVED them.  (No Judgy-Mc-Judgersons out there.)  Thankfully, now I have progressed a bit beyond the boxed cheesecake mix.  But every now and then, I still love homemade no-bake cheesecakes for a treat.  So I decided to make a simple one "cake batter style" this year.  And holy moly.  Let me just say that if you love cake batter, you MUST try this one.  Must. Must. Must.  It only takes 15 minutes, and it made this little blogger very happy.  I think you will love it too!
Cheers to another great year together, friends!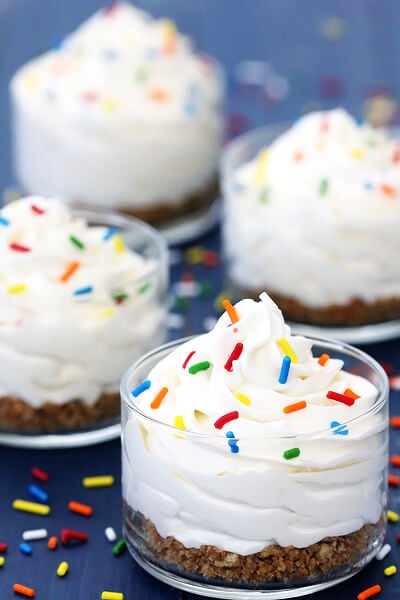 Cake Batter No-Bake Cheesecakes
Everyone will love these adorable little cake batter cheesecakes. And they're a breeze to make because they're no-bake!
Ingredients:
Crust Ingredients:
1 cup graham cracker crumbs
4 oz. butter, melted
Cheesecake Filling Ingredients:
1 (8 oz.) block cream cheese, softened
4 Tbsp. butter, softened
3/4 cup favorite cake batter dry mix (straight from the box — no added ingredients)
1/4 cup milk
1 (8 oz.) tub frozen whipped cream topping, thawed
sprinkles, for decor
Directions:
To Make The Crust:
Stir together graham cracker crumbs and melted butter in a bowl until well combined. Press a few tablespoons into the bottom of your containers to make the crust. (You do not need to bake this.)
To Make The Filling:
In an electric mixer, beat the cream cheese and butter together on medium speed until smooth and well blended. Add in dry cake mix and milk and continue mixing until well blended. Then gently fold in the whipped cream topping with a spatula. Be careful not to over-mix.
Spoon the filling into serving jars, or use a piping back to pipe the filling in. Garnish with sprinkles.
All images and text ©
If you make this recipe, be sure to snap a photo and hashtag it #gimmesomeoven. I'd love to see what you cook!