Caramel Apple Cider Cookies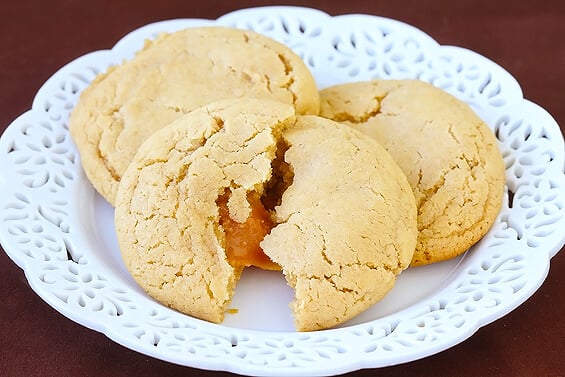 Last weekend, I took a trip with my lovely book club girls….camping!
That's right!  A bunch of city girls road tripped it to spend a 40-degree evening together snuggled up on the banks of Clinton Lake.  And oh my goodness.  Amongst the many highlights of the evening and beautiful foggy morning (Enneagram lectures, Patty-Griffin-turned-retro-Jennifer-Knapp-and-Rich-Mullins singalongs, time with two sweet book club dogs, to endless conversations and laughter)…I must say that a group favorite was our gourmet "meal plan".
From delicious roasted veggie and potato hobo packs, to warm bison vegetable stew, to s'mores, to homemade cinnamon rolls, to warm "oatmeal supreme", to warm cornbread made in an oven constructed from a box, hangers, aluminum foil, and coals (credits to our #5, Amanda), to a book-club-worthy selection of wines, coffees and chai, I think it's safe to say these girls love food as much as they love books.  Fabulous!
One of my contributions, in addition to my favorite party mix, was a batch of these "caramel apple cider cookies".  They have been quite the hit of the blogosphere lately, and this seemed like the perfect autumn occasion to give them a try.  Needless to say, you should too.  I will warn you that they take a little while to prep, but they are filled with all of the nostalgic apple-cidery, melted-caramel goodness they promise.  Highly recommend giving them a try.
Cheers to heart-warming autumn recipes, camping trips, and good friends!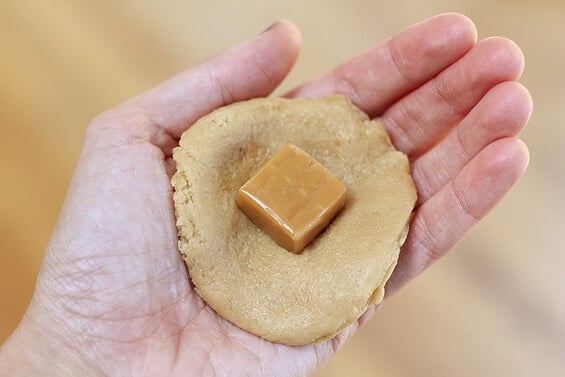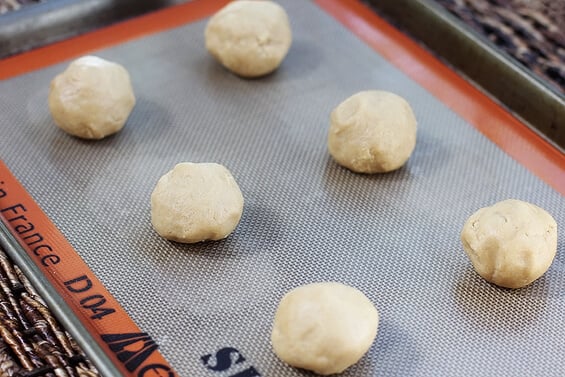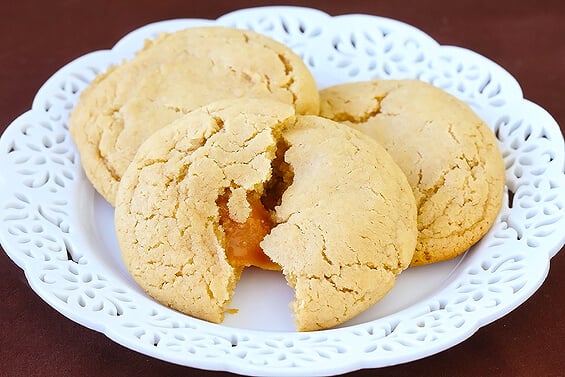 Caramel Apple Cider Cookies
You will love this delicious Caramel Apple Cider Cookies recipe! Enjoy one of your traditional fall flavors wrapped up in a warm, sweet cookie w/ caramel.
Ingredients:
1 cup unsalted butter, softened
1 cup granulated sugar
1/2 teaspoon salt
1 (7.4 ounce) box Alpine Spiced Apple Cider Instant Original Drink Mix (*not sugar free*)
2 eggs
1 tsp. vanilla extract
1 tsp. baking soda
1/2 tsp. baking powder
1 tsp. cinnamon
3 cups all-purpose flour
1 (14 ounce) bag Kraft Caramels, unwrapped
Directions:
Preheat oven to 350° F. Line cookie sheets with parchment or a silpat. (The melted caramel may stick to the bottom if you just use cooking spray on a plain baking sheet.)
In a small bowl whisk together flour, baking soda, baking powder and cinnamon. With an electric mixer, cream together butter, sugar, salt and all 10 packages of apple cider drink mix powder, until light and fluffy. Beat in eggs, one at a time. Add vanilla and mix well. Gradually add flour mixture to butter/egg mixture. Mix until just combined.
Scoop out cookie dough ball about the size of a walnut (about 2 tablespoons). Flatten the ball of dough slightly in the palm of your hand. Press the unwrapped caramel into the center of your dough and seal the dough around it, covering it completely. Shape the dough into a ball, and place on parchment covered cookie sheets about 3 inches apart.
Bake 12-14 minutes, or until very lightly browned around the edges. Once the cookies are done, carefully slide the parchment or silpat off of the baking sheet right out onto the counter. Allow cookies to partially cool on the parchment/silpat. When cookies are cool enough to be firm but still slightly warm, carefully twist off of parchment and allow to finish cooling upside down (either on the parchment/silpat or on a rack).
Yield: Approximately 4 dozen, depending on the size of your dough.
If you make this recipe, be sure to snap a photo and hashtag it #gimmesomeoven. I'd love to see what you cook!
Ali's Tip:
If you want an extra chocolate kick in these, you can substitute Milk Duds for caramels.
Source:
Slightly adapted from The Cooking Photographer, via Scrambled Henfruit.