Caramel White Chocolate Cookies
I did it.
I recreated one my favorite cookie of all time, and trust me folks.
It's a winner.
Now when it comes to cookies, I have admitted on here before that I'm usually a bit of a minimalist when it comes to chocolate.  Yes yes yes, I like it, but somehow I missed inheriting that intense chocoholic gene that 99% of women (yes, and many men) seem to have.  So I will eat and enjoy occasional chocolate chip cookie or chocolate bar, but one or two bites is always enough for me.
HOWEVER.
My neighborhood coffee shop started serving these big beautiful caramel white chocolate cookies about a year ago.  And I must say — when judging a book by its cover (ok, an entire case of various cookies), this cookie was always the most beautiful.  Granted, its caramel swirls are baked in, and the cookie is about the size of your head!  But after staring at these cookies for months, I finally decided to try one with my coffee one day.  And I absolutely fell in love.
I don't know if it was the caramel.  Or the white chocolate.  Or the inherent magic that somehow seems to burst forth with a bite of these cookies.
But they pretty immediately surged to the top of the list of my favorite cookies, and have been there ever since.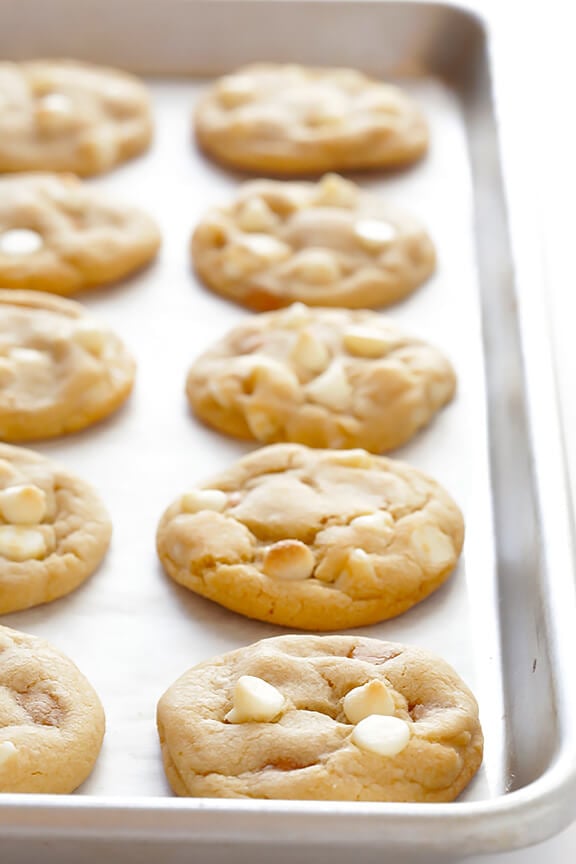 So after paying $3 a cookie at the coffee shop for a year for this heavenly sweetness, I decided it was finally time to try and make a version myself at home.  And what better excuse to try out a new cookie recipe than for the 2013 Great Food Blogger Cookie Swap!
The swap — organized by my talented friends Lindsay and Julie — invites food bloggers from all over the country to create new cookie recipes, mail them to three bloggers that they are randomly paired with, and then blog about the recipe so that the entire world can share in the (literal) sweetness.  I participated in the event last year and loved it, so was excited to be a part again.  Although thanks to some kitchen remodeling delays, my cookies are arriving way late this year (sorry food bloggers!).  But hey, better late than never when it comes to cookies, right?!
Ok, so for the cookies, all I did was mix up some basic cookie dough.  Then I mixed in a bunch of white chocolate chips and caramel bits (you can find them in the baking section next to the chocolate chips), and then baked them up to soft and chewy perfection.
And that they were.  I want to mention that these cookies could totally stand on their own just like this.  Delish!
But if you really want to go the extra mile, which I of course recommend, these cookies are pretty much epic if you take the time to top them with some caramel drizzle.  You can either make homemade caramel sauce from scratch, or just melt down the leftover caramel bits to make a caramel sauce.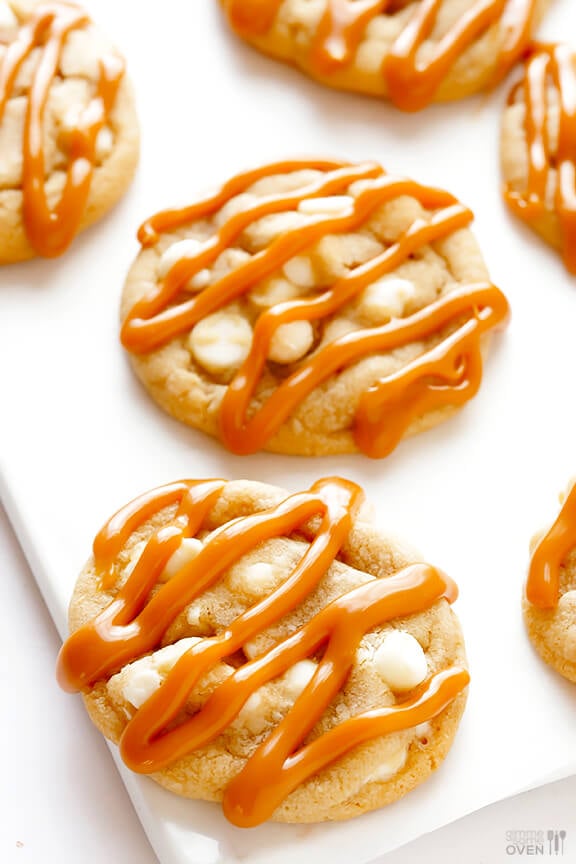 I mean, just look at those little works of art.  Who can argue with a caramel drizzle?!?
I apparently can't.  Because I have been eating the leftover cookie swap cookies (yes, I made a triple batch after the first test batch) for breakfast lunch and dinner, and still have not grown tired of them.  The sweet white chocolate paired with the salty caramel is just perfection in my book.  And a nice chewy cookie makes any day better.
So do yourself (and your friends and family) a favor and try a batch pronto.  And be sure to check out the hashtag #fbcookieswap to see all of the other amazing cookie recipes floating around the blogosphere this week.  Cookie love abounds.  :)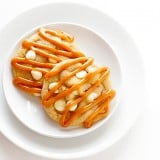 Caramel White Chocolate Cookies
These caramel white chocolate cookies are my new favorites. Seriously.
Ingredients:
3/4 cup unsalted butter, softened
3/4 cup brown sugar
1/2 cup granulated sugar
1 egg
2 tsp. vanilla extract
2 cups all-purpose flour
2 tsp. cornstarch
1 tsp. baking soda
½ tsp. salt
1 cup white chocolate chips
1 cup caramel bits
1 cup caramel sauce (homemade, store-bought, or made from melted down caramel bits**)
Directions:
Preheat oven to 350 F.
Using an electric mixer with the paddle attachment, cream together butter and sugars on medium speed until light and fluffy, about 2 minutes. Add egg and vanilla and beat in until combined, scraping down the bowl partway through.
In a separate bowl, whisk together flour, cornstarch, baking soda and salt until evenly mixed. Add mixture into the dough, and beat on low speed until combined. Fold in chocolate chips and caramel bits, and stir until just combined.
Measure dough into rounded tablespoon-fulls, and roll into round balls. Place on a parchment-covered baking sheet, and dot with extra chocolate chips if desired. Repeat with remaining dough. Then transfer the cookie sheet to the freezer and chill for 10 minutes.
Transfer sheet to oven and bake for 8-10 minutes, until the tops of the cookies ever so slightly begin to brown. Remove pan and let rest for 5 minutes. Then transfer cookies to a wire rack to finish cooling. Repeat with remaining dough.
Once the cookies have reached room temperature, drizzle with caramel sauce if desired. You can do this by dipping a fork in the caramel sauce and swishing it back and forth over the cookies. Or you can transfer the caramel sauce to a piping bag or ziplock bag and drizzle that way.
Store cookies in an airtight container for up to 5 days.
**For caramel drizzle**
Homemade: I love this recipe for microwave caramel sauce
Storebought: I recommend buying the caramel sauce in the tubs (for caramel apples) and warming it a bit for drizzling. I don't recommend the caramel topping for ice cream.
Melted Caramel Bits: Follow the instructions on the bag for melting caramel safely, as it can burn. Or just add caramel bits to a microwave-proof bowl with a small splash of water or cream. Heat in 20 second intervals, stirring between each, until caramel is melted. Add more water or cream if needed to thin.
If you make this recipe, be sure to snap a photo and hashtag it #gimmesomeoven. I'd love to see what you cook!