carrot cupcakes with cream cheese frosting
For years, I have been on a quest for the perfect carrot cake recipe.  And I mean – the real deal.
No healthy wheat flour or applesauce substitutes.  No pineapple.  No coconut.  And heaven forbid – no carrot substitutes.  Nope, I've been looking for the real deal — moist, light, perfectly spiced carrot cake, topped with that heavenly cream cheese frosting.  Worth every calorie.  :)
After a few close-but-not-quite attempts, I am thrilled to announce that I have found my recipe!!!!  Not surprisingly, it is from the brilliant folks in the test kitchens at Cooks Illustrated, who test-kitchened their way to the perfect recipe.  And I mean it, it is everything you ever wanted in carrot cake and more.
Their article (in this gem of a cookbook that everyone should own!) about how they trial-and-errored their way to this method was fascinating.  I admit that I, too, was skeptical about the food-processor method and using all oil and no butter.  But they proved me wrong — this recipe is perfection.  And, thanks to the shredding disk on my food processor, shredding 3 cups of carrots is now a breeze.  :)
So if you love carrot cake, do yourself a favor and give this one a try.  The only change I made was to add in a 1/2 tsp. of ginger (because I love that in my carrot cake), but otherwise, all of the thanks goes to Cooks Illustrated.  Enjoy!!!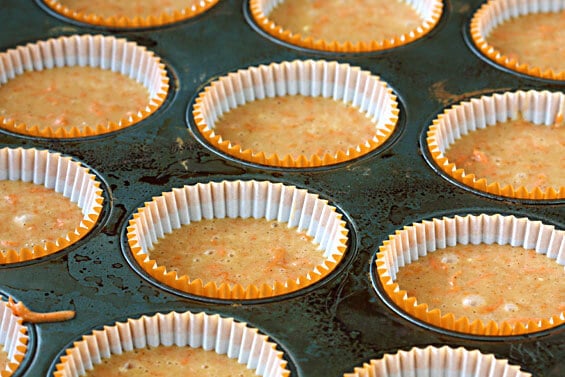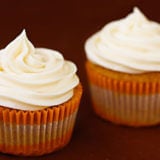 Carrot Cupcakes with Cream Cheese Frosting
Truly – the PERFECT carrot cake recipe! Delicious, moist, perfectly spiced cake, topped with classic cream cheese frosting. Detailed recipe and photos included.
Ingredients:
Cupcake Ingredients:
2½ cups (12.5 oz) all-purpose flour
1¼ tsp. baking powder
1 tsp. baking soda
1¼ tsp. ground cinnamon
½ tsp. grated nutmeg
½ tsp. ground ginger
1/8 tsp. ground cloves
½ tsp. salt
1 lb. (6-7 medium) carrots, peeled
1½ cups (10.5 oz) granulated sugar
½ cup packed light brown sugar
4 large eggs
1½ cups canola, safflower or vegetable oil
Frosting Ingredients:
12 oz. cream cheese (not softened)
6 tbsp. unsalted butter, at room temperature
1 tbsp. vanilla extract
4 cups powdered sugar, sifted
Directions:
Preheat the oven to 350° F.  Line cupcake pans with 24 paper liners.  In a medium mixing bowl, combine the flour, baking powder, baking soda, spices and salt; whisk together and set aside.

In a food processor fitted with a shredding disk, shred the carrots (you should have about 3 cups).  Add the carrots to the bowl with the dry ingredients and set aside.  Rinse out the bowl of the food processor and fit with the metal blade.  Process the sugars and eggs until frothy and thoroughly combined, about 20 seconds.  With the machine running, add the oil in a steady stream through the feed tube.  Continue to process until the mixture is light in color and well emulsified, about 20 more seconds.  Transfer the mixture to a large mixing bowl.  Stir in the carrots and dry ingredients until incorporated and no streaks of flour remain.

Scoop evenly into the prepared cupcake liners, so that each is about 2/3 full.  Bake for about 20-24 minutes or until a toothpick inserted in the center comes out clean.  Let cool in the pan at least 5 minutes, then transfer to a wire rack to cool completely.

To make the frosting, in the bowl of a stand mixer fitted with the paddle attachment beat the cream cheese and butter on medium-high speed until well combined and smooth, about 2-3 minutes.  Mix in the vanilla extract.  Gradually beat in the powdered sugar until totally incorporated, increase the speed and then beat until smooth.  Frost cooled cupcakes as desired.

If you make this recipe, be sure to snap a photo and hashtag it #gimmesomeoven. I'd love to see what you cook!
Ali's Tip:
To get the perfect amount of cupcake batter in the cups, I love using this large ice cream scoop from Pampered Chef.  I also used the 1M Wilton tip to frost the cupcakes.