Cashew Chicken Curry (In A Hurry!)
Oh man, the Winter Solstice is officially less than a week away now, and I am counting down the daaaayyyysssss.
Because, I don't know about you, but I am so ready for a little more daylight in my life!
I know, I know, this fall has definitely been one of our mildest ever, with zero snow and temps soaring into the 60s every week, and the warmer weather forecasted to last through Christmas week.  I haven't even had to break out my Serious Puffy Furry Coat yet.  So no weather complaints here.  :)
But man, there's still something about walking outside to a pitch black sky at 4:57pm that has a way of zapping the energy out of me.  And all I want to do is stay in for the night with some comfort food, a warm drink, a cozy blanket, and watch 3.6 episodes of Mad Men with Barclay.  Well, actually, no complaints there either.  Those have turned into some of my favorite date nights!  And since the two of us are beyond hooked on the show right now as we're nearing the final season, they seem to be happening more and more lately.  So as much as I hate to say it, maybe these pesky dark winter days are well-timed with our Don Draper-a-thon.
Still, there's something about dark evenings that zaps some of my motivation to cook.  So on the nights when we stay in, I'm busting through my repertoire of all things "quick and easy".  And one of my new favorites is what I fondly call "curry in a hurry" — this delicious Cashew Chicken Curry.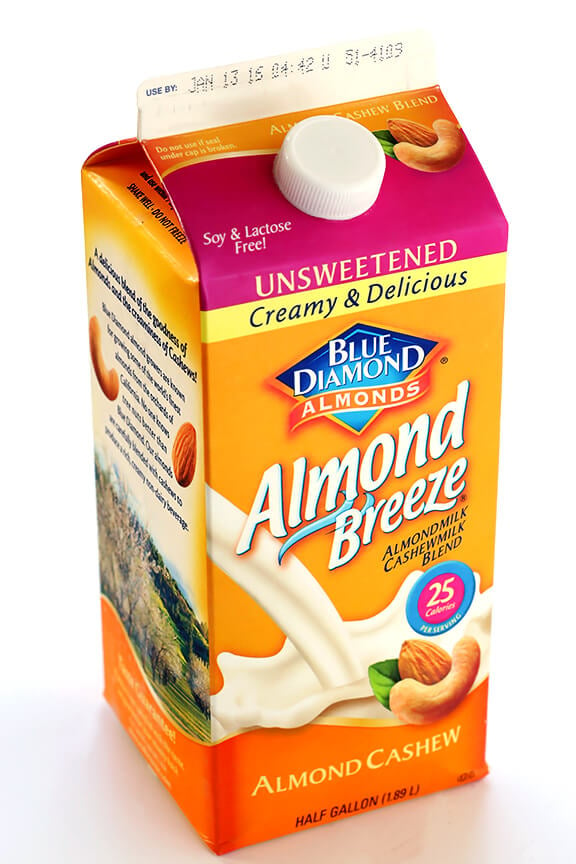 I've been craving Indian food more and more lately, especially with those rich and warm flavors that seem like the perfect comfort food this time of year.  And upon realizing that I had an overabundance of cashews in the house (I'm my daddy's girl — he and I are obsessed), and a carton of the brand new Almondmilk Cashewmilk Blend from Blue Diamond Almond Breeze that I've been wanting to try, I decided to combine the two to make a very simple chicken cashew curry.
The beautiful thing about this new almondmilk cashewmilk blend is that it is super rich and creamy (even more thick and creamy than almondmilk), and the flavor is perfectly sweet and delicious.  So since I was planning to bring some of the leftovers to a neighbor who is dairy-free, I decided to nix adding any traditional yogurt to the recipe and just go with the almondmilk cashewmilk blend all the way.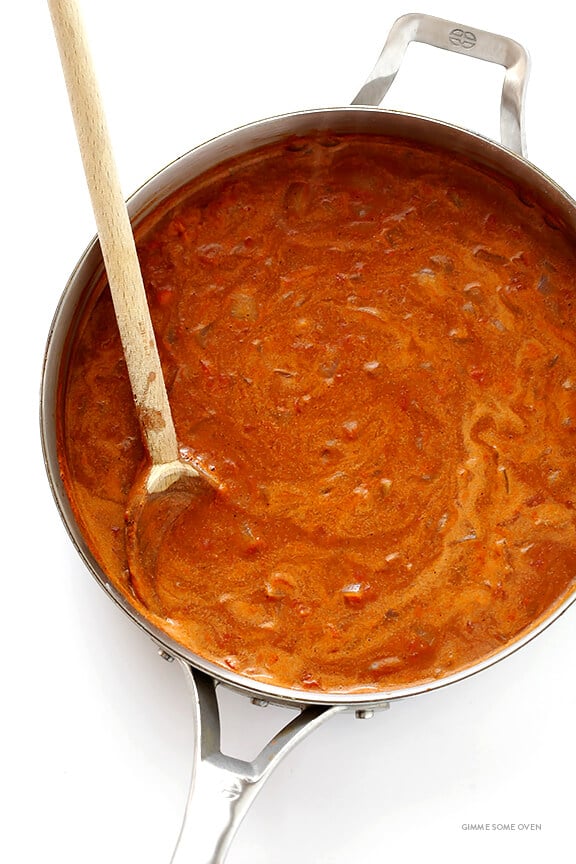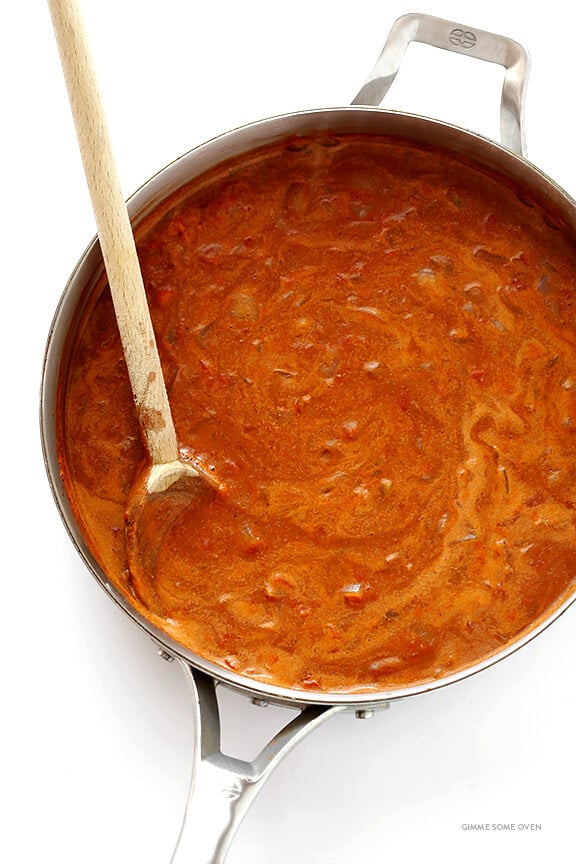 Turns out, this curry sauce turned out to be amazing.  It came together on the stove in just about 10 minutes…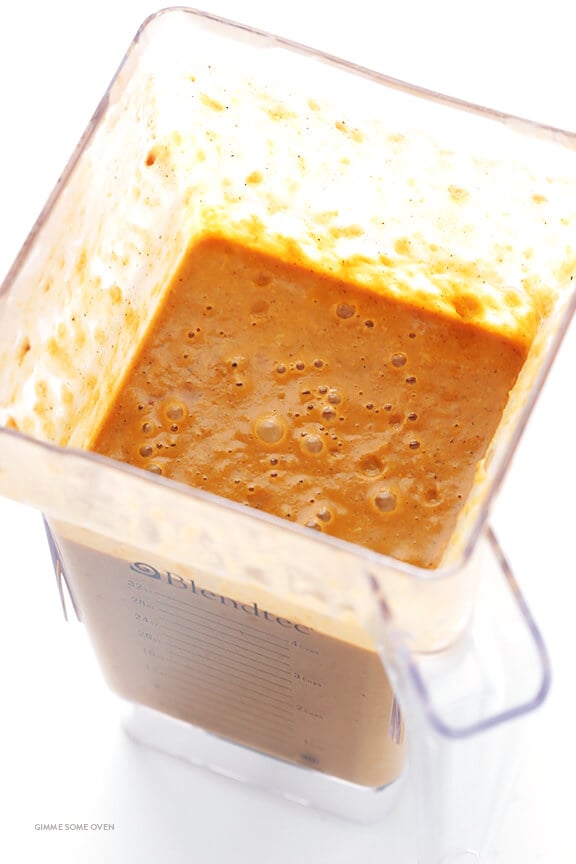 …and then I pureed it in the blender until smooth.  (Although you could also leave the sauce chunky if you'd like to save a step…and skip washing that blender.)  ;)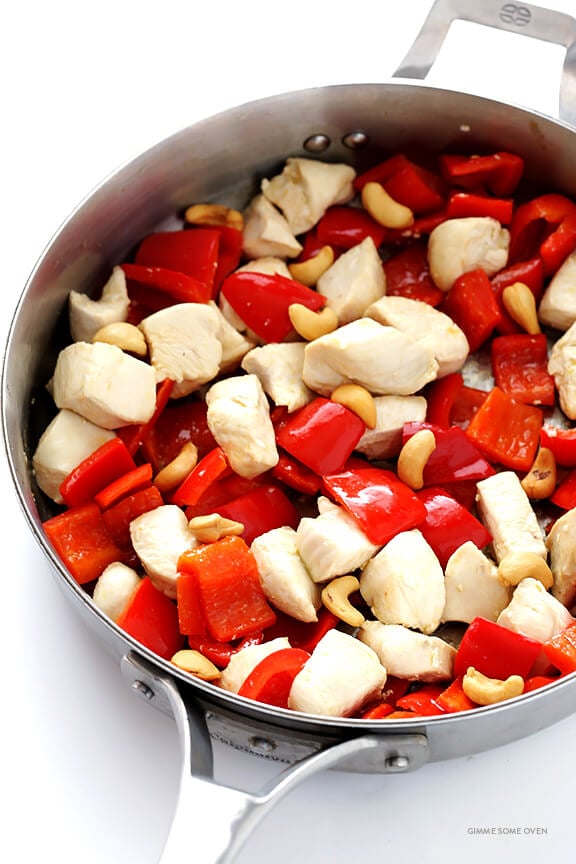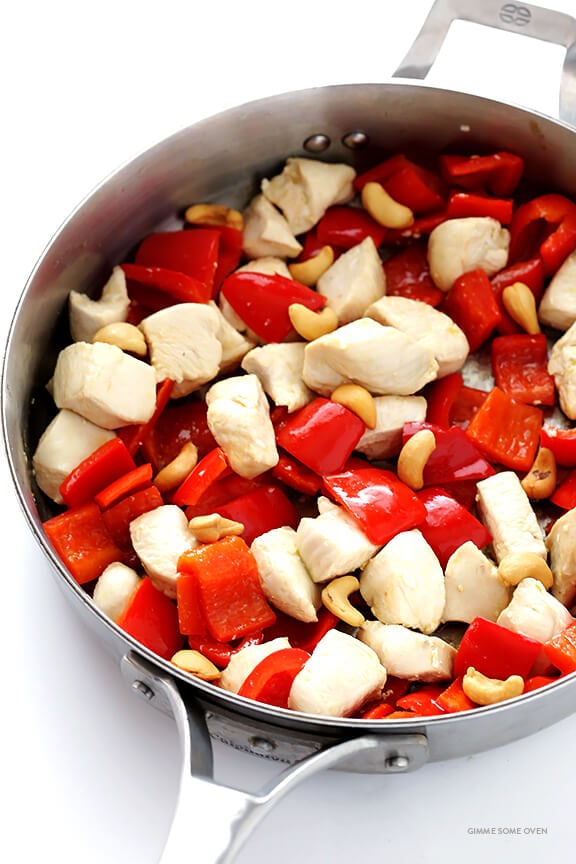 Then I sauted up some chicken and red peppers that I had on hand (you could use any veggies or protein)…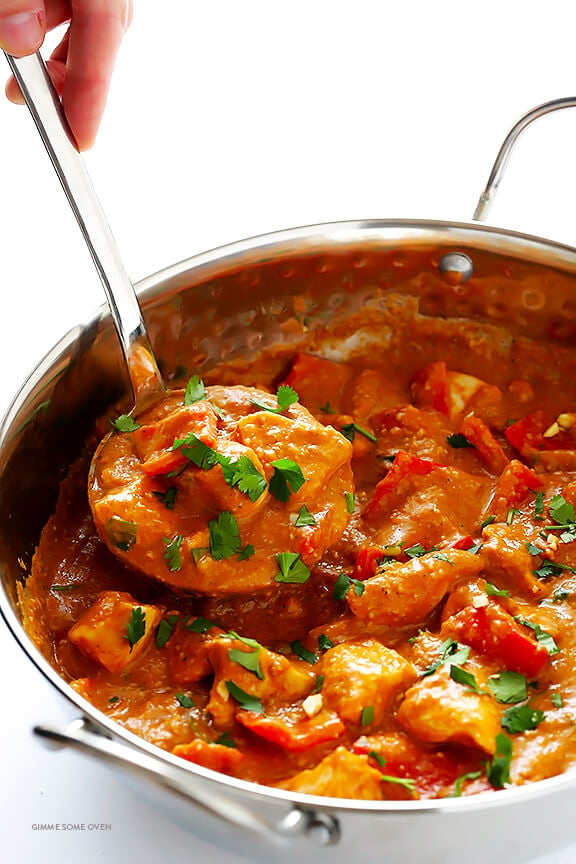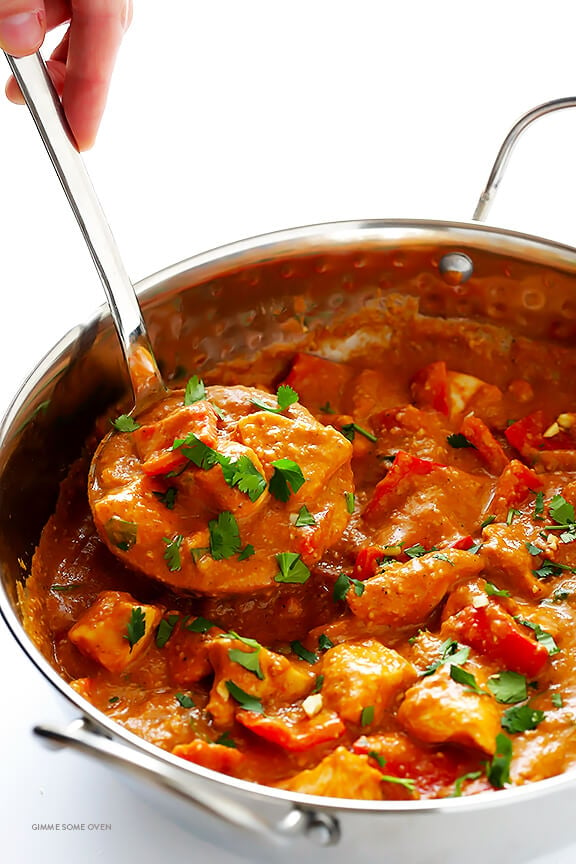 …tossed them with the sauce and some fresh cilantro…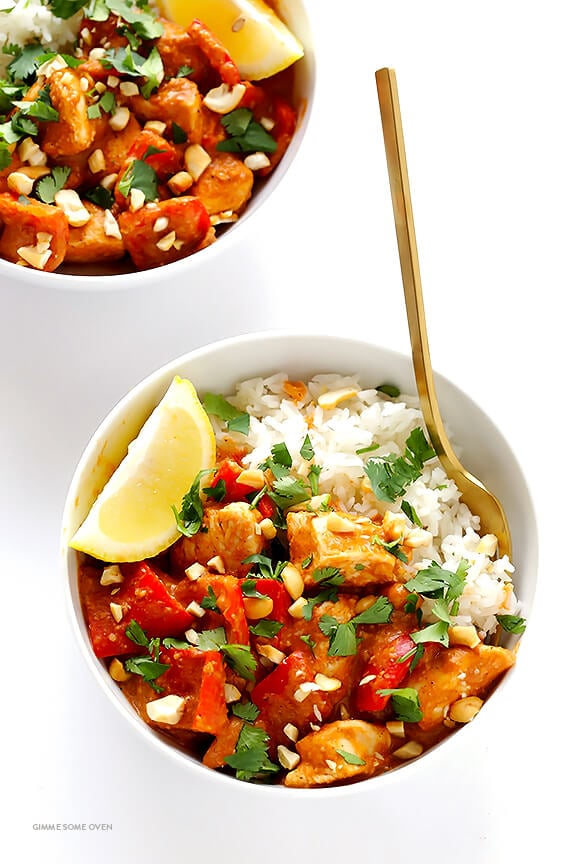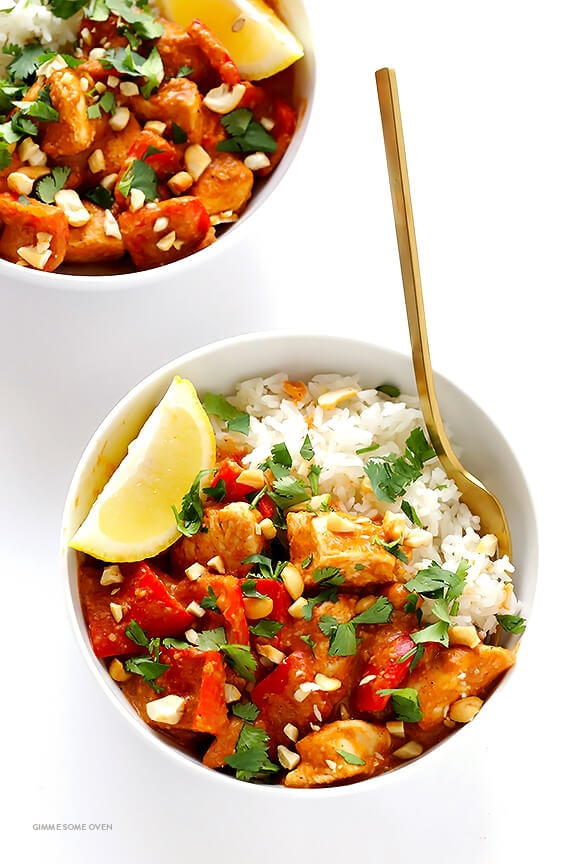 …and then served the dish up over rice.  (Or this would also be delicious with my homemade naan!)  So simple, so quick, so flavorful, and SO GOOD.  And it can be ready on the table — or ready in a bowl on your lap while watching Mad Men — in just 30 minutes.  My kind of winter meal.  :)
Also — I have some fun news!
As part of Blue Diamond Almond Breeze's campaign to release this tasty new Almondmilk Cashewmilk Blend, they are hosting an "Imagine The Blendabilities" contest, where they are inviting people to submit recipe ideas for the new blend — and I get to be a judge!  Even better, if your idea ends up being the one selected, I'll be turning it into a full recipe and sharing it with you here on the blog.  I'm pretty excited about it!  So think up some good ideas and hop over to the contest to submit them, and I'm excited to see what you come up with.  (And stay tuned for the winning recipe coming soon!)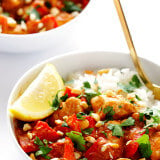 Cashew Chicken Curry (In A Hurry!)
This Cashew Chicken Curry (In A Hurry!) recipe is quick and easy to prepare, and full of the most rich and delicious curry flavors!
Ingredients:
Cashew Curry Sauce Ingredients:
1 Tablespoon olive oil (or melted coconut oil)
1 medium white onion, peeled and diced
3 cloves garlic, peeled and minced
2 Tablespoons all-purpose flour
1 (15-ounce) can crushed tomatoes
1 1/2 Tablespoons garam masala
1/2 teaspoon chili powder
1/2 teaspoon cumin
1/4 teaspoon ground ginger
1/8 teaspoon ground turmeric (optional)
1/3 cup cashew halves
coarse salt and freshly ground pepper
Cashew Chicken Curry Ingredients:
2 Tablespoons olive oil (or melted coconut oil)
2 large boneless skinless chicken breasts, cut into a small cubes
2 red bell peppers, cored and cut into bite-sized pieces
2/3 cup cashew halves
coarse salt and freshly ground pepper
for serving: rice**, quinoa, or naan
garnishes: lemon wedges, chopped fresh cilantro leaves, extra crushed cashews (optional)
Directions:
To Make The Cashew Curry Sauce:
Heat oil in a large saute pan over medium-high heat.  Add onion and saute for 4-5 minutes or until it is soft and translucent, stirring occasionally.  Add the garlic and saute for 1 minute, stirring occasionally.  Stir in the flour until combined and saute for 1 minute, stirring occasionally.  Gradually in the almondmilk cashewmilk blend until it is combined.  Stir in the remaining ingredients (tomatoes, garam masala, chili powder, cumin, ginger, turmeric and cashews) until combined.  Continue cooking the sauce until it reaches a simmer, then let it simmer for 1 additional minute until it has slightly thickened.  Taste and season with salt and pepper, to taste.
Remove the sauce from the heat and either (a) transfer it to a blender and pulse for 1 minute until smooth, or (b) use an immersion blender to puree the sauce in the pan until it is smooth, or (c) you can also just leave the sauce as-is, which will be a little chunky.
To Make The Cashew Chicken Curry:
Begin by making the sauce as directed in the instructions above.  Once the sauce is ready, rinse out your saute pan, and return it to the stove.
Heat the olive oil over medium-high heat.  Add the chicken breasts, bell peppers and cashews, and season with a few generous pinches of salt and pepper.  Saute for 5-7 minutes, stirring occasionally, until the chicken is cooked through and no longer pink inside.
Then pour the prepared sauce on top of the chicken mixture, and toss to combine.
Serve immediately over rice** (or quinoa, or naan, or you can even serve it just plain), garnished with your desired toppings.
All images and text ©
If you make this recipe, be sure to snap a photo and hashtag it #gimmesomeoven. I'd love to see what you cook!
This post is sponsored by Blue Diamond Almond Breeze Almondmilk, maker of my favorite almondmilk (and now, almondmilk cashewmilk blend!).  I am partnering with them to create some tasty new recipe to share with you, and all opinions are my own as always.  Thanks for continuing to support the brands who help make this site possible!