Cashew Chicken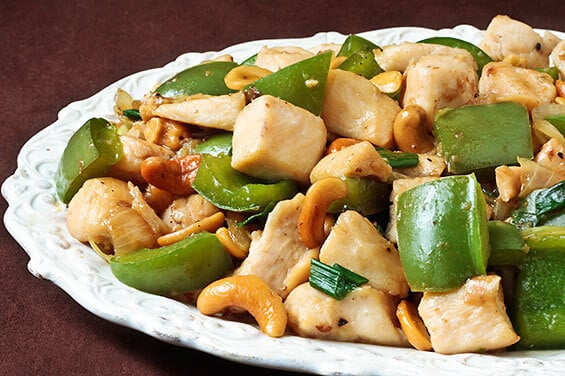 One of my favorite things about going to work each day is getting to see my coworker, Laura.  She and I have worked together for over five years now.  (Wow!)  And in addition to sharing an office together, and countless stories about life and work (and of course, our boss!) together, Laura is also a pro at giving advice.  You name it — from work issues, to homeownership, to dating, to traveling, to raising kids, to adopting a puppy, to car repair, and of course….to cooking……Laura knows her stuff.  :)
She also happens to be a faithful follower of my blog.  So when I asked her for advice last week on what to post next, she had one word: CHICKEN.  It's healthy, it's cheap, it's kid-friendly, and it happens to be the most-searched recipe keyword on the web.  And according to Laura, everyone's always looking for new and delicious chicken recipes to try.
Sure enough, it has been awhile since I've posted on chicken.  So to dive back in, thought I'd post one of my all-time classic favorite recipes — cashew chicken.  The amazingly flavorful sauce is without a doubt the rockstar of this recipe.  But one of the surprise highlights that I learned when I tried this version years ago is Rasa Malaysia's brilliant secret for super-tender chicken. I'll give you a hint — it's not the kind of soda you drink.  ;)  You'll have to read below to see how incredibly easy it is, but I promise you….it works!
Anyway, I made this dish to be served with my favorite sesame noodles. But you could also serve it with brown/white rice, or pop it in some lettuce cups to make lettuce wraps!  Whatever way you go — it's a wonderfully versatile dish.
So cheers to Laura!  Cheers to finding ever-new and delicious ways to prepare chicken!  And cheers to the yummy leftovers I'll definitely be enjoying tomorrow – YUM.  :)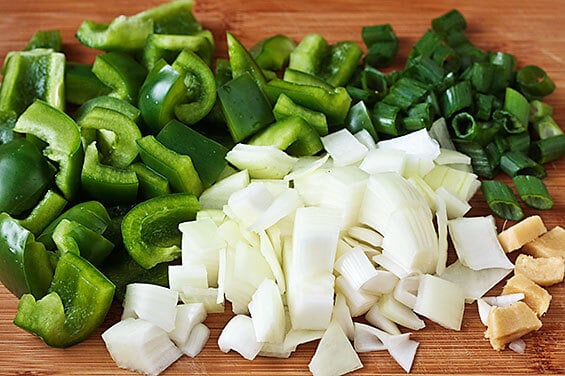 Cashew Chicken
You'll love this Cashew Chicken Recipe! Quick and easy to prepare this yummy Asian favorite at home!
Ingredients:
Stir-fry Ingredients:
1 lb. boneless, skinless chicken breasts or tenderloins, cut into 1″ cubes
1/2 cup cashew nuts
1 green bell pepper, cut into about 1″ pieces
5 slices ginger, peeled and minced (about 2 tsp.)
1/2 yellow onion, cut into 1/2″ dice
2 scallions, diced (optional)
2 cloves garlic, minced
Marinade Ingredients:
1 tsp. baking soda
1 tsp. corn starch
1/2 tsp. rice wine (or rice wine vinegar)
Sauce Ingredients:
3 Tbsp. water
1 Tbsp. oyster sauce
1 tsp. soy sauce
1/2 tsp. rice wine (or rice wine vinegar)
1/8 tsp. sesame oil
1/2 teaspoon sugar
1/8 tsp. ground white pepper
Salt to taste
Directions:
Marinate the chicken meat with the baking soda for 15-20 minutes, and then rinse the chicken off thoroughly with water. (Please make sure that the chicken is properly rinsed clean of the baking soda.) Pat the chicken meat dry with paper towels. Then stir in the cornstarch and rice wine in with the chicken, and let marinate for another 15 minutes.

Mix the sauce together and set aside.

Heat up a wok or skillet with 1 tablespoon of cooking oil and stir-fry the chicken meat until the color turns white or half-cooked. Dish out and set aside.

Add another 1 tablespoon of cooking oil into the wok and add in the ginger, bell peppers and onions. Stir-fry until you smell the peppery aroma from the green peppers. Then add the chicken meat back in, along with the green onions, garlic, and cashews. Stir and let cook for another two minutes.

Add in the sauce and stir continuously until the chicken meat is cooked and well coated with the sauce. Add salt and pepper to taste if you'd like.

If you make this recipe, be sure to snap a photo and hashtag it #gimmesomeoven. I'd love to see what you cook!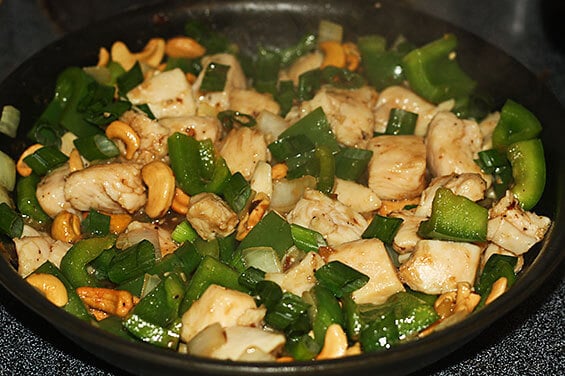 Ali's Tip:
I decided to go with just the classic chicken, green peppers and onions for this post.  But generally, I always toss in whatever fresh veggies I have on hand into stir-fry.  Some favorites for a dish like this might be zucchini, mushrooms, red/yellow peppers, broccoli, bok choy, etc.