Chewy Ginger Molasses Cookies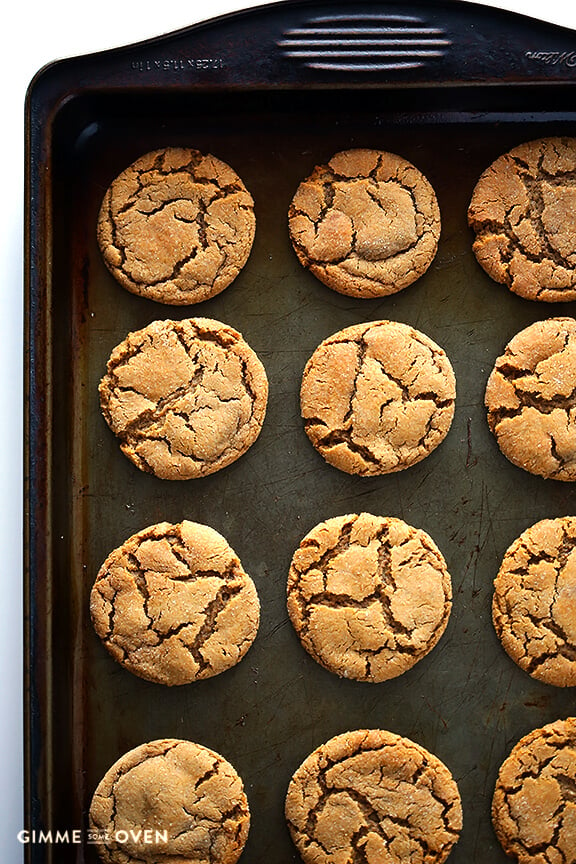 I'm not quite sure what's happening to me, but I seem to be slowly but surely losing my sweet tooth.
If you knew me 10 years ago — heck, make that 2 years ago — this would be shocking.
A part of me is not entirely surprised, as I seem to be making healthier eating choices with each passing year.  Although I'm still a huge believer in the "all things in moderation" philosophy, and always enjoy weaving some indulgences into my diet regularly.  But I don't know, lately, I seem to be craving all things savory all the time.  Even just this weekend when choosing what to eat for dessert after Thanksgiving, I may or may not have opted for Chex Mix over pumpkin pie.  Crazy!
Still, I am very much looking forward to holiday cookie season.  And while I can appreciate healthier cookie recipes, I have to admit that I generally prefer to go for the real deal anytime and eat one instead of two or three.  And oh man, when these chewy ginger molasses cookies come out of my oven, you'd better believe that no savory Chex mix is going to stand in my way.
These cookies have been my absolute favorite cookies to make each holiday season since I first learned how to bake.  And as such, they were actually the very first cookie recipe I posted on this blog back in 2009.  So since the recipe tends to get buried in the archives, I thought I would pull it back up today to share with any of you other molasses cookie lovers.  Because trust me — it is a winner.
Chewy Ginger Molasses Cookies Recipe | 1-Minute Video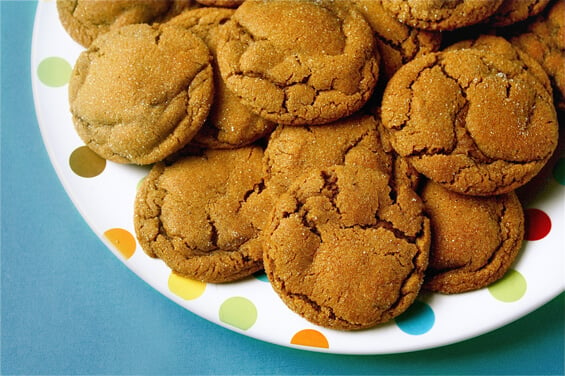 For a little throwback to the good ol' blogging days of 2009, here's the original photo I posted for these cookies…along with an old favorite polka dotted plate that I'm pretty sure has not made an appearance on the blog since.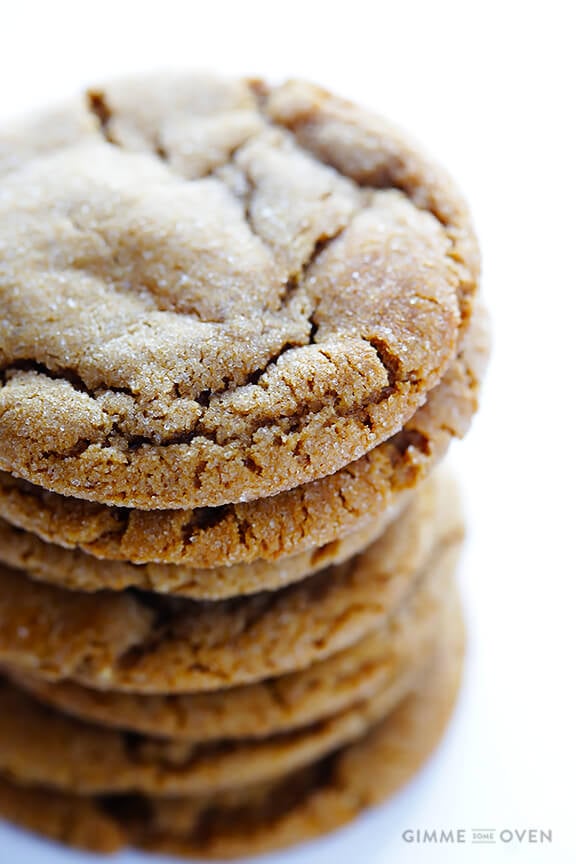 Annnnd here are a few more current pics.

This recipe is actually one that I still have handwritten on a notecard in an old fashioned recipe box (remember those?) that my mom made for me when I went off to college.  I have no idea where she found the recipe, but it is a literal keeper.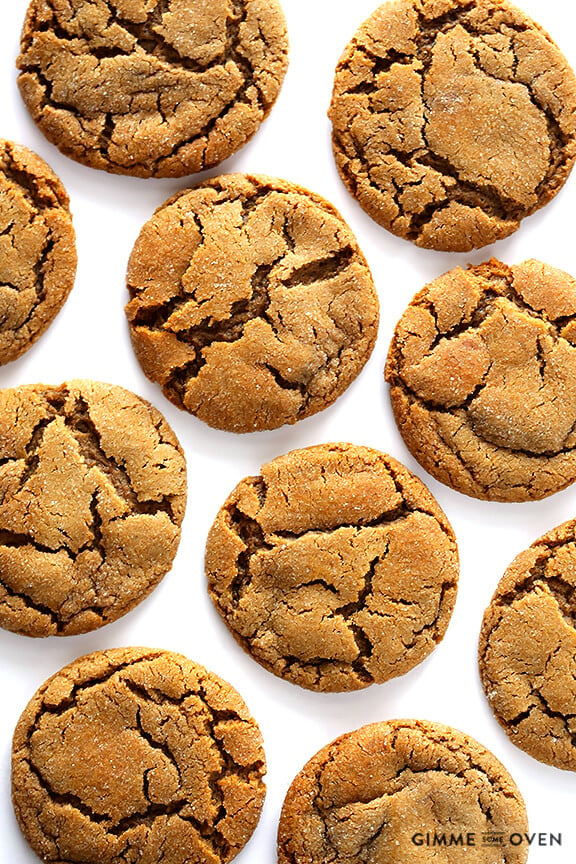 It's easy to make, and creates the softest chewiest ginger molasses cookies ever.  Our family always just rolled the dough in traditional granulated sugar.  But if you want to get fancy, you can roll it in some more coarse turbinado sugar, or you can even experiment with other various sugars.
Let me be clear though — these cookies will not win you any healthy eating awards.  They are the traditional sweet and indulgent ginger molasses cookies that I grew up on.  But let me assure you — they are worth every single bite when you're ready to indulge.  Plus, they make the most perfect holiday gifts too if you feel like sharing.  :)
So without further ado, let me re-introduce you to one of my favorite recipes!  Enjoy!!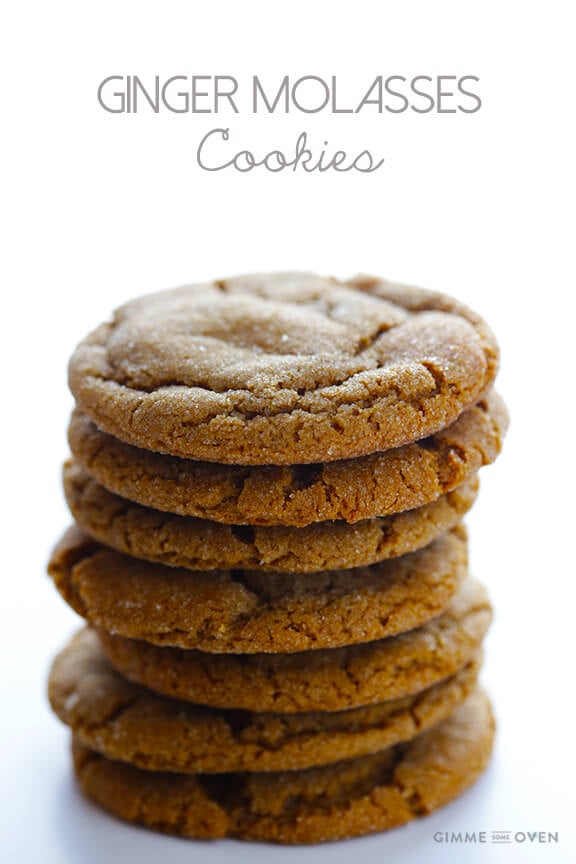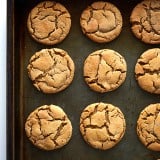 Chewy Ginger Molasses Cookies
These chewy ginger molasses cookies are soft, sweet, and unbelievably good.
Ingredients:
1 ½ cups butter, softened to room temperature (not melted!*)
2 cups granulated sugar
½ cup molasses
2 eggs
4 cups all-purpose flour
4 teaspoons baking soda
2 teaspoons ground cinnamon
2 teaspoons ground ginger
1 teaspoon ground cloves
1 teaspoon salt
Directions:
Preheat oven to 375°F.
In a medium bowl, whisk together flour, soda, cinnamon, cloves, ginger and salt. Set aside.
In the bowl of an electric stand mixer, beat together butter and sugar on medium speed for 2 minutes until light and fluffy, scraping down the bowl if need be.  Mix in the eggs (one at a time) and molasses, and beat on medium-low speed until each is combined. Gradually add in the dry ingredient mixture and beat until combined.
Place a sheet of plastic wrap directly on top of the dough (so that it's touching the entire surface and preventing air from getting in) to completely cover it.  Then refrigerate dough for 30-60 minutes, until it is completely chilled.**
Roll the dough into small balls, about 1-inch in diameter. Fill a small bowl with sugar, and roll each ball in the sugar until it is completely coated. Place on cookie sheet at least 1 inch apart, then bake for about 8-10 minutes, until the cookies begin to slightly crack on top.  (They will probably crack more while cooling.)  Remove from the oven and let cool for a minute or two. Then transfer the cookies to wire racks to cool completely.
Serve immediately or store in a sealed container for up to 1 week.
*In order for the butter to cream well with the sugar, it truly needs to be softened to room temperature for this recipe.  If it is too hard, or too melty, the creaming process won't work its magic and you may have flatter cookies as a result.  (Still tasty, but flatter!)
**It is essential that the dough be thoroughly chilled with this recipe before baking.  Otherwise, the dough will be soft and difficult to form into balls, and the cookies will flatten out significantly while baking.
This recipe was updated in December 2016 to include an additional teaspoon of ground ginger.  The original recipe only called for 1 teaspoon ground ginger.
All images and text ©
If you make this recipe, be sure to snap a photo and hashtag it #gimmesomeoven. I'd love to see what you cook!