Chicken Alfredo Baked Ziti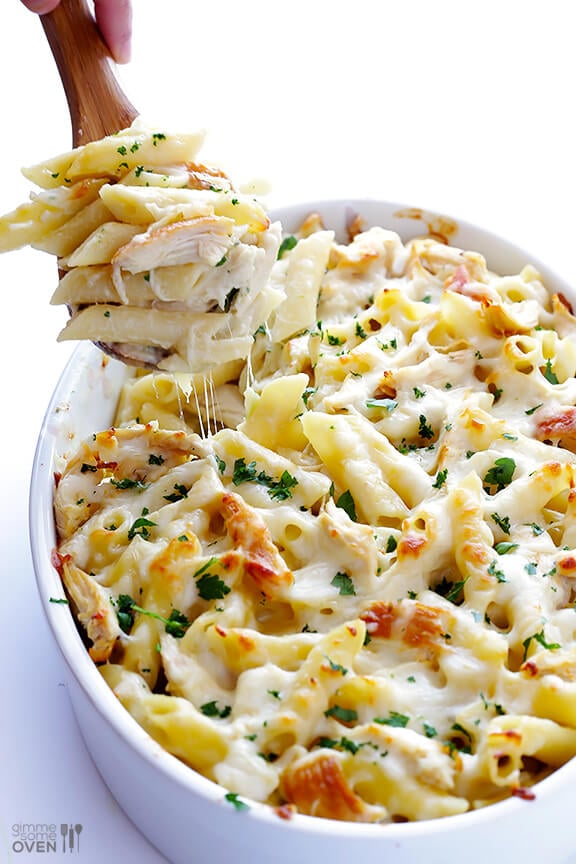 This recipe goes out to all of you rad parents with kiddos heading back to school this week.  You asked for quick and easy recipes in our recent reader survey here.  And let me tell you, this one's a keeper.  If you were a child of the 80's like me, you can even pop it in your Trapper Keeper to hold onto for busy school nights ahead.
Seeing all of the cute first-day-of-school kids pop on Facebook with new backpacks and lunch boxes has totally made me a nostalgic for those annual load-up-the-shopping-cart, try-to-convince-Mom-to-buy-us-new-everything, back-to-school supply shopping trips!
I mean, in elementary school I had to get that 64-pack of Crayola crayons (with vivid tangerine, holla!), Mr. Sketch scented markets, and cool eraser tops and neon grippers for my #2 pencils.  In middle school, it was Lisa Frank everything (oh yes, especially the unicorn stickers), a super-cool Trapper Keeper, and mechanical pencils.  And in high school, you'd better believe we drove all over town until I found The Exact Color of Jansport backpack that I wanted, that would hold all of those Mead's 5-Star notebooks, my fancy graphing calculator, and every color of gelly roll pin imaginable.
All non-negotiables, clearly.  :)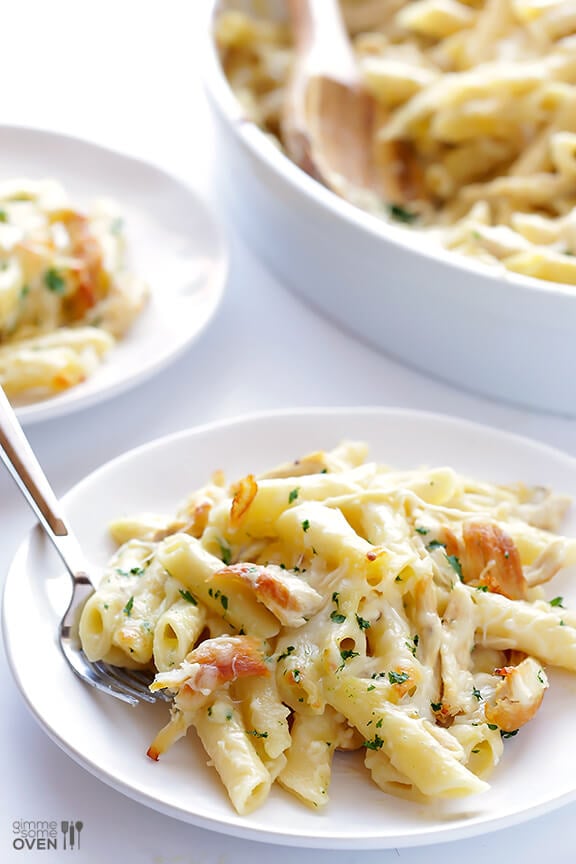 Well for any of you who just broke the bank buying all of your kids' non-negotiables, or for any of you adults like me who still regularly splurge a little too much on non-essential (but way too cute) office supplies, the good news is that this meal — yes I'm bringing us back to this Chicken Alfredo Baked Ziti — also falls in the "affordable" category.  Mine clocked it at under $15 for 6 servings.  So if you use your cool Casio solar-powered calculator to do the math, I'd call this meal a Very Good Deal.
I kept this base recipe pretty straight-forward so that it would also pass the picky-eater test.  But if you happen to have fresh veggies on hand, I'd highly recommend sauteing them up to add in too.
Here's how to make it!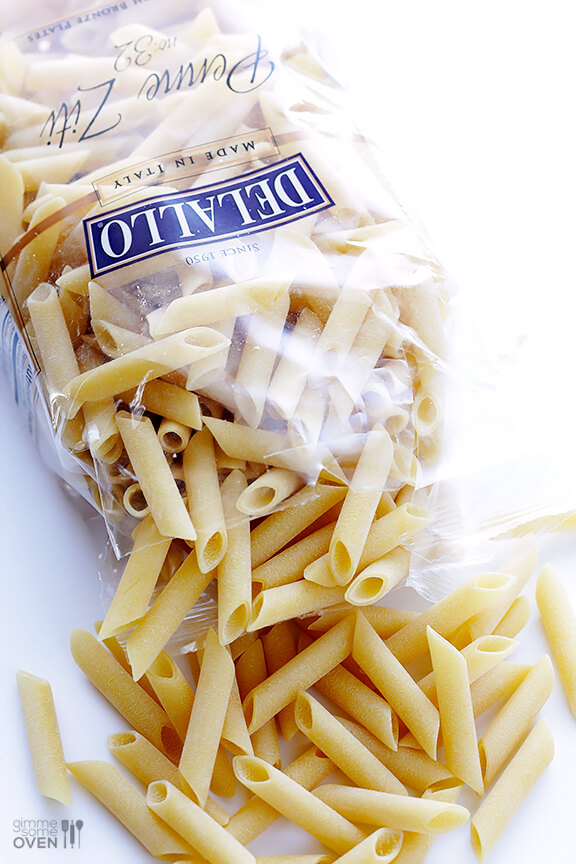 Begin by cooking up a batch of pasta.  I used traditional ziti, but you can use any shape and any type (whole wheat, gluten-free, etc.) of pasta.
While your pasta is cooking, cook up your alfredo sauce.  This is the "lighter" alfredo sauce that I used in my Skinny Fettuccine Alfredo recipe.  It's my fav!
Once the sauce and pasta are done, toss them until combined.
Also add in some shredded chicken if you'd like, and toss to combine.  You can use any kind, but I generally either:
1) season two chicken breasts with salt and pepper and saute over medium-high heat in olive oil until cooked through
2) use a rotisserie chicken (to save a step)
When your chicken alfredo ziti mixture is ready, add half of it to a baking pan.  Then sprinkle on some mozzarella cheese.  Then layer with the final half of the pasta, and sprinkle with more cheese.  Bake uncovered until the cheese is good and melty.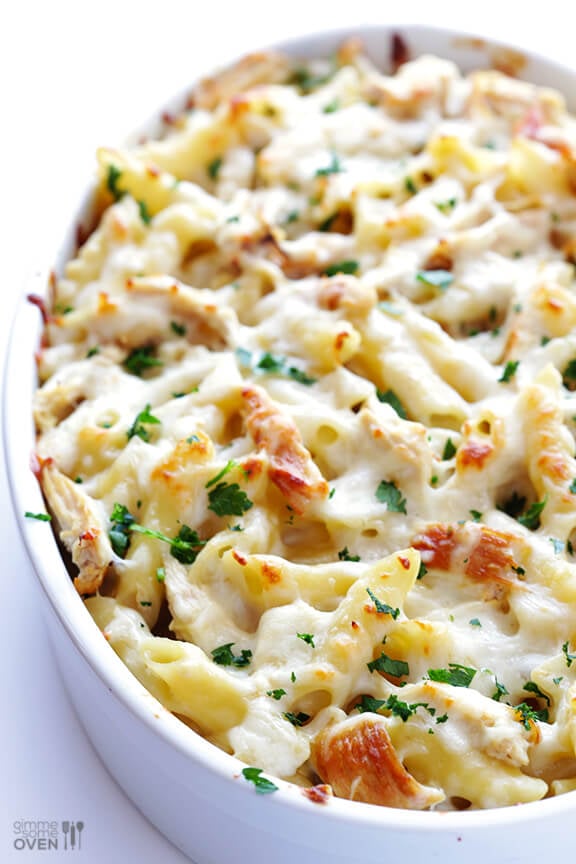 Then pull it out and top with a bit of fresh parsley if you want some color (totally optional though).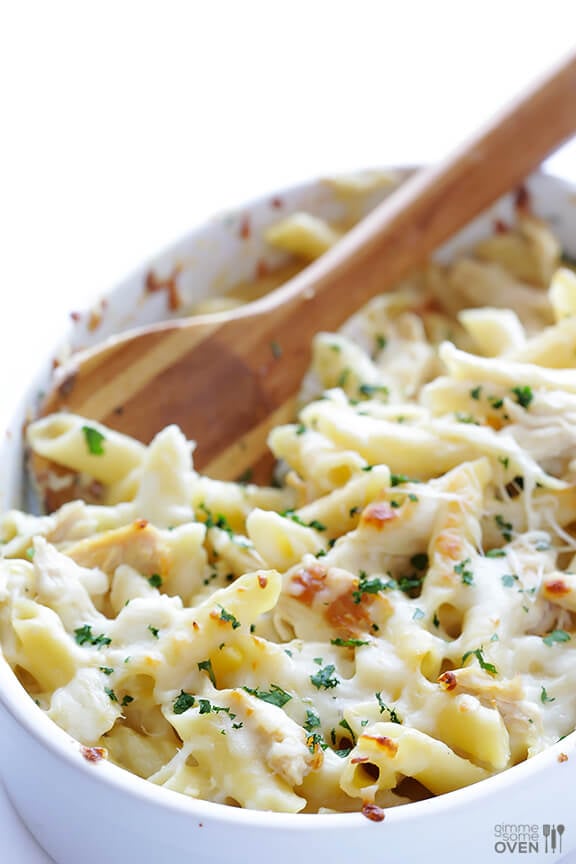 Then dive in!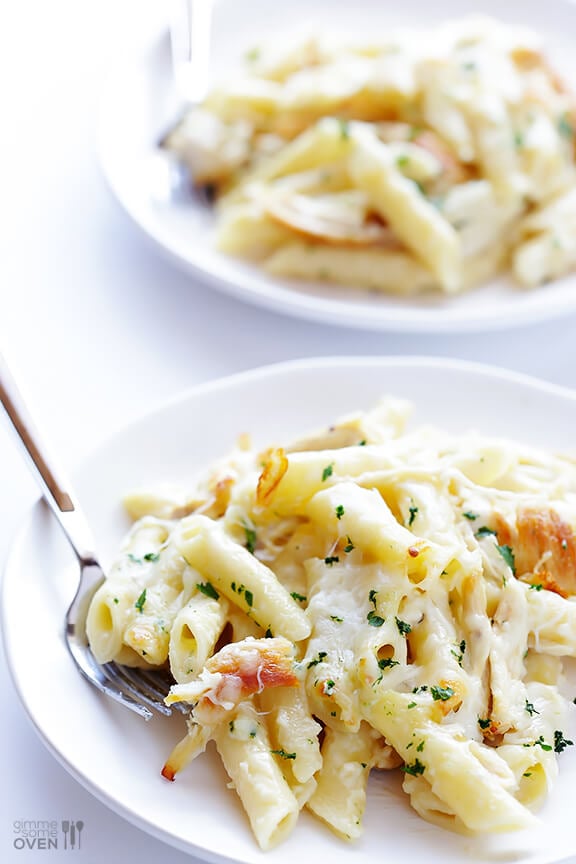 Seriously, whether you're 13 or 31, I'm pretty positive this meal will totally hit the spot.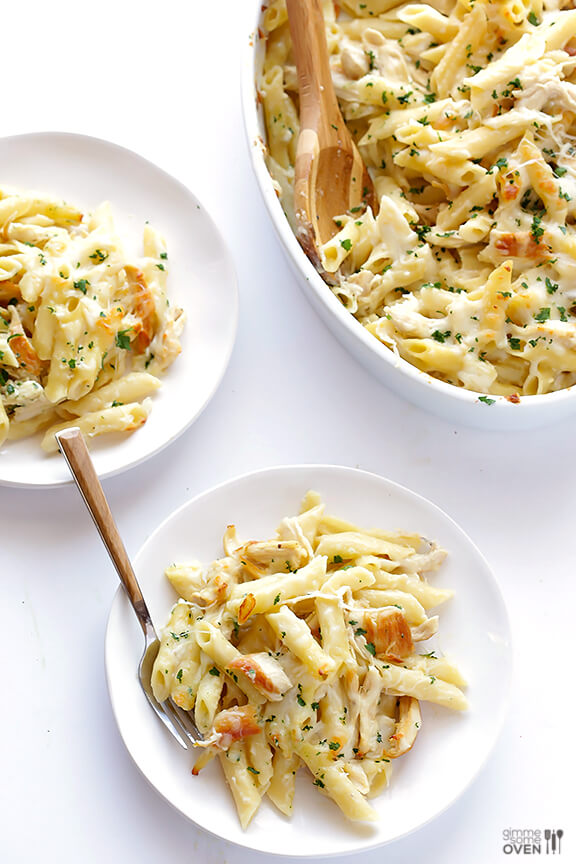 I give it an A+.  ;)
Enjoy!!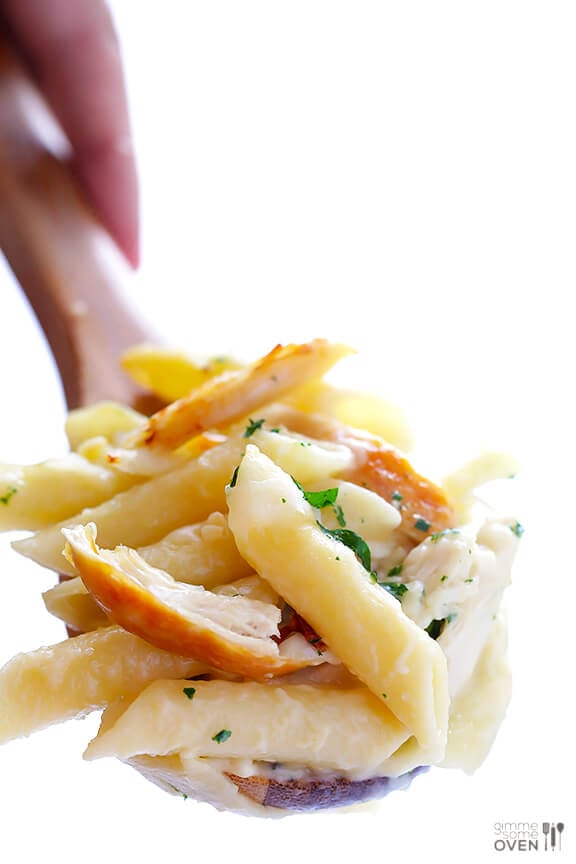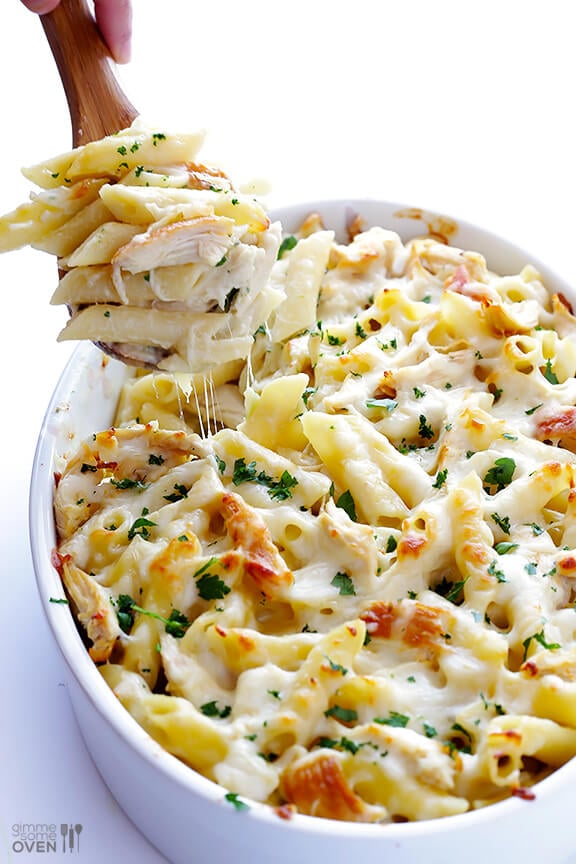 Chicken Alfredo Baked Ziti
Delicious chicken and ziti are tossed with a lighter alfredo sauce and baked up to cheesy perfection.
Ingredients:
Chicken Baked Ziti Ingredients:
12 ounces ziti (or any pasta shape)
2 cups shredded, cooked chicken (about 2 small chicken breasts)
1 batch alfredo sauce (see below)
1 1/2 cups shredded mozzarella cheese (I used 2% low fat)
(optional toppings: additional shredded Parmesan cheese, chopped fresh parsley)
Alfredo Sauce Ingredients:
1 Tbsp. olive oil
4 cloves garlic, minced
3 Tbsp. flour
1 cup chicken broth
1 cup low-fat milk (I used 1%)
3/4 cup freshly-grated Parmesan cheese
1/2 tsp. salt
1/4 tsp. black pepper
*This isn't a super-saucy dish, so if you like a lot of sauce, you might want to consider doubling this recipe. If you don't have the time to make your own sauce, one standard-sized jar should be enough.
Directions:
To Make The Chicken Baked Ziti:
Preheat oven to 375 degrees F.
Cook the pasta al dente in a large stockpot of well-salted boiling according to package instructions. Drain. Return pasta to the stockpot and add chicken and alfredo sauce. Gently toss to combine until the pasta is evenly coated.
Pour half of the pasta into a greased baking dish (either an oval baking dish, as pictured above, or a 9 x 13-inch baking dish will work). Sprinkle evenly with 1 cup of cheese. Layer the remaining half of the pasta evenly on top. Sprinkle evenly with the remaining 1/2 cup of cheese.
Bake for 20-25 minutes until the cheese is melted and just barely starts to turn golden. Remove and serve immediately, sprinkled with additional toppings if desired.
To Make The Alfredo Sauce:
Heat olive oil in a large sauce pan over medium-high heat. Add garlic and saute one minute, stirring occasionally, until fragrant. Sprinkle with flour, and stir to combine. Saute for an additional minute to cook the flour, stirring occasionally.
Slowly add chicken broth, whisking to combine until smooth. Whisk in milk, and bring the mixture to a simmer. Let cook for an additional minute until thickened, then stir in Parmesan cheese, salt and pepper until the cheese melted. Remove from heat and set aside.
All images and text ©
If you make this recipe, be sure to snap a photo and hashtag it #gimmesomeoven. I'd love to see what you cook!
This post contains affiliate links.