Chocolate Biscoff Whoopie Pies
Those of you who follow me on Instagram have learned that I recently began working as an on-call photo stylist assistant at Hallmark.  Dream come true!!!  It is just about the coolest creative environment I've ever seen (including an amaaaaaazing prop warehouse, including an entire room devoted to food styling props!), plus I get to work with the kindest, most talented bunch of folks I could ever hope for.  But one of the other perks of being back in a shared workplace a few days a week is having people to taste-test my food!  Love it!!
So yesterday, after I may or may not have had one of these "Chocolate Biscoff Whoopie Pies" for breakfast, I brought the batch in to share with my coworkers.  Thankfully, they were willing to help out.  And one by one, the little pies disappeared from the pedestal until they were wonderfully gone – whoopie!
The feedback was a big thumbs up.  Everyone seemed to love them!  I, of course, loved the pairing of the sweet and cinnamony Biscoff cream cheese frosting with the chocolate whoopie pies.  But I also thought they were nice and balanced — not overpoweringly sweet.  Just sweet enough to enjoy one.  And then maybe two.  And….well, you'll just have to give them a try.  :)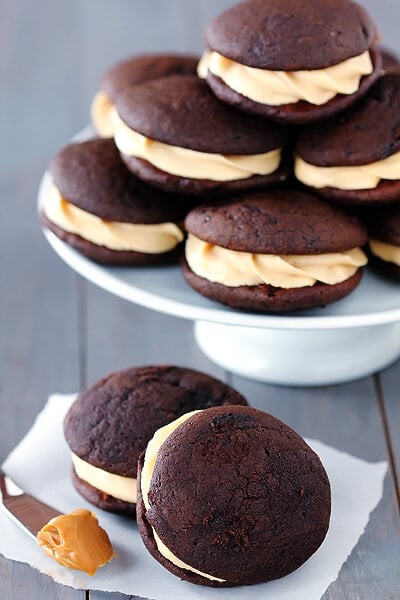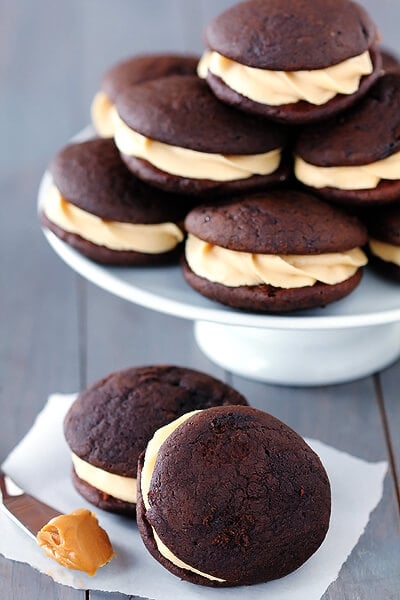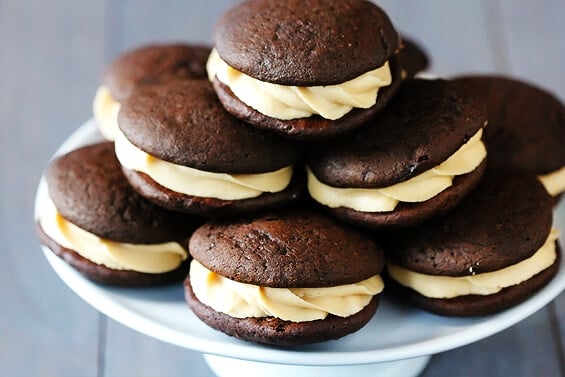 Chocolate Biscoff Whoopie Pies
Delicious Biscoff spread goes perfectly with this cream cheese frosting, sandwiched between two chocolate cookies to make these Chocolate Biscoff Whoopie Pies.
Ingredients:
Chocolate Whoopie Pie Ingredients:
1 2/3 cups all-purpose flour
2/3 cup unsweetened cocoa powder
1 1/2 tsp. baking soda
1/2 tsp. salt
1/2 cup (8 Tbsp.) unsalted butter, room temperature
1 cup packed dark brown sugar
1 egg
1 tsp. vanilla extract
1 cup milk
Biscoff Cream Cheese Frosting Ingredients:
1 (8 oz.) block cream cheese, softened
1/2 cup Biscoff spread
1/2 tsp. vanilla extract
1 cup powdered sugar
Directions:
To Make The Whoopie Pies:
Preheat oven to 375 degrees. Line baking sheets with parchment paper or a Silpat.
In a bowl, sift together, flour, cocoa, baking soda, and salt. In another bowl, beat butter and sugar with a mixer on low until just combined. Increase speed to medium and beat for about 2 minutes. Add egg and vanilla and beat for two more minutes. Add half of the flour mixture and half of the milk and beat on low until incorporated. Repeat with remaining flour and milk and beat until combined.
Drop batter on baking sheet in tablespoon clumps, each about two inches apart. Bake for about 10 minutes each or until pies spring back when pressed gently. Remove from oven and cool for about five minutes before transferring them to a rack to cool completely. Once cooled, spoon or pipe the frosting onto the flat side of one cookie, and then top with another cookie to make a whoopie pie. Repeat with remaining frosting and cookies.
To Make The Biscoff Cream Cheese Frosting:
Using an electric mixer, cream together cream cheese and Biscoff spread on medium speed until combined. Add vanilla and powdered sugar, and mix on low speed until sugar is incorporated. Stop mixer, and use a spatula to scrape the sides of the bowl. Increase speed to medium and mix for 1 more minute until well combined.
Ali's Tip:
If you don't have Biscoff spread, these would also be great with peanut butter.
If you make this recipe, be sure to snap a photo and hashtag it #gimmesomeoven. I'd love to see what you cook!