Chocolate Peanut Butter Skillet Cookie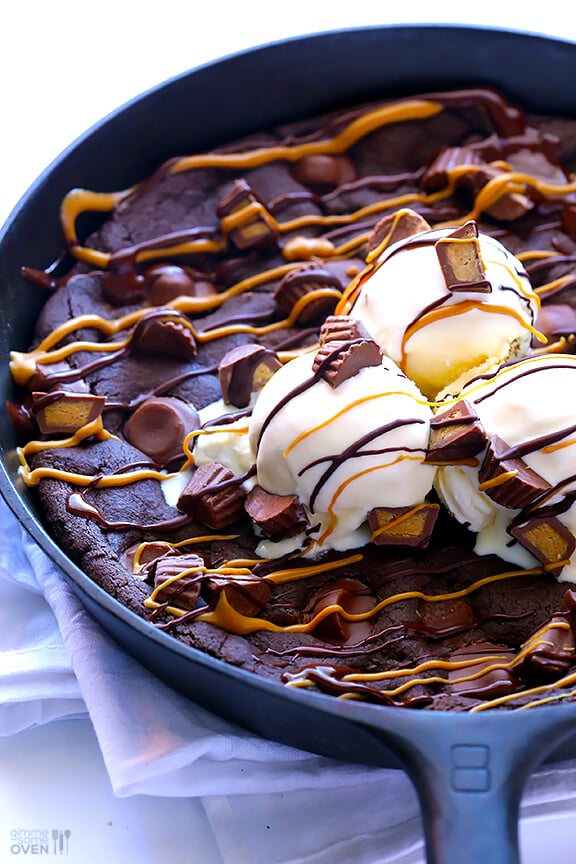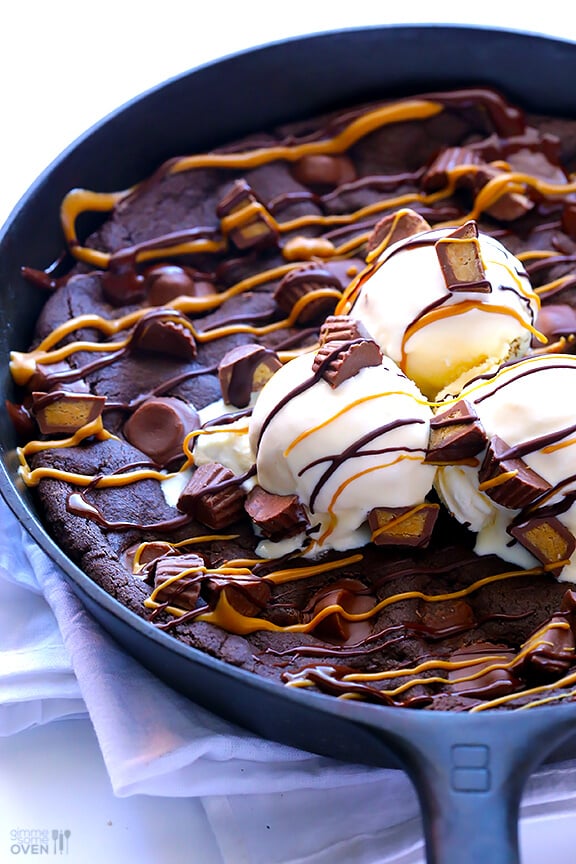 So, last Friday I received the biggest package in the mail of my life.  
You guys, I bought an elliptical!!!!
And it has no less than changed my life.  I have been saving for one for months and months, partly because there are no good gyms near my loft and I've been losing steam on my usual workout video routine in the winter.  And partly because I have a really bad back, so any high impact workouts are bad news bears for me.  But mostly I bought it because I just truly-madly-deeply love ellipticals.  Hate treadmills.  Love ellipticals.
But as I once wrote, I am one of those people who can't stand to focus on the actual "working" part of working out.  I either want to be chatting it up with a friend or watching tv.  Otherwise I stare at the clock and count the miles and calories and get bored out of my mind.  So, long story short, I ended up shopping around and finding an elliptical with a small tv on top.  (Brilliant.)  But the catch was that I had to order it online…and assemble it myself.
So what's a girl to cook to provide a little sustenance to assemble a 200-lb elliptical machine?
Why, this epic chocolate peanut butter skillet cookie, of course.  What else?  ;)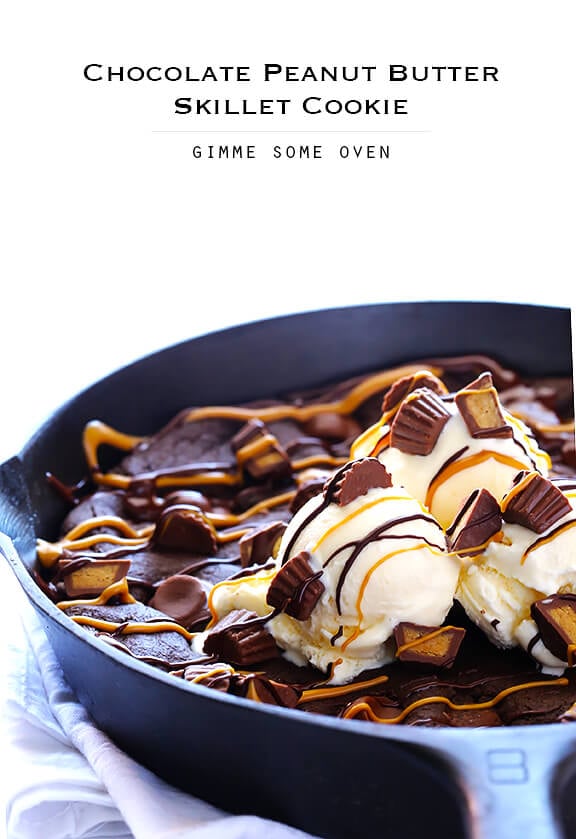 Ha, ok this cookie was actually on my must-make agenda for the day before the delivery man showed up (a few days late) with the biggest box EVER which took up half of my living room.  But hey!  People always ask how I don't gain a ton of weight working as a food blogger, so case in point:
I made this epic cookie of my dreams.  Then ate a small slice.  Then shared some with my neighbors.  Then worked my tail off (and probably most of the calories of the slice) for a few hours assembling this uber-heavy elliptical.  Then wised up and decided not to kill my back trying to lift the whole thing to move it into its final position, so I invited a strong neighbor over to help.  And then shared more cookie with him as a "thank you".
Then I woke up the next morning and worked out, and maybe had another small slice for breakfast.  ;)
To each, her/his own.  But when it comes to desserts, I would almost always rather eat a smaller portion of the real deal than settle for a lighter version that didn't taste quite as good.  And when it comes to taste (and chewy texture, topped with that cold and creamy ice cream), lemme assure you — this one's GOOD.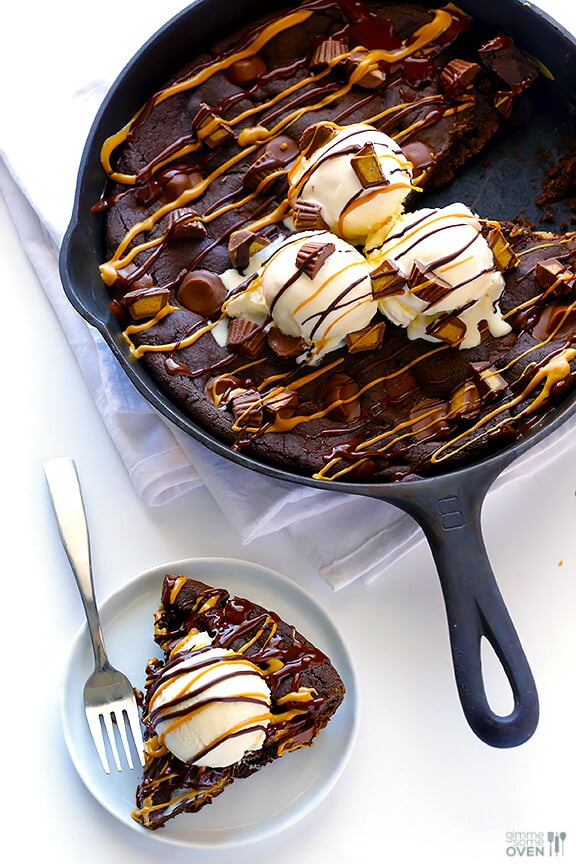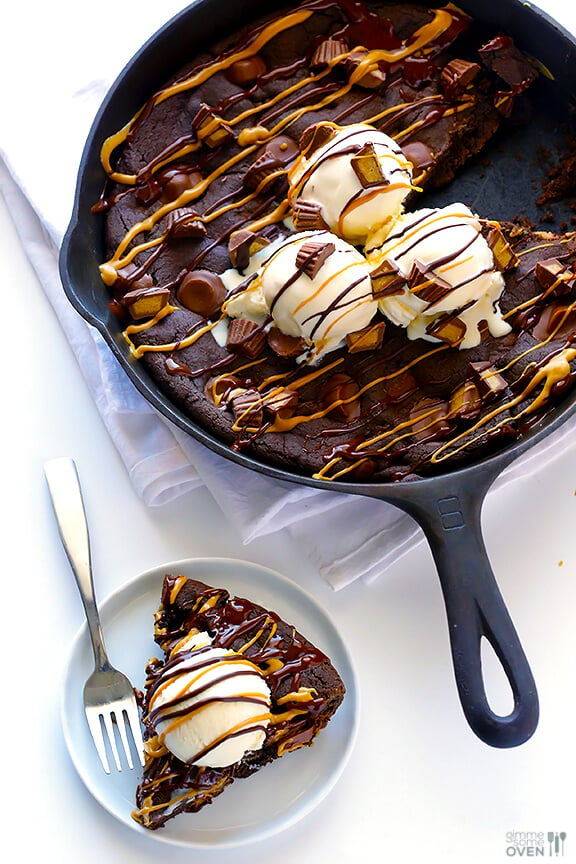 Oh, and did you catch that it only takes 15 minutes to prep?  Here's how: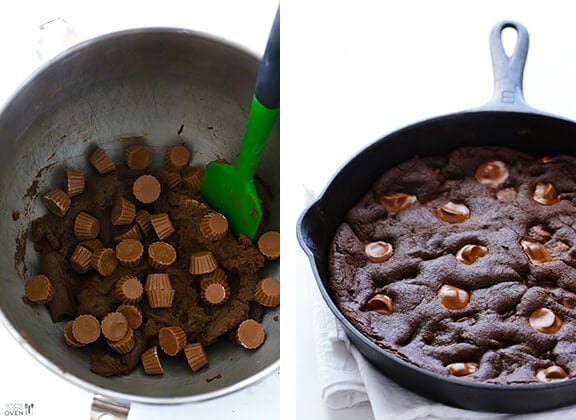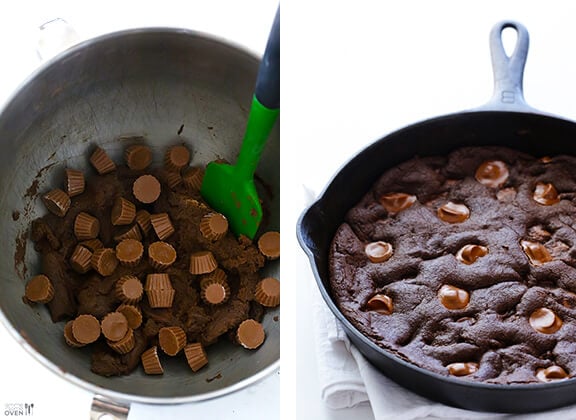 Start by whipping up a simple double chocolate cookie dough.  But instead of stirring in chocolate chips, gently fold in some mini peanut butter cups.  I used Reese's, but Trader Joes and all sorts of other brands now offer them as well.  (I also recommend saving a few to press on top of the dough before baking so that you can see them.  Although if you really want them to hold their shape and not melt like mine did, freeze 'em beforehand!)
Then bake it up to soft and chewy perfection.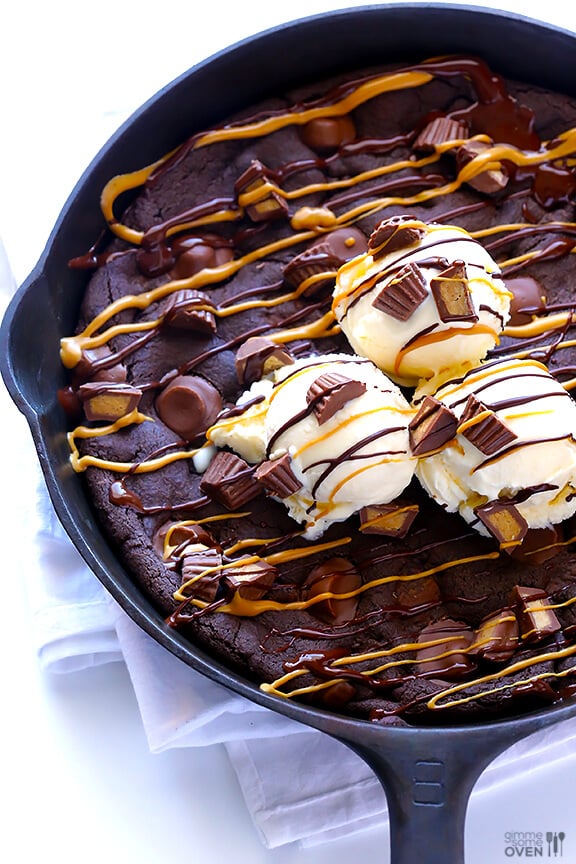 And then top with whatever makes you happy.
I went with ice cream, melted peanut butter and chocolate, and a few more peanut butter cups that I halved so that everyone can see the peanut buttery filling.  It was perfection.  And worth every single calorie, in my humble opinion.  ;)
Enjoy!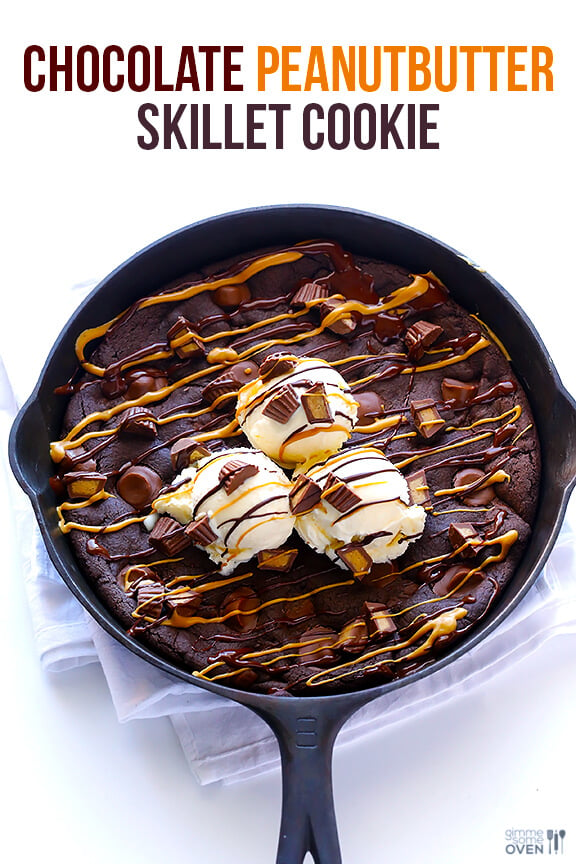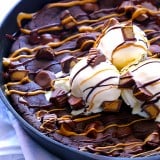 Chocolate Peanut Butter Skillet Cookie
This peanut butter chocolate skillet cookie is decadent and ready with just 15 minutes of prep work!
Ingredients:
Cookie Ingredients:
1/2 cup (1 stick) butter
1/2 cup white sugar
1/4 cup brown sugar
1 egg
1 teaspoon vanilla extract
1 cup all-purpose flour
1/3 cup unsweetened cocoa powder (or dark chocolate cocoa powder)
1 tsp. cornstarch
1/2 teaspoon baking soda
1/4 teaspoon salt
1 cup mini peanut butter cups or peanut butter chips
Topping Ingredients:
ice cream
1/2 cup extra peanut butter cups
1/4 cup semisweet chocolate chips, melted
3 tablespoons peanut butter, melted
Directions:
Preheat oven to 350 degrees F (175 degrees C).
Using an electric mixer, beat butter and sugar together on medium-speed until light and fluffy, about 2 minutes. Add eggs and vanilla and beat to combine. Stir together the flour, cocoa, baking soda, cornstarch, and salt in a separate bowl until combined. Add the dry ingredient mixture to the wet ingredients, and beat on medium-low speed until just combined. Carefully fold in the peanut butter cups by hand until combined.
Turn the dough into a 9-inch* skillet that has been well-greased (I used butter) on all sides. Press the dough into an even layer in the skillet, leaving a 1/2-inch border around the edges so that the dough is not actually touching the sides of the pan.
Bake for 15-18 minutes, or until a toothpick inserted in the center of the cookie comes out clean. Let cool for at least 5 minutes on a wire rack. When ready to eat, top with ice cream and sprinkle on additional peanut butter cups. Then melt some chocolate and peanut butter in separate bowls in the microwave, and drizzle on top.
Oh, and enjoy. :)
*If your skillet is an inch smaller or larger, no prob. Just adjust the cooking time accordingly.
All images and text ©
If you make this recipe, be sure to snap a photo and hashtag it #gimmesomeoven. I'd love to see what you cook!