Chocolate Pretzel Nachos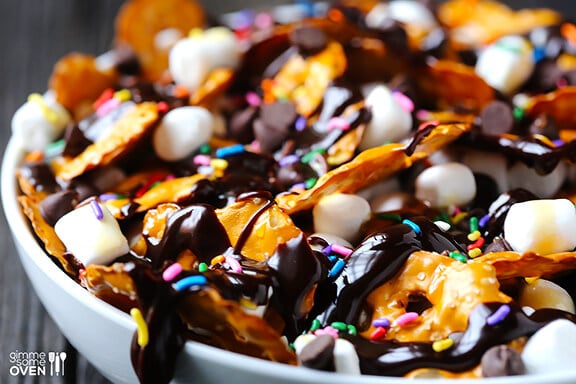 Eeeeeeeee!
Ok, I'm a little excited about these.  For those of you out there who like chocolate-covered pretzels, or who (like me) find anything salty and sweet absolutely irresistible, OR for those of you who just like any excuse to eat nachos — I have a new creation for you to try.
Chocolate Pretzel Nachos!!!
I have been craving chocolate-covered pretzels for a week, ever since I made two enormous (and might I say, perfectly-drizzled) batches for work that were for photographing only, not eating.  But when I was thinking about trying to dip my beloved Pretzel Crisps in chocolate, I had the idea to instead turn them into some sweet chocolate nachos for snacking!  And they turned out to be fantastic!!
I just piled up a bunch of pretzels, marshmallows and chocolate chips, and then drizzled them with warm hot fudge sauce and butterscotch sauce (although you could also use caramel).  And then I couldn't resist throwing on a few sprinkles.  ;)
Super easy, SUPER fast, and a guaranteed crowd-pleaser.  They would even be extra awesome when served alongside ice cream for dipping.
Fair warning that there may be some more pretzel nachos recipes coming soon.  These are too fun!!!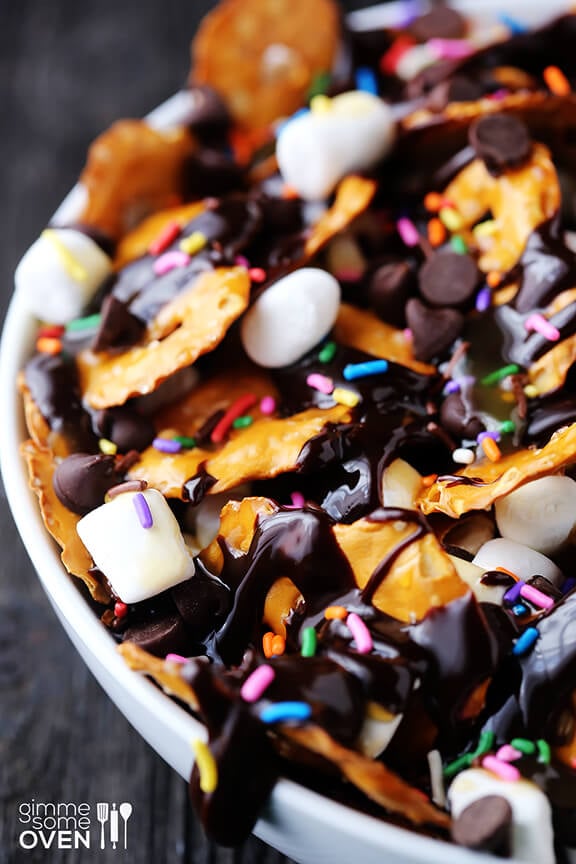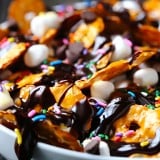 Chocolate Pretzel Nachos
Pretzel Crisps are drizzled with chocolate and butterscotch sauce to create this sweet treat!
Ingredients:
Pretzel Crisps (I used the original flavor)
semisweet chocolate chips
mini marshmallows
chocolate fudge sauce, warmed
butterscotch or caramel sauce, warmed
(optional) sprinkles
Directions:
Toss together your desired amount of Pretzel Crisps, chocolate chips and mini marshmallows in a large bowl. Turn them out onto your serving dish. Then drizzle with warmed fudge and butterscotch (or caramel) sauce. Top immediately with sprinkles.

Serve chocolate pretzel nachos on their own, or with a side of ice cream.

All images and text ©

If you make this recipe, be sure to snap a photo and hashtag it #gimmesomeoven. I'd love to see what you cook!