Chocolate Roll
This post may contain affiliate links. Please read my disclosure policy.
This traditional Chocolate Roll recipe (a.k.a. "Chocolate Swiss Roll") is easy to customize with your favorite filling — traditional cream cheese, chocolate, peppermint, or whatever other creative idea you might have. It's also easy to make ahead of time and freeze, and it is perfect for entertaining!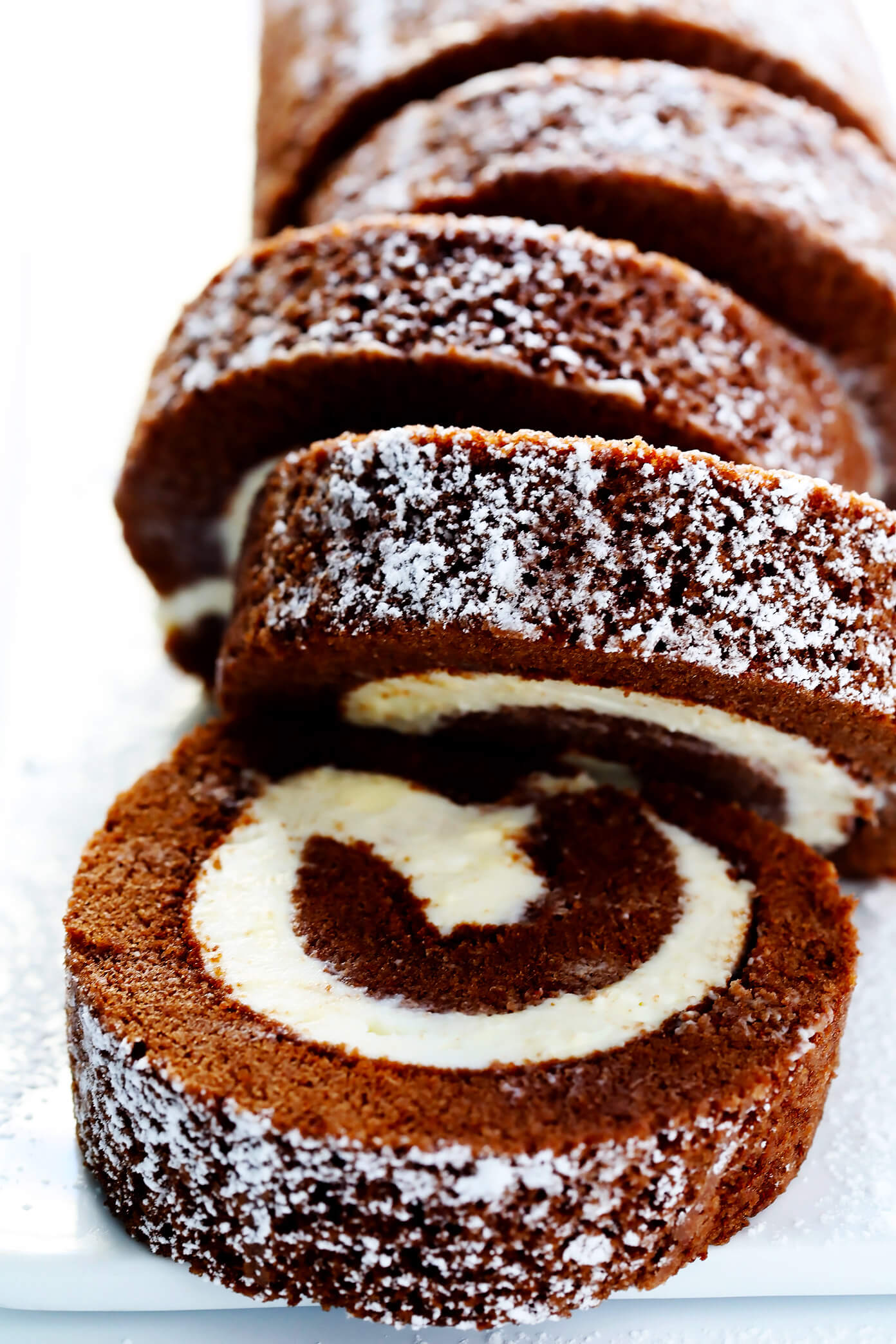 And…the third roll's a charm.
Guys! Since posting my favorite pumpkin roll recipe last fall, followed by this irresistible carrot cake roll recipe this past spring, I have had sooo many of you write and ask for a third roll recipe…a chocolate roll! Or as it's also called, a chocolate Swiss roll. I must have been living in my own little pumpkin roll bubble for too long because I had no idea these were such a thing. But I suppose that with chocolate involved, I shouldn't have been surprised. ?
By contrast to traditional pumpkin rolls, though, it seems like there are about a bajillion different ways you can go about making a chocolate roll. Some fill theirs with cream cheese filling, some with buttercream, some with mousse, some with straight whipped cream. Some flavor their filling with chocolate, some with raspberry, some with peppermint, some with a shot of their favorite liqueur. Some top theirs with powdered sugar, some with cocoa powder, some with chocolate ganache, some with any number of random toppings. Basically…the chocolate cake sky is the limit here.
I did some tinkering around with a few various recipes and landed upon a chocolate cake base that will get you off to a good start. And then because I'm a creature of baking-roll-habit, I stuck with my trusty cream cheese filling and dusting of powdered sugar on top. (<– So good.)  But feel free to make this recipe your own, and go ahead and do yourself a favor and make a double batch. Because:
these rolls can be made ahead of time, and chill in the refrigerator (for a few days) or freezer (for a few months) beautifully
they are always, always, always a hit at a gathering
CHOCOLATE.
So grab your cocoa powder, and let's make some!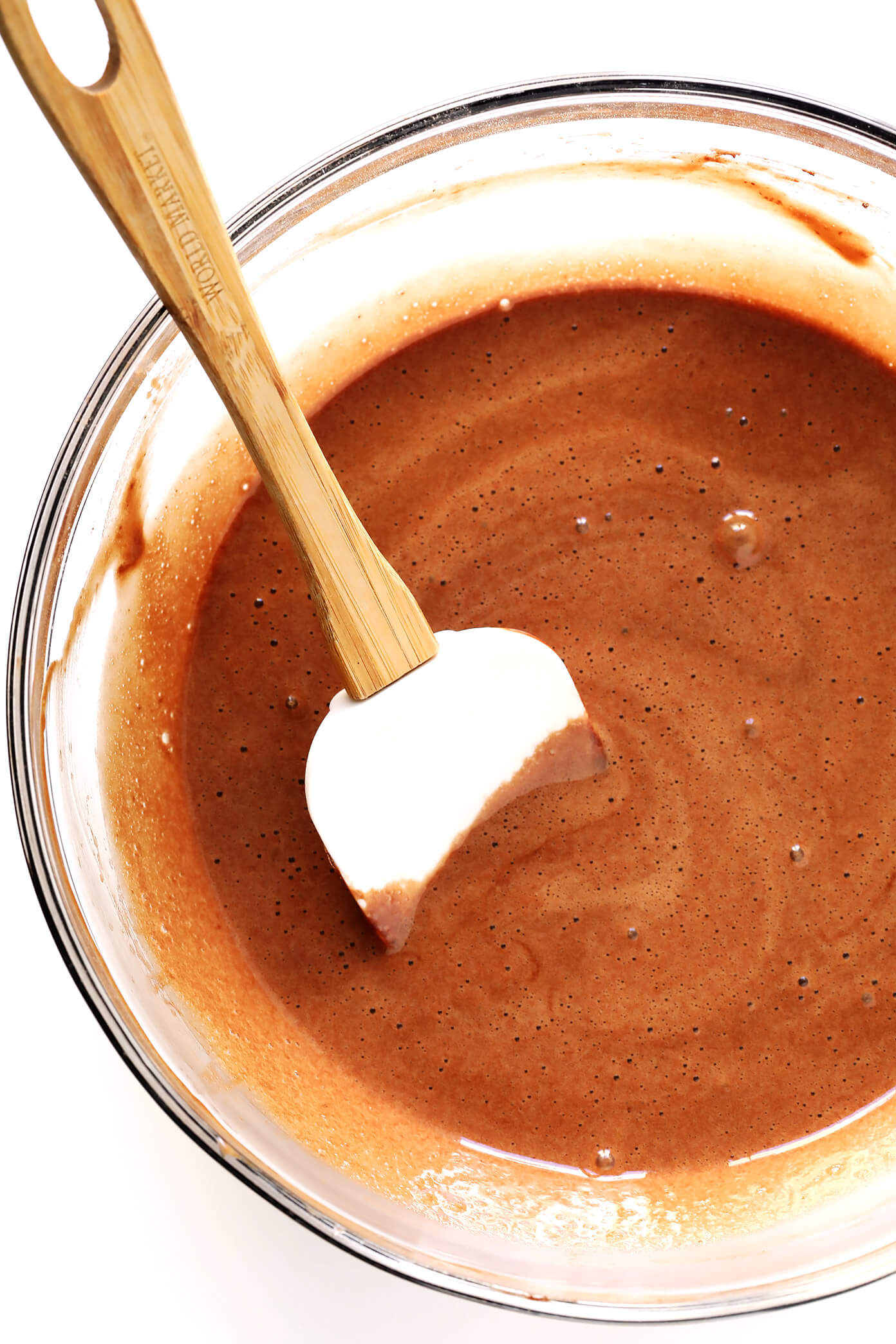 If you're brand new to the dessert roll, I highly recommend taking a peek at my pumpkin roll video to get a visual for exactly how to roll, unroll and re-roll a pumpkin/carrot/chocolate cake roll. It's not hard at all, but I think it's much easier to understand through a visual than with words. ??
To make the chocolate roll, begin by making your chocolate cake. The batter is really simple, and gets kicked up a notch with a touch of espresso powder. (<– Don't worry, it won't taste like coffee! The espresso powder just helps bring out the flavor of the chocolate. But you can also leave it out, if you'd prefer.)  Once it's ready to go, pour it into a 15 x 10-inch jelly roll pan that has been lined with parchment paper. (Oh, and be sure to leave yourself an extra inch or so of parchment sticking up on all sides. This will make the cake easier to roll, so that you can grab onto the parchment and not have to touch the hot cake.)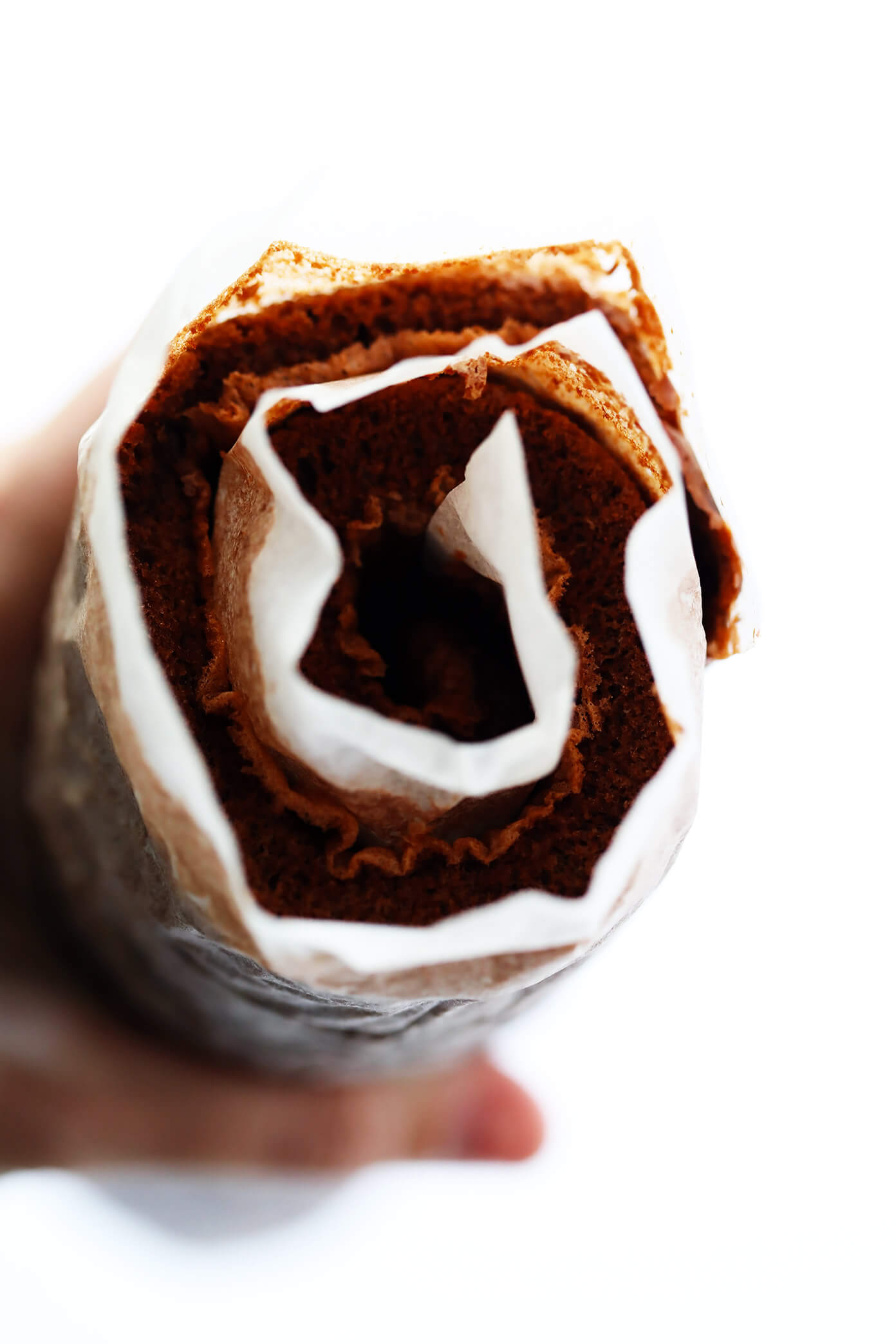 Bake the cake until it is just done. Then immediately (and very carefully!) grab onto the parchment and lift the cake out of the pan and onto a heat-safe flat surface. Then slowly roll the cake from short-end to short-end, until it forms a roll. (See above.)
Let the cake cool for a few hours until it is completely room-temp. (If you try to unroll and fill it while it's still warm, the filling will likely melt and ooze out.)  Then carefully unroll the cake, spread your filling evenly all over the surface, re-roll the cake. And voila! You can either serve it right away, or I recommend wrapping it tightly in plastic wrap and refrigerating it for at least an hour so that the filling can firm up a bit.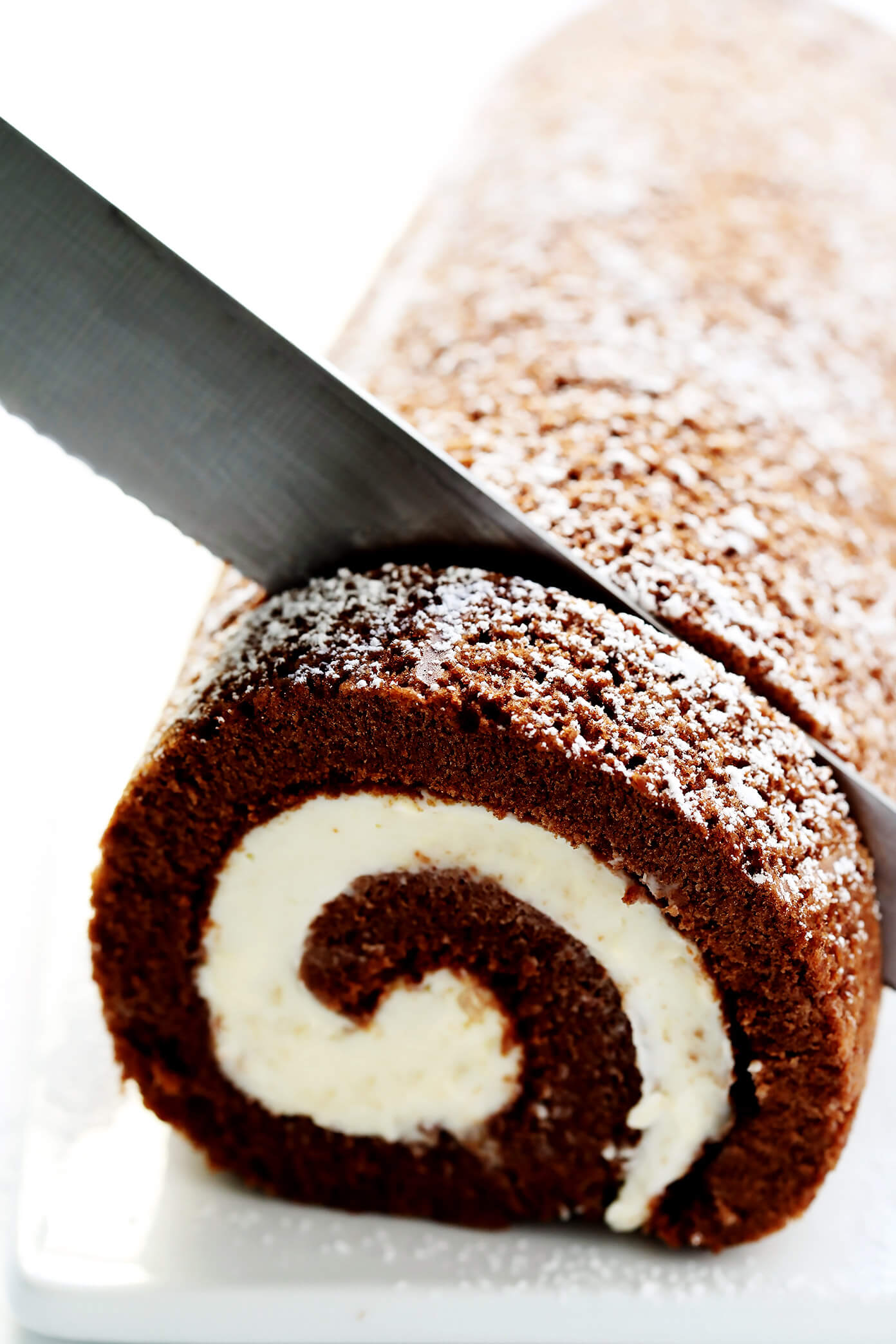 Then slice…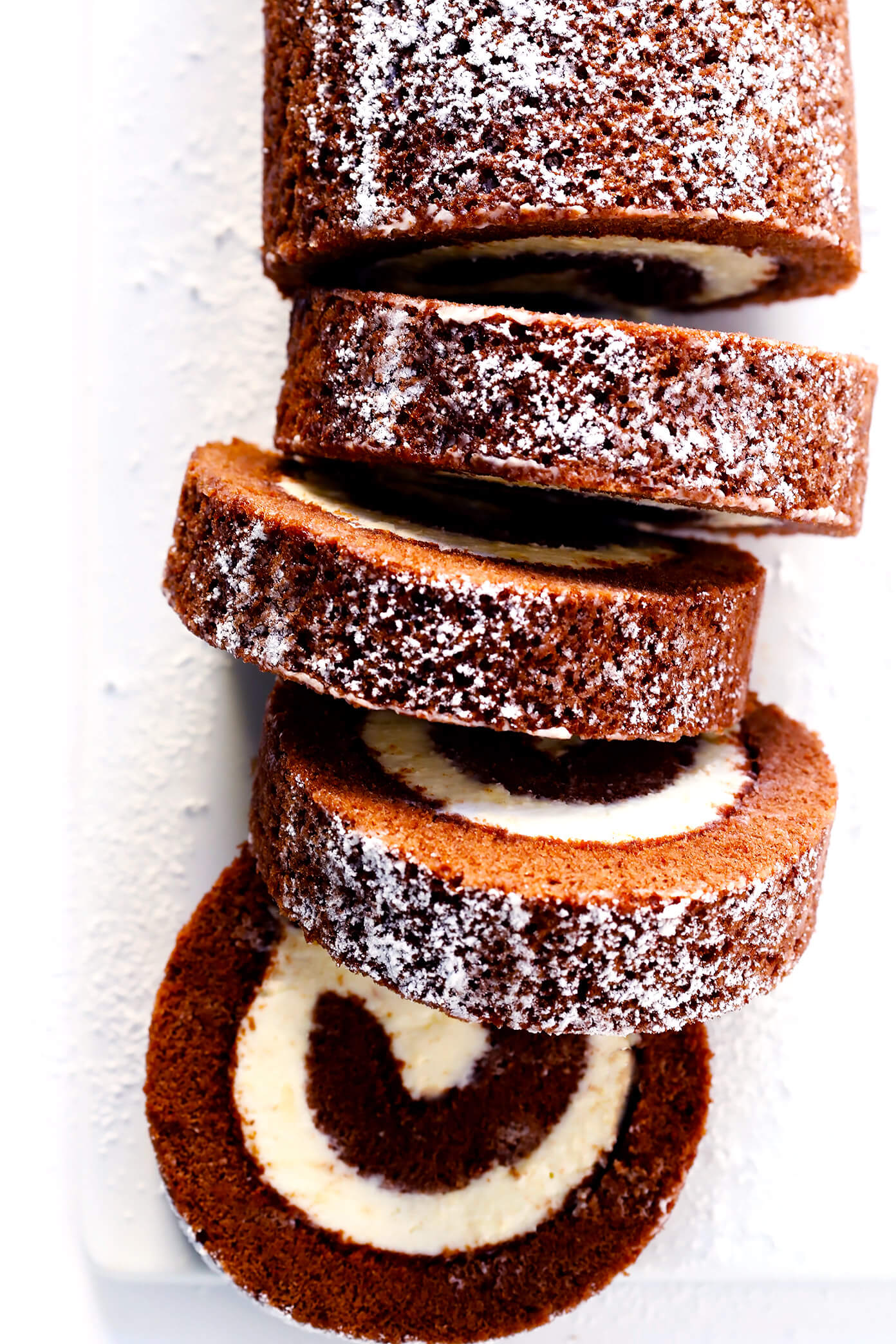 …serve…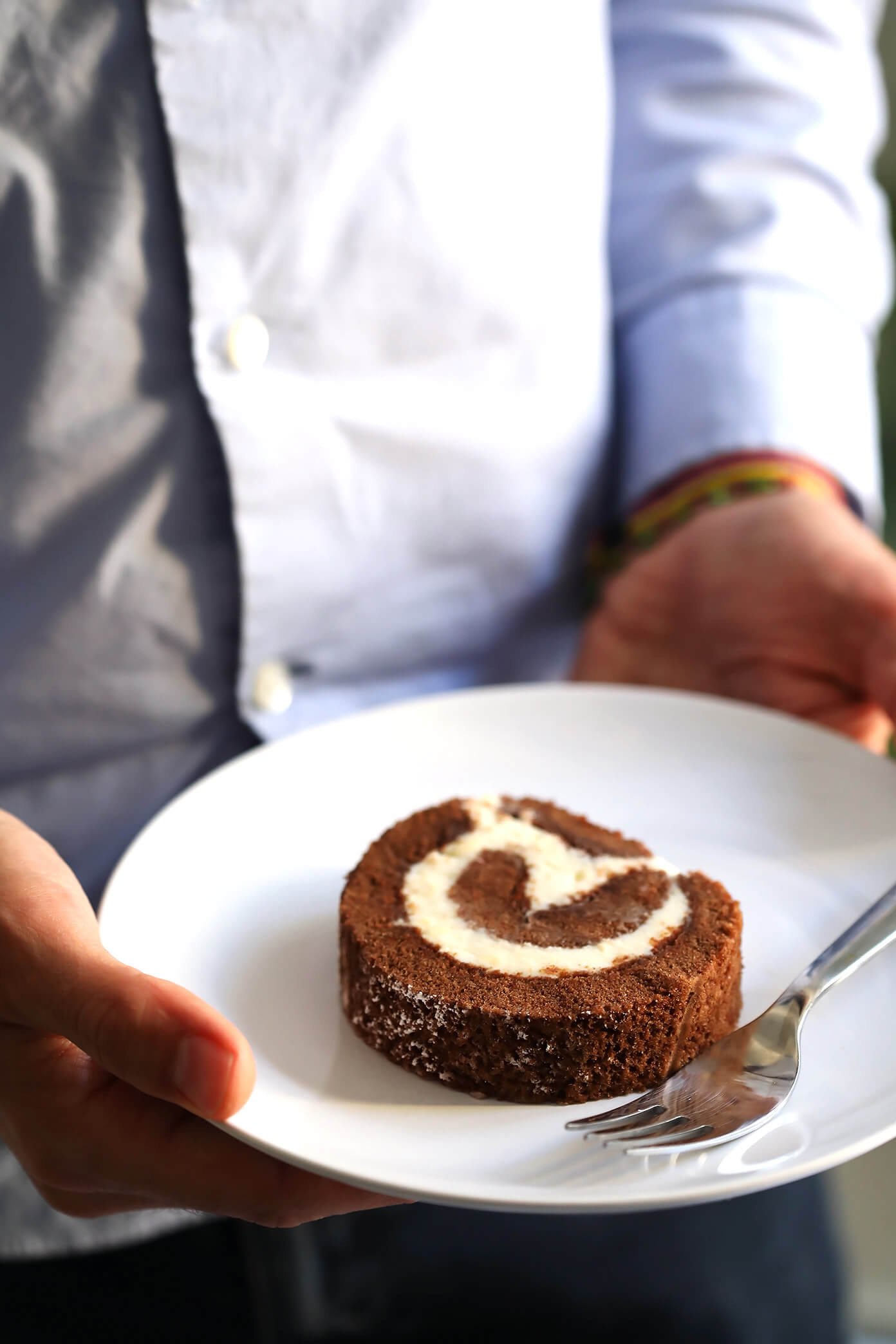 …and enjoy!
As I said, there are about a thousand different ways that you can top and fill this chocolate roll. So feel free to Google around if you'd like something different than the suggestions I offer below. But otherwise, enjoy!! (And be sure to tag me in your photos if you make one — I'd love to see your creations!)
Enjoy, friends!
This recipe contains affiliate links.
Chocolate Roll
This traditional Chocolate Roll recipe (a.k.a. "Chocolate Swiss Roll") is easy to customize with your favorite filling — traditional cream cheese, chocolate, peppermint, or whatever other creative idea you might have.  It's also easy to make ahead of time and freeze, if you'd like.
Chocolate Cake Ingredients:
1/2 cup all-purpose flour
1/4 cup unsweetened cocoa powder
1 teaspoon baking powder
optional: 1/2 teaspoon <a href="https://amzn.to/2Auiv7q" target="_blank" rel="nofollow noopener noreferrer">espresso powder</a>
1/2 teaspoon salt
4 eggs
1/2  cup granulated sugar
2  tablespoons melted butter or oil
1 teaspoon vanilla extract
Cream Cheese Filling Ingredients:
1 8 ounce brick cream cheese, room temperature
1 cup powdered sugar (sifted)
4 tablespoons butter (softened)
1 teaspoon  vanilla extract
To Make The Chocolate Cake: 
Heat oven to 350°F.  Line a 15 x 10-inch jelly roll pan with parchment paper, leaving an extra 1-inch of parchment sticking up on both 15-inch sides of the pan so that you can easily lift the cake out and roll it up after baking.  (If you'd like the parchment to stick to the bottom of the pan more easily, sprinkle a little bit of water on the pan and then press the parchment paper on top of it.  You can also lightly mist the top of the parchment paper with cooking spray for easier cake release afterwards, although it's not required.)
Whisk together flour, cocoa powder, baking powder, espresso powder (if using) and salt in a medium bowl until evenly combined.  Set aside.
In a separate bowl, whisk eggs and granulated sugar for 1 minute until thick. Add in the melted butter and vanilla extract, and whisk until just combined. Fold in the flour mixture with a rubber spatula, and stir together until just combined.
Spread the batter evenly into prepared pan.  Bake for 11 minutes, or until top of cake springs back when touched. Very carefully lift the parchment paper and cake out onto a flat (and heat-safe) surface.  Then slowly, use your hands (careful, it will be hot!) to roll the cake  — rolling from the short end to the short end — until it is completely rolled up.  Transfer the cake roll to a wire rack, and cool until it reaches room temperature.
While the cake is cooling, make the cream cheese filling (see below).
Once the cake has reached room temperature, transfer the cake roll to a flat surface, and carefully it until it is flat again (or mostly flat, it's ok if the ends curl up a bit). Spread the cream cheese mixture evenly over cake, leaving a 3/4-inch border on all sides.  Then carefully re-roll the cake, gently peeling away the parchment paper as you roll until you can completely remove and discard it. Tightly wrap the chocolate roll in plastic wrap and refrigerate at least one hour.
Remove and unwrap the chocolate roll and transfer it to your serving dish. Lightly dust the chocolate roll on all sides with powdered sugar, if you would like.  Then slice* and serve.

If you have leftovers, just re-wrap the chocolate roll in plastic wrap and store in the refrigerator for up to 3 days.
To Make The Cream Cheese Filling:
Whisk together cream cheese, powdered sugar, butter and vanilla extract in a mixing bowl until smooth. If the filling is too thin, add more powdered sugar. If it is too thick, add a half teaspoon or two of water.  (You want a medium consistency so that the filling is easy to spread, but not too warm or thin that it will ooze out of the cake when you're rolling it up.)