Classic Chili (Chili Con Carne)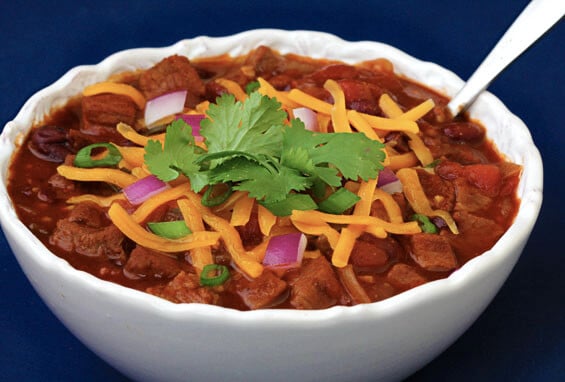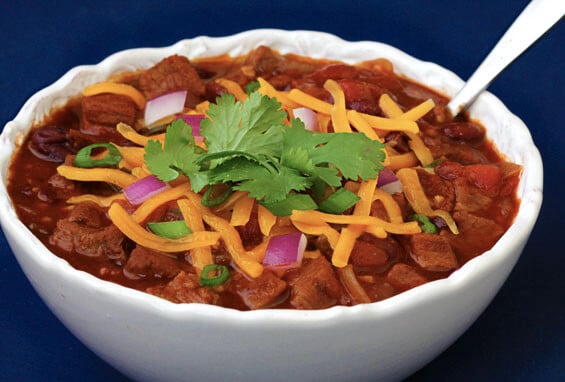 For years, I have searched everywhere for a stellar chili recipe.  Living in the Midwest, where chili cook-offs are just about everywhere you turn, you would have thought this would be a simple task.  But somehow every recipe I've tried has either been a little too spicy, too sweet, too tomato-y, too smoky, too meaty, too thick, too brothy, etc.  Now granted, I know that chili is like a perfect chocolate chip cookie — everyone has their own version of what is "perfect".  But alas, I think that this year I have finally settled on my new favorite recipe!
This one was actually inspired by my good friend, Cory.  His recipe won our chili cook-off at work this past year, and everyone has been buzzing about it ever since.  So I gave it a try, making just a few tweaks along the way.  And oh my word — it was amazing!!!  I had a group of girls over the other night to enjoy it on one of the many snowy days we've had this winter, and everyone gave it big thumbs up and had seconds.  Because of course, who can resist great chili?!?
At least in my opinion, this recipe has the perfect blend of everything.  It's full of great, tender steak (or Cory also recommends using pork), a nice blend of vegetables and beans, and probably one of my favorite broths I've ever had.  You'll have to check out the ingredient list — full of all sorts of goodness!  I made this on the stove and let it simmer (and make the house smell amazing!) for a few hours, but I imagine this would also work well in the slow cooker.
So if you're looking for a new chili recipe to try for a cold winter night — or for the big game! — I highly recommend this one.  It's definitely becoming my new default chili recipe!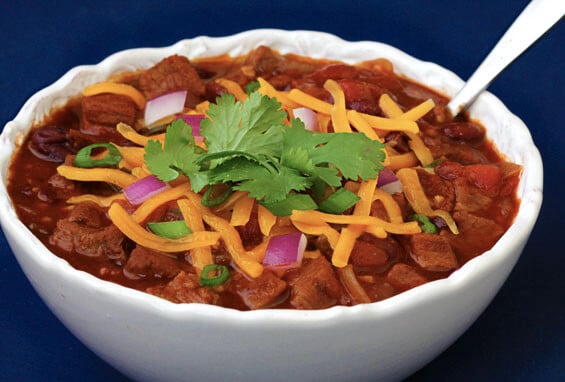 Classic Chili (Chili Con Carne)
You will love this Classic Chili (Chili Con Carne) recipe! So quick and easy to prepare.
Ingredients:
3 Tbsp. olive oil
1.5 – 2 lbs. lean beef or pork, cut into 1/2″ cubes
1 medium white or yellow onion, chopped
1 poblano pepper, seeded and finely diced
1 jalapeno pepper, seeded and finely diced (optional)
5 cloves garlic, peeled and minced
2 Tbsp. chili powder
1 Tbsp. ground cumin
2 tsp. dried oregano
2 tsp. sugar
1 tsp. chipotle powder
2 cups beef broth
2 cups water
1 (15 oz.) can black beans, drained and rinsed
1 (15 oz.) can Rotel (diced tomatoes and green chiles)
1 (8 oz.) can tomato sauce
2 Tbsp. balsamic vinegar
3 Tbsp. masa harina (or you can use all-purpose flour or cornstarch to thicken)
Toppings (optional): shredded cheddar cheese, sour cream, chopped green or red onions,
diced avocado, and/or chopped cilantro
Directions:
Heat 2 Tbsp. oil in a large skillet over medium-high heat. Add the meat (beef or pork) and cook until just browned on all sides. Then remove meat with a slotted spoon and set aside.

In a large stock pot heat the additional 1 Tbsp. oil over medium heat. Add the onions, poblano and jalapeno peppers, and saute until softened, about 4 minutes. Add the garlic and spices and saute until very aromatic, about 1 minute more. Add in the beef broth, water, beans, Rotel, tomato sauce, vinegar and browned meat, and stir to combine.

Simmer over medium-low heat for a couple of hours (I did two hours covered, one hour uncovered). Then in a separate bowl, whisk together masa harina (or 3 Tbsp flour, or 2 Tbsp cornstarch) with 1/2 cup cold water. Add the mixture to the soup and stir in to thicken. Taste soup, and adjust seasonings to taste.

To serve, ladle soup into bowls and top with desired toppings.

All images and text ©

If you make this recipe, be sure to snap a photo and hashtag it #gimmesomeoven. I'd love to see what you cook!
Ali's Tip:
Here are some of the standard chili "fixes":
If too spicy — add a little sugar, or some more water to the broth
If too sweet — add more spices (chili powder, cumin, etc.)
If too acidic — add more sugar
If too watery — let it simmer on the stove uncovered for another 30-60 min
If too thick — add more water or broth (and adjust seasonings accordingly)