Coconut Margarita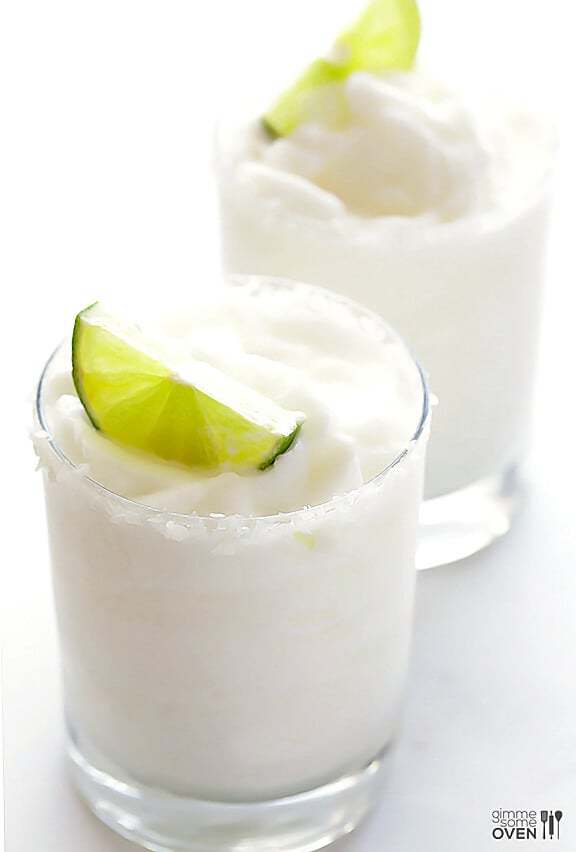 Oh my goodness…I actually did it.
You know, that token thing I added to my 31 Things life list (remember me talking about this last week?) to make me sound all adventurous and fearless…even though the adult in me was pretty certain that it could end with a not-so-classy digestive "upset" or, eh, you know, sudden death.
That thing that requires my impatient self to spend hours waiting in lines upon lines upon lines.
That thing that I hadn't done in at least a decade, probably more.
Yet that the 14-yr-old in me still "like, totally" wanted to do.
I . . .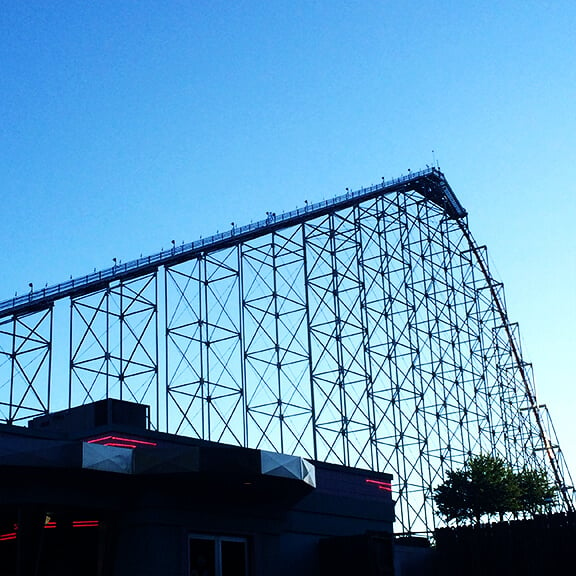 . . . rode a roller coaster!!!
And not just any ol' roller coaster, I rode that one.   And lived to tell about it.  (Whew.)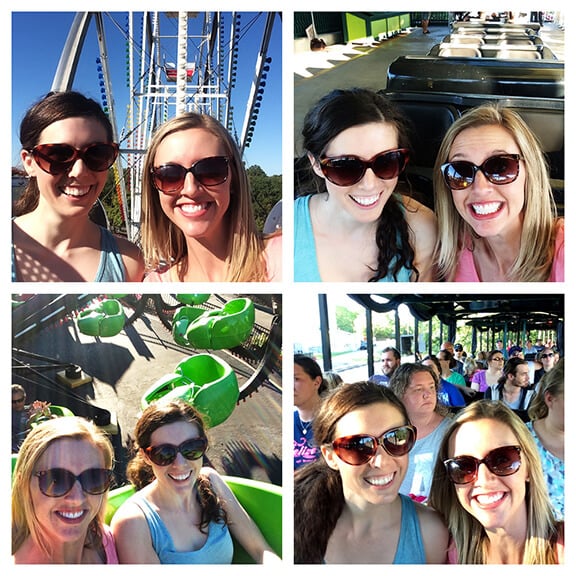 Ever since making my 31 Things life list of things to do for my 31st year of life, and being re-inspired by ZICO to get busy tackling everything, I have been trying to round up a group of friends to go to Worlds Of Fun, our local amusement park.  I used to make the 3-hour drive to go there on field trips in middle school and high school, and remember it highly living up to its name, especially when it came to roller coasters.  But strangely, after actually living in Kansas City for nearly a decade, I had never been back to this epic landmark of my childhood.
This needed to be remedied.
But scheduling conflicts kept getting in the way of trying to round up a group.  And with the park closing soon for the winter and cold weather coming our way, I realized this past week that my window to go was drawing to a quick close.  So when the weather was absolutely gorgeous this past Sunday, and some rock climbing plans with another group of friends was postponed, I randomly texted my good friend Kathryne (of the lovely blog Cookie + Kate) and asked if she might want to super spontaneously go ride roller coasters for a few hours.
She initially replied with a polite decline that roller coasters scared her to death.  But then she reconsidered.  And after literally researching statistics Worlds Of Fun (one reason why I love this friend) and confirming that she believed she "wasn't going to die" on any of the roller coasters there, she texted back and agreed to go.  So for the first time in over a decade, we both headed to an amusement park.
I tend to be a "rip off the band-aid" kind of person when it comes to doing things in life that freak me out.  So I was ready to just head straight for the tallest roller coaster.  But Kathryne wanted a bit of a warm-up.  So we took a lovely ferris wheel ride to begin, relaxing in the perfectly cool breezes and warm September sun while overlooking Kansas City.
And then 5 minutes later…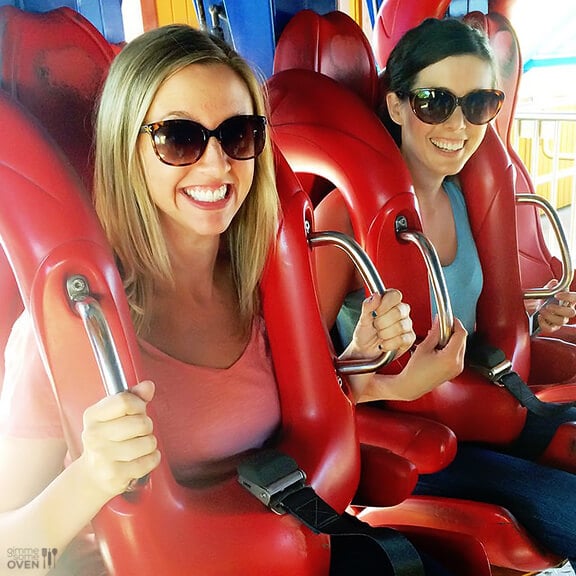 …I convinced her to do this.  (Yes, the harnesses meant that loops were even included.)
And we screamed like little girls the whole way.  :)
It was so much fun!!!   Granted, absolutely as terrifying as expected.  But still, so fun.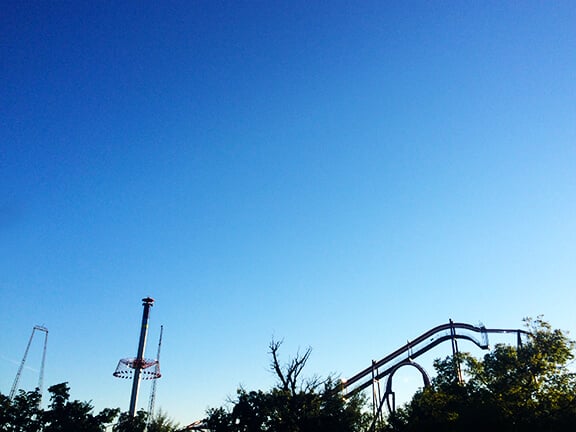 I should note that one of the perks of going to an amusement park on a Sunday evening in September was that there were literally zero lines.  So once we made the decision to go on the roller coaster, we literally just walked right up and took off, so there was no time to get cold feet and turn around.  So because of that, we faced our little fears and kept going on more rides until the park closed at 7pm.
And then agreed that we're both ok at least waiting another 10 years for our next roller coaster.
Mission = accomplished.
And then we went out for margaritas afterwards to toast ourselves.
Part of the reason I had my 31 Things list fresh in my mind was because of the Crack Life Open campaign with ZICO Premium Coconut Water that I've been following and taken part in that's all about crossing off items on your life list.
Seriously, I've been kind of obsessed lately with following the #CrackLifeOpen hashtag.  So many people are doing so many cool things in life!!!  Some of them are based around healthy eating.  Some of them are based around exercise.  But many of them are based around people tackling their fears.  So, of course, it only seemed right to be the first 31-year-old roller coaster rider on there.  :)
And to celebrate, I made a coconut water cocktail to share on the blog today.
Coconut margaritas!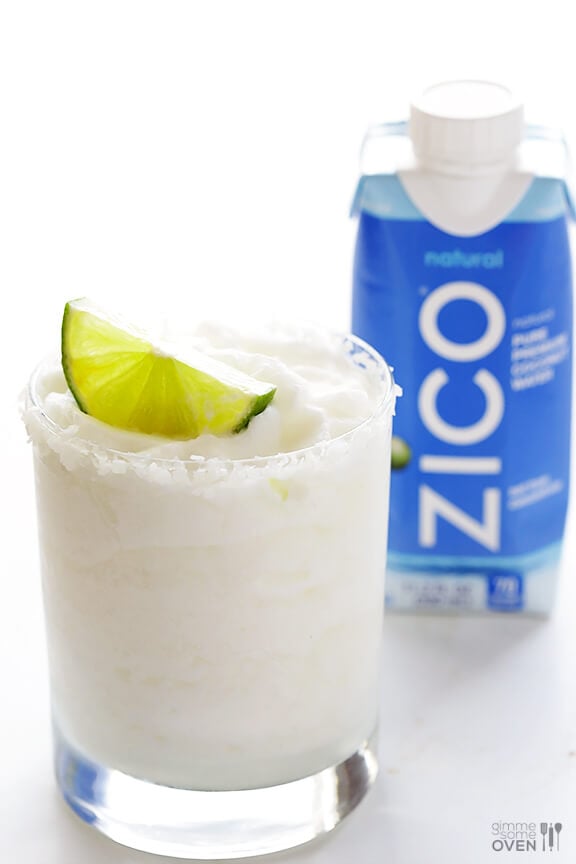 A margarita seemed like a no-brainer for me when faced with the challenge of coming up with a cocktail to make with healthy ZICO Coconut Water.  You put dee lime in dee coconut (water) and drink it all up…right?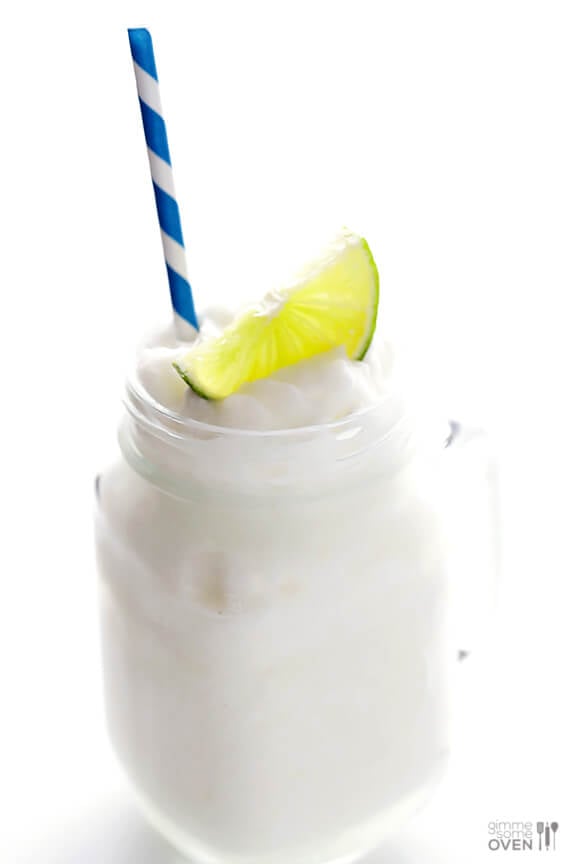 Well with this margarita, I actually stirred together some coconut water and coconut milk and "froze it all up" into ice cubes, in order to make frozen coconut margaritas.
Then once they were ready to go, I then added the tequila and lime juice and some simple syrup to a blender, along with the coconut ice cubes, and blended it all to frozen perfection.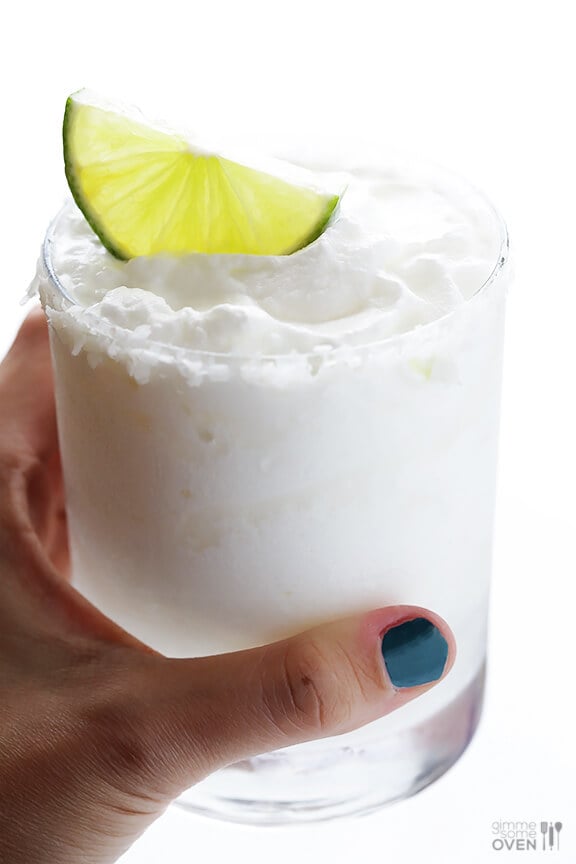 And then drank it up with some friends, who all agreed that it was a really refreshing take on this classic drink.  So if you love margaritas, I highly recommend you giving it a try.  And hey, why not give an item on your Life List a try too?
If you do tackle a new item on your Life List, be sure to snap some photos and share them @ZICOCoconut on Instagram, Twitter, Facebook, and hashtag #CrackLifeOpen and you may be in for a special treat. And if you give this margarita a try, hashtag #gimmesomeoven so that I can cheers you from here.
Alright, go get busy cracking life open!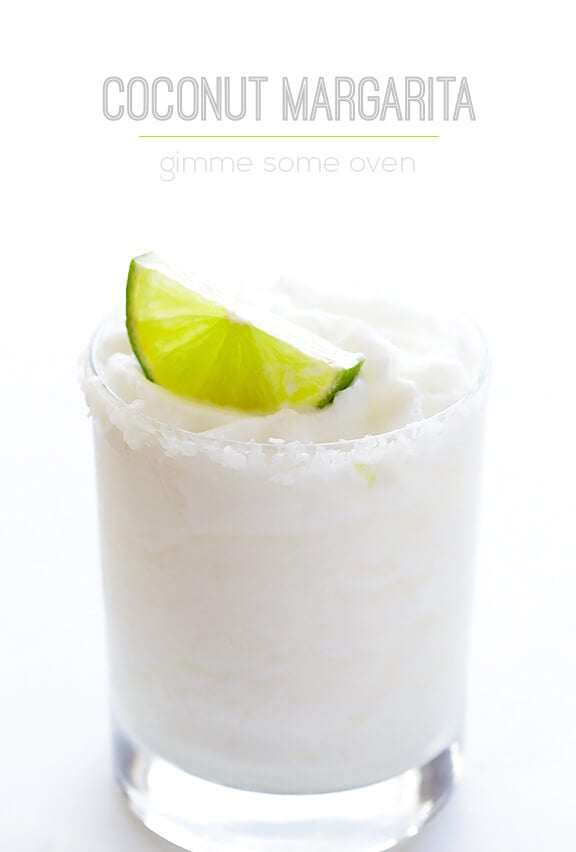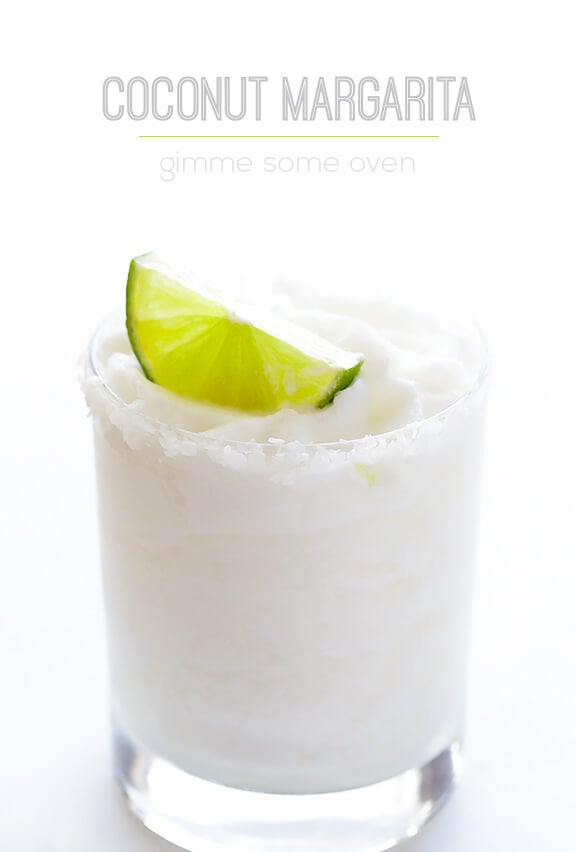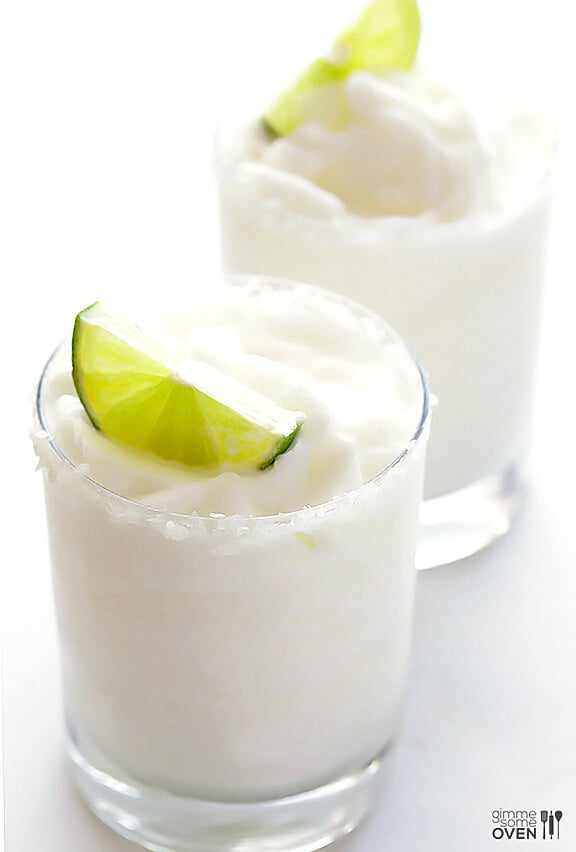 Coconut Margarita
This frozen coconut margarita recipe is refreshing, sweet, and perfectly lime-and-coconut-y.
Ingredients:
!Coconut Ice Cube Ingredients:
1/2 cup ZICO Pure Coconut Water
1/2 cup cream of coconut*
!Optional Rim Garnish:
lime wedges
sweetened shredded coconut
coarse rim salt
!Coconut Margarita Ingredients
1/2 cup tequila
1/3 cup freshly-squeezed lime juice
3 tablespoons freshly-squeezed orange juice
1-2 tablespoons simple syrup**, if needed
coconut ice cubes, see above
Directions:
!To Make The Coconut Ice Cubes:
Whisk together the coconut water and cream of coconut in a mixing bowl until combined. Pour the mixture into ice cube trays, then freeze for at least 12 hours, or until frozen. (Cream of coconut does not always freeze completely, so if yours are not 100% solid, that's ok.) Keep frozen until ready to use.
!To Rim The Glasses:
Run a lime wedge around the top of each glass until it the top 1/4-inch or so is moistened. Dip the glass in a bowl that has been filled with either shredded coconut and/or coarse rim salt. Chill the glasses in the freezer for at least 5 minutes before filling with the margarita mixture.

If your coconut is not sticking, you may need to pulse it a few times in a food processor until it is the consistency of coarse salt.
!To Make The Coconut Margaritas:
Add all ingredients (including the coconut ice cubes) to a blender and pulse until combined. Taste the mixture, and add simple syrup to sweeten if needed. You can also add extra ice cubes (either regular, or more coconut ice cubes) to thicken the consistency, if needed

Pour into prepared glasses and serve immediately, garnished with an extra lime wedge on top if desired.

**To make a batch of simple syrup, bring stir together 1/2 cup granulated sugar and 1/2 cup water in a small saucepan, and bring to a boil until the sugar is dissolved.  I recommend chilling your simple syrup in the refrigerator before adding to this recipe, so that it is cool.

All images and text ©

If you make this recipe, be sure to snap a photo and hashtag it #gimmesomeoven. I'd love to see what you cook!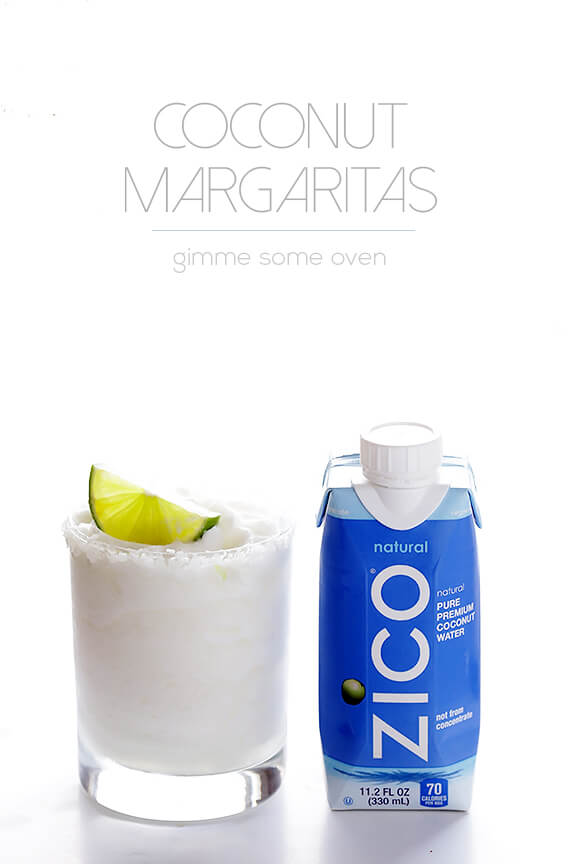 This post has been sponsored by ZICO Pure Coconut Water.  I am partnering with them to create some delicious coconut water recipes, and all opinions are my own as always.  Thank you for supporting the brands that help make this site possible.