Coconut Oil Pumpkin Bread
Annnnd…I finally made you a pumpkin recipe this year!
I know, I know.  It seems like the blogosphere has been full of pumpkin recipes since Hobby Lobby started rolling out their Christmas decorations this past July.  But, as much as I'm a believer that pumpkin should be enjoyed year-round, I have to say that I'm one of those people who really looks forward to the tradition of fall baking in the fall.  And now that the calendar has flipped to October, and the weather is cooling off, and the leaves are starting to turn, it finally feels like fall.
So to celebrate, I thought it was about dang time I post a pumpkin bread recipe here on the blog!  But of course, this isn't just any pumpkin bread.  For something a little different this year, I decided to try making coconut oil pumpkin bread…and I'm so glad I did!  You can barely taste that coconut, but I love the subtle sweetness it lends to the bread.  It's also quick and easy to make, it's (yes, I'm going to say the "m-word") moist, it's mildly yet perfectly spiced, and I'm pretty sure that it definitely needs to happen in your home soon.
So let's do some fall baking!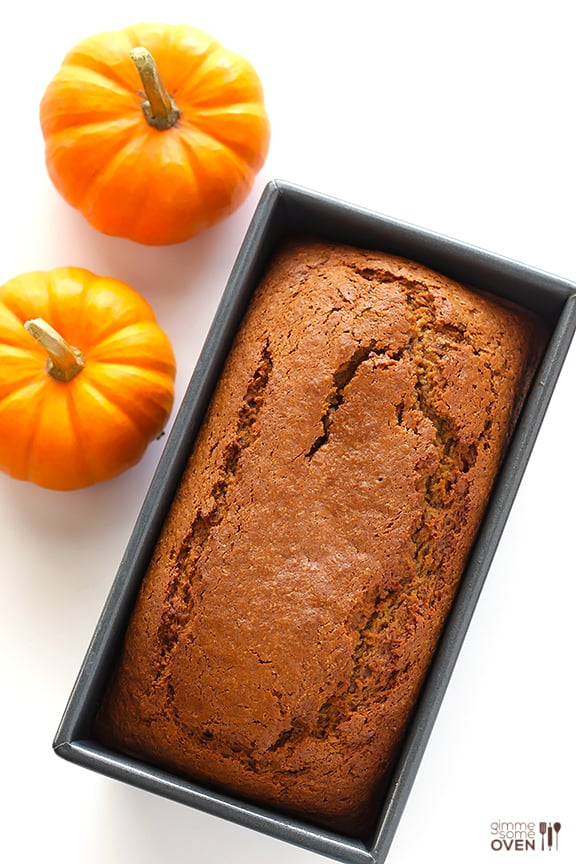 I have to say that the inspiration for this coconut oil pumpkin bread actually came from you.  I was debating whether to take a classic recipe and give it a browned butter or coconut oil twist.  But after polling you on Facebook, coconut oil came out as the winner because — lest I forget — the world is seriously digging all things coconut oil right now.
We still may try browned butter another time (stay tuned).  But for today, coconut oil it is!
The two primary ingredients you need for this one are a jar of coconut oil and some pumpkin puree.
(Note: that's obviously not at all what's pictured, but I couldn't help but buy a bunch of these mini pumpkins for decor last week, and think they're much cuter than a can of pumpkin.)

Mix up a simple batter that's made with two kinds of sugar, lots of spices, and a handful of other ingredients you probably have in your pantry.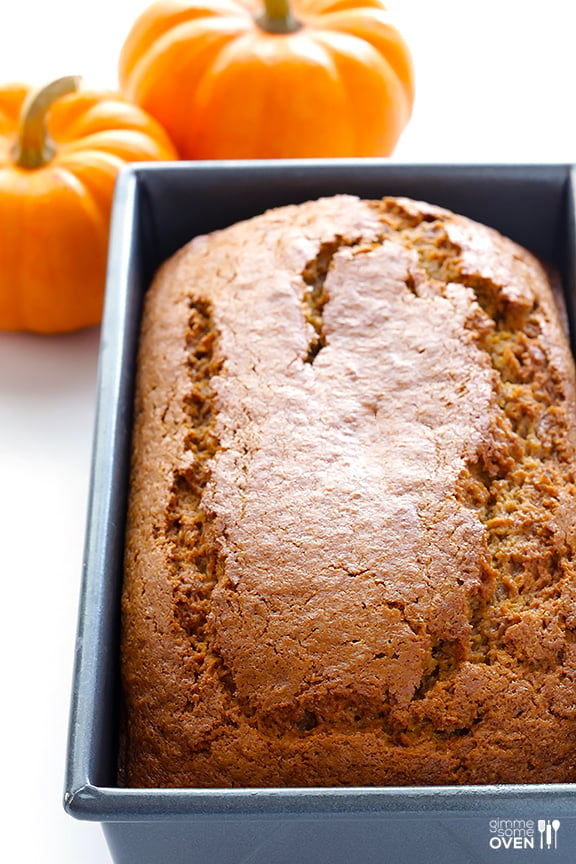 Then pour the batter into a bread pan, and bake it up until it is cooked all the way through.  You're probably going to need to use a toothpick to test this one.
Then hold your horses and wait for it to cool down a bit.  (I was impatient — hence the crumbs everywhere…)
And then slice it up!
And serve it up!
I find this bread so flavorful that it doesn't even need a pat of butter, but you can serve it up however sounds good.  You know, with a side of mini pumpkins if desired.
Happy pumpkin baking!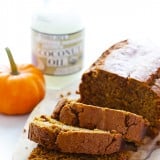 Coconut Oil Pumpkin Bread
This Coconut Oil Pumpkin Bread recipe is simple to make in one bowl, and it is perfectly spiced and made with coconut oil.
Ingredients:
1 cup granulated sugar
1/2 cup brown sugar, packed
1 cup all-purpose flour
3/4 cup white whole wheat flour (*see alternate substitution below)
1 teaspoon baking soda
1 teaspoon salt
2 teaspoons pumpkin pie spice
3/4 cup pumpkin puree (not pumpkin pie filling)
2 eggs
1/2 cup melted coconut oil
1/3 cup water
1 teaspoon vanilla extract
Directions:
Preheat oven to 350F. Grease a 9×5 loaf pan with cooking spray, or line it with parchment paper. Set aside.
Whisk together sugars, flour, spices, baking soda and salt in a large bowl. Create a well in the center of the bowl, and add pumpkin, eggs, oil, water and vanilla into the well. Whisk, starting with the wet ingredients and working your way to the outside of the bowl, mixing until batter is smooth and clump-free. Do not over-mix. (Batter will be slightly lumpy.)
Pour batter into the loaf pan, and smooth the top with a spoon. Bake for 55-65 minutes, or until a toothpick inserted into the center comes out clean. Cool in the pan for 20 minutes, then carefully invert the loaf and cool on a rack until it reaches room temperature. Cover in plastic wrap or store in a sealed container for up to 5 days.
*If you do not have white whole wheat flour, you can just include 1 3/4 cup of all-purpose flour, instead of doing part white whole wheat and part all-purpose.
If you make this recipe, be sure to snap a photo and hashtag it #gimmesomeoven. I'd love to see what you cook!