(Condensed) Homemade Cream Of Chicken Soup
Oh yes.  You read that title right.  We're going retro today and talking about one of the staples of my childhood — condensed soups.
Of course, the main reason that most families had (and still have) condensed soups sitting in their pantry is to use them for the other staple of my childhood — casseroles.  (So. Many. Casseroles.)
But our family actually bought condensed cream of chicken soup to turn it into its original namesake — a nice hot bowl of cream of chicken soup!  And oh boy, did I love that soup.  My sister and I would be stoked when we arrived home from school and saw that familiar can sitting out on the stove for dinner that night.  And then once I learned how easy it was to whisk together the can of mysterious molded glop with a can of milk and — poof! — magically make soup?  Oh yeah.  You'd better believe that this soup was on regular rotation in my dorm room when I first learned how to cook.
But sadly, you know where this is going…
Tons of preservatives.  Ingredients you can't pronounce.  Processed everything.  I know, modernity is a bummer.
Because of such, I sadly haven't bought a can of condensed soup in years.  But when my neighbor Christine brought over a box of canned goods from her pantry the day before she moved, the ol' craving returned as soon as I saw those familiar red and white cans.  And then I desperately wanted soup.  And then I wanted casserole.  And then I began wondering if I could just make the darn stuff homemade.  And as it turns out…you can!
Seriously friends, we should have been doing this from the start.  Homemade condensed soups are ridiculously easy.  Let me show you.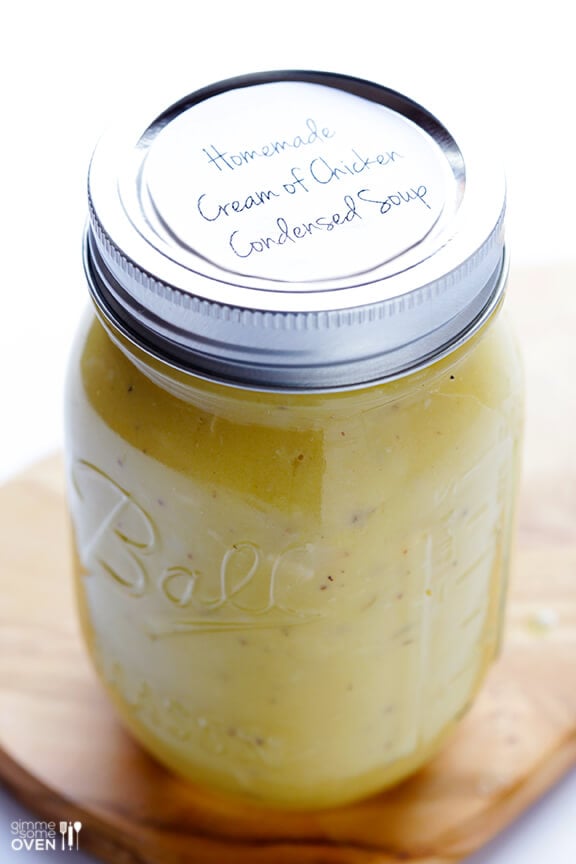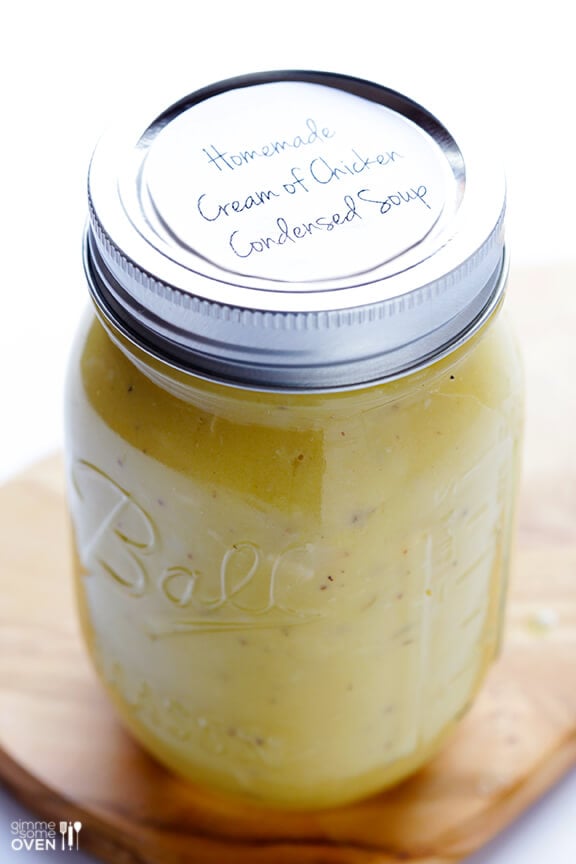 As I imagined, all that you really need to make condensed homemade cream of chicken soup are four main ingredients: chicken stock, milk (you can use any kind), thickener (flour), and a few seasonings.  Oh, and if you want to be like the original, you can also add in some diced cooked chicken.  That used to be my favorite part of the soup, back in the day.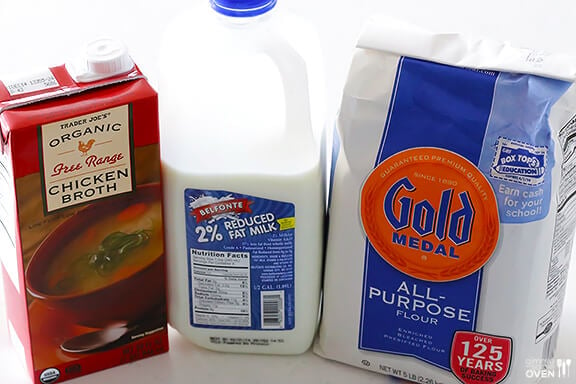 In order to thicken the soup, some recipes have you make a roux with flour and butter/oil.  Then others have you just cook the flour right in there with the liquids.  I made a few test batches of each, and the second method is arguably the easiest (and is pictured below), but you can go with whatever sounds best to you.
The great news is that you can customize these main ingredients however you'd like:
Chicken Stock: If you make homemade stock, then you really win the gold star for this one.  I was in a hurry so I went with Trader Joe's organic stock, which I love.
Milk: I went with 2% milk, but you can literally sub in just about any kind of milk in this recipe.
Flour: Feel free to also experiment with flours.  I just went with all-purpose flour this time, but have read success stories with whole-wheat and gluten-free varitities
Seasonings: I kept mine fairly simple, since the stock is already pretty well-seasoned.  I do like mine a little more on the salty side, since this recipe is meant to be condensed, but feel free to omit the salt and/or use a reduced-sodium chicken stock if desired.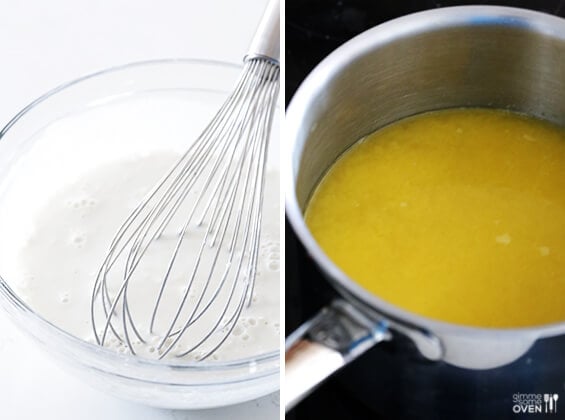 So to make the soup, go ahead and whisk together your milk and flour until the flour is dissolved and the mixture is smooth.
Then bring your stock to a boil in a medium saucepan.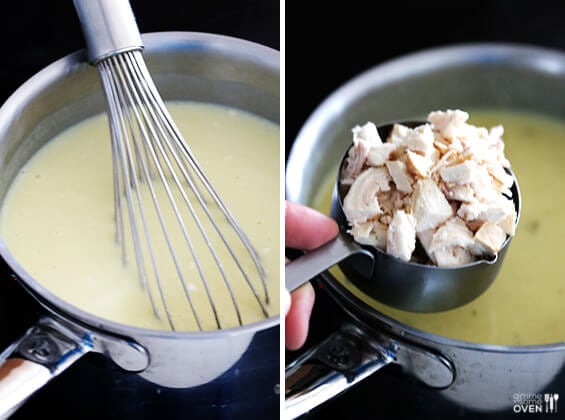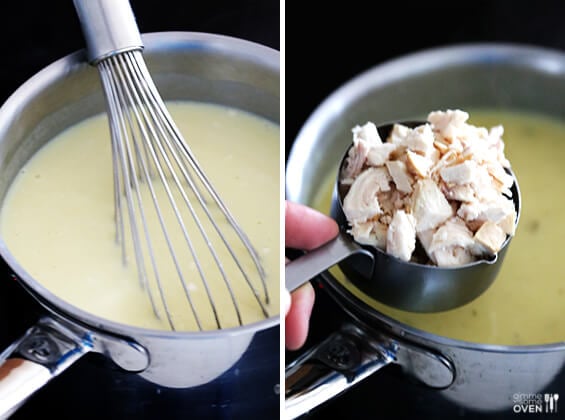 Slowly add in the milk mixture, whisking to combine.  Then whisk in your seasonings, and let the mixture come to a very low boil for about 3 minutes or until it has thickened.
Stir in the chicken, if you'd like.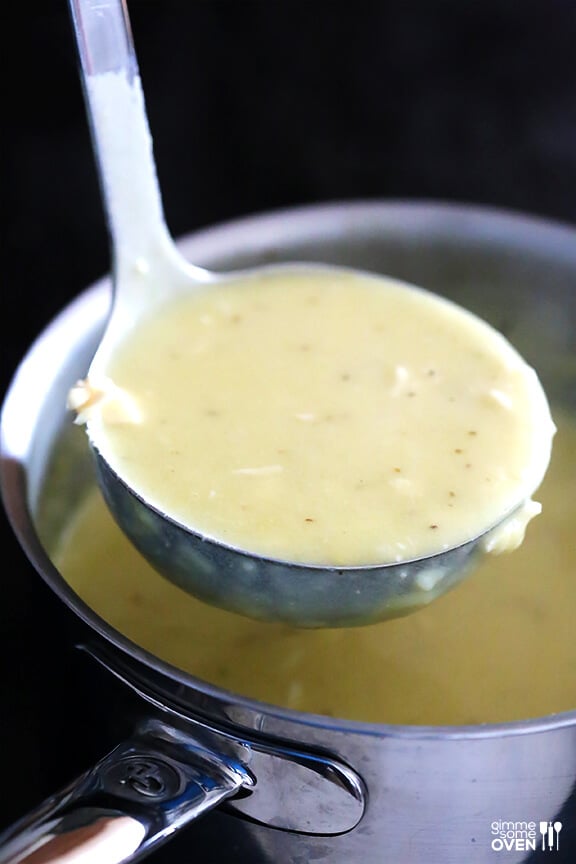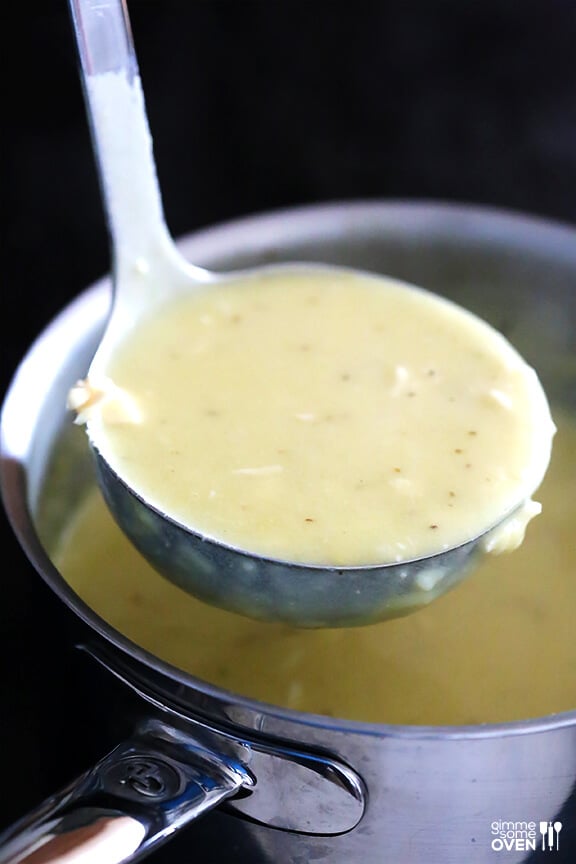 And then your condensed soup is ready to go!  It will definitely thicken up even more as it cools and returns to room temperature.
Then either go ahead and use it for a recipe, or store it in a sealed container in the refrigerator.  It should keep for up to 1 week.
I used mine to make my favorite — some actual cream of chicken soup — although in my wise old age, I decided to take an extra 10 minutes to add in some extra carrots, onion, celery and chicken.  And oh boy, it was like I was 10-years-old again.  This totally hit the spot!!!  Recipe coming on the blog tomorrow.  And also stay tuned for a condensed cream of mushroom soup recipe and even a casserole or two coming soon.
Once I start with the condensed soups, apparently I can't stop.  Enjoy!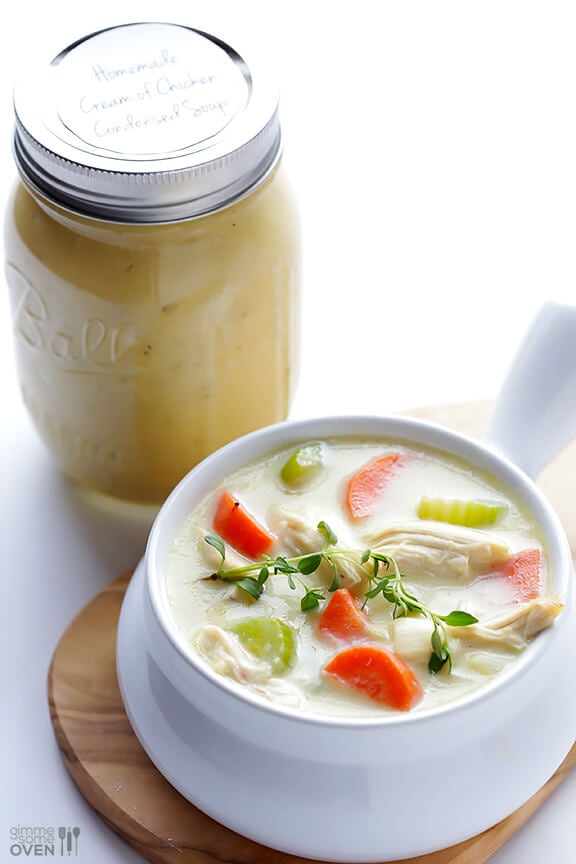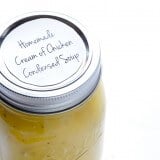 (Condensed) Homemade Cream of Chicken Soup
This condensed homemade cream of chicken soup recipe is simple to make, easy to customize, and even tastier than the original canned version!
Ingredients:
1 1/2 cups chicken stock
3/4 cup milk
1/2 cup all-purpose flour
1/2 tsp. salt
1/4 tsp. garlic powder
1/4 tsp. freshly-ground black pepper
1/4 tsp. onion powder
1/8 tsp. celery seed (optional)
1/8 tsp. dried thyme
1/4 cup finely diced cooked chicken
Directions:
Add chicken stock to a large saucepan and bring to a boil over medium high heat.
In a separate bowl, whisk together milk and flour until the flour is dissolved.
Slowly pour the milk mixture into the boiling chicken stock, whisking to combine. Whisk in remaining seasonings. Reduce heat to medium, and bring the mixture back to a very low boil, stirring constantly so that the bottom of the pan does not burn. Let the mixture boil for about 3 minutes or until thickened. Then stir in the chicken (if using), and remove pan from the heat.
Either use the condensed soup in a recipe immediately, or transfer it to airtight containers and store in the refrigerator for up to 1 week.
*This recipe is NOT meant to be consumed as-is. It is a concentrated soup, which means that it either needs to be diluted to be eaten as a soup, or mixed into a recipe that calls for condensed soup. :)
*I also made a double batch for the photos.
ALTERNATE RECIPE USING A ROUX:
Heat 2 Tbsp. butter in a large saucepan over medium-high heat until melted. Add 2 Tbsp. flour, and stir until combined. Let the mixture cook for 2 minutes, or until the flour is cooked and slightly toasted. Then gradually whisk in your stock until the mixture is completely smooth. Stir in the milk and seasonings. (Using the same measurements of stock, milk, seasonings as above.) Bring to a simmer, stirring constantly, until the mixture has thickened.
Either use the condensed soup in a recipe immediately, or transfer it to airtight containers and store in the refrigerator for up to 1 week.
If you make this recipe, be sure to snap a photo and hashtag it #gimmesomeoven. I'd love to see what you cook!
Edited: There are already lots of comments about canning and/or freezing this condensed soup.  I do not recommend canning it because of the milk/dairy.  I have heard from readers who have tried freezing the condensed soup that it works, though.