Crab and Avocado Enchiladas
This Crab & Avocado Enchiladas recipe is brought to you by Old El Paso.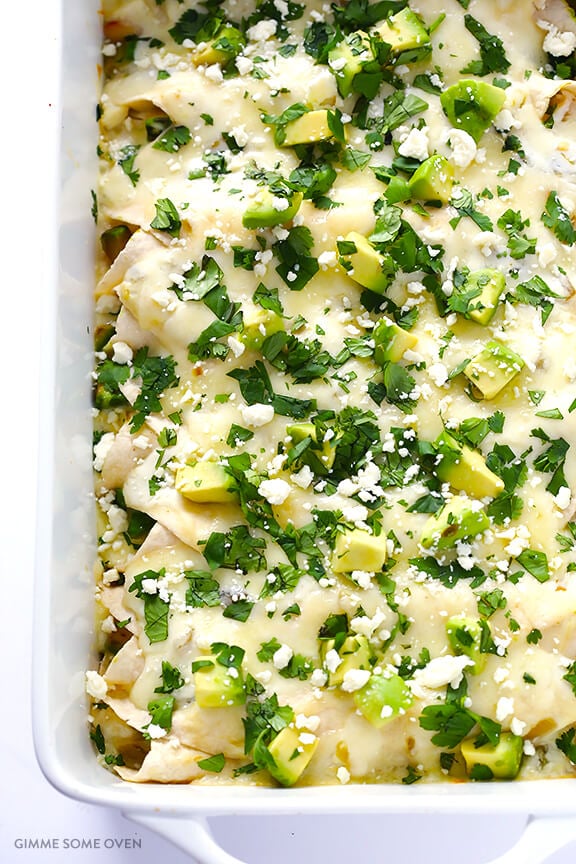 So…pretty sure that whenever I'm in a restaurant and see the word "crab" on the menu, the first thing that comes to mind is not the rich, salty, delicious shellfish that I love to eat.  Oh no, that would be too reasonable.  My word association with crab as a food blogger at age 31 is apparently the same as when I was 6.
I'm guessing some of you know who I'm talkin' about.
Oh yes.  Without fail, the second I hear someone mention crab, the singer of my favorite "hot crustacean band" inevitably comes to mind.  Which then inevitably cues up the song that stays in my head all day, about how "this little snail here knows how to wail here, that's why it's hotta down in the wata, yeah we in luck here, down in da muck here, unda da sea."  Which then inevitably requires me to follow that up by belting out "Part Of Your World" (because who didn't want to be Arial back in the nineties, or ahem, today).  Which then inevitably makes me want to research sunny beach vacations where I can "explore that shore up abooooooooooooove."  (Stop!  DRAMATIC PAUSE!)  "Out of…the sea.  Wish I…could be.  Part…of…your…."
I digress.
(See?!  This is precisely what I have to deal with in my Disney-musical-loving mind.)
How about we pick up a dinglehopper instead and dive into these killer good Crab & Avocado Enchiladas?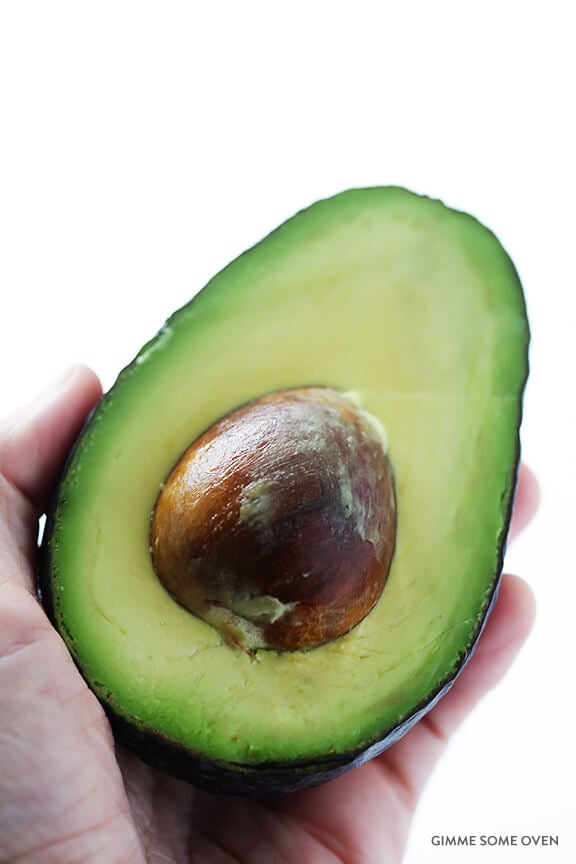 I'm afraid that poor Sebastian might not be too happy with this recipe.  But I will admit that I am a mega fan.
When having lunch recently with some friends in Austin at the South Congress Cafe, I spied crab enchiladas on the menu and immediately put in an order.  I absolutely love seafood enchiladas of any kind, and theirs did not disappoint.  The only problem was that they were so good that I didn't save any for leftovers.  So later that week, I decided to make a batch for myself at home.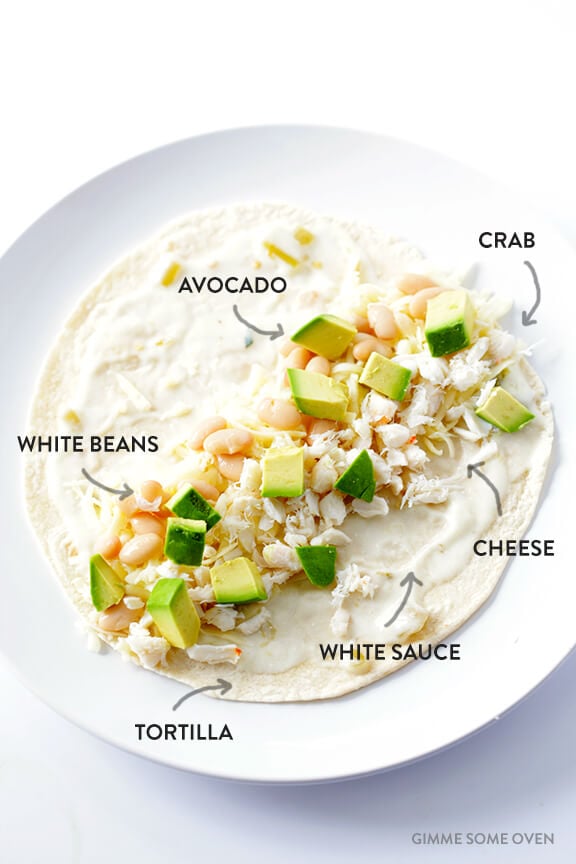 Although actually, the enchiladas I made ended up being hardly anything like the restaurant's.  First off, I love pairing crab and avocado together, so I picked up two Texas-sized avocados to pop inside and on top of these enchiladas.  (So jealous of Texas's avocados, btw.  They are super cheap, and enormous!!)  Then instead of a red sauce, I decided to go with a Greek-yogurt simple cream sauce that I like to make with diced green chiles and cumin.  And since I can never resist adding beans to my enchiladas for extra protein and filling, I tossed a can-full of white (Great Northern) beans into the mix.  Plus cheese, of course.
Then I rolled 'em all up, poured the extra sauce on top of the enchiladas, and popped them in the oven to bake.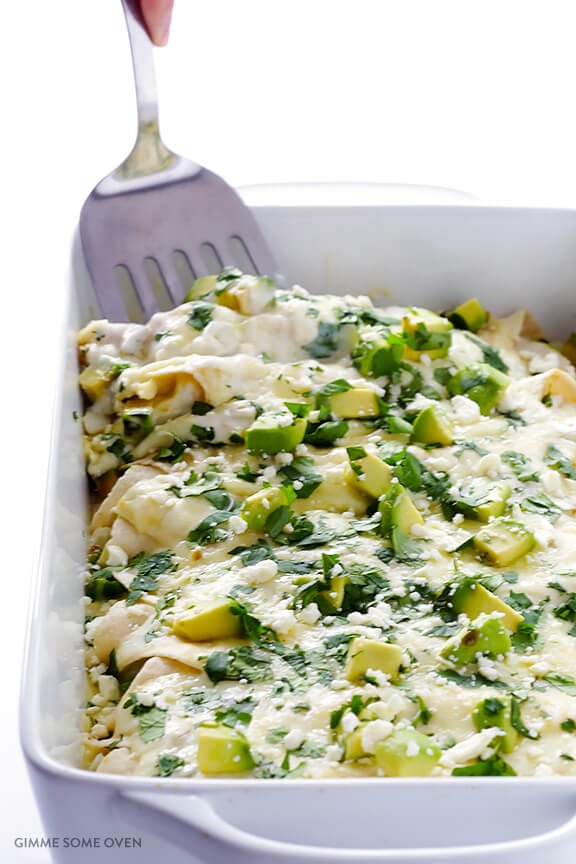 About 20 minutes later, I pulled them out.  And then topped them with extra avocado, cilantro and some cotija cheese.  And then proceeded to snap photos in about 2.2 seconds because I could not wait to DIVE IN.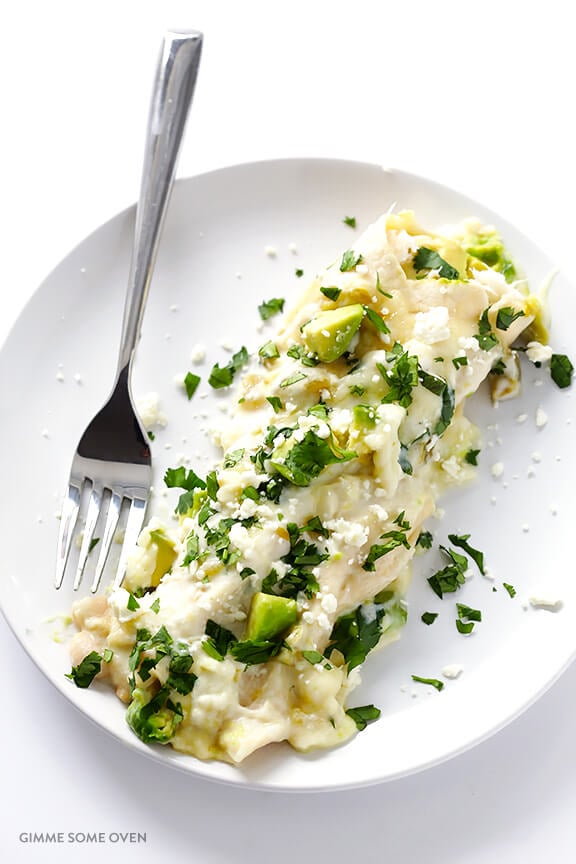 And dive in, I did.  These were amazing!
Seriously, I feel like I have made creamy chicken enchiladas a zillion times in the past.  But the crab takes things to an entirely new level.  It paired perfectly with the creamy sauce, rich avocado, fresh cilantro, and tangy cheese.  And with only requiring about 20 minutes of prep time…well…let's just say you're probably going to need to make these "part of your world".  ;)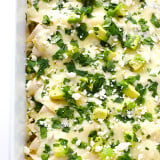 Crab and Avocado Enchiladas
This crab and avocado enchiladas recipe is made with a delicious cream sauce, and comes together with just 20 minutes of prep time!
Ingredients:
 3 tablespoons butter
3 tablespoons all-purpose flour
2 cups chicken stock
1 (4 ounce) can Old El Paso chopped green chiles
½ teaspoon ground cumin
1 cup plain Greek yogurt or sour cream
3 (6-ounce) cans lump crab meat*, drained
1 (15-ounce) can Great Northern beans, rinsed and drained
3 cups shredded Pepper Jack* cheese
2 medium avocados, peeled, pitted and diced
1/2 cup chopped fresh cilantro leaves
(optional) 1/4 cup crumbled queso fresco or cotija cheese
Directions:
Preheat oven to 350 degrees. Grease a 9×13-inch baking pan with cooking spray, and set aside.
Heat butter in a large saute pan over medium-high heat. Add flour, and whisk to combine. Cook for 1 minute until lightly browned, stirring frequently. Add half of the chicken stock, and whisk until combined. Then add the remaining chicken stock, green chiles, and cumin, and whisk until combined.
Let the mixture continue heating until it reaches a simmer and thickens slightly, about 2-3 minutes. Stir in Greek yogurt (or sour cream) and whisk until combined. Remove from heat and set aside.
To assemble the enchiladas, lay out a single tortilla on a flat work surface.  Cover evenly with a few spoonfuls of the white sauce.  Then layer about ⅛ of the crab, beans, cheese in a line down the middle of the tortilla, plus about ⅛ of a single avocado.  (Reserve the second avocado as a topping for the enchiladas once they have cooked.)  Roll up the tortilla and place it in the baking dish.  Repeat with the remaining tortillas, crab, beans and cheese.  Once all of the enchiladas are in the pan, spread the remaining white sauce evenly on top of the enchiladas.
Bake for 20-25 minutes, uncovered, until the tortillas begin to brown around the edges and the casserole is cooked through.
Remove pan, and sprinkle with the remaining avocado and fresh cilantro. Serve warm.
*To prevent the avocado on top of the enchiladas from browning, simply toss the diced avocado pieces in a few tablespoons of lime juice.
Feel free to also use Monterrey Jack cheese if you would prefer something milder to Pepper Jack.  You may also use fresh crab meat instead of canned if that's available to you.
All images and text ©
If you make this recipe, be sure to snap a photo and hashtag it #gimmesomeoven. I'd love to see what you cook!
This is a sponsored post in partnership with Old El Paso.  I was compensated for my time in developing this recipe, and all opinions are my own as always.  Thanks for supporting the brands which help make this site possible!