Cranberry Almond Protein Bars
I've got the warm weather buzz right now.
And you'd better believe that I am living up every sunny, spring-y, scrumptious minute of it.
Waking up earlier in the mornings to soak up every last Vitamin-D filled ray?  Check.  Working out harder and taking my pup out for walks in said sunshine every day?  Bring it on.  Planning extra patio coffee dates and happy hours and back deck grill-outs galore?  Heck yes.  Breaking out the tank tops and flip flops and sundresses?  Every day.  Filling up my grocery cart with fresher, seasonal, healthier foods to cook with?  Yes, yes, deliciously, yes.
I mean, it's no secret — winter and I have never been on good terms, and most years it feels like a Herculean effort (I wish I were being dramatic) to slog my way to the finish line of Daylight Savings.  But oh man, every new year that spring arrives, I appreciate it all the more.  And want to soak it up all the more.  And want to celebrate it all the more.  And want to live up every single freaking second of it all the more.
So!  A big part of that, of course, means getting my days off to a good start.  Since I'm not naturally a morning person, quick and easy breakfasts tend to be my best shot at eating well first thing in the morning, all the better if they're pre-made.  So lately that has meant a nice cup of pre-prepared cold brew coffee, plus one of my favorite energy-packed treats that I can make in advance — these Cranberry Almond Protein Bars.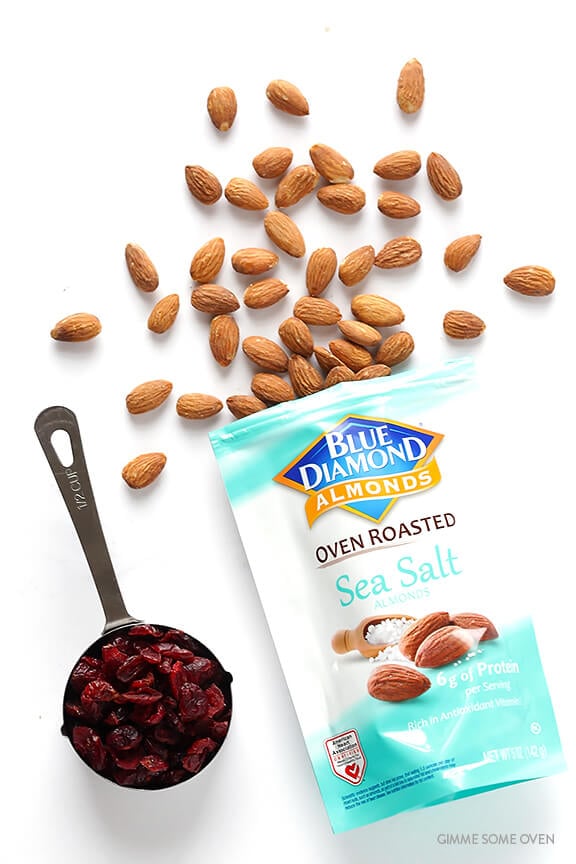 While we were living in Austin during the month of February, I got re-hooked on eating my favorite store-bought fruit and nut bars for quick breakfasts.  And…then the habit followed me back to Kansas City.  I love a good fruit and nut bar.  Especially when cranberries and almonds are involved.
But at nearly $2 a pop, I quickly decided that there must be a better homemade alternative.  So after researching around online and fiddling with a handful of different recipes, I finally settled on a base fruit and nut bar recipe that worked for me.  It's not exactly like the ones I bought at the store, but after having some friends taste-test them last night, one of them said the magic words I was thinking — "these are even better than the bars at the store."
Bingo.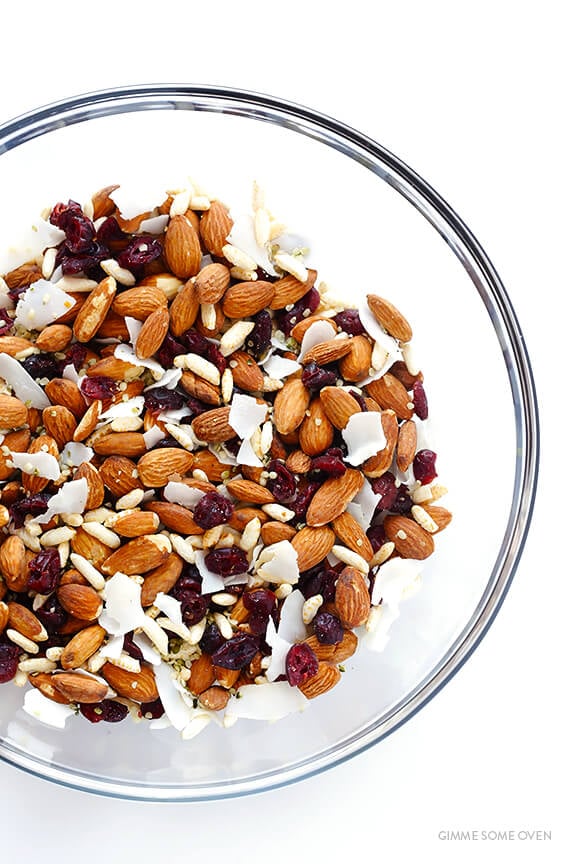 To make them, I assembled all of my favorite sweet and salty fruit and nut bar base ingredients:
almonds (I'm a big fan of the salty Blue Diamond Oven Roasted Sea Salt Almonds)
dried cranberries (for a touch of natural sweetness)
puffed rice cereal (for that puffy crunch)
unsweetened coconut flakes (optional, but I love 'em)
an extra protein booster (I went with hemp seeds here, but chia or ground flax seeds would also work)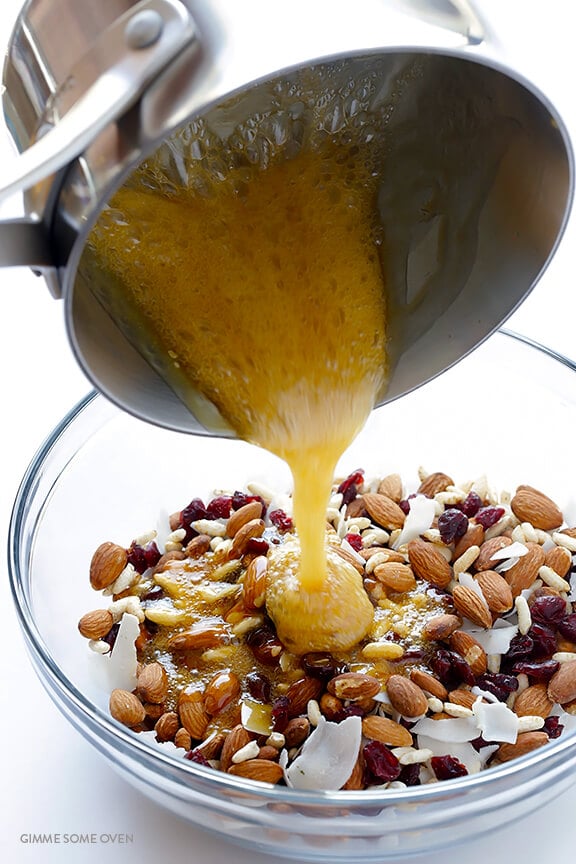 Then I whipped up the magic sauce that binds all of these ingredients together, using naturally sweetened (and gluten-free) brown rice syrup, honey and a bit of vanilla.  Then — very quickly — poured it over the nut mixture, stirred it all up, and then pressed it into a parchment-lined baking pan to form a bar.
(Note — time is of the essence here.  This sauce hardens very quickly, so once it's ready, you've gotta mix and press these babies into the pan as ninja-quickly as possible.)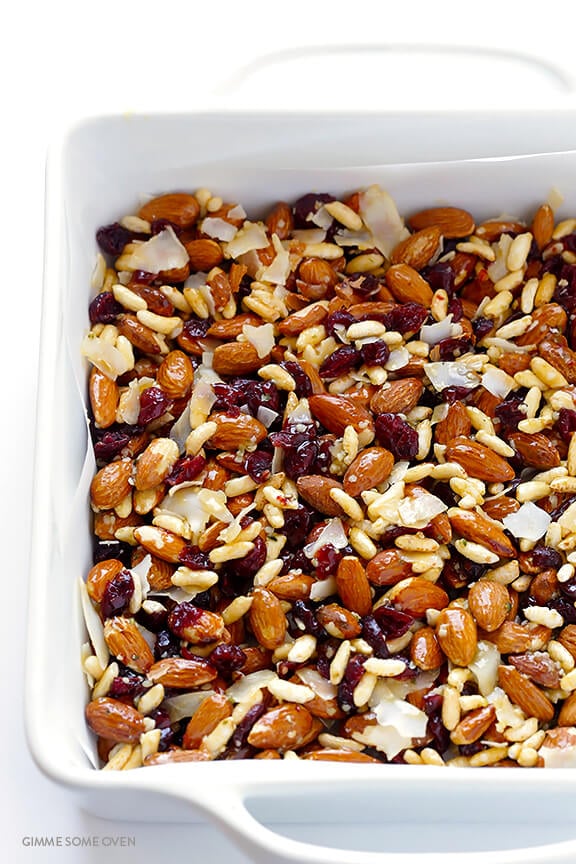 Then once the bars sat and cooled to room temperature…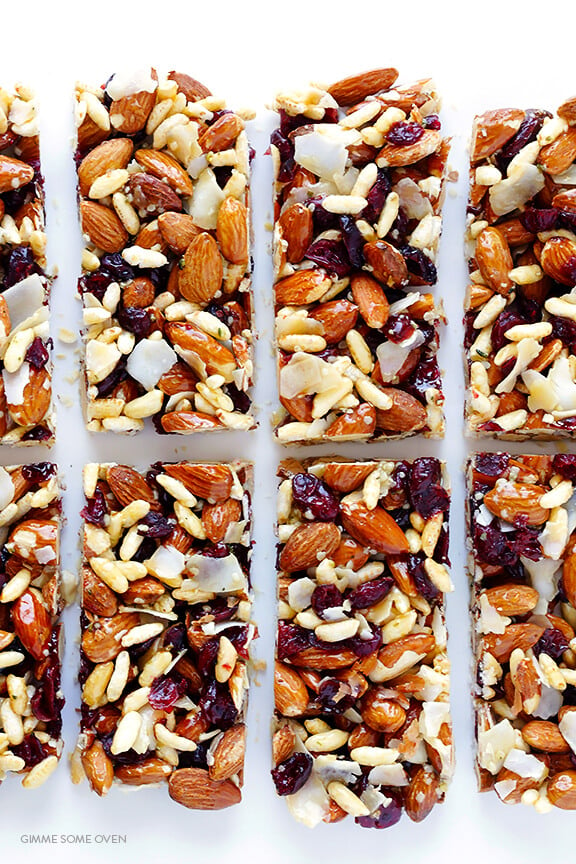 I chopped them into individual-serving-sized bars.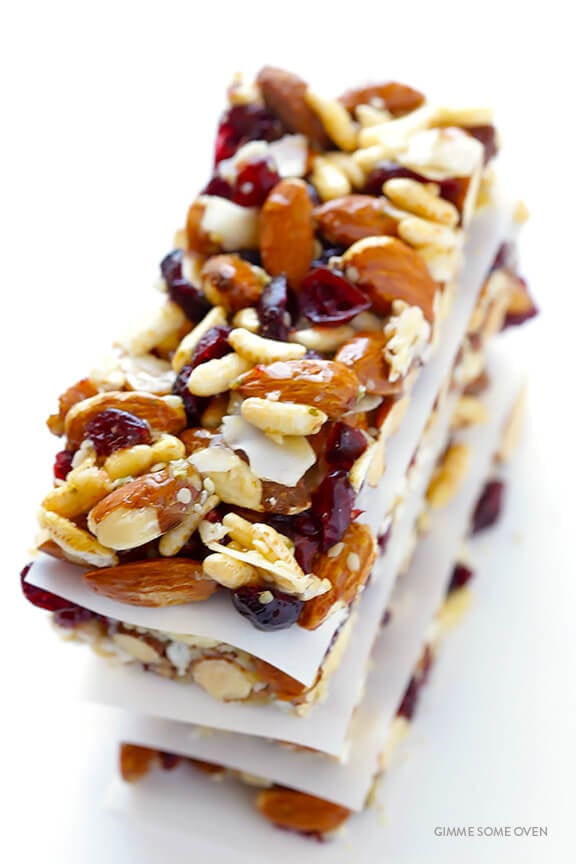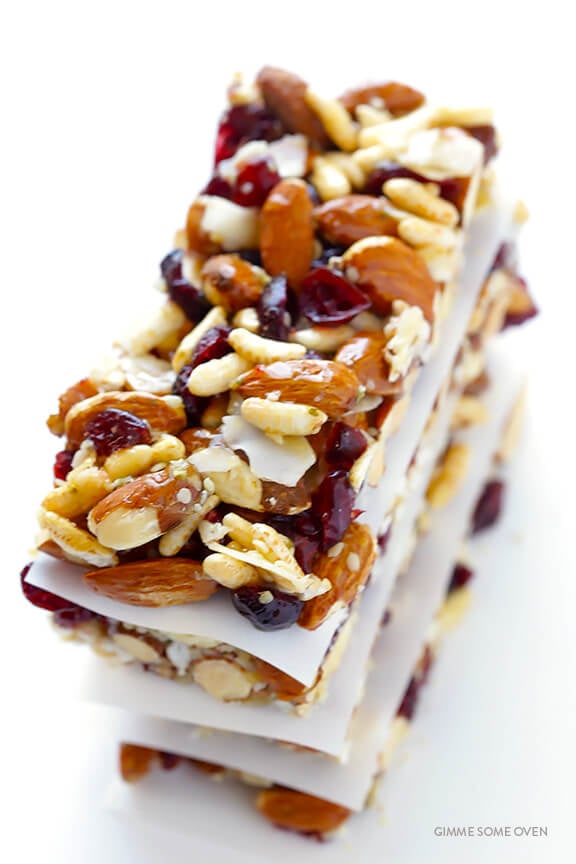 And I must say, I had to do a double-take.  They looked just like my favorite bars I buy at the store!  And they tasted even better, especially knowing with 100% assurance exactly how much of each ingredient went into them.  Plus, they were easy to customize, came together in less than 30 minutes, and rang in at less than half the cost each of their store-bought counterparts.
I call that win-win-win.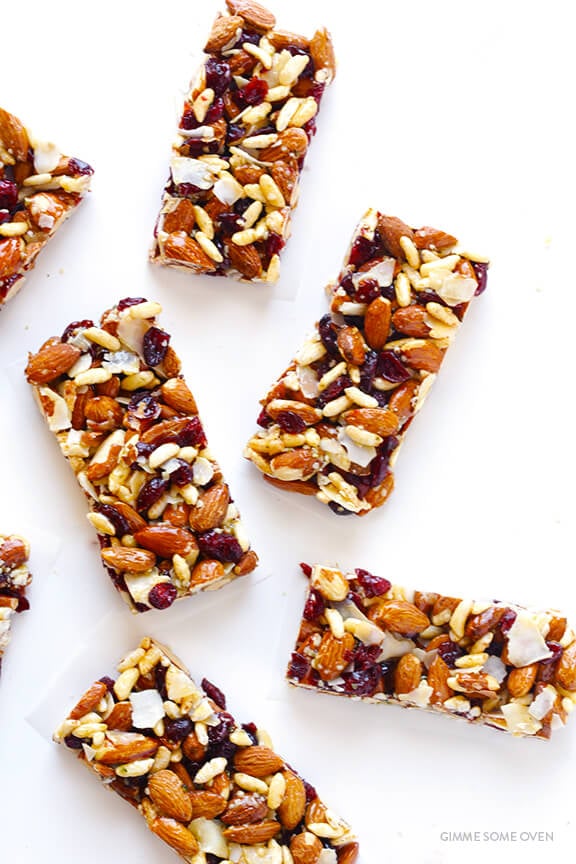 Alright, spring.  Let's do this.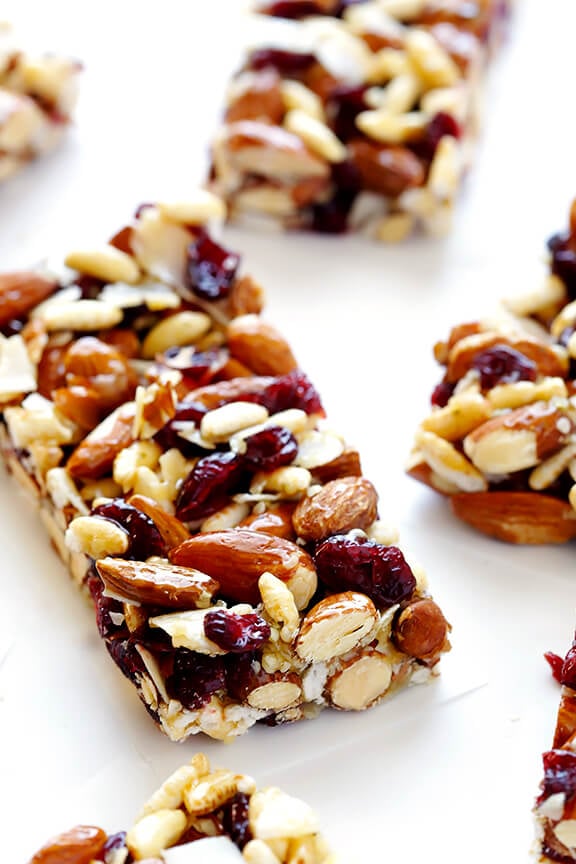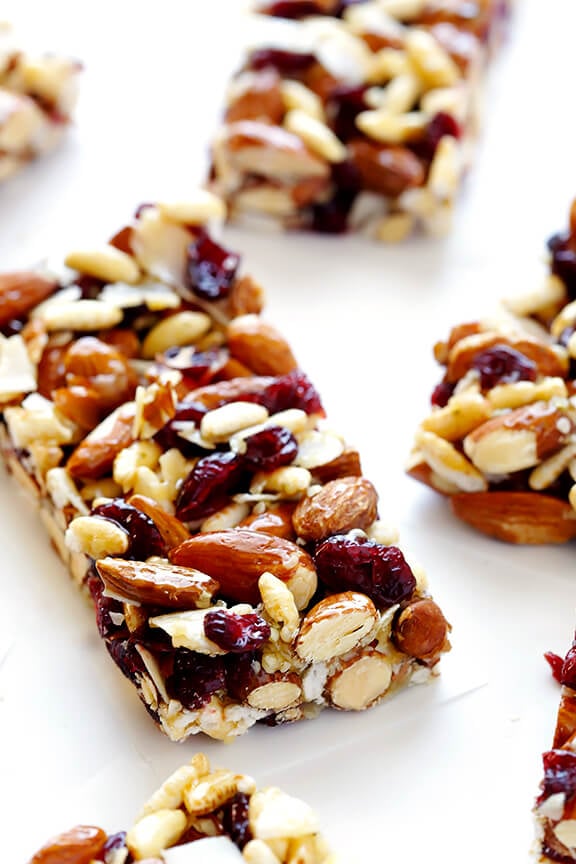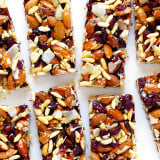 Cranberry Almond Protein Bars
These cranberry almond protein bars are full of protein-packed ingredients, easy to make, naturally-gluten free, and absolutely delicious!
Ingredients:
2 cups Blue Diamond Almonds (I used Blue Diamond Oven Roasted Sea Salt Almonds*)
2/3 cup puffed rice cereal**
2/3 cup dried cranberries
1/2 cup unsweetened coconut flakes
1 heaping tablespoon hemp seeds (optional)
1/3 cup brown rice syrup
2 tablespoons honey
1 teaspoon vanilla extract, store-bought or homemade
Directions:
Line an 8 x 8 baking dish with parchment paper.  Set aside.
In a large mixing bowl, add almonds, puffed rice cereal, cranberries, coconut, and hemp seeds (if using), and toss to combine.  Set aside.
Stir brown rice syrup, honey and vanilla together in a small saucepan.  Heat over medium-high heat until boiling, stirring occasionally.  Then let the sauce boil for 4-5 minutes, or until it reaches about 260 degrees, stirring occasionally.  (The sauce will bubble up quite a bit, so keep an eye on it.)  Once it's ready, pour it evenly over the almond mixture and very quickly stir the mixture until it is evenly coated with the sauce.  It hardens quickly, so you'll need to move fast!
Quickly transfer the mixture to the lined baking dish, and press it firmly into the dish in an even layer.  (I used the bottom of a measuring cup to help press the mixture down into the pan.)  Let the bars cool for 30 minutes or until they reach room temperature.  (You can speed up this process a bit by placing them in the refrigerator if you'd like.)  Then carefully lift up the parchment paper from the baking dish and transfer it (with the bars) to a cutting board.  Cut the bars into your desired shapes and sizes.  Then place in a sealed container and store at room temperature until ready to eat.
The bars will last up to 10 days.  Or if you freeze them, they will last up to 3 months.
*If you are using unsalted almonds, add an extra 1/2 teaspoon of sea salt to the sauce mixture while it is cooking.
**Here is the puffed rice cereal that I used.  (Different than Rice Krispies.)  It's gluten-free, with no added sugar, and adds a great little "puff" to these bars.
All images and text ©
If you make this recipe, be sure to snap a photo and hashtag it #gimmesomeoven. I'd love to see what you cook!
This post is sponsored by Blue Diamond Almonds.  I'm a big fan of their line of almond snacks, and all opinions are 100% my own as always.  Thanks for continuing to support the brands that help make this site possible!