Cranberry Bliss Cookies
'Tis the season for cool mornings, warm coffee, and one of my other winter favorites — Cranberry Bliss season at Starbucks!
If any of you have ever tried their heavenly cranberry bliss bars laced with white chocolate and cranberries, you know the reason why these treats fly off the pastry shelves each day.  So for my fall baking season this year, I decided to experiment and try translating this favorite into a cookie.  Hence the name, "Cranberry Bliss Cookies"!
I started with one of my favorite chewy cookie bases, filled with lots of vanilla, white chocolate chips and dried cranberries.  Then topped it with a white chocolate cream cheese frosting, sprinkled with more cranberries, and drizzled with more white chocolate.  I mean seriously — what's not to love?!?
Sure enough, they were nothing short of heavenly.  Quite sweet, but the extra tart of the cream cheese and cranberries gives just the perfect tart touch to leave you craving just one more.  Perfect for dessert, or even a morning treat with your coffee.  And definitely…blissful.  :)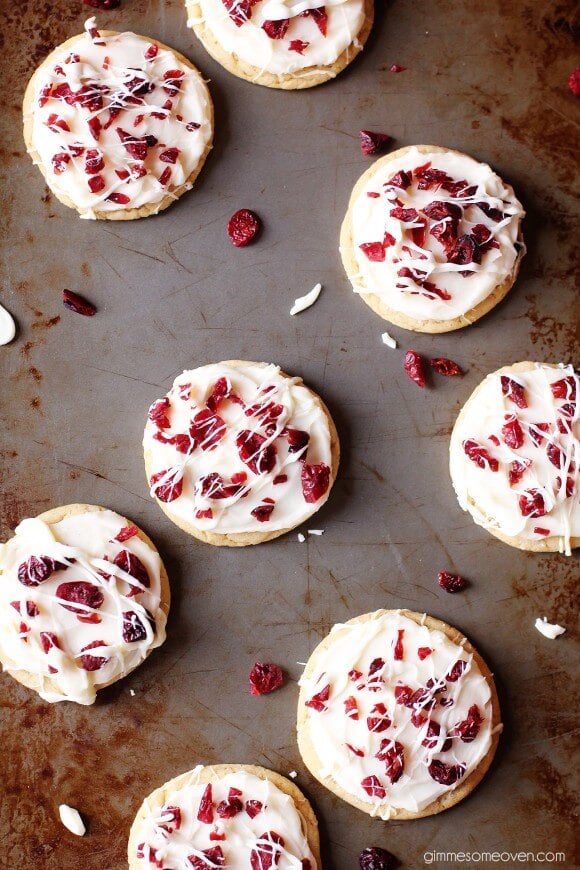 Cranberry Bliss Cookies
Classic cranberry bliss bars are turned into cookies!
Ingredients:
For The Cookies:
3 cups flour
1 tsp. baking soda
1 tsp. salt
1 cup (2 sticks) butter, softened
1 cup granulated sugar
1 cup packed brown sugar
2 eggs
2 tsp. vanilla extract, store-bought or homemade
1 cup white chocolate chips
1 cup dried cranberries
For The Frosting:
1 (8 oz.) bar cream cheese, room temperature
1/2 cup white chocolate chips, melted in the microwave or double-boiler
1 tsp. vanilla extract, store-bought or homemade
2 cups powdered sugar
For The Topping:
1 cup dried cranberries, roughly chopped
1/4 cup white chocolate chips, melted in the microwave or double-boiler
Directions:
To Make The Cookies:
Preheat oven to 350 degrees F (175 degrees C).
In a separate bowl, whisk together flour, baking soda and salt until well-blended. Set aside.
Using an an electric mixer on medium-high speed, beat the butter and sugars together until light and fluffy, about 2 minutes. Add in the eggs one at a time, beating in between to incorporate. Add the vanilla, then reduce the speed to low, and slowly add in the dry ingredients. Increase the speed to medium, and continue beating until well-combined. Fold in the white chocolate chips and cranberries, and mix until just-combined. (Do not overmix.)
Cover and refrigerate dough for at least 1 hour. Then place dough by rounded tablespoon-fulls onto a baking sheet that has been prepared with parchment paper, at least 2.5-inches apart. Bake for 10-12 minutes, or until the cookies are lightly golden around the edges. Remove pan, and transfer the cookies to a cooling rack until cool. Repeat with remaining dough until all cookies are baked. Wait until cookies reach room temperature before adding frosting and toppings.
To Make The Frosting:
Using an electric mixer on medium speed, beat together the cream cheese and melted white chocolate until combined. (**Be sure that your cream cheese REALLY is at room temperature before adding the white chocolate. Otherwise the chocolate could seize up.) Add in the vanilla and mix until combined. Then reduce speed to low and add the powdered sugar. Mix until incorporated. Then use a rubber spatula to scrape down the sides of the bowl, and beat once more for 1 minute on medium speed until the frosting is smooth. You can add more powdered sugar for a thicker frosting.
Spread the frosting on the cooled cookies. Then immediately sprinkle the frosted cookies with the chopped dried cranberries. And use a fork to drizzle on the frosting, swishing it back and forth over the cookies.
All images and text ©
If you make this recipe, be sure to snap a photo and hashtag it #gimmesomeoven. I'd love to see what you cook!