Creamy Roasted Garlic & Mushroom Pasta
I have to confess my new favorite find at the grocery store: pre-peeled garlic cloves!!!
For years, peeling garlic has been a nice stress reliever.  First, it was peeling it "by hand" with that satisfying pound of the knife to break each clove open.  Then, this crazy video went viral and gave the world an even more satisfying way to make it happen in 10 seconds (maybe a slight exaggeration).  But still, I'm pretty sure now that the ultimate stress-relieving way to "peel" garlic is by gladly transferring the little tub of freshly-peeled goodness from the shelf to my shopping cart.  Voi-LA.
I'm sure many of you have been doing this for years.  But I will still rejoice in my newfound discovery.  And enjoy it in some delicious pasta!!!
I simply roasted the garlic and some mushrooms, and then paired them with a creamy white wine and thyme sauce, all garnished of course with some freshly-shaved Parmesan.  (You may notice that nearly all of my pastas include Parmesan.  I can't resist!!)  It ended up being amazingly delicious, and even made for some stellar leftovers.
And…I must admit it was quite nice having my hands not smell like garlic for the rest of the day.  Cheers to great meals and great shortcuts!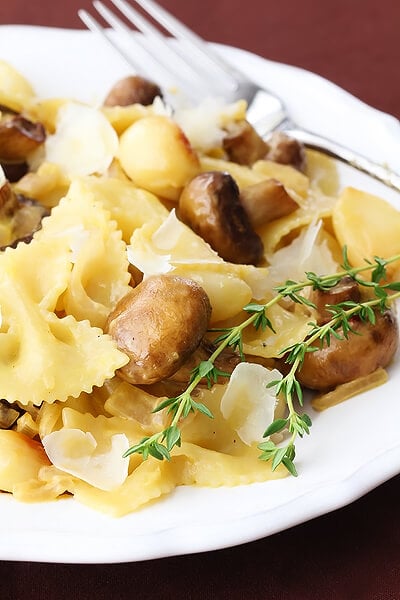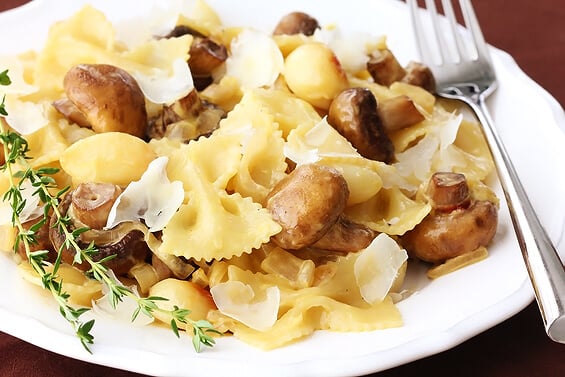 Roasted Garlic & Mushroom Pasta
You will love this Creamy Roasted Garlic & Mushroom Pasta recipe. Its quick and easy to prepare, and so delicious!
Ingredients:
24 garlic cloves, peeled
24 oz. sliced baby portabello mushrooms (or any kind of mushrooms)
3 Tbsp. olive oil, divided
kosher salt and freshly-cracked black pepper
1 large shallot, peeled and thinly sliced
1 cup dry white wine
1 cup chicken broth
3 sprigs fresh thyme
1 cup heavy cream (or you can just use 1/2 cup)
12 oz. pasta (I used farfalle)
freshly-shaved Parmesan
Directions:
Preheat oven to 375 degrees. Bring a large pot of generously-salted water to a boil on the stove.
Lay the garlic cloves out on a sheet of aluminum foil, and drizzle with 1 tablespoon olive oil and sprinkle with a pinch of salt and pepper. Wrap up the edges of the aluminum foil to make an enclosed pouch, and set on the corner of a baking sheet. Spread out the mushrooms on the rest of the baking sheet, and drizzle with an additional 1 tablespoon of olive oil, as well as another pinch of salt and pepper. Roast for 25-30 minutes, until the mushrooms are browned and the garlic cloves are slightly golden. Remove from oven, open garlic pouch to cool, and set aside.
Meanwhile, heat the remaining 1 tablespoon of olive oil over medium-high heat. Once the oil is shimmering, add the shallots and cook for 4-5 minutes or until they are translucent and begin to slightly brown. Add the wine and stir for a minute, stirring the bottom of the skillet to pick up any browned bits. Add the chicken broth and thyme sprigs and cook for 5 minutes to reduce the sauce. Add the roasted mushrooms, garlic, and cream and stir to combine. Cook for an additional few minutes as sauce thickens. Once the sauce is ready, remove the thyme sprigs.
While preparing the sauce, cook the pasta al dente in the boiling water according to package instructions. Once it is ready and drained, add the pasta to the prepared sauce and toss to combine. Serve immediately and garnish with Parmesan.
Ali's Tip:
This would be wonderful with chicken or Italian sausage!
All images and text ©
If you make this recipe, be sure to snap a photo and hashtag it #gimmesomeoven. I'd love to see what you cook!