Crunchy Asian Ramen Noodle Salad (a.k.a. Basically The Best Potluck Salad EVER)
I made a few modern updates to this Crunchy Asian Ramen Noodle Salad. It's still the same easy and crunchy salad that everyone loves, but made with natural sweetener and some tasty fresh ingredients!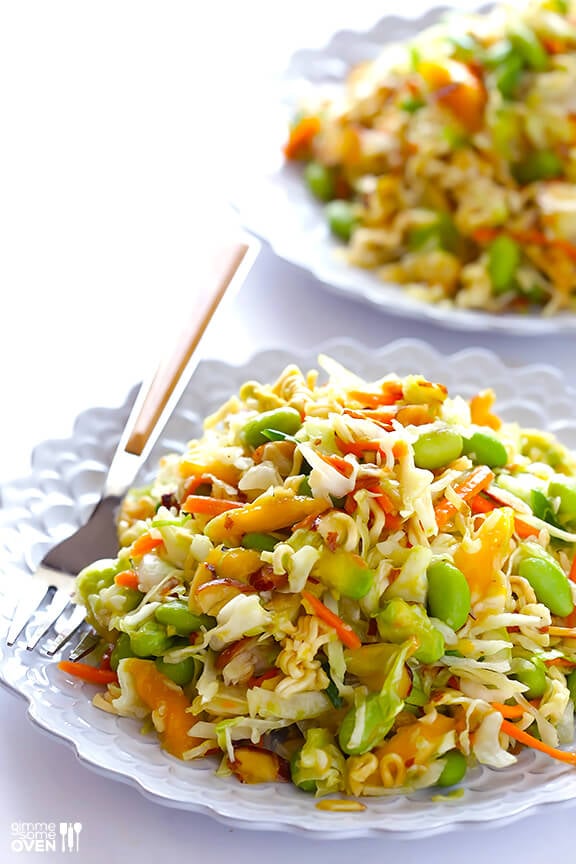 Alright, show of hands.
Who else grew up eating ramen noodle salad?!?
I don't know about you, but this salad was a Very Big Deal in my house back in the day.  My mom made it regularly and took it along to every potluck, picnic, and church function imaginable.  And we always came home with an empty bowl.  The whole world — or at least the Midwest — apparently loves a good ramen noodle salad.
Although when I texted her last week to ask for her recipe, she was the first to remind me that I did not come anywhere near this salad when I was younger.  Me and salads (and veggies and basically anything except for egg drop soup) did not mix when I was a kid.  But somehow I miraculously grew beyond my picky ways, and now enjoy a good ramen noodle salad as much as the rest of 'em.  (And hey, ramen's even so retro that it's back and oh-so-hip right now.  Who would've guessed?)
Still, I thought the old recipe could use just a touch of updating.  So I gave it a few healthier tweaks and added in some more fresh and colorful ingredients.  And after taking it to a gathering with some friends last weekend, I'm happy to report that it was still a raging potluck success.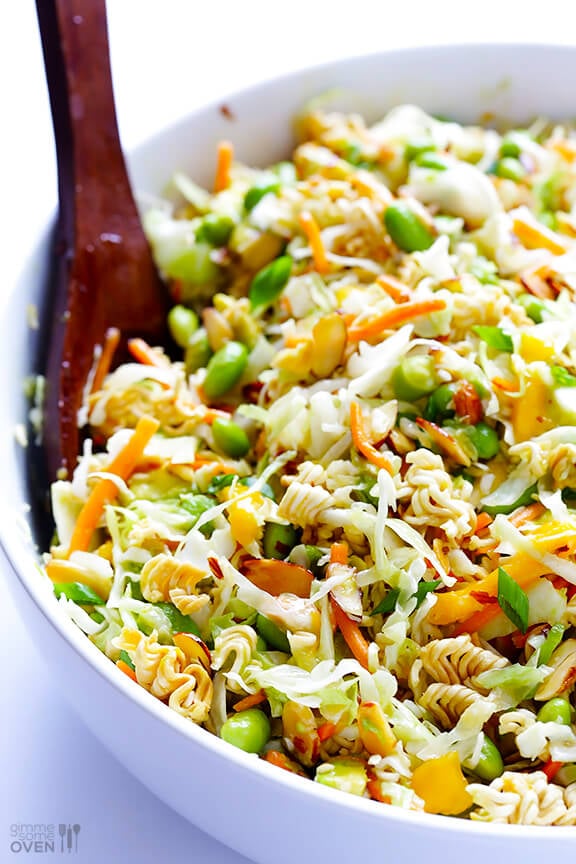 Actually, when I was texting back and forth with my mom about the recipe, it turned out that she was planning to make a batch for an event later that day.  (Surprise, surprise!)
She always likes to send me photos of "real food" versus my food-styled pics.  ;)
Although I have to say that hers looked pretty darn good!
She also approved of my idea of adding fresh mango, avocado and edamame to the salad, and added some to hers as well.  We both agreed that the extra ingredients definitely added a nice, sweet touch to the base recipe.
As Mom mentioned in her text, our family's little secret touch is to toast the ramen and sliced almonds before you begin.  But if you're in a hurry, you can skip that step and make this a 10-minute meal.
And as I said in the text, I did decide to nix using the ramen seasoning packets in the dressing, since they're full of MSG and who knows what.  I added a little soy sauce and sesame oil to the dressing, and think it ended plenty flavorful without the packets.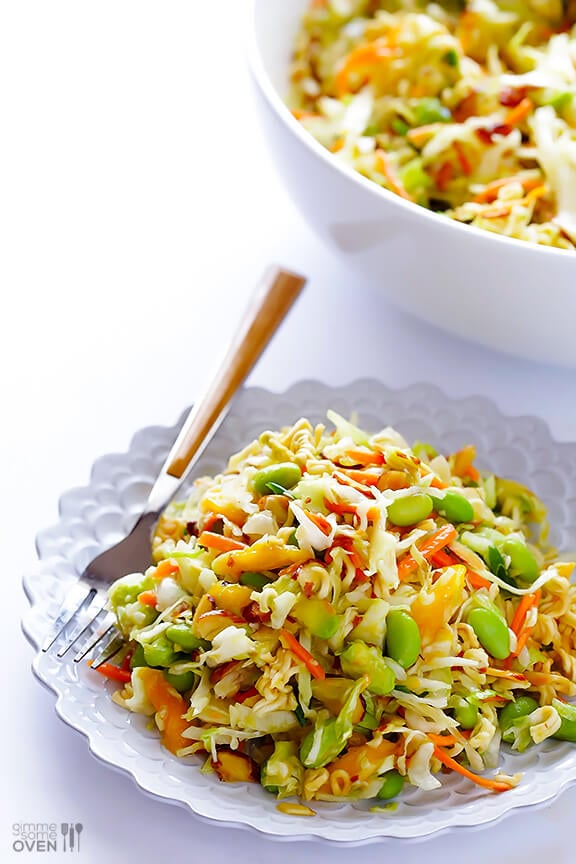 I also tweaked the dressing recipe a bit and swapped rice wine vinegar for white vinegar, honey for sugar, and a little less sweetener all together.  Because trust me, this salad is already plenty sweet.
But other than that, this is pretty much the retro salad we all love!  And it is SUPER easy to make.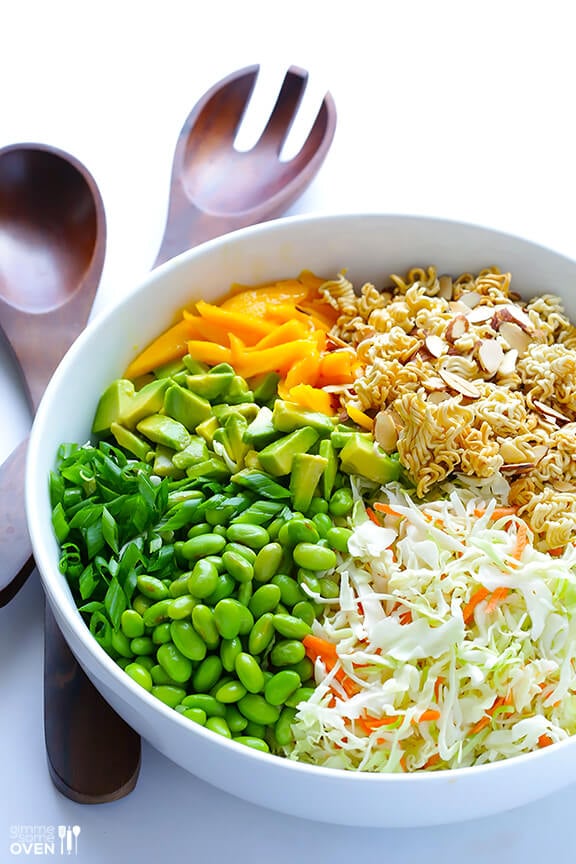 Just toss all of your salad ingredients together in a big bowl.
Then pour in your dressing, and give it all a good toss until it's combined.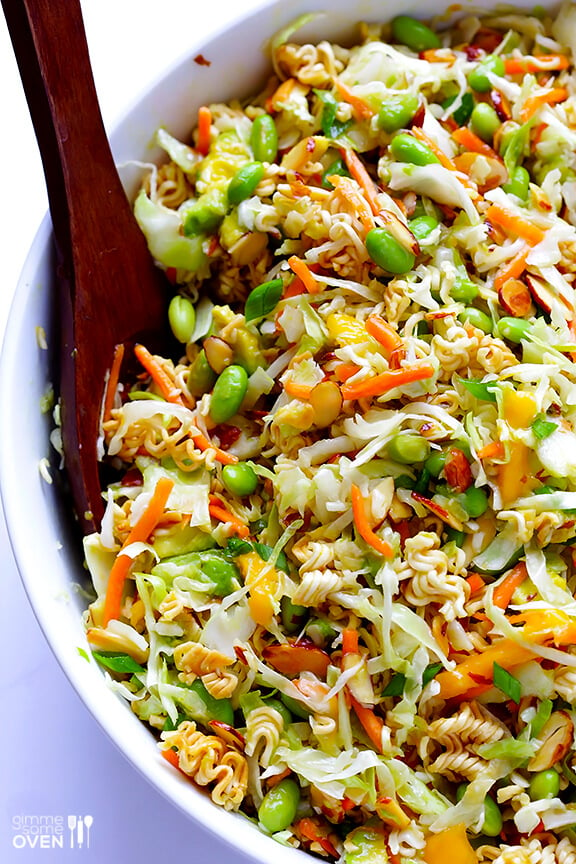 And there you have it!  I'm pretty positive that decades of ramen noodle salad-o-rama has proven that this recipe is here to stay.  It's crunchy, it's sweet, it's savory, it's quick, it's easy, and it will definitely be the hit of a potluck.  ;)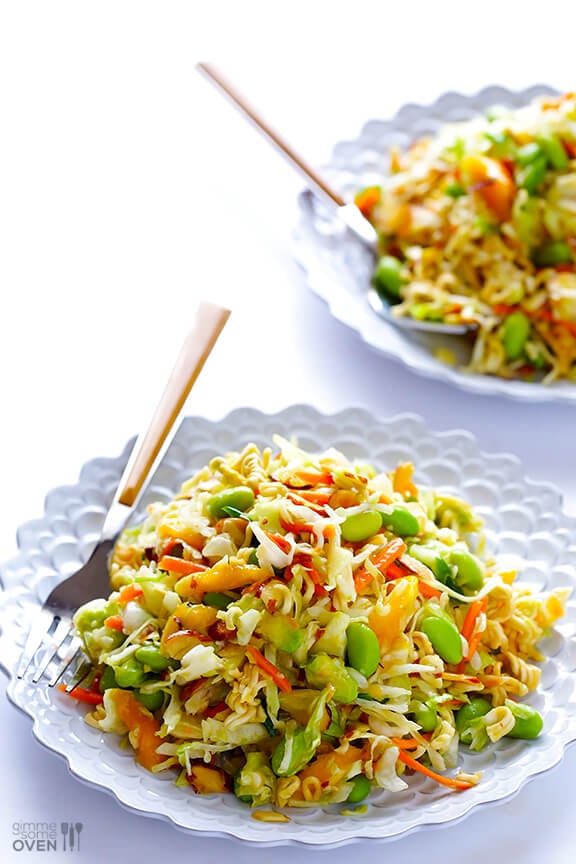 Crunchy Asian Ramen Noodle Salad (a.k.a. Basically the Best Potluck Salad EVER)
This updated Crunchy Asian Ramen Noodle Salad recipe takes just minutes to make, and is sweet, savory, and SO good!
Ingredients:
Salad Ingredients:
1 (16-ounce) bag coleslaw mix
2 (3-ounce) packages of ramen noodles, crumbled (you will not use the seasoning packet)
1 cup shelled and cooked edamame
1 avocado, peeled, pitted and diced
1 mango, peeled, pitted, and julienned (or diced)
1/2 cup thinly-sliced almonds
1/2 cup thinly-sliced green onions (scallions)
Asian honey vinaigrette (see ingredients below)
Asian Honey Vinaigrette
1/2 cup avocado oil (or vegetable oil, or any cooking oil)
1/4 cup honey (or agave, to make this vegan)
1/4 cup rice wine vinegar
2 teaspoons soy sauce
1/4 teaspoon sesame oil
pinch of salt and black pepper
Directions:
To Make The Salad:
(Optional first step: Heat oven to 425 degrees. Spread the crumbled ramen noodles and sliced almonds out on a baking sheet, and stir a bit to combine. Bake for about 5 minutes, or until the almonds and noodles are slightly toasted and golden. Remove baking sheet, and give the mixture a good stir to toss. Then return it to the oven and toast for an additional 3 minutes. Keep a very close eye on the mixture so that it does not burn. Remove and set aside.)

Add ingredients (including the vinaigrette) together in a large bowl, and toss until combined.

Serve immediately, or cover and refrigerate for up to 3 days. (This salad is much better eaten the first day, as the noodles lose their "crunch" the longer it sits, and the avocado may brown a bit. Still, it's perfectly edible and enjoyable even after a few days!)
To Make The Vinaigrette:
Whisk all ingredients together until combined.

If you make this recipe, be sure to snap a photo and hashtag it #gimmesomeoven. I'd love to see what you cook!



Leave a Comment:
Comments
Trackbacks/Pingbacks