Crunchy Granola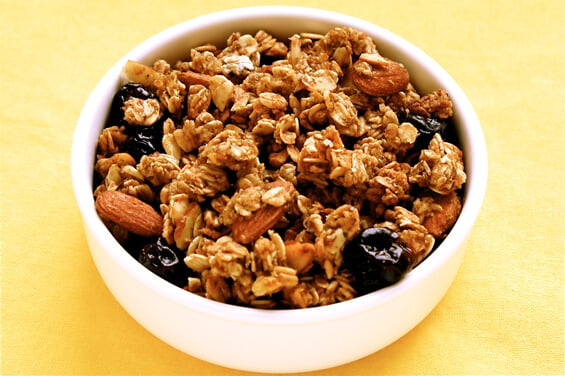 I'm a big believer in breakfast.  Not just the food — the entire experience.  :)  Love waking up to the the newness of another day, padding downstairs to prepare a healthy breakfast, and enjoying it while cozied up in my sunlight-filled dining room with a good book or the news of the day.  Mmmmm…my idea of beginning a day well.
That said, one of my favorite go-to recipes for a well-rounded breakfast is this simple granola recipe.  It's packed with great nutrition and flavor, has a wonderful crunch, and is easy to prepare.  Plus, it makes a pretty large batch, which of course can be enjoyed in a myriad of ways — plain and dry, in a bowl with milk, in a yogrut and fruit parfait, in pancakes, etc.  Or, for later in the day, I love adding it to ice cream, cobblers, or using it to make pie crusts.  Such a yummy, versatile mixture to have on hand!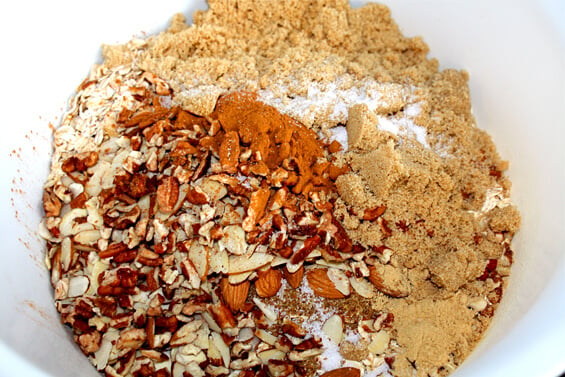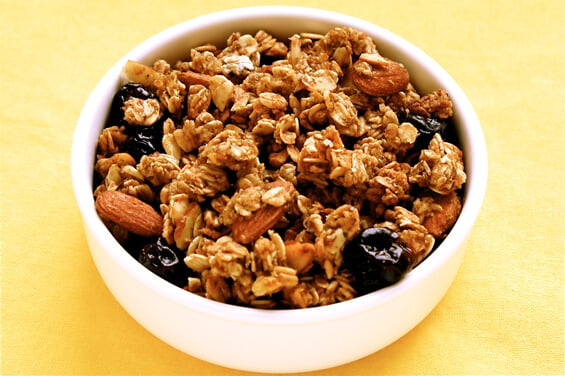 Crunchy Granola
This crunchy granola is everything you could want in a granola, and it's so easy too!
Ingredients:
5 cups rolled oats
1/2 cup ground flax seed (optional)
2 to 3 cups raw almonds or pecan halves, or a mixture
¾ cup light brown sugar
1 Tbsp. ground cinnamon
1 tsp. ground ginger
1 tsp. salt
1 cup unsweetened apple sauce
1/2 cup honey
2 tsp. vanilla
2 tbsp. vegetable oil
1 cup. favorite dried fruit (cherries, cranberries, raisins, apricots, etc.)
Directions:
Set racks in the upper and lower thirds of the oven. Preheat the oven to 300°F.
In a large bowl, combine all of the dry ingredients. Stir to mix well. In a small bowl, combine all of the wet ingredients. Stir to mix well. Pour the wet ingredients over the dry ones, and stir well.
Spread the mixture evenly on two rimmed baking sheets, either greased with cooking spray or covered with parchment paper. Bake for 35 to 40 minutes, or until evenly golden brown. Set a timer to go off every ten minutes while the granola bakes, so you can rotate the pans and give the granola a good stir; this helps it to cook evenly.
When it's ready, remove the pans from the oven, stir well – this will keep it from cooling into a hard, solid sheet – and set aside to cool. The finished granola may still feel slightly soft when it comes out of the oven, but it will crisp as it cools.
Scoop cooled granola into to a large zipper-lock plastic bag or other airtight container. Store in the refrigerator indefinitely.
In my recent experience camping this month (believe it – I have friends to prove I spent two nights with the bugs), I was introduced by my friend, Jenny, to the joy of making granola pancakes!  They were super-simple, but absolutely delicious.  She just whipped up some normal pancake batter using a pancake batter (2 cups Bisquick, 1 cup milk and 2 eggs), and then added in 1/3 cup granola, and cooked them up.  Maybe the rest of the world already knows this secret, but they were new to me.  Delightful!!  :)
If you make this recipe, be sure to snap a photo and hashtag it #gimmesomeoven. I'd love to see what you cook!