culinary institute of america: day three
This post may contain affiliate links. Please read my disclosure policy.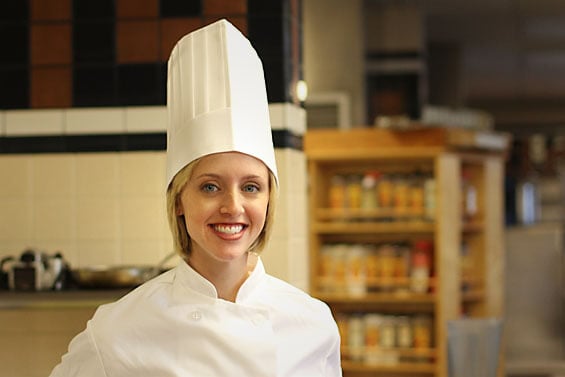 Ok, Mom — here's a picture of me. :-)
We finished up our final day of "Mexican Cuisine Boot Camp" today at the CIA (Culinary Institute of America). And holy moly — it was "mole" day!!
Before that though, I did have the chance to enjoy another fantastic breakfast. (May have accidentally hit "snooze" on my 5am alarm yesterday and missed breakfast…oops!)  There were about 8 yummy options on the menu, but somehow I completely caved when I saw the bacon. Mmmm…bacon. The chorizo burrito, potatoes, and strawberry soy smoothie were lovely too.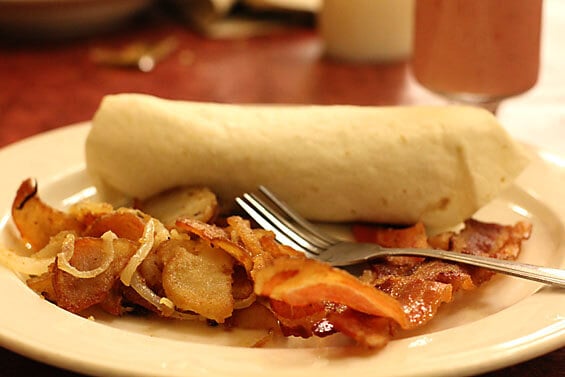 Afterwards, we retreated to our little classroom for a morning lecture on…yep…mole. Chef was even more than excited than usual today. I think he really likes his mole. :-)  We had a nice lecture about all things "mole", more discussion on various chiles, tamales, lard (indeed) and much more…
Then for the final time, we split up into our teams and headed to the kitchen for our mole-a-thon. In addition to some other dishes, each of the four teams made one of the traditional Oaxacan moles (remember from yesterday that Oaxacan is the "Land of Seven Moles"!). Our team was assigned mole negro, which literally had 29 ingredients, and was supposed to take at least 5-6 hours to make properly (we "condensed" that down to 4). And the recipe filled an entire page. Wow!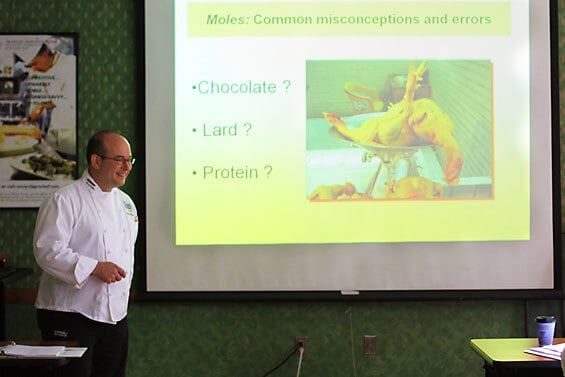 Like all traditional moles, everyone's recipes of course had a zillion steps. From the entire process of seeding, dry-roasting, soaking, pureeing and straining our five types of chiles…to roasting, blending and preparing all of the fruits, veggies and spices…to avocado leaves and Mexican chocolate and plenty more ingredients….to stirring…
…and stirring…
…and stirring….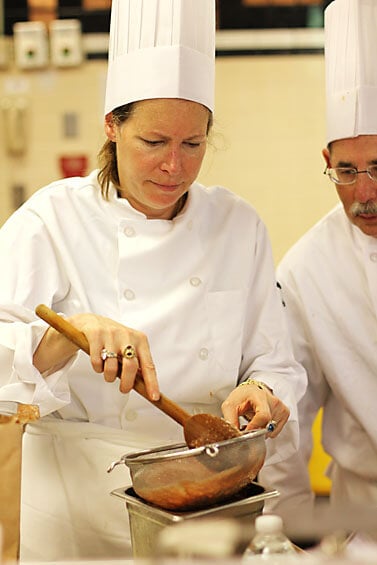 Unfortunately our team was a little "recipe challenged" today. About 2.5 hours into the mole-making, we realized that I had accidentally added the entire (2 lb.) bag of tomatoes to the sauce…instead of the 1 lb. noted in the recipe. Big oops. Apparently this was the problem making our mole negro not so negro. So we had to back up and go through all 500 steps with all of the other ingredients in order to double them to match the tomato content. Sorry team!!!
Then somehow our super-delicate Mexican white rice (which had to be oh-so-carefully soaked, drained, fried, boiled and steamed) wasn't properly fried. So Chef gave us "the look", and recommended we toss it out and start over. Ay ay ay.
Thankfully after a few more hours, the mole finally turned black, we were able to add in the yummy Mexican chocolate and the rest of the ingredients, Chef was pleased, and all was well. :)  We had one final amazing spread for lunch, which today included:
Mole Manchamanteles (Tablecloth-Stainer Mole)
Tamales de Frijol Negro Estilo Oaxaca (Oaxacan Black Bean Tamales)
Mole Poblano (Puebla-Style Mole)
Tamales Blancos Estilo Puebla (Plain Tamales)
Mole Negro (Black Oaxacan Mole)
Arroz Blanco (Mexican White Rice)
Horchata de Almendra (Oaxacan-Style Rice and Almond Drink)
Mole Verde Oaxaqueno (Green Oaxacan Mole with Red Snapper)
Guacamole & Tortilla Chips
Poached Chicken
Churros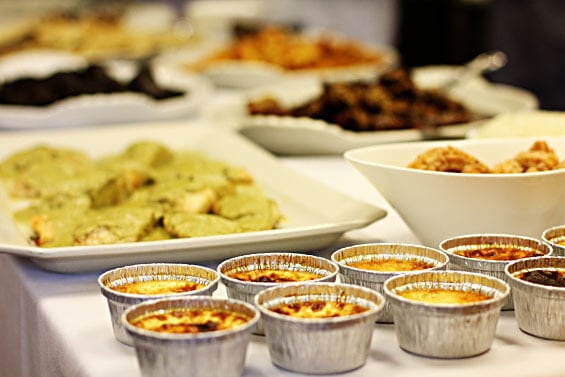 The fun treat of the day actually ended up being the churros. One of the students in class, Al, was actually a manager of a Mexican restaurant. And since his group had "extra" time on their hands today (our group couldn't fathom this), he just "whipped up" a batch of churros. Seriously. And they were seriously delicious.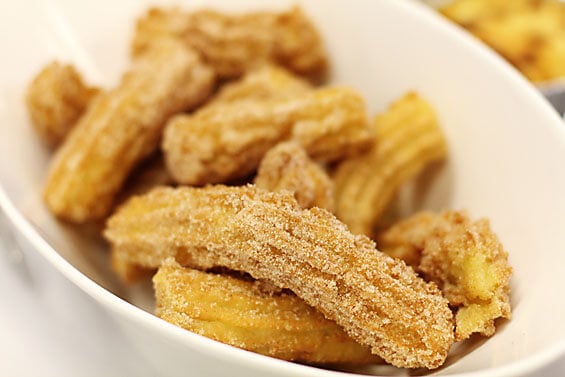 All in all, the boot camp ended up being a totally memorable experience. I can definitely say that I've learned much more about cooking and Mexican cuisine, much more about the dynamics of a professional kitchen, have 100% decided that my tiny little kitchen is as "pro" as I'd like to go, but that (I'll say it again!) I have ENDLESS respect and appreciation for those culinary students, chefs, sous chefs, prep cooks, dishwashers — you name it! — anyone in the world of professional food service. Even with terrible hours, minimal appreciation, and probably even more minimal pay…they're out there sweating it out in these kitchens and working hard…but following their passion. :-)  They're my heroes!!!
As are the many new friends I had the privilege of spending these last few days with. Allow me to introduce you to…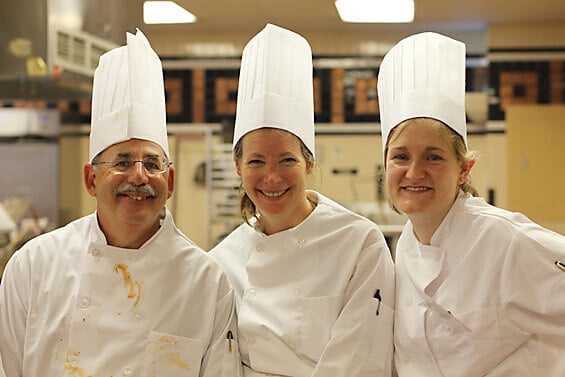 Team One!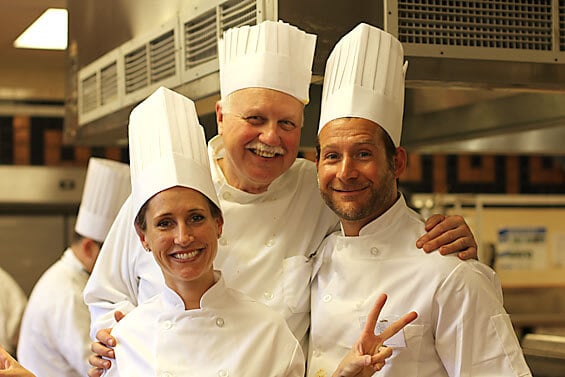 Team Two!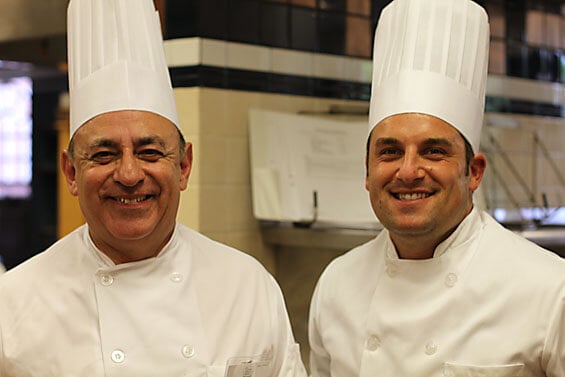 Team Four (missing one)!
And of course, my wonderful Team Three teammates (Tiffany and Susan) and the brilliant, funny and oh-so-patient Chef Sergio. :-)  This wonderful crew makes me smile.
So in conclusion, if you've ever thought about trying a culinary vacation, you should go. GO. :-)  Truly a fantastic way to travel, meet new people, have fun in the kitchen and learn some great new recipes and techniques! I couldn't recommend it enough. The CIA has some fantastic two-, three-, four- and five-day boot camps that span subjects from "basic training", to BBQ, to Baking, to French Cuisine, to Specialty and Hearth Breads, and on and on. I was at the Hyde Park (NY) campus, but they also have gorgeous campuses I hear in Napa Valley (CA) and San Antonio (TX). So check it out — they right!
Alright — signing off for the day. Just arrived in NYC, and can't wait for what lies ahead! :)
~~~~~~~~~~~~~~~~~~~~~~~~~~
P.S. — If you've ever thought about trying a culinary vacation, you should go. GO. :-)  Truly a fantastic way to travel, meet new people, have fun in the kitchen and learn some great new recipes and techniques! I couldn't recommend it enough. So check it out!
And P.P.S. — Did I mention you don't have to wash a single dish? Yep. H-e-a-v-e-n. :)