culinary institute of america – part one
This post may contain affiliate links. Please read my disclosure policy.
"Thyme" to begin!!!
The first part of my NY adventure kicked off today at the chipper hour of 6am, when I arrived at the Culinary Institute of America to check in for boot camp! Hooray!!!
I think I intially thought "boot camp" was just a nice little name for their cooking classes. But they aren't kidding! After 12 hours filled with cooking, lectures, recipe-planning, campus tours, taste-testing, socializing (of course!), and the chance to enjoy two phenomenal meals prepared by CIA students….I'm a tired, but very happy camper. :)
So many stories to tell, recipes to share, and photos to upload. But for now, here's a glimpse into my first day…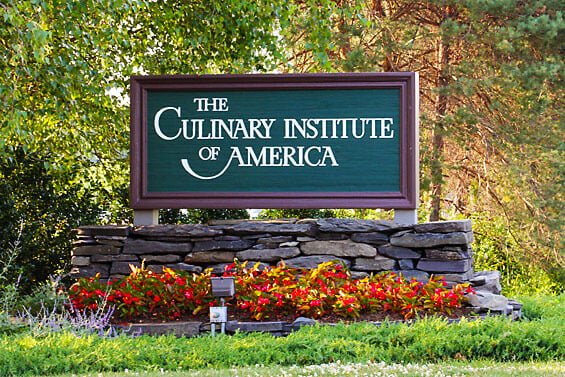 As I mentioned, we began at 6am. (I didn't know my alarm clock went quite that early, but hey – boot camp is boot camp!)  After a very brief orientation, we were escorted through the school to one of our first highlights of the day — breakfast.
Suffice it to say, no Cheerios here. :-)  We were given endless options of gourmet items, freshly-baked and prepared before our eyes in one of the bustling student kitchens. It was an amazing site to see. But an even more amazing meal to enjoy!! I ended up going with one of the "lighter" options — a fresh fruit breakfast taco, with a melon slaw and fresh creme, served along with muffins, smoothies, and a cup of coffee that I was very glad to see. A perfect way to begin the morning!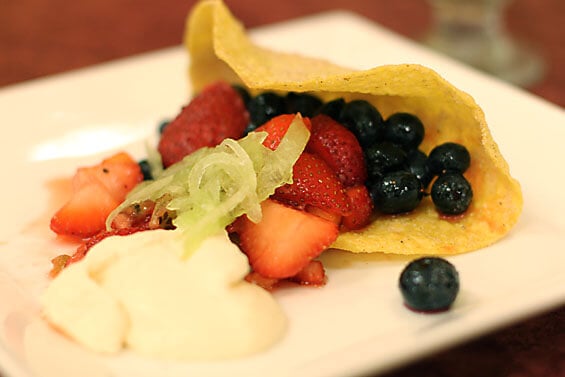 After breakfast, we got to the part I had been secretly (ok, not-so-secretly!) been looking forward to – our uniforms! Upon arrival at the school, each of us were given a CIA tote filled with all our coursework and two full chef's uniforms – yay! We're talking the real deal — button-up coat, checkered pants (with elastic waistbands…which by the end of the day we appreciated!), and my favorite….a chef's hat! Or as I have now learned it is called…a "toque".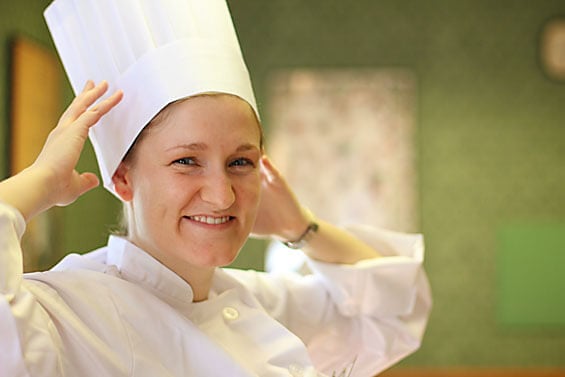 We then spent the next hour with our bootcamp's instuctor — Chef Sergio Remolina. Super-cool guy who knows his stuff. Holy cow. I'm not usually one for 7am lectures, but I was completely enthralled. Have about 4 full pages of notes!
Our topic for the next three days is "Mexican Cuisine from Puebla and Oaxaca", which is right up my alley since anyone close to me knows I may or may not have a slight obsession with Mexican food. So in addition to going over our recipes for the day, Chef went into a fascinating study of all the environmental, historical, cultural, and culinary reasons why so many of these authentic foods are the favorites of the regions. Lots of "ah ha" moments around the room as things clicked into place – so interesting!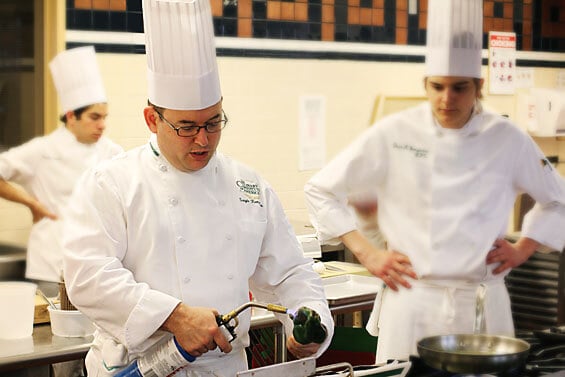 After our lecture, we were split up into four teams of three, and immediately headed nextdoor to the kitchen, where I quickly learned something else new. Professional kitchens are hot. As in, humid, 90+ degree hot, all while being buttoned up from head to toe in a chef's uniform! (Reason #239 why I now have even more respect for the cooks in the kitchen!)
Still, the next 3 uber-intense hours were without a doubt my favorite section of the day. Without much planning, we all pretty much just dove into creating the 3 recipes that our specific teams had been assigned for the day. I had the privilege of working with Tiffany and Susan, who both have lots of cooking experience, love efficiency (yay), and were super to work with.
Every 15 minutes or so, Chef would pause the class for a brief demonstration of a cooking technique. (More on those to come!)  But otherwise, he just floated around the room helping each of us out, answering questions, and trying to manage all of the (14 or so!!!) recipes we were making at once. Yep. That's why he's the pro.
(I should mention I lonnnng time with the blow torch "blistering" poblanos, and didn't catch anything on fire. Whewwwwww.)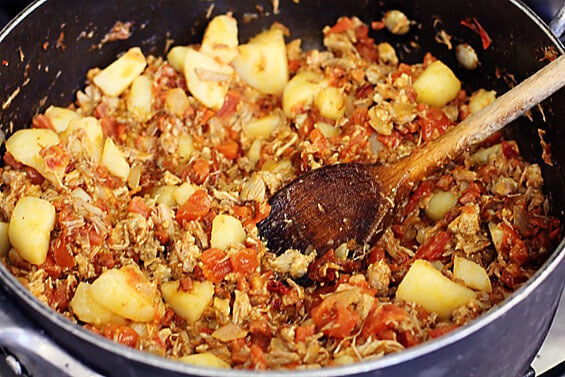 After 3 intense (and did I say HOT) hours on our feet, scurrying to try and create these perfect dishes, lunch was finally served. We plated all the food and lined up dishes in the middle of the room, and basically were able to do what I always want to do at restaurants — sample every single one. :)
Today they included: Chiles en Nogada, Sopa de Tortilla con Chorizo, Huitlacoche Guisado, Tlacoyo, Pollo en Salsa de Cacahuate, Arroz a la Poblana, Guacamole Tradicional, Crema de Elote con Poblano, Pipian Verde, Tinga Poblana, Rajas Poblanas and Frijoles Refritos.
My team's assignment was to make the tinga, rajas and frijoles. Above was the tinga prep, and below the final creation.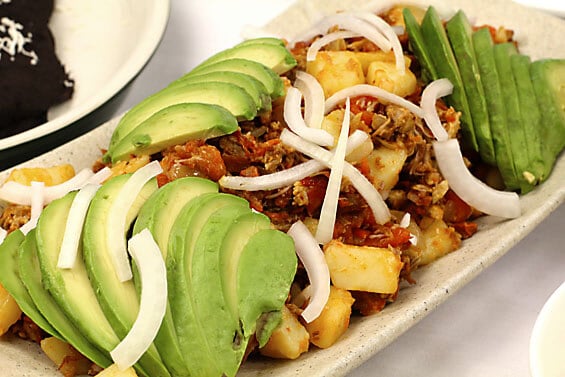 And here's a picture of the rajas prep…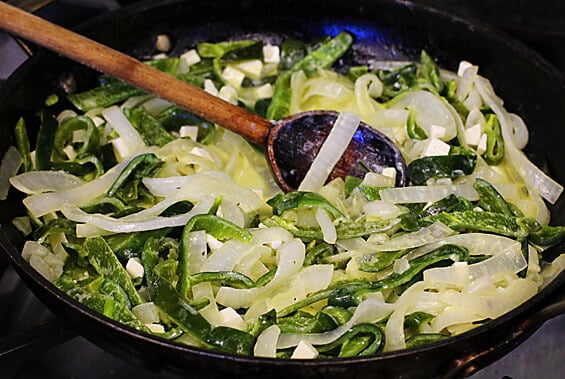 And the frijoles final creation. (I fried the tortilla chips!)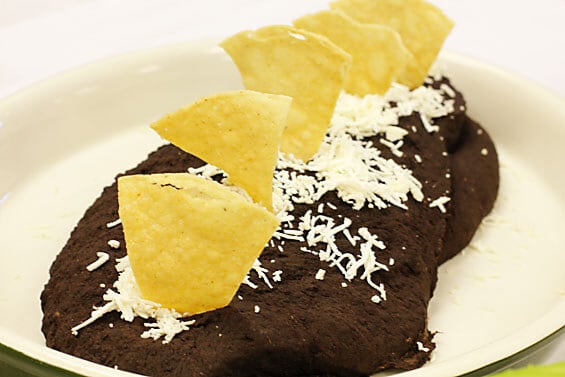 We decided we definitely got lucky not being assigned the Chiles en Nogada, which are stuffed poblano chiles with walnut sauce. Chef said this is a "festivities" recipe, as in they only make it once or twice a year, which our entire team quickly learned was because you have to peel every single walnut before adding it to the sauce. We're talking toothpicks and endless patience here. Pobrecitos….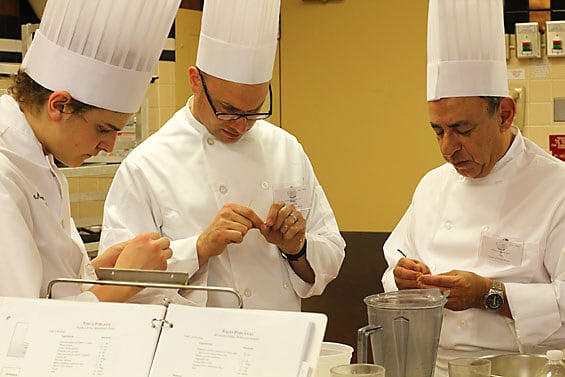 Needless to say, though, everything was amazing. As Chef said, the common misconception is that all Mexican food is spicy. Not so. A few of the dishes today definitely had some kick, but for the most part, he taught us about making dishes with well-balanced, simple, yet rich flavors. I was a fan. :)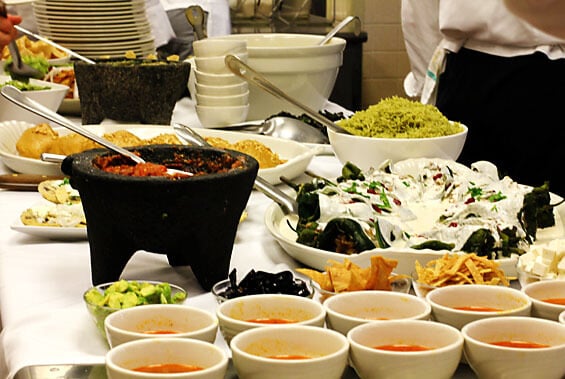 After a long lunch in the dining room, we had a quick meeting to de-brief our time in the kitchen, which was helpful. (Apparently our knife skills are not up to par, so that's now on the agenda for tomorrow!)  Then we had a nice little break to explore campus, or take a food-coma "siesta". :)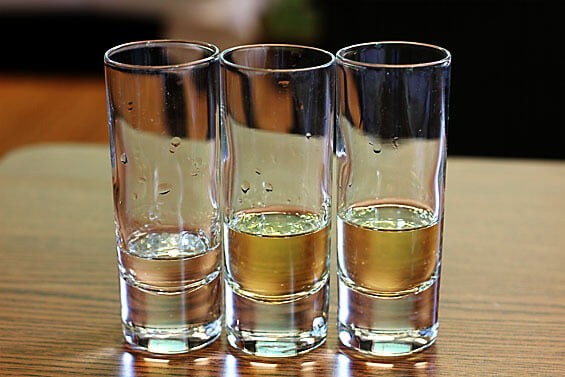 Around mid-afternoon, we had our final lecture of the day — all about tequila! One of the other CIA chefs who specializes in drinks came and gave a totally fun and informative talk all about the Mexican history of tequila, the process by which it's made, all of the varieties which exist today, and the history of my margaritas (Spanish for "daisies")! And then of course afterwards, our class was able to do some sampling. :-)
I'm not a huge tequila girl, but I do love margaritas. And with just three ingredients — fresh lime juice, tequila and Triple Sec — I'm pretty sure this guy made the best one I've ever had. (Recipe forthcoming!)
After another brief break, we concluded our day with a gorgeous, "three-course" (although it was actually about six courses!) dinner at one of the CIA's popular campus restaurants — "Caterina de Medici". From crostinis, to fresh Italian bread, to a proscuitto and Italian hams sampler, to a stunning saffron lamb stew (pictured below), to a warm molten chocolate cake with cream and strawberry sauce, to red wine and coffee…the meal was a complete delight.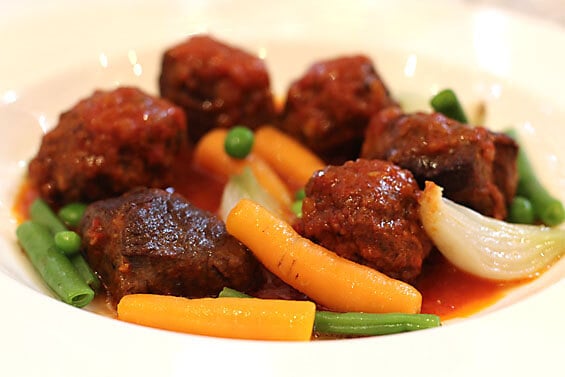 Great food, relaxing time with great new friends, all while watching a beautiful sunset. I'd say it was a very good end to a very good day. :)