Curried Satay Veggie Bowls
These quick and easy Curried Satay Veggie Bowls take less than 20 minutes to make, they're naturally gluten-free and vegan, and they are made with the most heavenly red curry sauce!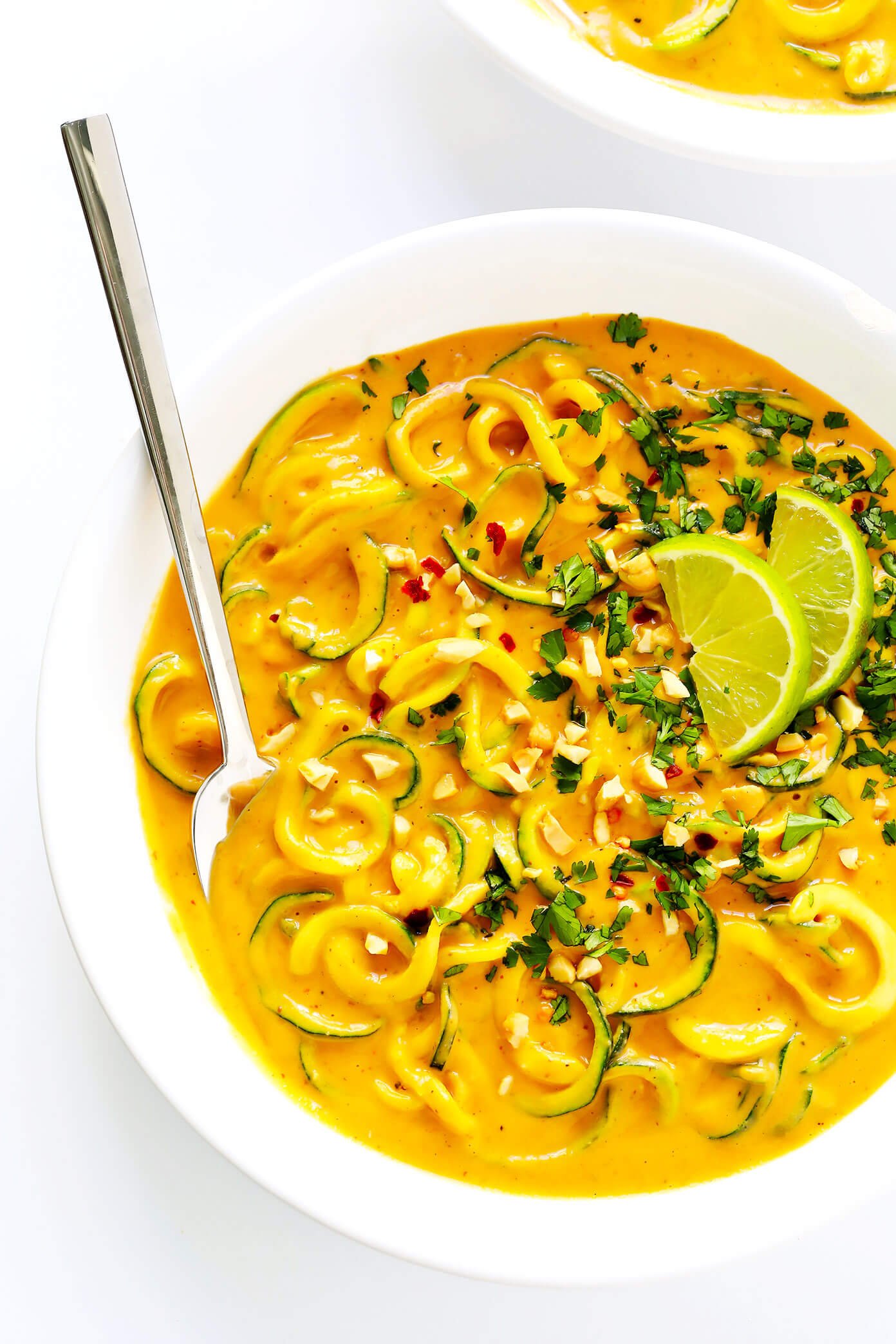 You know a recipe's good when you catch your husband red-(curry-sauce-)handed in the kitchen after lunch, scraping out the verrrry last spoonful of sauce from the blender before doing the dishes.  ♡
Meet…my friend Lindsay's recipe for Curried Satay Veggie Bowls.
This was one of the first recipes that I dog-eared in her new cookbook the day that it arrived on our doorstep here in Spain.  And we have made it no less than three times in the following weeks ever since…entirely because of that gorgeous red curry sauce you see up there.  We can't get enough of it.  It's full of the best warm curry flavors, it only takes about 5 minutes to make in the blender, it's naturally gluten-free and vegan, and it's perfectly thick and creamy thanks to one secret ingredient.
I bet you already have it in your pantry right now…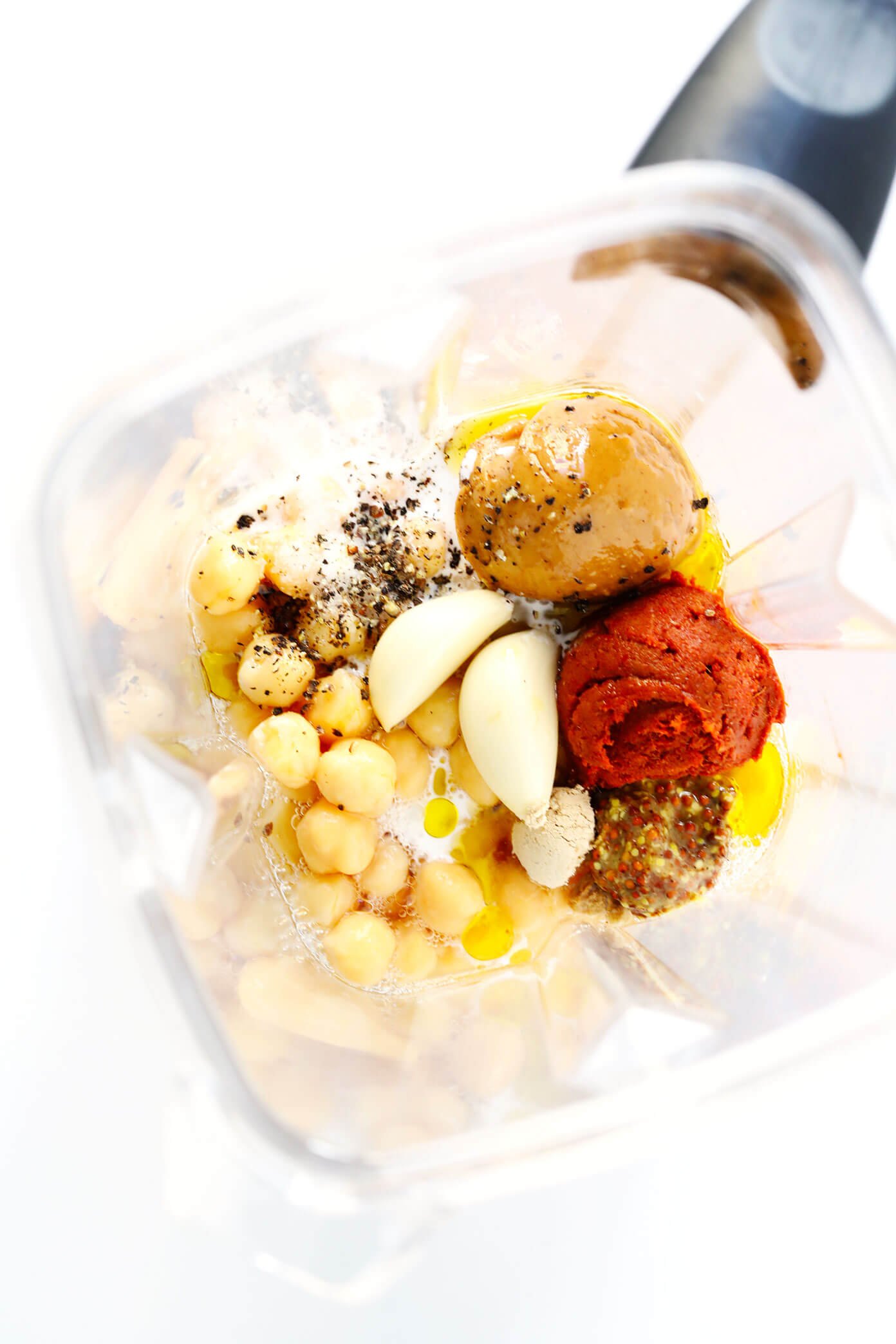 …CHICKPEAS!
Make that…an entire can of chickpeas. ♡ ♡ ♡
That's right.  Instead of using multiple cans of coconut milk for the base of this sauce, Lindsay's recipe purees an entire can chickpeas (with those nutrient-rich juices from the can included) for her curry sauce.  And when combined with a splash of coconut milk, a tablespoon-full each of red curry paste and peanut butter, and a few other simple seasonings, this all blends up into the most decadent-tasting, hearty, irresistible red curry sauce.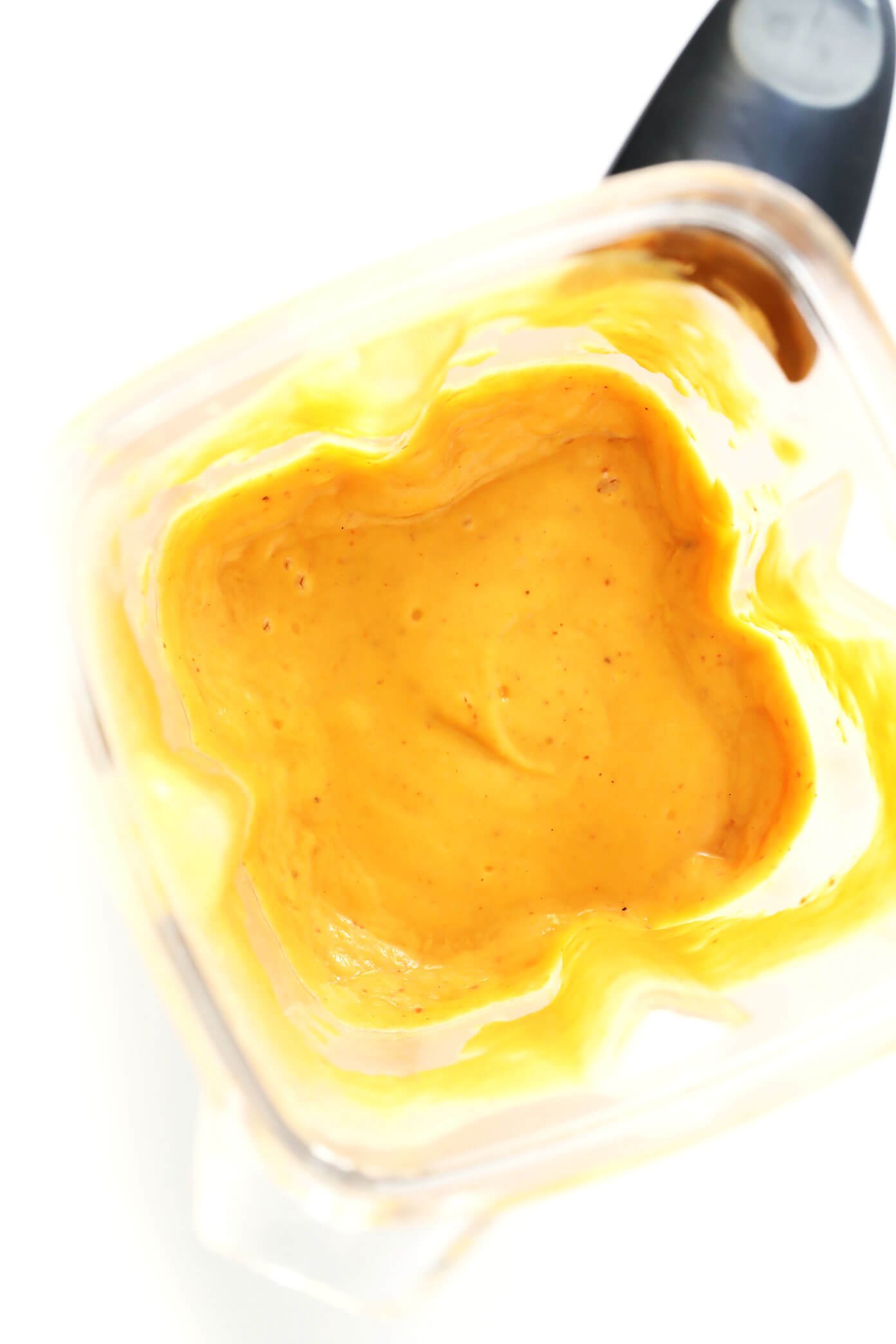 And I know already, you are going to love it.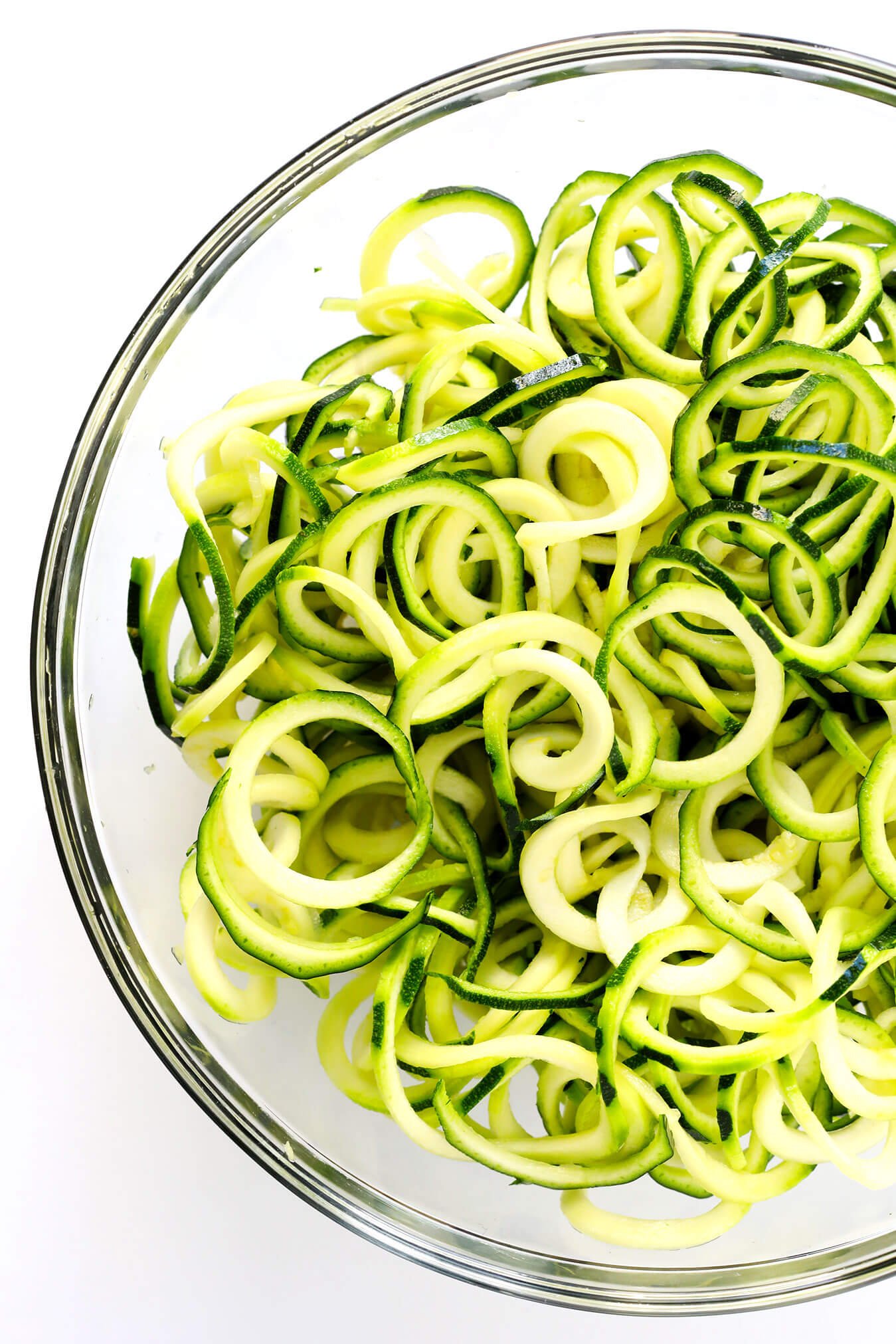 Alright, but let's talk about these veggie bowls that feature this dreamy sauce!  Once you've blended up your sauce, spiralize a few zucchini.  Or if you don't have a spiralizer, you can julienne the zucchini with a peeler or by hand, or use a vegetable peeler to slice them into long, thin strips.  Whatever's easiest!
And, of course, you're also totally welcome to toss any other veggies you might have on hand in the pan too.  We made one batch with straight zoodles, another with half zoodles and half rice noodles, another with just a big batch of mixed veggies.  Options, options…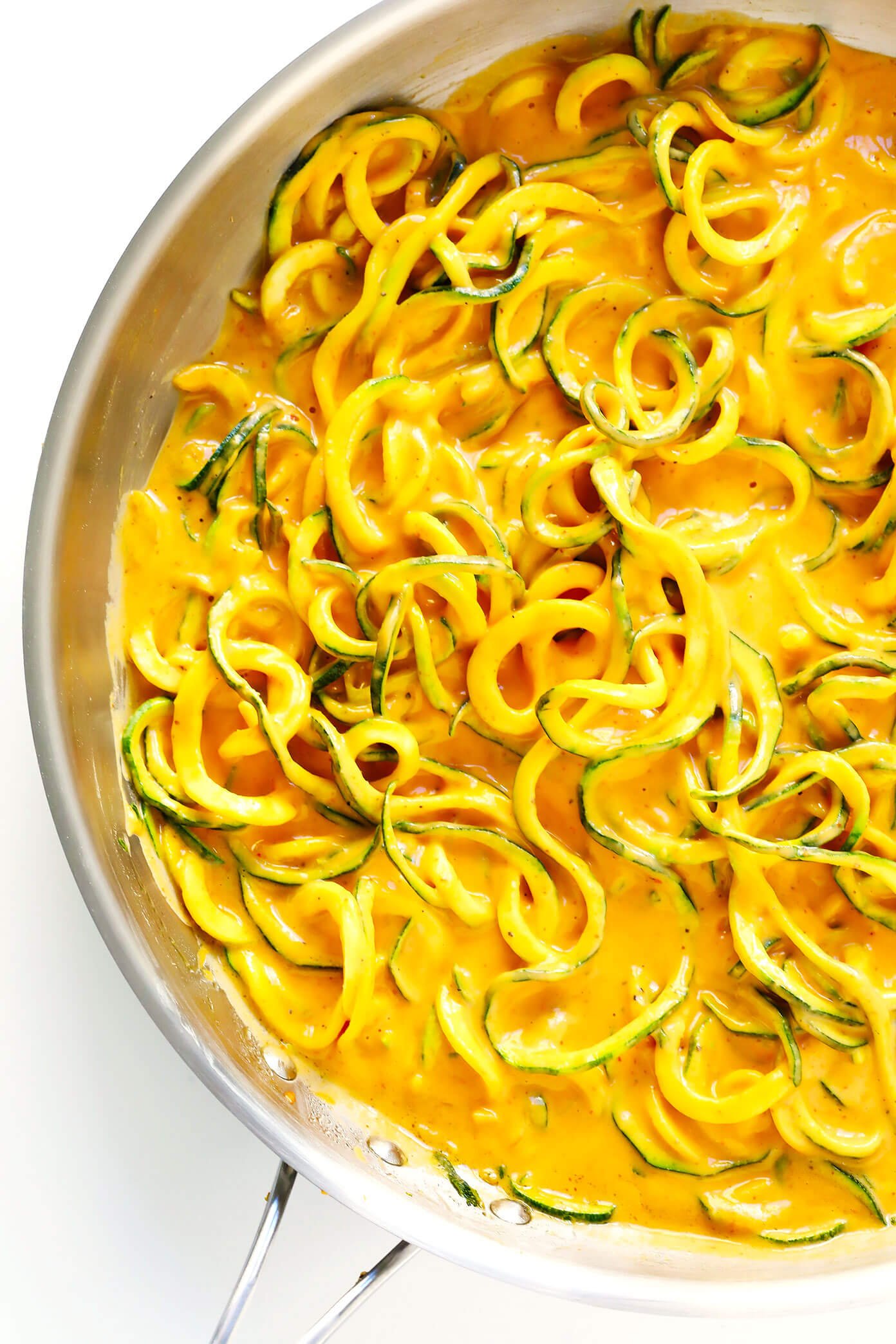 Next, give the zoodles a quick sauté so that they are slightly softened, but not mushy.  (I like to cook my zoodles over high heat just for 2 minutes or so.  Otherwise, they will get too soft and watery.)
Then toss them with your sauce, either in the pan or in your serving bowls.  Sprinkle with a generous handful of chopped nuts (we used cashews, and loved the extra crunch), lots of chopped fresh cilantro, some crushed red pepper flakes or sriracha (if you'd like extra heat), a generous squeeze of fresh lime juice, and…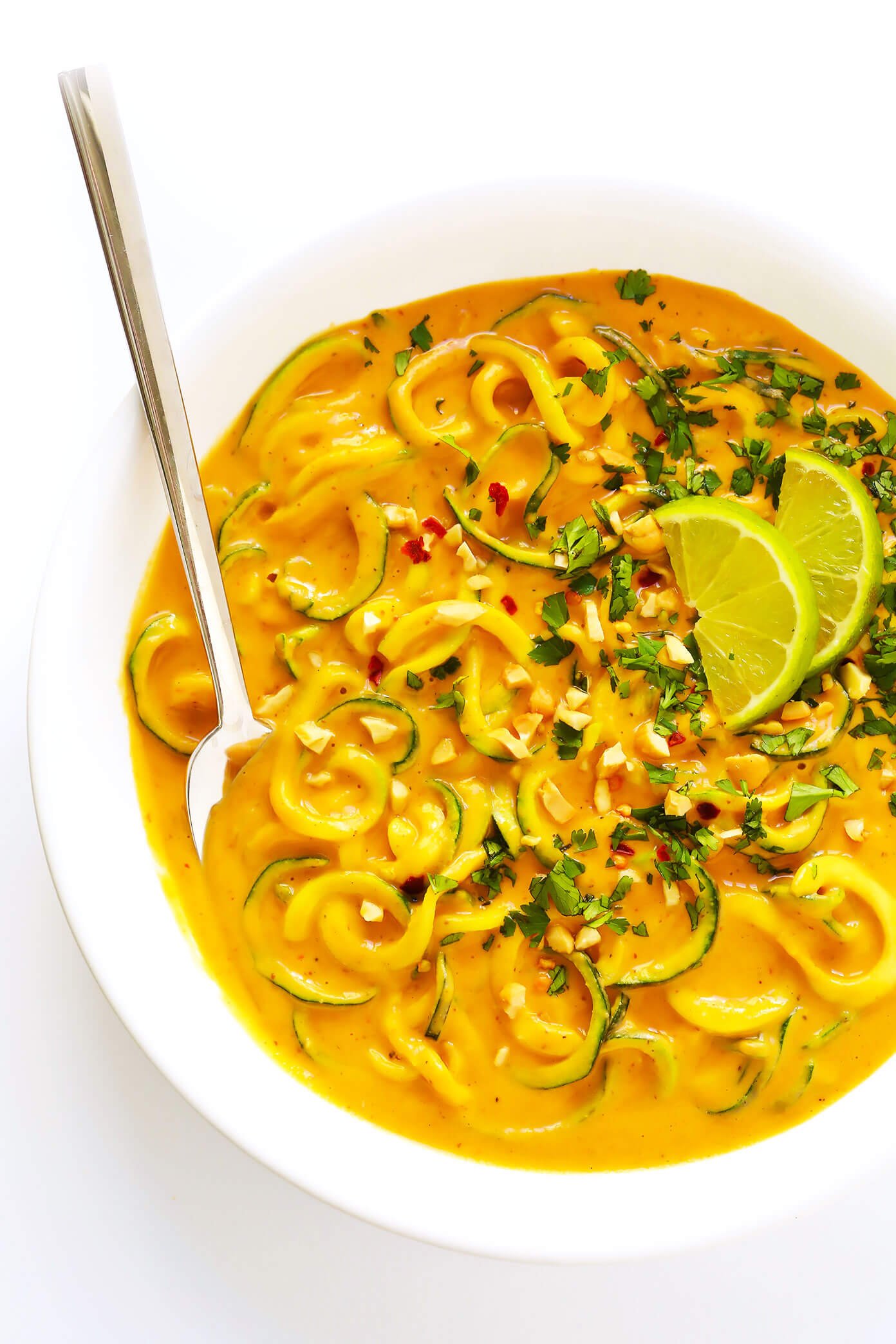 …dinner is served.
Seriously, we can't get enough of this one.  It's surprisingly filling and hearty.  It's made with the most perfectly-balanced, sweet, savory, creamy curry flavors (with as much heat as you prefer).  It looks so fresh and colorful and lovely on your plate, especially when garnished with all of those toppings.  And — best of all — it's made with protein-packed healthy ingredients you can feel great about enjoying.
Which is exactly Lindsay's style, by the way.  ♡
I've been a big fan of her gorgeous, fresh, and creative gluten-free recipes over at Cotter Crunch for years.  And — I've gotta say — an even bigger fan of this sweet friend behind the blog.  Lindsay is one of those people who just radiates warmth and light wherever she goes, and has a huge heart for making sure the people in her life feel loved and encouraged for who they really are.
In person, that makes her the friend with the quick laugh and warm smile with whom you instantly want to grab a drink after work and talk about everything from that amazing book you're reading, to the latest protein powders, to dealing with work insecurities, to the fun and quirky nuances of being married to Kiwis.  (Ok ok, my husband is only technically half-Kiwi, but Lindsay and her husband actually lived in New Zealand!)  On the internet, though, one glance at her blog will instantly reveal her deep heart for wellness, and helping people find ways to make healthier choices a reality in their everyday lives.  As a nutritionist, she knows her stuff, and I love following along as she's always trying out new trends and explaining what really works and matters.  And as a food photographer and recipe developer, she continues to add to her collection of irresistible gluten-free recipes that have everyone coming back for more.  And her new cookbook, Nourishing Superfood Bowls (affiliate link), is a beautiful addition to the blog.  It's full of 75 irresistible new recipes to fuel your day, from breakfast to lunch to dinner, and even dessert.  It's the perfect cookbook to learn new methods and ideas that you can totally mix and match on your own.  And, of course, all of the recipes are gluten-free, they all feature whole foods, and they're all look irresistibly delicious.  I totally recommend checking it out.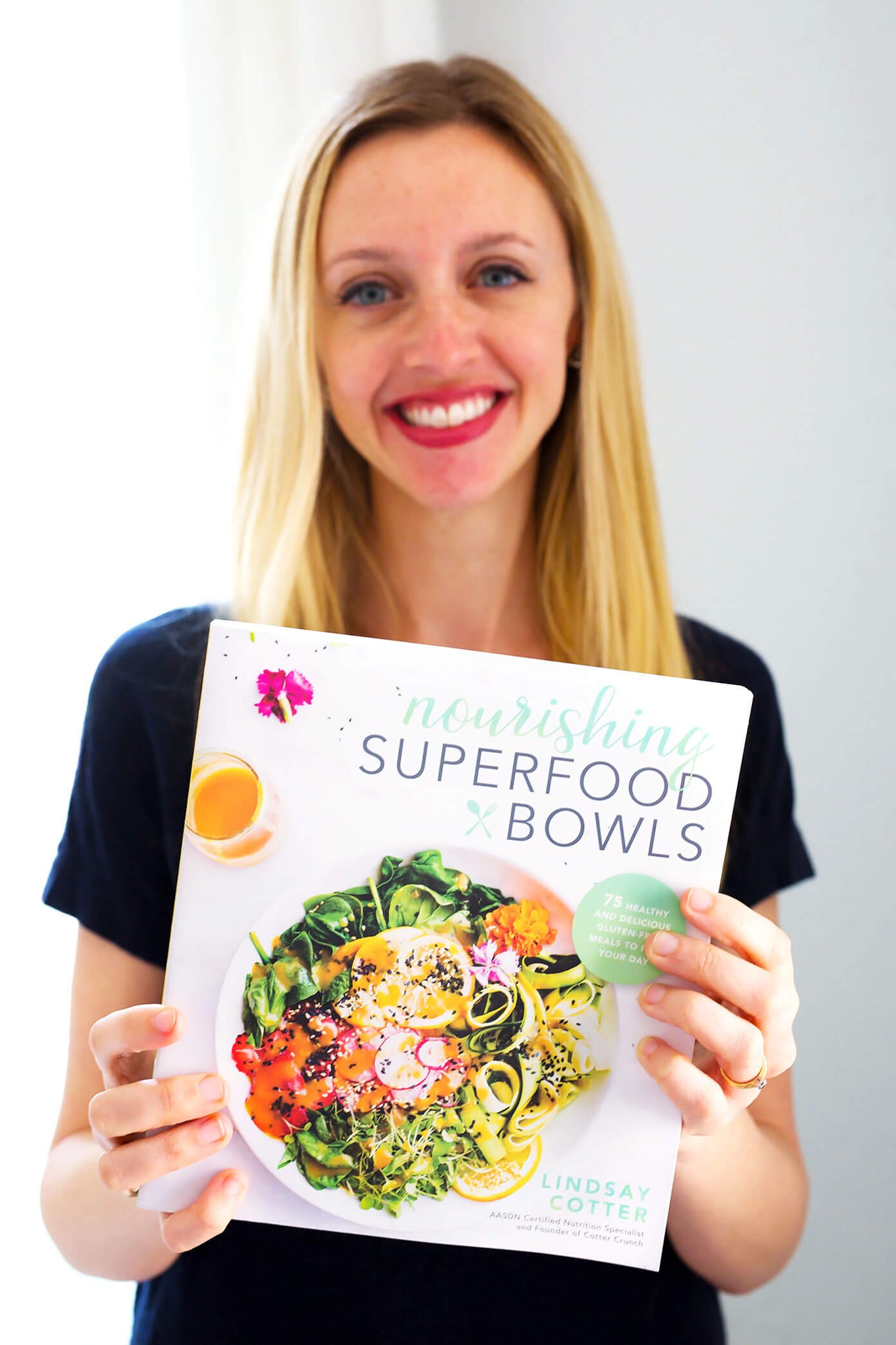 Congrats, Lindsay, on your new book.  And I already can't wait for you all to try a taste of her curry.
Enjoy, everyone!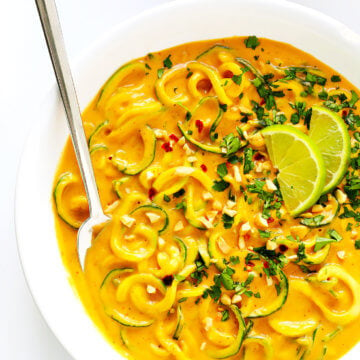 Curried Satay Veggie Bowls
These quick and easy Curried Satay Veggie Bowls take less than 20 minutes to make, they're naturally gluten-free and vegan, and they are made with the most heavenly red curry sauce!  Feel free to add in extra veggies or rice noodles, if you would like.
Ingredients:
Satay Sauce Ingredients:
1 (15-ounce) can chickpeas
3 tablespoons coconut milk
1 tablespoon avocado oil (or coconut oil)
1 tablespoon creamy natural peanut butter
1 tablespoon red curry paste
1 teaspoon mustard
1/4 teaspoon ground ginger
2 cloves garlic
dash of lime juice
pinch of Kosher salt and freshly-ground black pepper, to taste
Noodle Bowl Ingredients:
2 small zucchinis
1 teaspoon olive oil
1 teaspoon tamari or soy sauce
toppings: chopped fresh cilantro, chopped nuts, crushed red pepper flakes, lime wedges, sriracha (optional)
Directions:
To Make The Sauce:
Combine all ingredients in a food processor or blender, and puree until smooth, stopping to scrape the sides once or twice if needed.  For a thinner sauce, add a tablespoon or two of extra coconut milk (or water). Taste, and season with extra salt and pepper (and feel free to add in extra curry paste) if needed.  Set aside.
To Make The Bowls:
Spiralize, julienne or shave the zucchini into thin strips with a vegetable peeler.  Press with a paper towel to remove excess water.
Heat oil in a large skillet or wok over medium-high heat.  Add the zucchini noodles and drizzle evenly with the tamari (or soy sauce).  Sauté for 2 to 3 minutes, tossing occasionally, until they are soft but not mushy.  Remove from heat, add the satay sauce, and toss until combined.
Serve immediately, garnished with your desired toppings.
The sauce can also be made ahead and stored in a sealed container in the refrigerator for up to 5 days.  Perfect for meal-prep!
If you make this recipe, be sure to snap a photo and hashtag it #gimmesomeoven. I'd love to see what you cook!