Del Monte Harvest Tour + $100 Visa Gift Card Giveaway
This post may contain affiliate links. Please read my disclosure policy.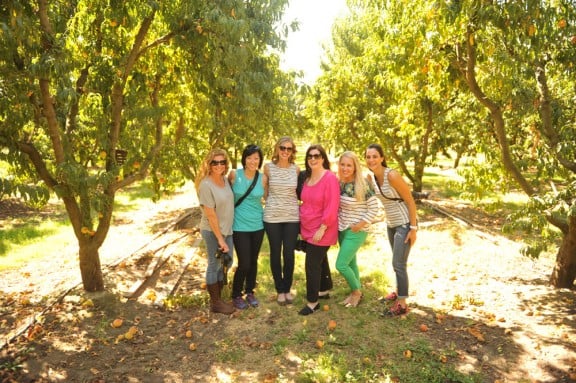 "Movin' to the country…gonna eat a lot of peaches……"
Ok ok, I may not be moving to the country. But I definitely ate a lot of peaches on my recent trip to California to visit Del Monte.
Actually, we had the amazing opportunity to literally pick peaches fresh off the tree, and then follow them literally from farm to "table" all the way through the canning process and into some delicious dishes that I can't wait to share with you. It was incredible. It was inspiring. It was fascinating. It was delicious. And of course, I would say the whole experience was downright "peachy". ;)
So come follow along on this photo journal of my time experiencing a Del Monte peach and tomato harvest with some of my wonderful blogging friends. And then be sure to scroll to the very bottom, where you can enter for the chance to win an extra "sweet" giveaway.
Alright — off to California we go!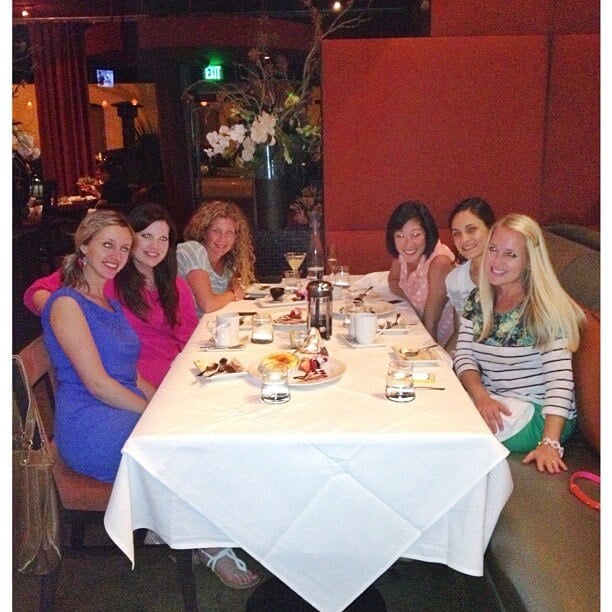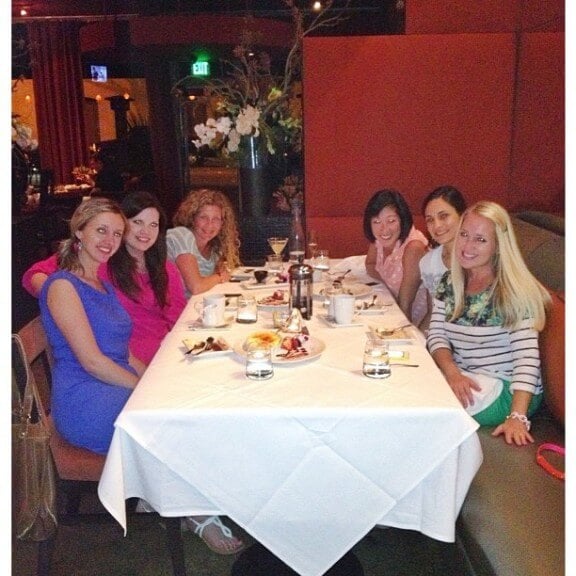 First of all, allow me to introduce you to my sweet friends who I joined for the trip, and the wonderful food blogs they write:
If you haven't visited their blogs before, you must. These women are such talented cooks and bloggers, and I quickly found out that they are also so much fun to travel with! We are all from totally different parts of the nation, but had such a great time exploring California together!
We each flew into San Francisco and spent the first day exploring the Bay area, and then hopped in some cars and road tripped it to Modesto for the final two days — home of Del Monte's fruit cannery.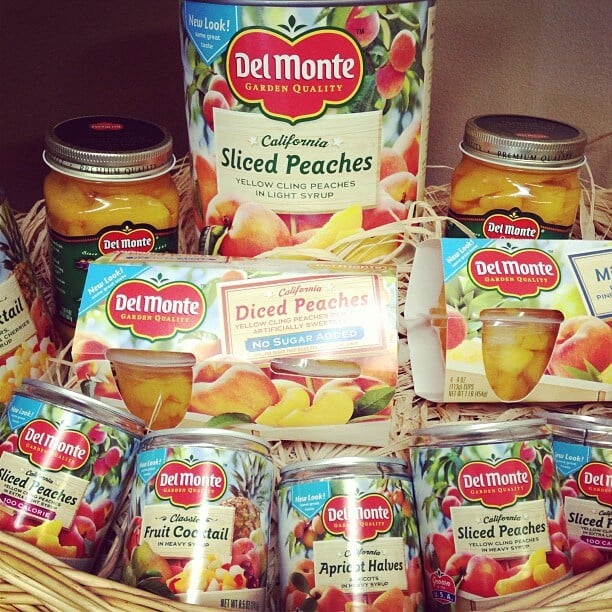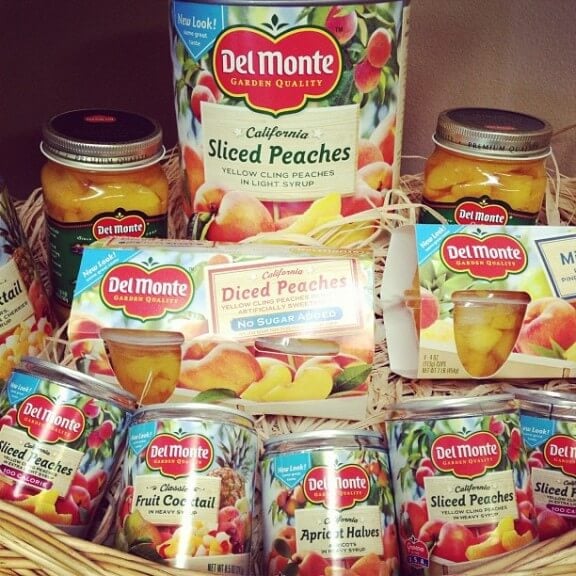 Now I have, of course, eaten Del Monte canned peaches (and that iconic fruit cocktail) since I was a kid. So I was excited to finally get the chance to visit the peach farms and meet the farmers and hear the story behind the company. But I have to admit that I was mostly curious to see what really happens in the process from farm to table (or "can").
I feel like there has definitely been a growing trend away from canned produce over the last few decades — partly because using fresh produce is awesome when you can get it. But when it's out of season, which is most of the year for me living in Kansas, or when you are looking for that convenient canned option, it seems like consumers like me still get a little wary about not knowing what really happens to the peaches or tomatoes in the canning process. So I showed up with a bunch of questions to ask, and ready to eat some peaches!!!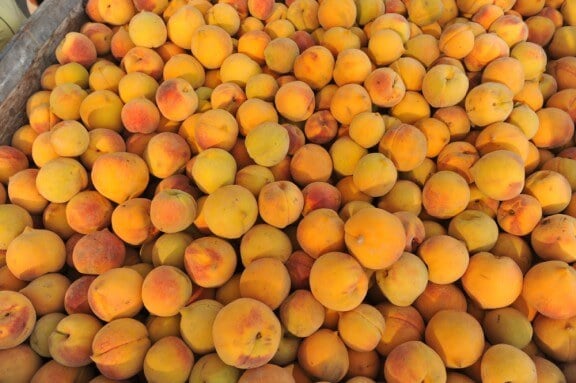 From the first moment we all walked into the door of the Del Monte cannery and smelled the sweet, intoxicating, peachy air, we all knew that it was going to be a delicious day. Everyone gave us such a warm welcome. And after a quick breakfast, we all donned our hairnets ("safety first" in a packaging facility!) and then headed for a tour of the canning facility.
We began outside, where Del Monte is constantly receiving trucks overflowing with fresh peaches since the farmers are in the middle of harvest. I have never seen so many peaches in my life! And oh my goodness, did they look and smell tasty.
(Millions of peaches…peaches for me…)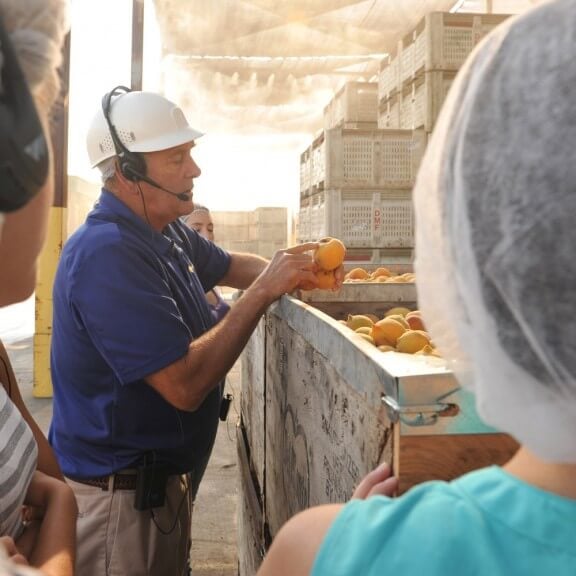 Then the fascinating part began — following the peaches step by step through the canning process.
I have to admit that I'm not much of a canner. I tried it once when I visited my friend Megan's farmhouse and we spent the day making homemade Earl Grey Peach Jam. And while the results were delicious, I learned that the process is a lot of work!!!
I also remember being amazed at how the basics of canning have virtually remained the same since our great-great-great-great-grandmothers were canning jam centuries before. Interestingly, it turns out that the canning process is pretty much the same at Del Monte. Yes, they have worked to maximize the efficiency of their technology so that they can process huge batches of peaches as well as other fruits and veggies quickly to ensure a high quality product. But the overall essence of the process is still the same classics of canning!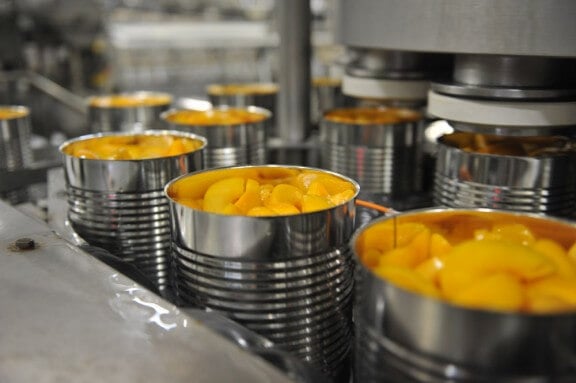 We watched as the peaches were all very carefully inspected (and then inspected again, and again). Then a cool machine helped remove the fuzzy skins. Then the peaches were pitted, sliced, mixed with different kinds of syrups for the different varieties, canned, and packaged. And then those packages — which came in all sorts of shapes and sizes — were all distributed quickly to stores all around the world. It was amazing.
All of us couldn't stop talking about how incredible it was that these machines were so efficiently able to perform the simple tasks that canners have done for centuries — especially things like removing the peach skins so perfectly and chopping the peaches into perfectly-sized bites. But while they also have fancy scanners that help with ensuring the color and quality of each peach, it was cool to see that there is still no substitute for a final inspection with human eyes. The hardworking crew at the cannery were inspiring to watch as they watched each peach come through the line to be sure that it would pass the quality standards.
We also heard again and again how careful Del Monte is with making sure that the peaches that come in from the farms are harvested and canned at the peak of ripeness to ensure the best end product in the cans. This helps to lock in quality and flavor — which, I've learned over the years, can sometimes be more nutritious than fruit that has been sitting on the shelf for days or weeks. And 98% of Del Monte's canned fruits and veggies are preservative-free. Bonus.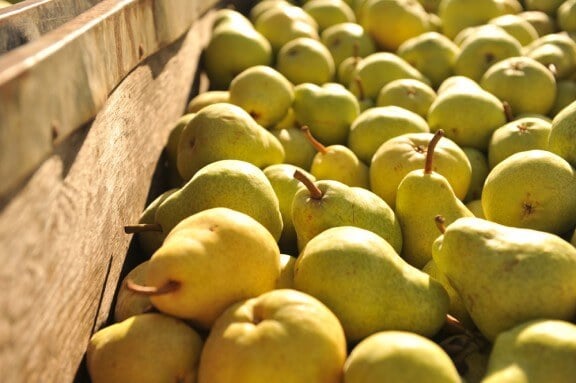 While in the canning facility, we also had the chance to see some other local fruit being canned — especially pears, grapes and cherries that go into Del Monte's classic fruit cocktail.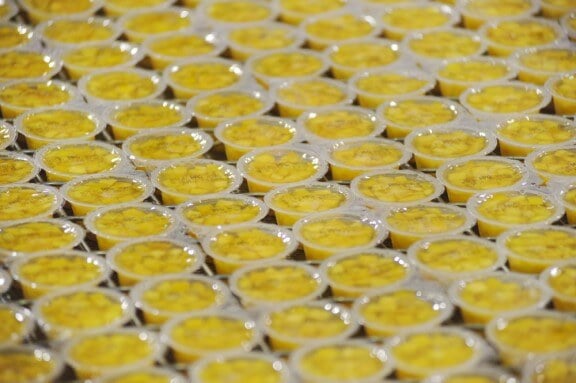 These used to be a staple in my school lunches back in the day! Although I want to point out that the heavy syrup option that I used to have is only one of the many options that Del Monte now offers for canned peaches. You can purchase many varieties of peaches with "lite" syrup, or even peaches with no sugar added at all. You can check out all of their different varieties of canned peaches here.
And 100% of those canned peaches (and Del Monte tomatoes!) are grown in the USA.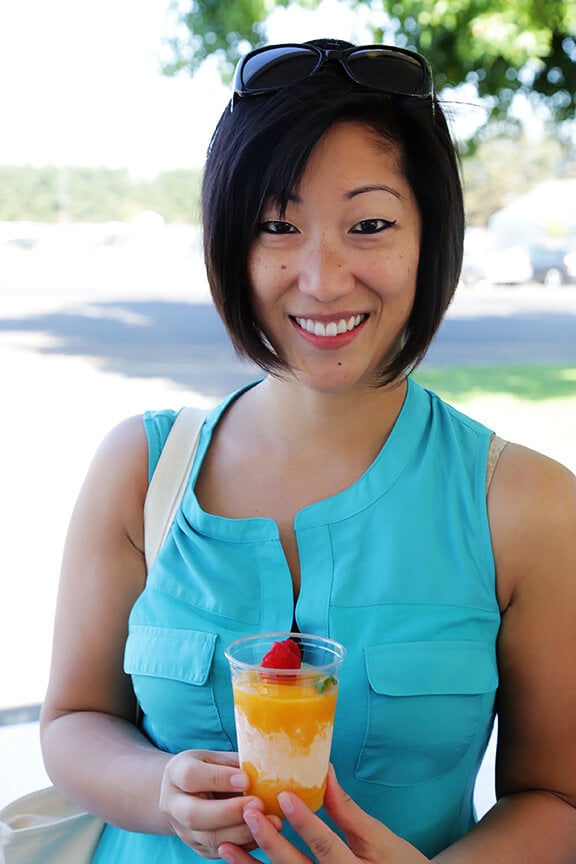 Afterwards, we stopped for a little break with a peach slushy snack that we learned was made by pureeing and freezing the canned peaches we had just watched pass through the canning facility. So yummy! I'm totally trying this at home for a quick and easy frozen treat.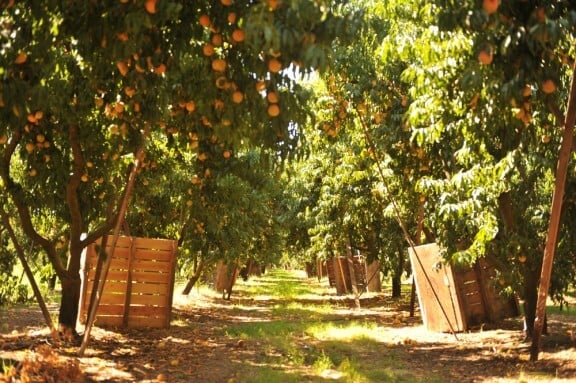 Next, we all hopped in the car and drove outside of town to visit a local peach farm. And it was as charming and adorable as I had hoped!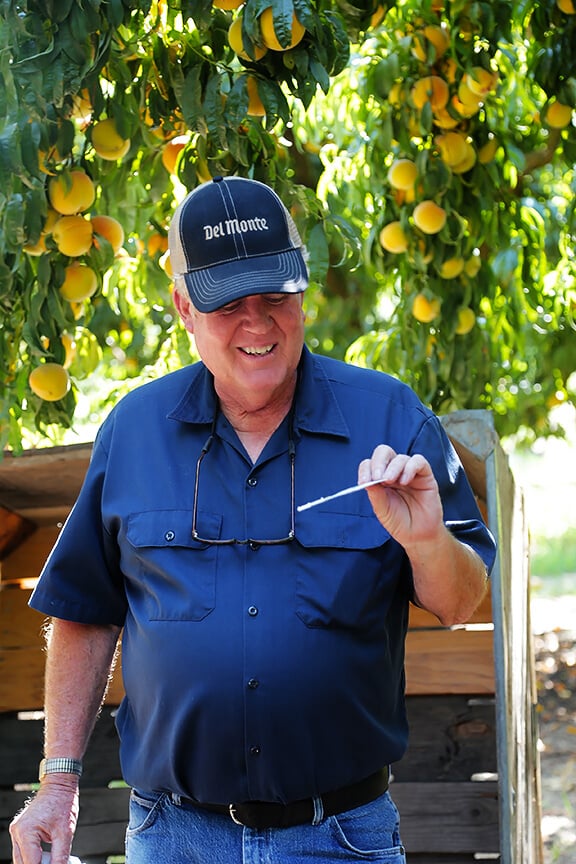 When we arrived, we were introduced to 3rd-generation peach farmers, John and Cliff.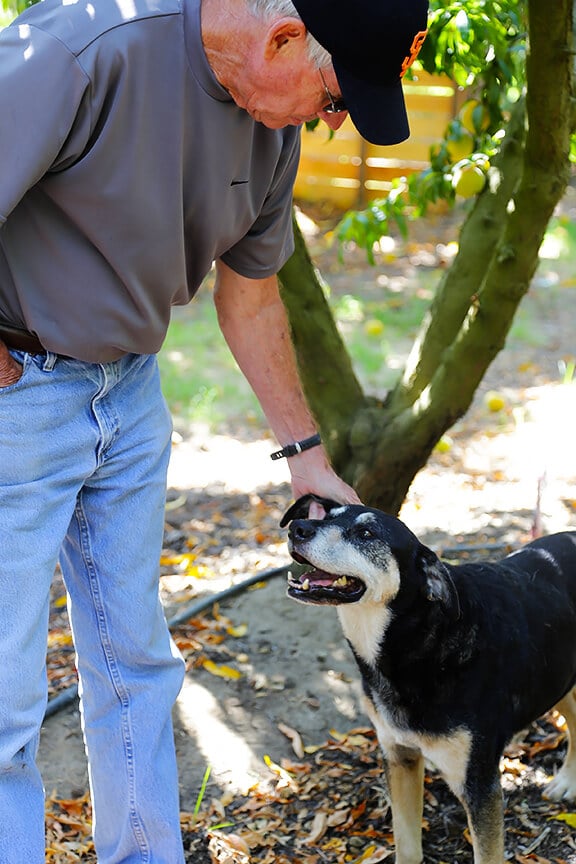 And their sweet dog, Cosmo, who kind of stole the spotlight (and all of our hearts). :)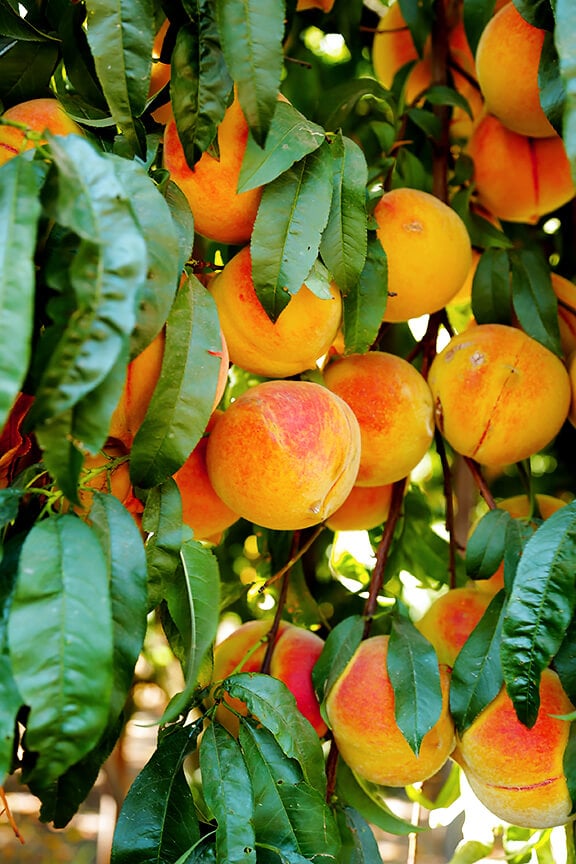 They told us all about life on a peach farm. It may be beautiful and delicious, but as with all farming, it requires dedication and a lot of hard work. These farmers are constantly learning about and studying the new innovations in the industry to improve their farms. From advances in irrigation, to planting rotations, to building a great team of harvesters, there is so much to keep learning!
But the heart of their peach farm has remained tried and true throughout the generations. And we were all awed and inspired by the pride in these brothers' eyes as they talked about their farm, and what it has meant to their family. Farmers are seriously the coolest!!!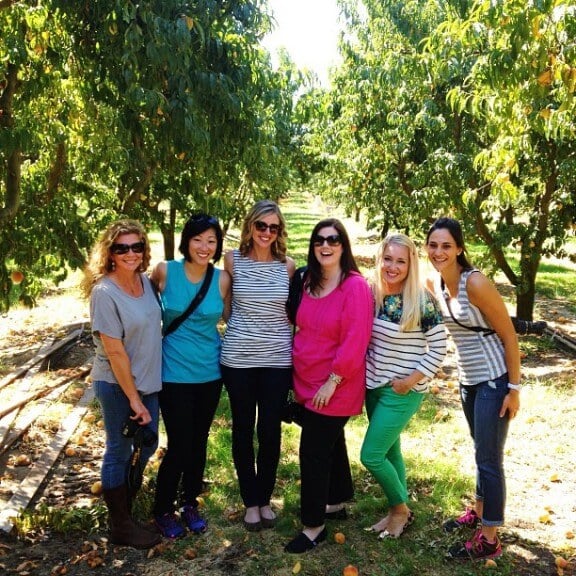 We were all smiles after smelling that heavenly peach scent all morning.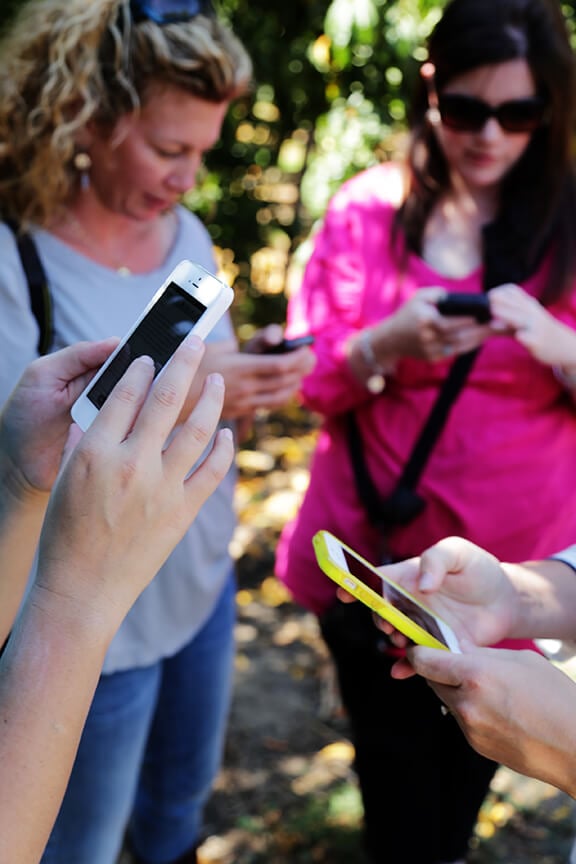 And of course, we did what the food blogging paparazzi are known for — taking a zillion photos. ;)
But how could you not?! These peaches were b-e-a-utiful…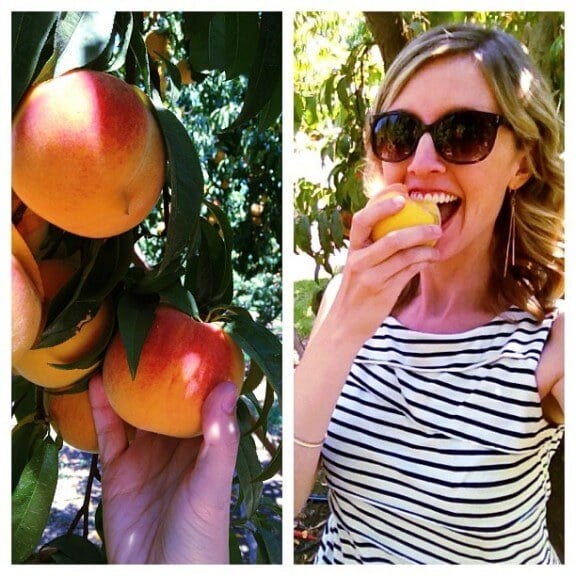 …and tasty! I picked and ate one fresh off the tree!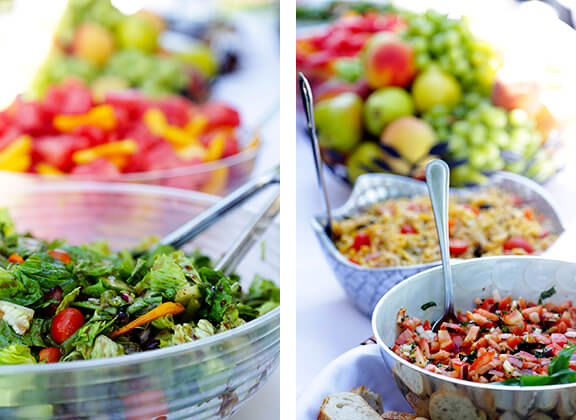 Afterwards, we returned to Del Monte for a delicious lunch overflowing with fruits and veggies, many of them Del Monte. My kind of lunch. :)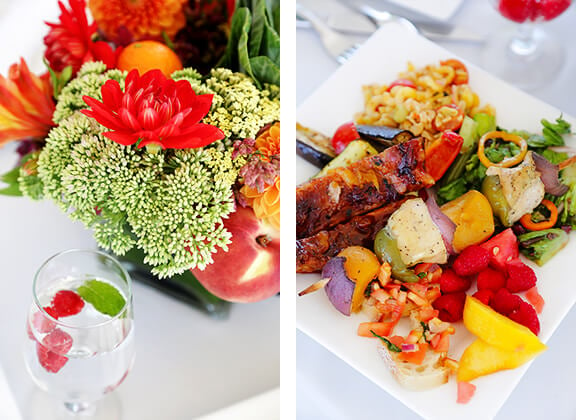 Even the centerpieces were overflowing with fruit! (Do you spy the peaches and oranges in there?)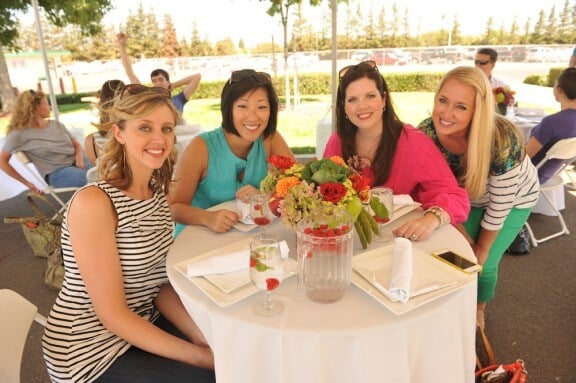 Did I mention how much I love these bloggers? :)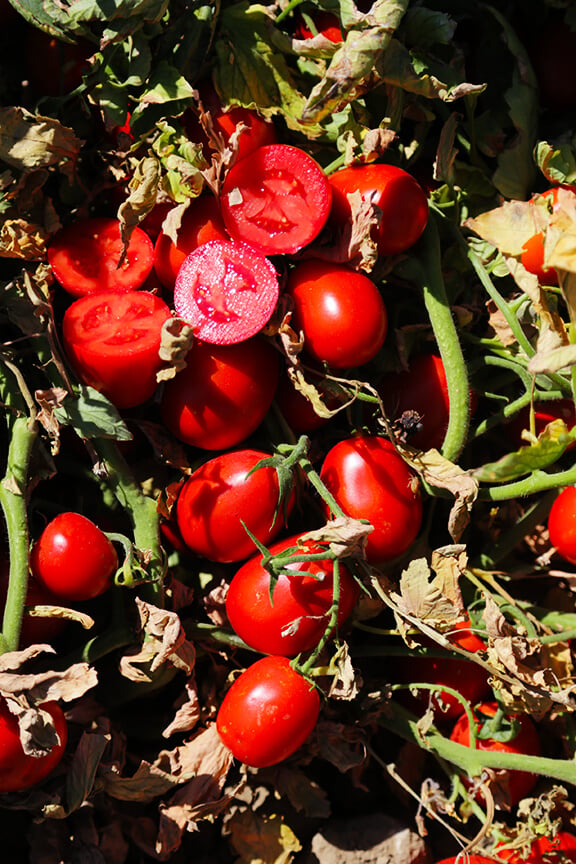 After lunch, we had the surprise of getting to visit another Del Monte farm. This time — tomatoes!!
Now, we definitely grow tomatoes in Kansas. But our neighborhood loft garden does not look like this!
There were literally acres upon acres of tomatoes as far as the eye could see. But the thing I immediately noticed was that their tomatoes are not staked up like mine have always been. Rather, they let them grow flat. And then an enormous harvester is able to come and miraculously pick them up instead of having to pick them one at a time by hand.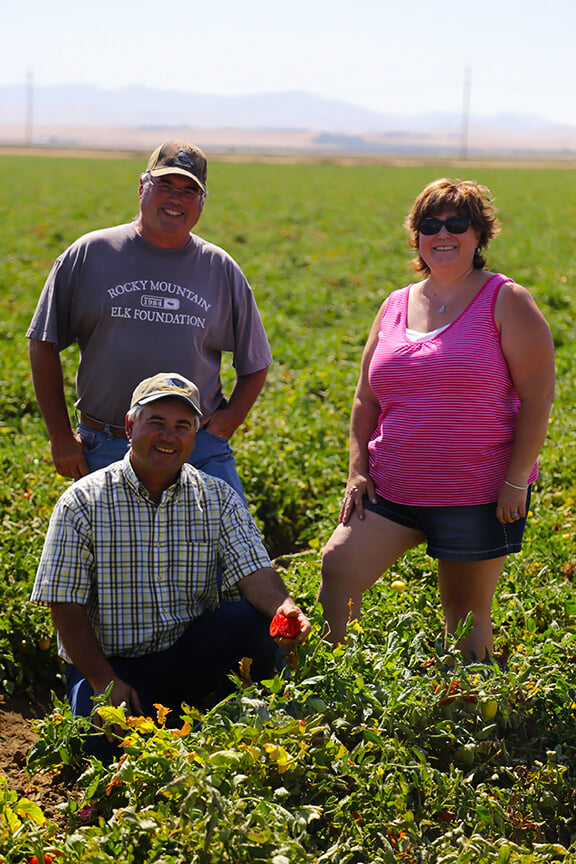 On the farm, we were introduced to another farming family — The Pereira's.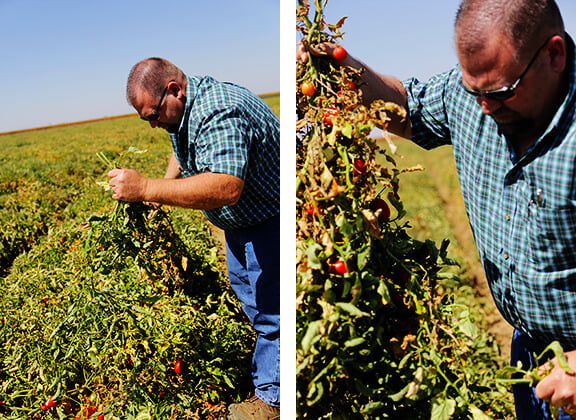 They gave us a tour of their tomato farms, and proudly showed us some of their crop that was nearly ready for harvesting.
The main question we all had was how on earth the harvesters are able to plow through these fields without crushing all of the beautiful ripe tomatoes! It turns out, as they demonstrated above, that all you really need to do to remove tomatoes from the vine is hold up the plant and then give it a good shake. Once you do, the tomatoes instantly fall out and the plant can be mulched to help fertilize the ground for the next crop. Pretty cool!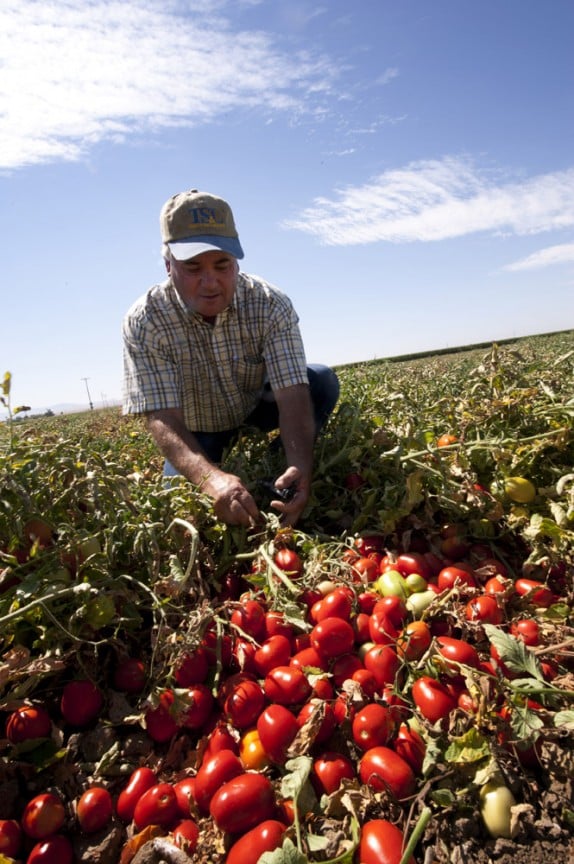 We even got to see one of the tomato harvesters in action as it came through the fields.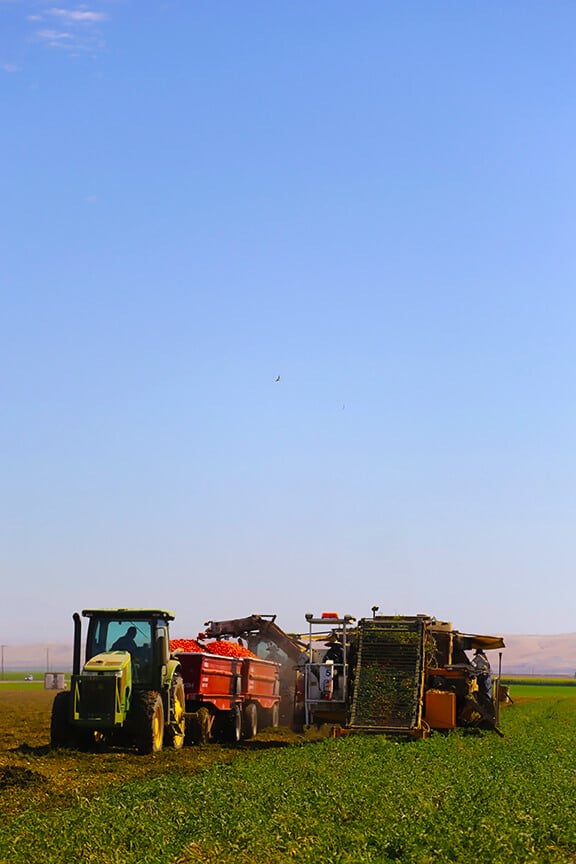 Harvesters of all kinds absolutely fascinate me. Such a cool process to see the tomatoes picked, sorted, and then literally wind blown into a storage cart that drives alongside the harvester.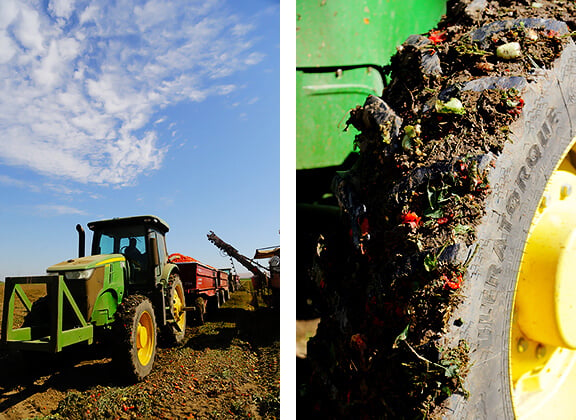 This tire was as tall as me, and filled with tomatoes. It gives entirely new imagery to "crushed tomatoes", eh? :) Then all of those tomatoes are transferred immediately to Del Monte for canning at the peak of ripeness.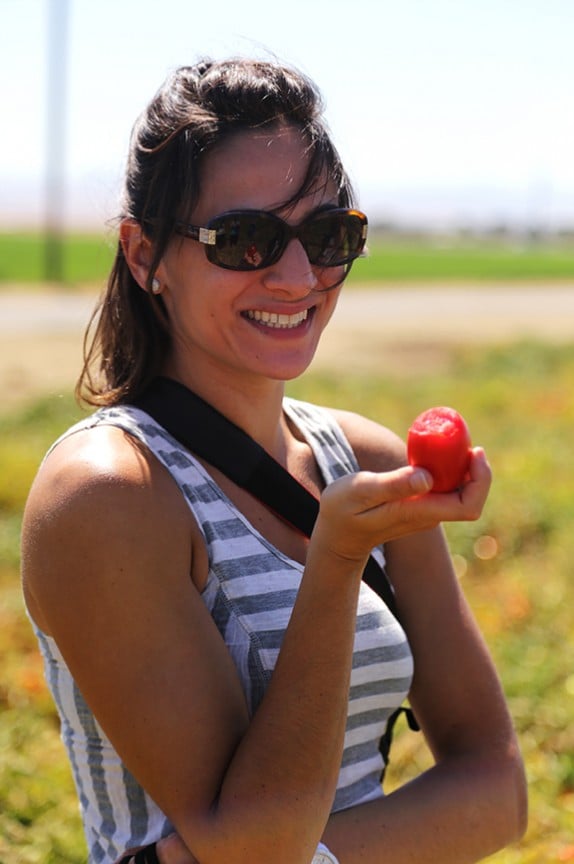 Of course, we had to snag just a few for sampling. And then the Pereira's generously encouraged everyone to hand-pick a batch to take home. They were so kind!!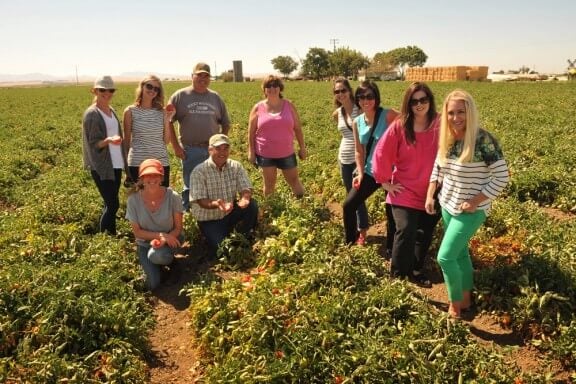 Our group had such a great time getting to talk with them and hear about their story farming, and working with Del Monte. Without any prompting, it was cool to hear them talk so positively about what it's like to work with Del Monte. They spoke very highly of the company and the ways that it respects and values their farmers, and also how they offer some of the most fair wages in the business. It was affirming to hear, and yet again confirmed why Del Monte has been a leader in this industry for so many years.
Overall, it was an amazing trip. And it was certainly made all the more amazing with a great group of blogging friends, some great farmers, and all of the great folks from Del Monte. Many thanks to the Del Monte and BlogHer crew for inviting me along, and to all of you readers for following along on this adventure!
Be sure to check out the other bloggers' great roundup posts about the harvest tour here. And now to the extra "peachy" ending to this post…a $100 Visa Gift Card Giveaway!
$100 Visa Gift Card Giveaway
Giveaway Prize:
One winner will be shipped a $100 Visa Gift Card.
How To Enter:
Answer the question in the comment below — What are your favorite peach or tomato recipe?
Rules
No duplicate comments.
You may submit a total of two (2) entries using any of the following entry methods:
Leave a comment in response to the sweepstakes prompt on this post
Tweet (public message) about this promotion; including exactly the following unique term in your tweet message: "#SweepstakesEntry"; and leave the URL to that tweet in a comment on this post
Blog about this promotion, including a disclosure that you are receiving a sweepstakes entry in exchange for writing the blog post, and leave the URL to that post in a comment on this post
For those with who do not have Twitter or blog, read the official rules to learn about an alternate form of entry.
This giveaway is open to US Residents age 18 or older. Winners will be selected via random draw, and will be notified by e-mail. You will have 72 hours to get back to me; otherwise, a new winner will be selected. The Official Rules are available
here
. This sweepstakes runs from 9/9/13-10/9/13.
Be sure to visit the Del Monte Brand Page on BlogHer.com where you can read other bloggers' reviews and discover more chances to win!