{diy} felt grapevine wreath
I may be a little late on the fall decor seeing as though Thanksgiving is only a week away and I am just now putting up a fall wreath on my door.  Better late than never though! ;)
I have seen many variations of the felt flower wreaths and thought I would give a shot at making my own version.  It was easy, inexpensive and relatively fast to make so it is definitely something that anyone could do to squeeze some holiday decor in before next week!
Materials Needed:
Directions:
Go ahead and cut your felt pieces into curvy edged circles.  Typically I got about 2 large circles out of one 8 1/2 x 11 piece of felt and 3-4 small circles. Try to get a few different sized circles out of each color of felt to help create some variety.
I then cut my circles into a long spiraled strip by starting at the outside edge of the circle and curling around all the way to the center.  Follow the curve as you cut to create a wave effect in the strip. (You can see in the photo below that the strip is not the same width throughout.)
Take the strip and starting at the end begin wrapping the piece of felt like you would roll a cinnamon roll.  Once you roll the entire strip around itself it should look like a flower.  Just hot glue the end to the rest of the flower and set it aside.
I decided to add lace to a few of my flowers.  I just wrapped the lace around my felt flower and hot glued it in random spots making sure it was secure.
I chose to add pinecones as well.  I wanted them to have a better hold since they had more weight to them so I secured them with some wire. Just wrap the wire around the pinecone and then around the wreath.
Once all my flowers were finished and ready to go I laid them out along the wreath to figure out which placement I liked best and began to glue away!
I love the look that the lace adds and the warmth of the pinecones.  It was such an easy project and cost me almost nothing!
Budget Breakdown:
Wreath: Hobby Lobby-50% off during sale-brought it to only $3.00!
Felt: Hobby Lobby- 4 pieces for $1.00 ( you can also use a 40% off coupon making it even less
Pinecones: Free (Picked them off the road)
Lace: Thrifted-I think I got it for .25 cents at a garage sale
Grand Total: $4.25
I already had the other supplies around in my craft stash but even with buying any of the other supplies this is still an extremely inexpensive decoration and it really is a lot of fun to make!
We live in a loft in Kansas City so this was a fun was to brighten up the hallway!  It would be so cute though on a bright cheery front door!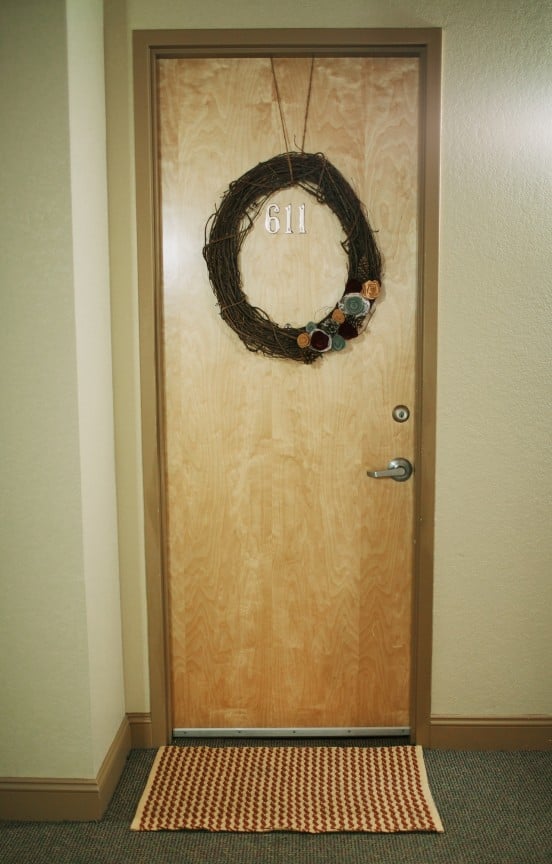 Has anyone else given a try at their own felt wreath?  Does anybody make their husband stop the car anytime they see pinecones on the side of the road?  I bet next time you will!