DIY Hanging Flower Box
This post may contain affiliate links. Please read my disclosure policy.
Happy Weekend! This week has been filled with all things summer. Grilling out, iced coffee, and trips to the farmer's market were all highlights for me.
Every time I go to the farmer's market I get the urge to buy one of their beautiful bouquets of fresh flowers. They are always so cheery and full of life. I have learned though, that my poor husband just can't handle those beauties in our home. Let's just say his allergies are a little out of control. So, because I can't have flowers inside my home, I have started decorating the outside with flowers, and I love it! Recently, I made a simple flower box to hang outside on my porch. But you'll never guess the main supply…
Paint sticks!
They are cheap (or free if your local Home Depot employee is feeling generous). And, they are surprisingly charming once stained and out of their natural environment. So gather all your leftover paint sticks lying around from other projects and get started…
As you can see, my front door is a happy and beautiful yellow. (Thanks, Husband, for letting me paint it!)  But it was in serious need of some decor.
Enter…the idea for this simple flower box.
As you can see, it's neutral and classic and very easy to customize with your favorite colors and/or flowers. Here's how to make it!
What you'll need:
16 paint sticks ( I just went to my local Home Depot and asked if I could buy them, but the nice employee gave them to me for free! Hooray for cheap DIY projects.)
Brush to apply the stain
Cloth to remove excess stain
Wood glue
Twine
Rigid Multi tool or small saw to cut the paint sticks
What you'll do:
Stain all your paint sticks using the gray stain. Let them dry before touching them.
Lay five sticks together to create the front of your box and five to create the back. Cut a paint stick to brace together the two sets of paint sticks.
Using wood glue, adhere the cut paint stick brace to the 5 paint sticks. You will use one brace at the top of the grouping and one at the bottom. See photo below for direction.
Glue the braces to the paint sticks with your wood glue and allow them to dry completely.
Make sure to leave a lip on each side of your paint sticks (you will be needing that extra space to put the box together in the end.
You will do the same with the two side pieces of the box. I used two paint sticks to make it a pretty shallow box since it was going to be hanging right onto the wall.
For the bottom of the box I just cut my paint stick in half making sure it was the length of the box itself.
Once all pieces are cut, dried and braced you can begin to assemble your box!
Using the wood glue once again, glue each piece together to create a simple box. If you feel the need for a stronger bond you could use some tack nails or metal brackets. Mine is strictly for decor and will not be holding much weight at once, so the wood glue works.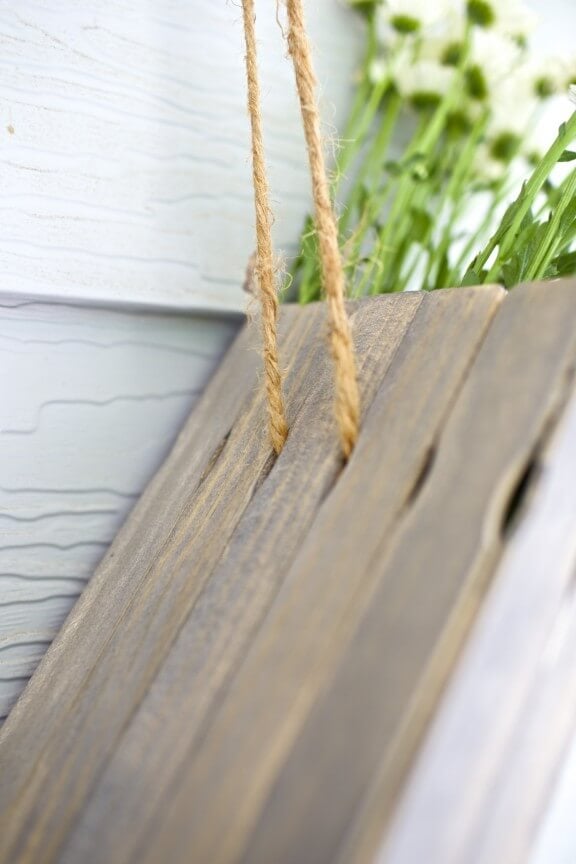 Once your box is dry and assembled take a piece of jute yarn and string it through the back of the box as a hanger.
Add your flowers and you are done!
I chose not to worry about it holding water and just wrapped my flowers with a wet paper towel. They will not live quite as long that way, but they held out for a few days! You could also use either fake flowers or something that dries equally as beautiful such as lavender or billy balls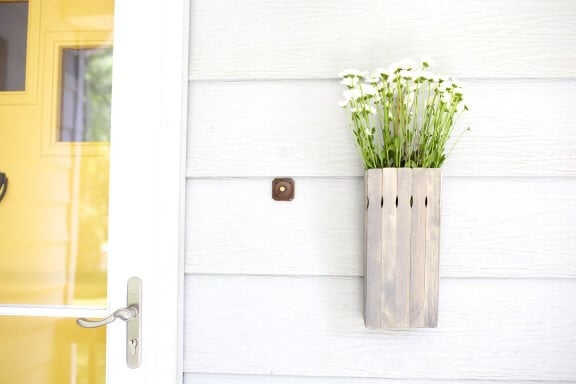 It adds such a nice touch to the front porch! :)