DIY Leather Bracelet
This post may contain affiliate links. Please read my disclosure policy.
Happy Saturday friends! This past week I was feeling the itch to expand my jewelry collection. Anyone that knows me would say that I am a pretty simple gal when it comes to the jewelry department. In fact, most days I don't wear any at all. But last week…I was feeling it.
My go-to piece of jewelry is usually a simple necklace, but for this specific moment I was really wanting a bracelet. I don't know if anyone else has this issue, but for me, bracelets are hard too find. They tend to be way too big for my wrists and can sometimes be uncomfortable. But I have recently been experimenting with leather remnants and decided this was the perfect opportunity to make a bracelet of my own.
Here's how I made my own simple DIY leather bracelet. 
What you'll need:
leather remnants
scissors
ribbon
hot glue and glue gun
What you'll do:
Cut your ribbon to the size of your wrist. Make sure you leave enough room to tie a bow as your closure!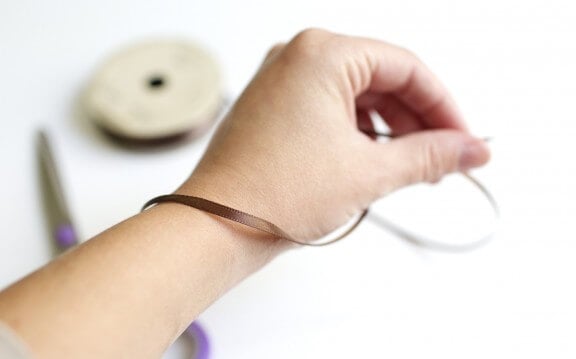 Take your leather remnant and begin by cutting a small strip of leather to work with.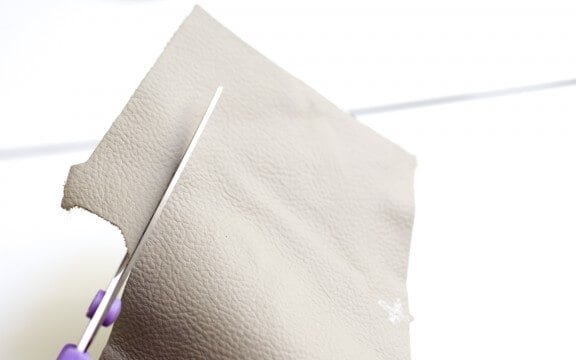 I chose to use small triangles as my shape, but you can cut any shape you'd like.
Cut as many triangles as you need to cover your wrist. I laid the triangles out onto my ribbon and made sure they would fit around my wrist before adhering them to the ribbon.
Once you are satisfied with the layout of your bracelet begin hot gluing your triangles one by one onto the ribbon.
Once you have glued all your triangles onto the ribbon, tie your new bracelet onto your wrist in a simple bow. It's that easy!