DIY Terrarium Mobile
This post may contain affiliate links. Please read my disclosure policy.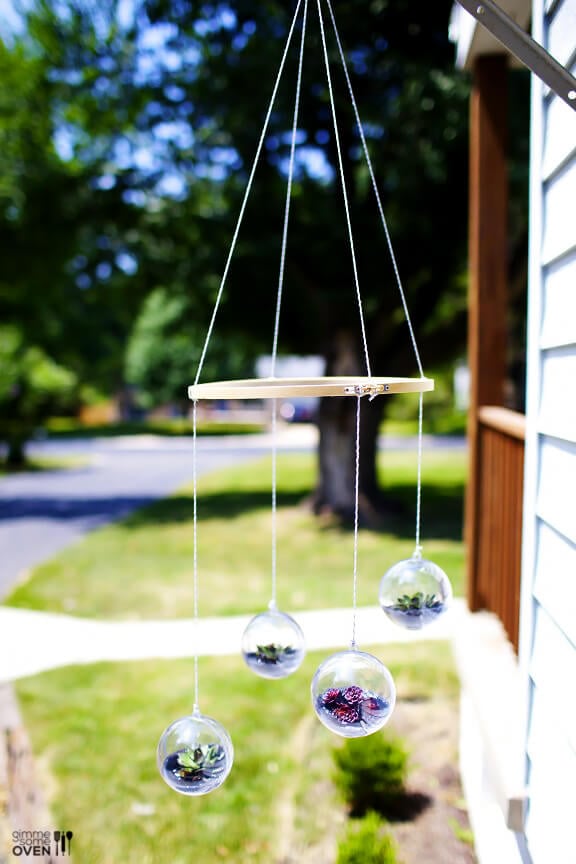 Goodness this summer is flying by. I can't believe it is already August! Surprisingly for the Midwest, we really haven't had a terribly hot summer. Because of that,  I think it is causing this season to go by faster than normal. Or maybe it is just because I am so busy. ;)
But in an effort to keep the summer vibes going, I felt inspired to create something green. I absolutely love the look that live plants bring to a home. They give color and life unlike any other decoration. Unfortunately, though, I have learned in the past few years that I cannot for the life of me keep indoor plants alive!
Granted, there was one season in my life where I decided to give it a go and buy a small succulent garden. I thought they were doing great, but not even three months down the road they were all dead. Story of my plant-growing life. Luckily for me, though, faux succulent plants are deceitfully realistic looking!
So because I cannot master the art of indoor plants, I give you…a Faux Succulent Terrarium. And it is just as cute as the real thing, with 0% chance of it dying on me within days! Check out the tutorial below to learn how to make one for yourself.
What you'll need:
bakers twine or string of your choice
plastic ornaments (I bought mine at Hobby Lobby — because they are crazy enough to already have Christmas decor out!)
scissors
embroidery hoop
black wax crystals (also Hobby Lobby)
faux succulents of your choice (just be sure they are small enough to fit into your ornament!)
wire cutters
What you'll do:
Cut two pieces of your bakers twine into 54″  These two pieces of string will be what the terrarium hangs from.
Take your embroidery hoop apart and wrap your first string around the outside piece of the hoop twice and knot it to secure it. (The knot will be hidden by the center piece of the embroidery hoop.)
Take the end of that first string and attach it the same way directly across from your first knot. That will create a loop to hang it from.
Taking your second string, attach it the same as the first string to create an "X" shape and give support from each side of the hoop.
Once your hanger has been completed you can begin on the terrariums!
Open up your plastic ornament and fill one side a little over half-way to the top of the ornament with your wax crystals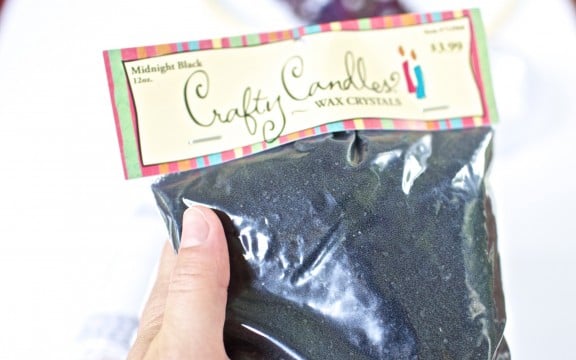 Place your succulent carefully on top of the crystals
Close the ornament with the other plastic side. Gently shake the ornament to settle the crystals into the center of the ornament.
Repeat this process with all four of the ornaments.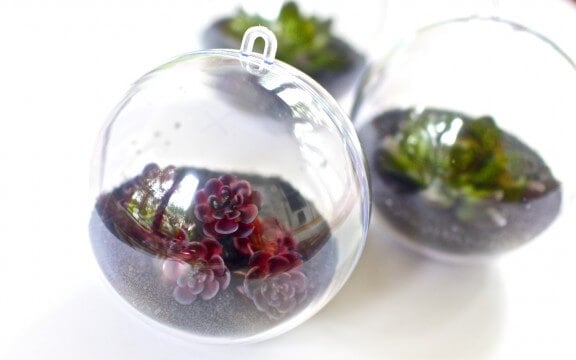 Once your mini terrariums are completed, cut four pieces of baker's twine to your desired hanging length. (I chose to stagger my terrariums, but you can hang them however you like!)
Wrap the bakers twine around the same hoop as the first string was hung. You will wrap each piece from the same point as the hanger strings are.
Once all four pieces of string are hung, attach the terrariums with a secure double knot.
Cut excess string off if needed and replace your interior embroidery hoop piece securely.
Hang your mobile!
***If you are planning on hanging this mobile outside I would definitely recommend using something other than the black wax crystals as your "dirt". My mobile is hung inside the house, but even in the few minutes I had it outside for these photos it was already beginning to melt! Try small pebbles or sand as an alternative! :)