A Few Mother's Day Gift Ideas
This post may contain affiliate links. Please read my disclosure policy.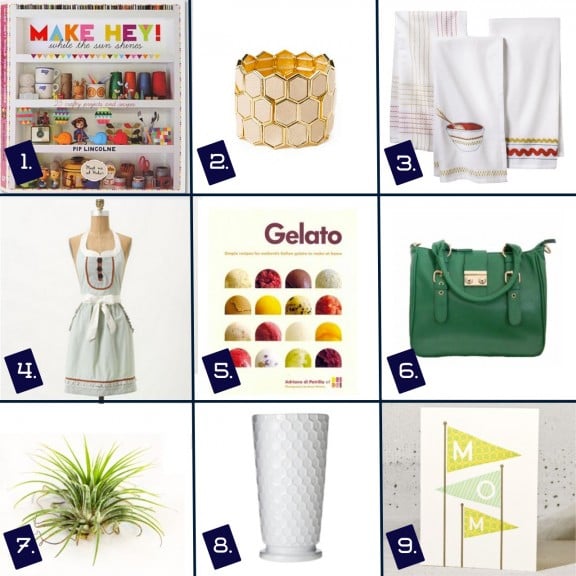 // 1. Make Hey Book // 2. Bracelet // 3. Tea Towels // 4. Apron // 5. Gelato Book // 6. Purse // 7. Air Plant // 8. Vase  // 9.Card //
Still needing some Mother's day gift ideas? Here are nine that are sure to please any mama! Enjoy!
1.) Give your mom a book that fits her interest, whether that's DIY, Cooking, Outdoors, you name it. It's always fun to get a book that you wouldn't normally buy for yourself! "Make Hey While the Sun Still Shines" looks like a fun DIY book for all levels of DIY lovers.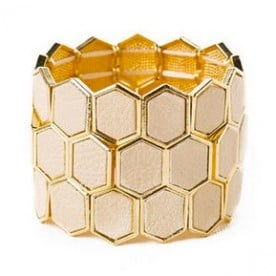 2. Jewelry–does this even need an explanation? ;)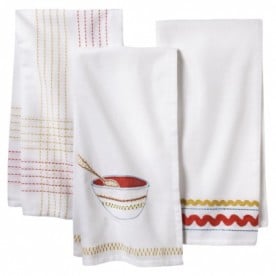 3. Tea Towels:  A girl can never have too many tea towels right? And the cuter the better! Try hand stitching it for some extra brownie points!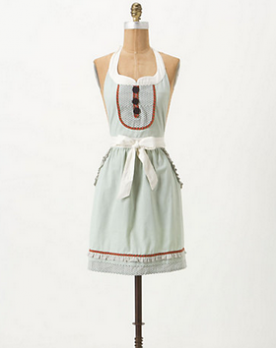 4. Aprons:  This is similar to the tea towel rule–as cute as possible. Anthropologie has some really great aprons that are possibly too cute to even wear!
5. We all know the way to a woman's heart is through gelato. Here's a recipe book to make your own! A dear friend of mine gave this book to me for Christmas and I'm just here to say your mama will not be disappointed by this book. The photos are beautiful and the recipes are SO great.
6. A purse. Get your mom a purse. She will love it. And if she is anything like my mom she would never buy herself a bright green purse because it isn't practical. Buy her a bright green purse. :) It's mother's day–practicality is out the window.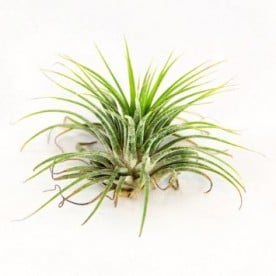 7. Something green. Every woman loves to get flowers. It's true. But why not try something different this year?  Air plants are really fun and require almost no maintenance. So yes mom, you CAN keep this indoor plant alive! I believe in you!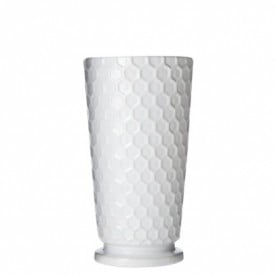 8. A pretty vase. But might I suggest if you buy a vase–fill it with flowers!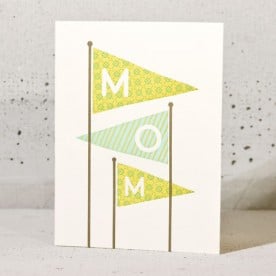 9. A card. Sometimes the best thing you can do for your mom is just tell her how much you love her. Write it out on a pretty card. It means a lot to see it in writing! This card is from my favorite local print shop. How cute is it??
For a homemade gift idea look here, here and here!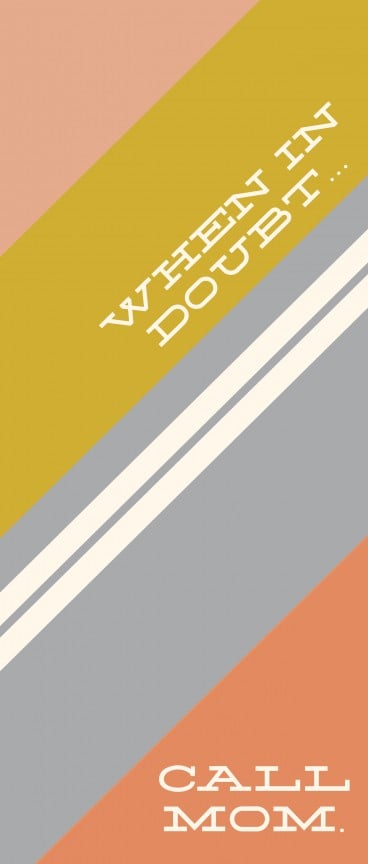 This post contains affiliate links.