Weekly Wear: Polka Dots and Toddlers
This post may contain affiliate links. Please read my disclosure policy.
When I was a kid my brother and sister and I had many adventures. We would spend hours, and sometimes days turning our home into anything imaginable. My brother was the ultimate inventor, coming up with everything from bedsheet villages to hotel spreadsheets and even creating the "million dollar bill" in monopoly. (Yes he did photoshop "1,000,000" onto the official monopoly bills) –Master photoshopper before computers were cool :)  We would play for days, but inevitably our playdates would always end in tears. You see, my brother was a tricky one… he would finally convince my sister and I to let him join our game of barbies, and then without fail end our game with some "natural disaster" tearing our imaginary barbie town to pieces. We would cry and tattle and usually very angrily throw our barbies back in the containers and go our separate ways, vowing to never play together again. 30 minutes later we were back at it again…dreaming up a new adventure.
As we grew older our imaginations and love for adventure grew, but in different and separate ways, as many teenage siblings do. Luckily for us entering the adult phase of life has been so great and only brought us closer together. We are all married and blessed to live only about 30 minutes away from each other so we get together often. I have to say though, I'm learning that my favorite part of having siblings as adults are nieces and nephews! My sweet little nephew spent the day with us earlier this week. I am in love. He is just the greatest thing since iced coffee. And I think it's safe to say he had a pretty great day too.
Contrary to the looks, I am teaching him how to pull the whistle on a train and not punching him in the face in this next photo :)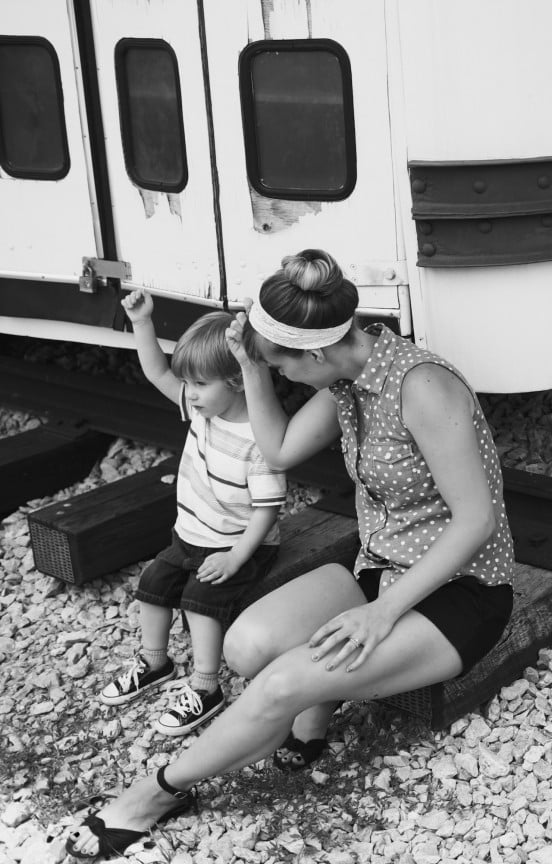 Miniature style blogger in the making? ;)
Weekly Wear: {Outfit Source: Shirt and shorts: Marshalls, Headband: F21, Shoes: Urban Outfitters}