you're my lucky charm
This post may contain affiliate links. Please read my disclosure policy.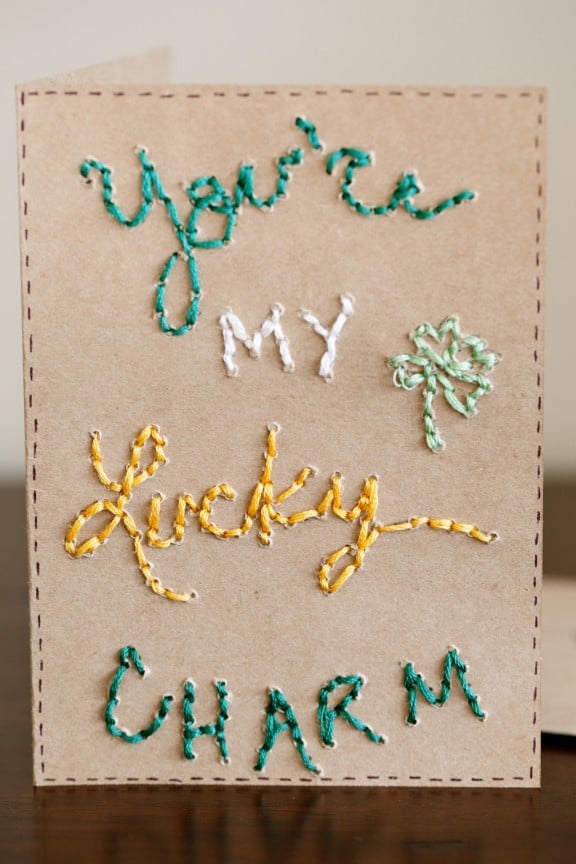 Today feels like Spring! I woke up this morning to birds chirping and my dog laying on my face…once I pushed her off though I could sense it immediately…today is spring. And that my friends, makes me one happy lady. I already came up with 50 "spring-like" activities for Tanner and I to do when he gets off work at 3:30 today (hurray for having Thursday's off and a husband who gets home early today!)  Those activities may or may not include biking, grilling, skipping, holding hands, sidewalk chalk, bubbles–shoot, maybe I should save this list for tomorrow with my children I nanny… regardless, today is going to be a great day!
I haven't really played around much with a needle and thread before.. They are intimidating to me and usually end with a broken needle, bloody finger and a puddle of tears. Yesterday I mustered up the courage to give it a try though and came up with a pretty cute greeting card for my love!
Don't worry all you needle-phobed friends…it's not that bad. You too can have this sweet card in only a matter of minutes!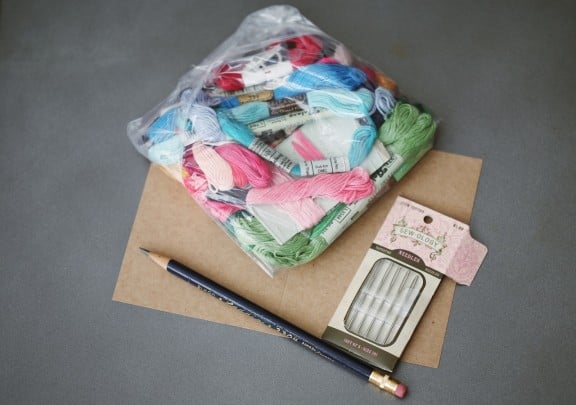 What you'll need:
Embroidery floss (I picked that bag up at a yard sale for 25 cents–never pass up a good floss!)
Hand sewing needles–I actually used more of a darning needle (It's what I had left after my broken needle escapade)
Pencil
Blank greeting card
Cork of some sort–I used the back of a coaster
Black fine-tip sharpie (optional)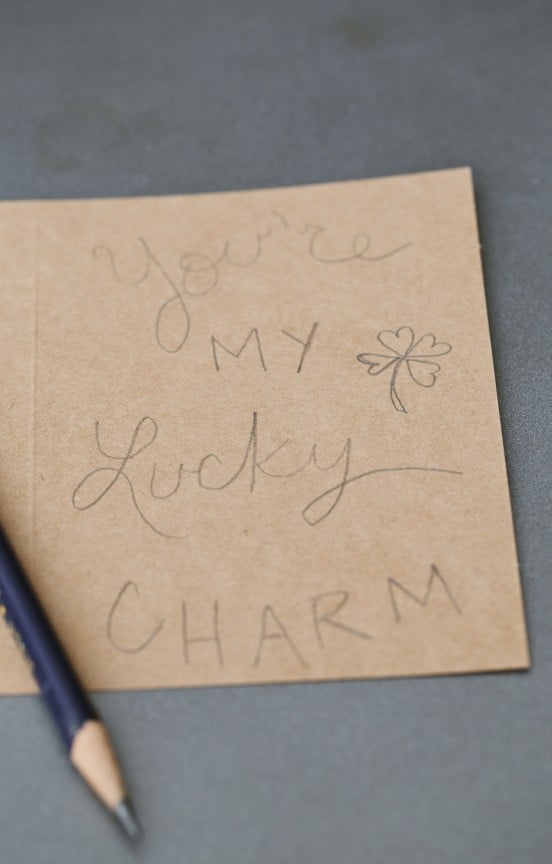 What you'll do:
Choose the font you would like your card to be written in and with your pencil draw out your design.  I chose "You're My Lucky Charm" because 1.) Tanner is my lucky charm–duh! 2.) All of the most meaningful St. Patty's Day quotes were lightyears long and definitely wouldn't fit on a 4×6 greeting card 3.) Tanner and I have an unhealthy love for Lucky Charms–so it was meant to be!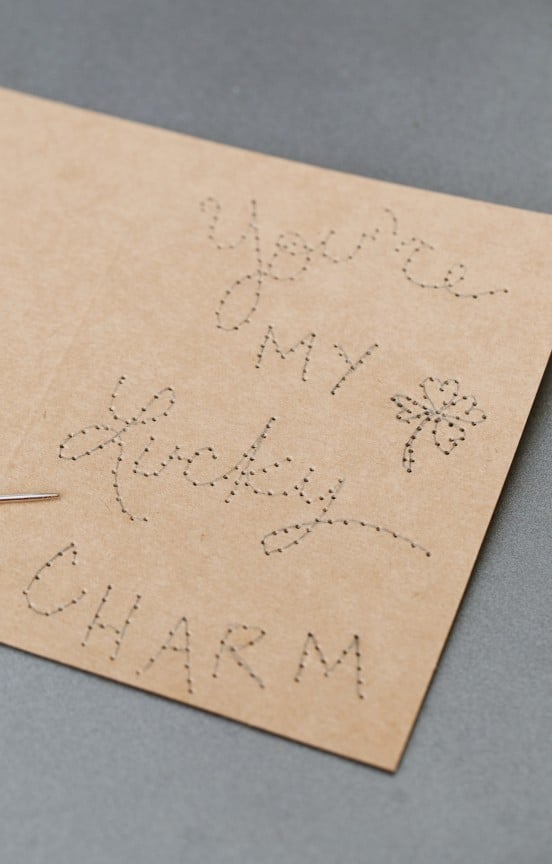 Using your needle, poke holes where you would like the thread to be.  I found that pre-poking the holes works much more efficiently once you have started embroidering. And if you poke the holes into the cork it goes much more quickly! Beware, this poking experience will definitely hurt your finger–wear a thimble if possible! 
Start stitching! I used the backstitch method–it is the one I am most familiar with and have been taught before.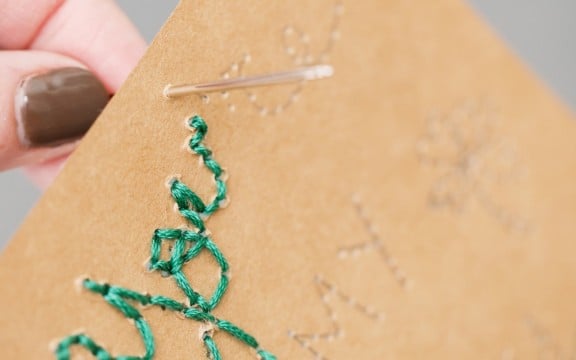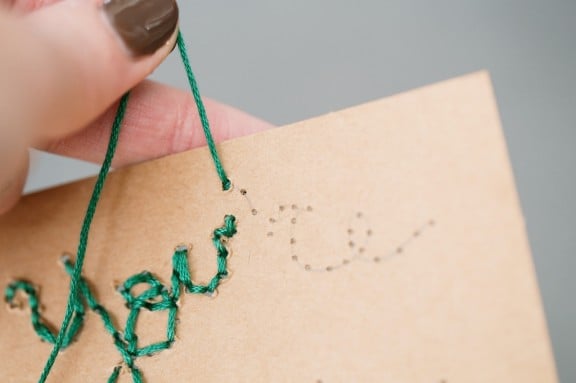 Start your thread through the first hole and pull all the way through.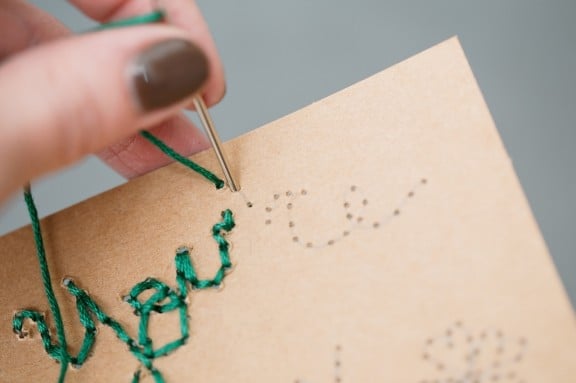 Push your needle through the second hole and pull tight to create a stitched line.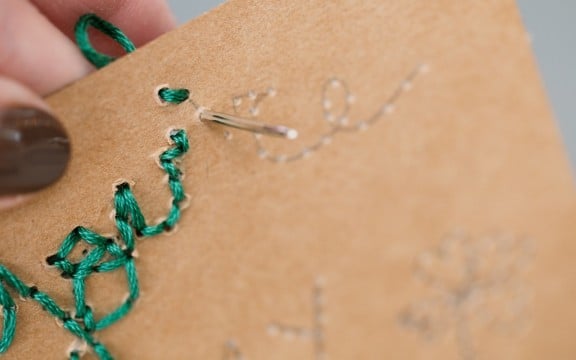 Push your needle through the backside of the card into the third hole (see photo above)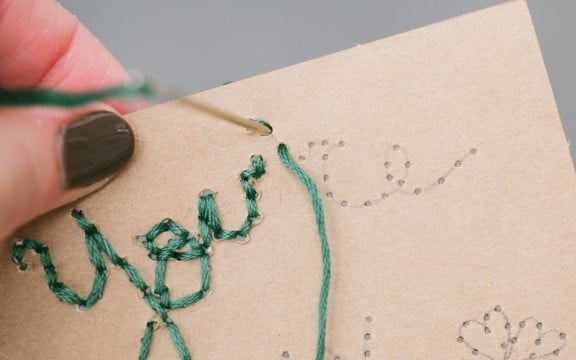 Once you have pulled all the thread through, take your needle and go back to hole number two, creating a stitch mark.
Continue stitching until each hole is filled.
Once you are finished stitching feel free to create a simple border around the card with your thin-tip sharpie. This step is completely optional.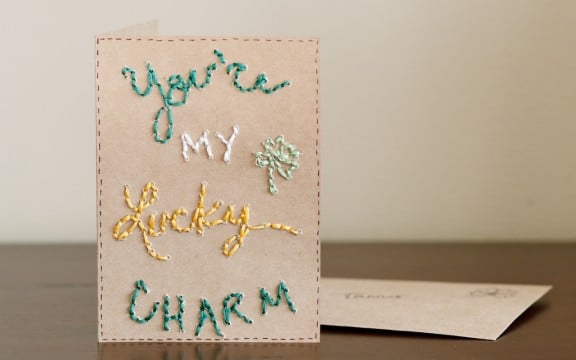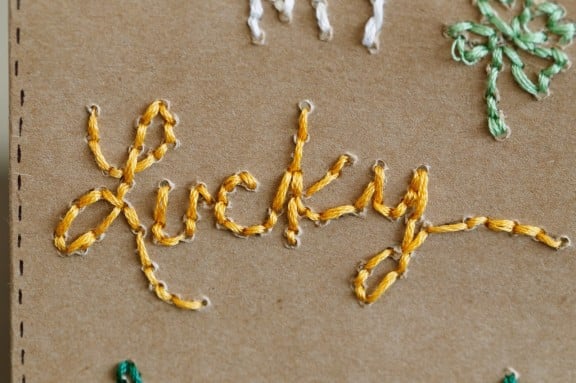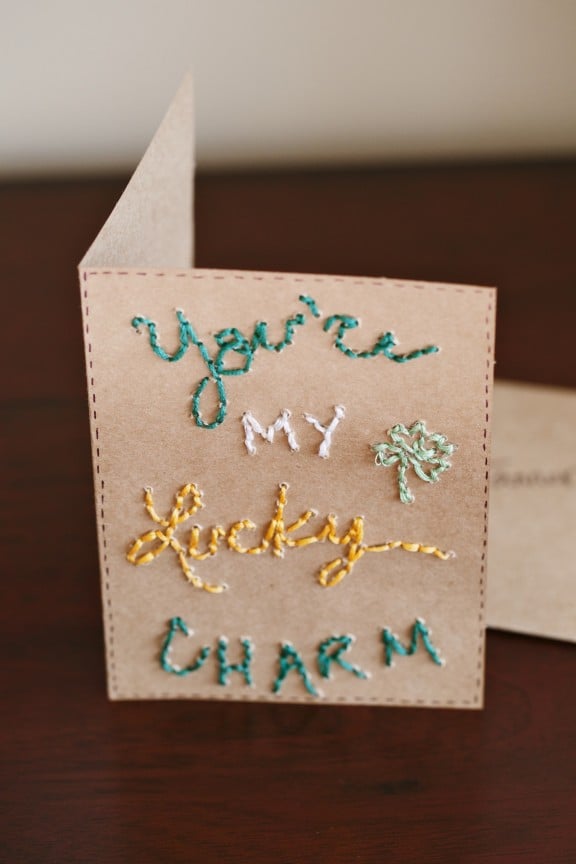 Not too bad right? I love the way this little guy turned out.. Tanner is going to love it too. I just know it. (Tanner, if you see this before I give you the card act surprised about it!)  Who am I kidding, he doesn't read my blog. :)
Anyone else an amateur at all things needle related? Does it possibly stem from my early childhood years of dreading shots?