Drunken Noodles (Pad Kee Mao)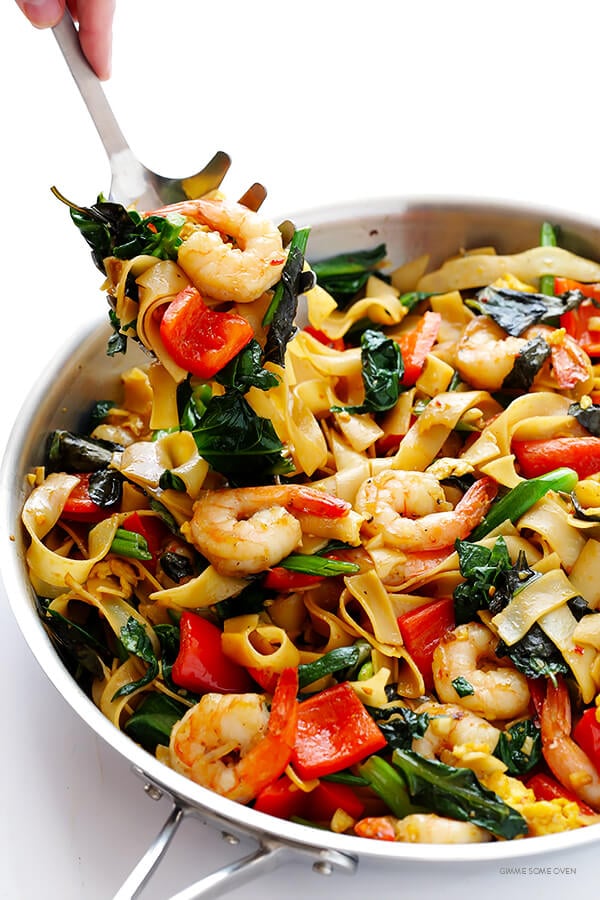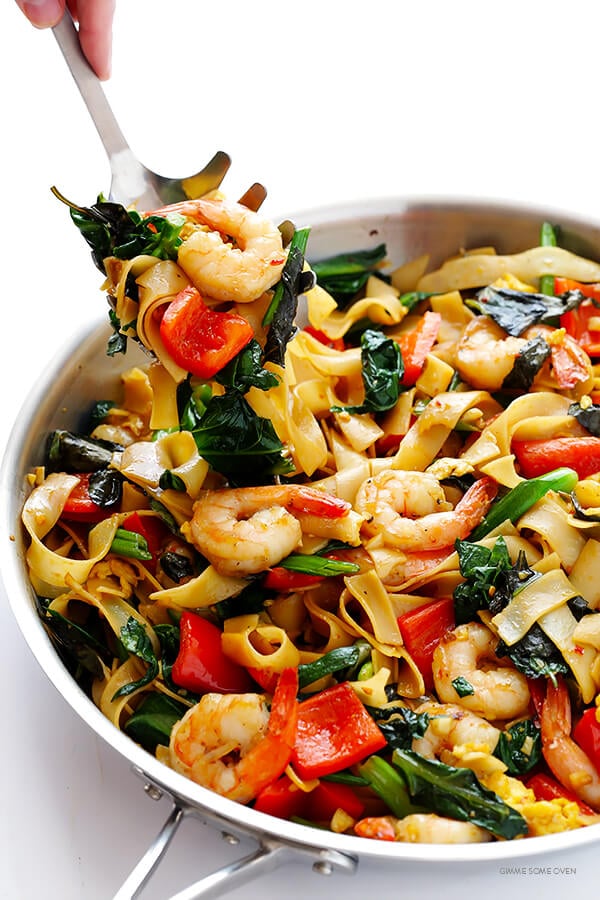 Guys, we have breaking news here on the blog today:
I FINALLY FIGURED OUT HOW TO MAKE DRUNKEN NOODLES AT HOME!!!
(AND THEY'RE FREAKING AWESOME!)
Oh, sorry for shouting.  But I must say, this was a major triumph in my little kitchen.  I've been obsessed with ordering drunken noodles (a.k.a. pad kee mao) ever since I was introduced to their brilliance at my favorite Thai restaurant way back in the day.  And quite simply, I just think they're the best.
But strangely, up until this year, I never even really considered the idea of trying to make them at home.  I figured that they fell in the cheaper-to-buy-and-way-too-complicated-to-authentically-make category that I tend to assume with lots of ethnic food.  But once I did a little research and realized that I already had most of the sauce ingredients already in my fridge, I spontaneously decided to give them a try this past month.  So I popped over to our neighborhood Asian grocery where I picked up some noodles and Chinese broccoli (my favorite, although you could sub in bok choy or omit it) and a big ol' bouquet of Thai basil (the rockstar ingredient of this one).  Then my cute sous chef and I set out to work with high hopes.  And the result?!
Total. Thai. Success.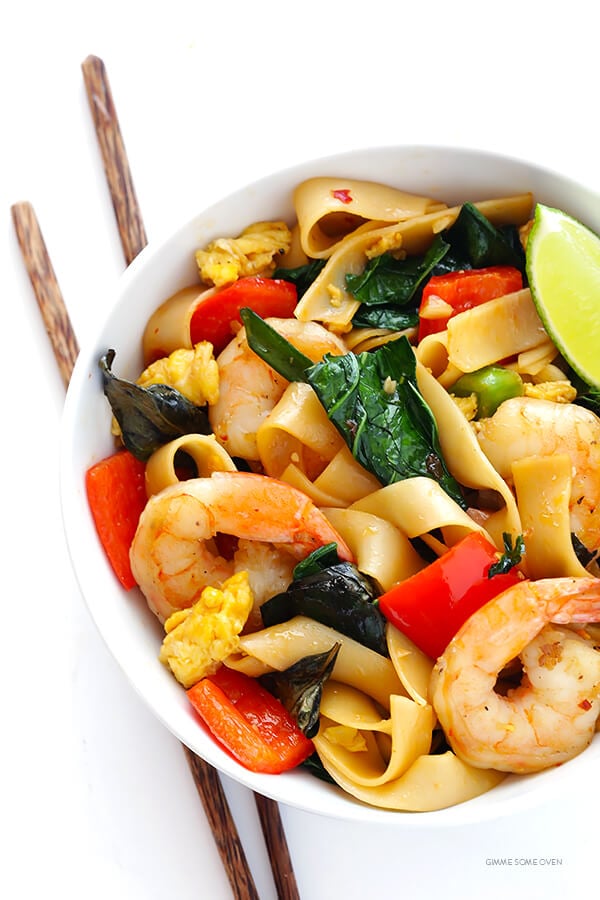 Oh my goodness, I really am not exaggerating.  These were totally — as in 100%, completely, awesomely, authentically, can't-believe-we-actually-made-these-ourselves, dare-we-say-better-than-the-restaurant, went-back-for-seconds-then-thirds — GOOD.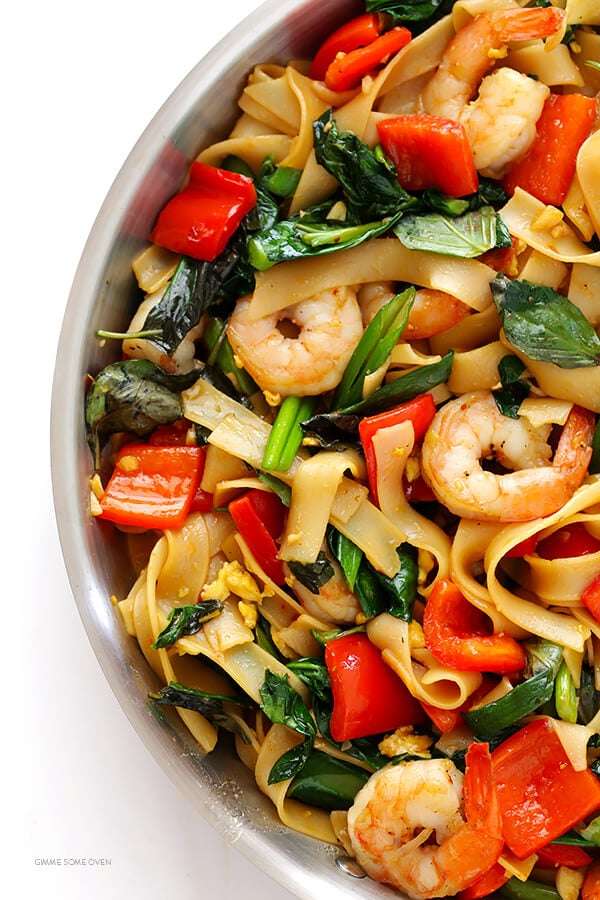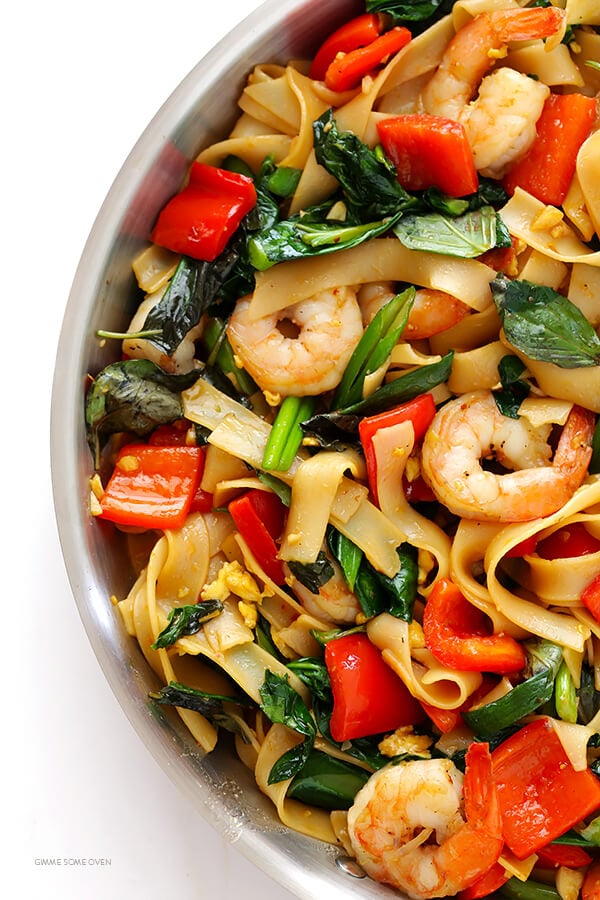 And the fun of making them at home was that I got to include all of my favorite pad kee mao ingredients.
The protein — of course — is totally up to you.  Chicken, beef, pork, and tofu are all favorites, but I went pescetarian with some tasty jumbo shrimp.
And the noodles and veggies are also totally up to you.
Just about any rice noodles will work in this dish, but I went with the wider rice stick noodles.
And then for veggies, I used red bell pepper, green onions, and lots and lots of Chinese broccoli (pictured above).  I can only find it in our Asian grocery stores, but in my opinion, it's absolutely worth the trip (especially if you're also picking up some other ingredients).  You can eat both the leafy greens as well as the stems, which you just saute a little bit longer to soften then along with the red pepper while cooking.  That said, if you can't find Chinese broccoli, you're welcome to nix it entirely, or sub in bok choy or another leafy green.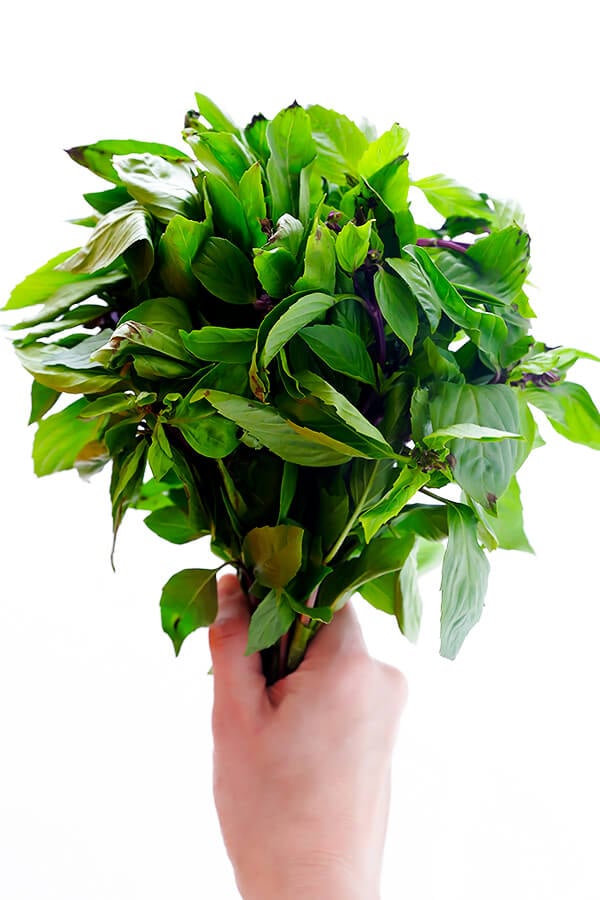 The one ingredient I just highly (highly) recommend tracking down is a big bunch of Thai basil.  If you can't find it, you're welcome to substitute traditional Italian basil.  But the Thai basil with that extra anise-ish kick is the ingredient that will make this dish taste extra-authentic.  It's usually carried at most Asian grocery stores.  And be sure to get a lot of it, because I'm convinced that the more Thai basil the merrier with this one.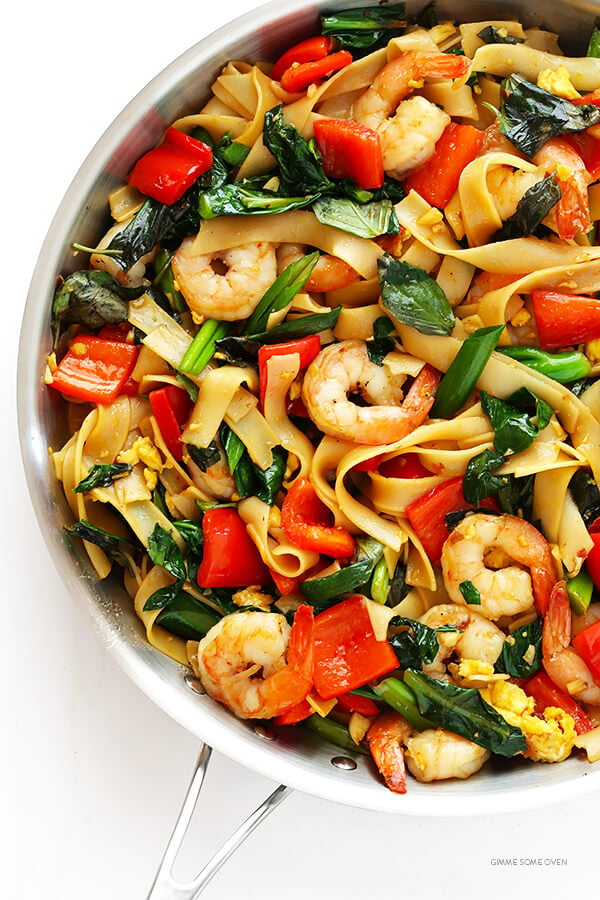 When it comes to actually cooking up the pad kee mao, the biggest tip I can offer with this dish (or any Asian stir-fry dishes, really) is to take the time to actually prep and organize all of your ingredients before cooking.  The stir-fry process goes really quickly, and you want to be sure that your sauce and noodles are all ready to go before beginning.  So get everything prepped…saute it up…and within minutes…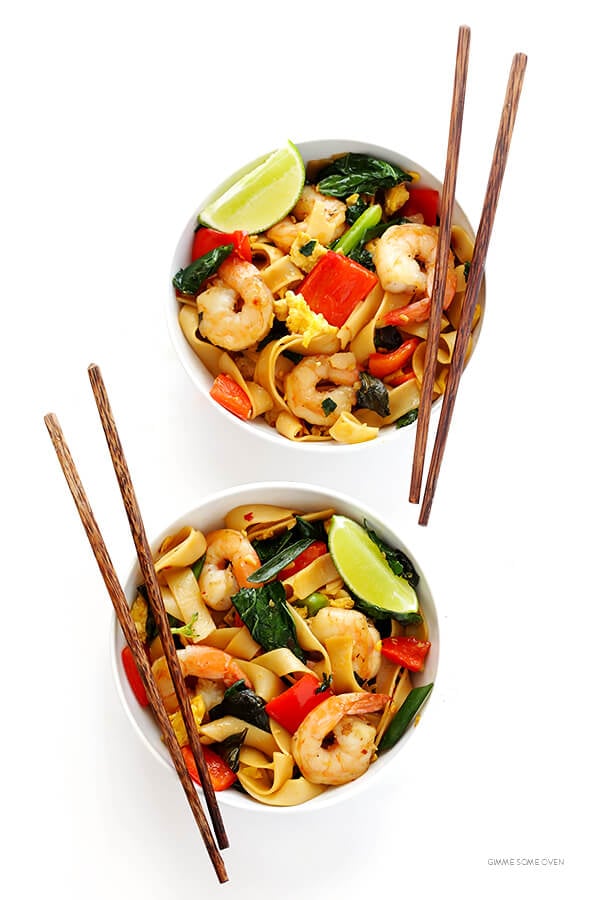 …this homemade deliciousness will be yours to enjoy!
Just get ready, because once you conquer this one, I'm pretty sure you're going to want to make it again…and again…and…  Well, let's just say I've already made it three times in one month, and already can't wait to try it again with crispy tofu once I return from New Zealand.  So quick.  So easy.  And SO GOOD.
Success!!!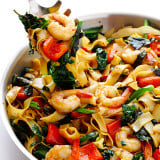 Drunken Noodles (Pad Kee Mao)
Learn how to make delicious and authentic Thai Drunken Noodles (Pad Kee Mao) with this easy recipe at home!
Ingredients:
Stir-Fry Ingredients:
8 ounces (dry) rice stick noodles
2 Tablespoons peanut or vegetable oil, divided
1 pound raw jumbo shrimp, peeled and deveined (*or you can sub in your desired protein or tofu)
4 cups (packed) Chinese broccoli, chopped into bite-sized pieces with the stems and leaves separated
1 red bell pepper, cored and cut into bite-sized pieces
4 cloves garlic, peeled and minced
3 green onions, chopped into 1-inch pieces
2 eggs, whisked
1 1/2 cups packed fresh Thai basil leaves
stir-fry sauce (see below)
(optional: lime wedges, for serving)
Stir-Fry Sauce:
2-3 Tablespooons low-sodium soy sauce
2 Tablespoons oyster sauce
2 Tablespoons fish sauce
1 Tablespoon sweet dark soy sauce
1 Tablespoon Thai garlic chili sauce, or more/less to taste
Directions:
To Make The Drunken Noodles (Pad Kee Mao):
Prepare noodles al dente according to package instructions.  (Or if there are no instructions, I recommend placing the noodles in a large mixing bowl and pouring boiling water on top of them until they are submerged.  Wait 3-5 minutes until they are soft and al dente, then drain the water and set the noodles aside until ready to use.)
Meanwhile, heat 1 Tablespoon oil in a large saute pan or wok over high heat.  Stir in the shrimp and cook for 4-6 minutes, flipping and stirring occasionally, until they are just cooked through.  (They should be pink and no longer translucent.)  Transfer the shrimp to a separate plate and set aside.
Add the remaining 1 Tablespoon oil to the saute pan or wok.  Add the Chinese broccoli stems and red bell pepper, and saute for 3 minutes, stirring occasionally.  Add the garlic and green onions and continue sauteing for an additional 2 minutes, stirring frequently.
Push the vegetables up along the side(s) of the saute pan, leaving a hole in the center.  Add the eggs, and quickly scramble them, stirring occasionally, until they are cooked.  (Alternately, you can also scramble the eggs beforehand and set aside until ready to use, or cook them simultaneously in another saute pan, if your current pan isn't big enough.)
Add in the cooked noodles, shrimp, fresh Thai basil, broccoli leaves and stir-fry sauce, and give the mixture a good toss until everything is combined.  Continue cooking for 2 more minutes, tossing frequently.  Taste, and season with salt and pepper if needed.
Serve immediately, garnished with lime wedges if desired.
To Make The Stir-Fry Sauce:
Whisk all ingredients together until combined.  Taste, and add more garlic chili sauce (or any of the other sauces) if you would like.
*Chicken, beef, pork, and crispy tofu would all be delicious substitutions for shrimp.  Or you can make this recipe without any extra protein too.
All images and text ©
If you make this recipe, be sure to snap a photo and hashtag it #gimmesomeoven. I'd love to see what you cook!