Easy Breakfast Braid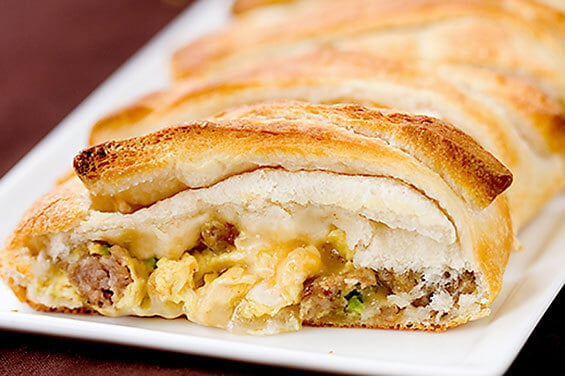 Allow me to take a moment to brag on my friends.  They pretty much…rock.  :)
Last Sunday, we had brunch at my place.  And even though it was fairly last-minute for some, the spread was absolutely incredible!  Love them, and love that they enjoy food as much as I do.  :-)  For one of my two contributions, I decided to try out a recipe I'd had tacked to the fridge for months because it was so pretty — this yummy breakfast braid from Cooking Light.
While the filling looked simple to prepare, I was a little intimidated by the idea of trying to braid the dough.  But it turned out to be a piece of cake!!  As evidenced below, mine definitely wasn't perfect.  But it only took a few minutes, and once baked up, it was pretty cute!  (Cheers to refrigerated pizza crusts!)
The filling was also delicious — classic breakfast ingredients, kicked up a notch with the jalapeno.  (But don't worry — it wasn't spicy at all.)  I think I may try this again soon with some other fillings — very fun!
So definitely bookmark this one if you're looking for a fun breakfast alternative!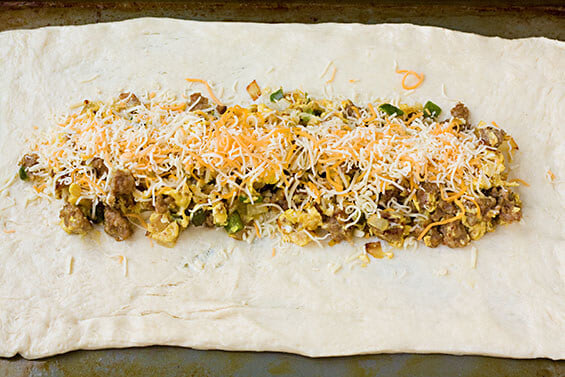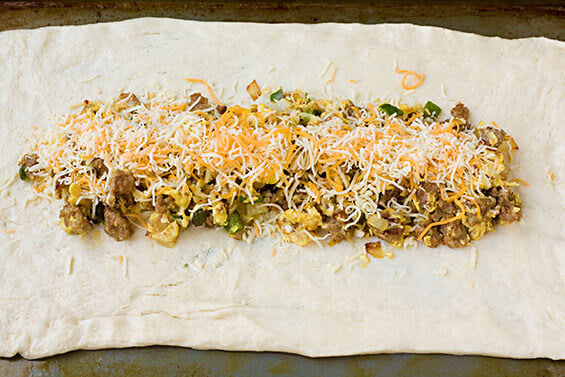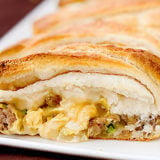 Easy Breakfast Braid
You'll love this Easy Breakfast Braid recipe! Imagine some of your favorite cheeses and meats like sausage or bacon oozing from the middle of fresh bread!
Ingredients:
1 (13.8-ounce) can refrigerated pizza crust dough
1 Tbsp. olive oil
1/4 cup chopped onion
4 oz. spicy chicken sausage (or other sausage), chopped
2 large eggs, lightly beaten
1/2 cup (2 oz.) shredded Monterrey Jack cheese
1/2 cup shredded cheddar cheese
1/2 cup chopped seeded jalapeño peppers
1 large egg white, lightly beaten
Directions:
Preheat oven to 425°.
Unroll dough onto a baking sheet coated with cooking spray; pat into a 15 x 10–inch rectangle.
Heat oil in a large skillet over medium heat. Add onion and sausage; cook 9 minutes or until lightly browned. Stir in eggs; cook for 1 1/2 minutes or until set (while continuing to stir). Remove from heat.
Sprinkle Monterey Jack lengthwise down center of dough, leaving about a 2 1/2-inch border on each side. Spoon egg mixture evenly over cheese. Sprinkle cheddar over egg mixture; top with jalapeño peppers.
Make 2-inch-long diagonal cuts about 1 inch apart on both sides of dough to within 1/2 inch of filling using a sharp knife or kitchen shears. Arrange strips over filling, alternating strips diagonally over filling. Press ends under to seal. Brush with egg white. Bake at 425° for 15 minutes or until golden brown. Let stand 5 minutes. Cut crosswise into slices.
If you make this recipe, be sure to snap a photo and hashtag it #gimmesomeoven. I'd love to see what you cook!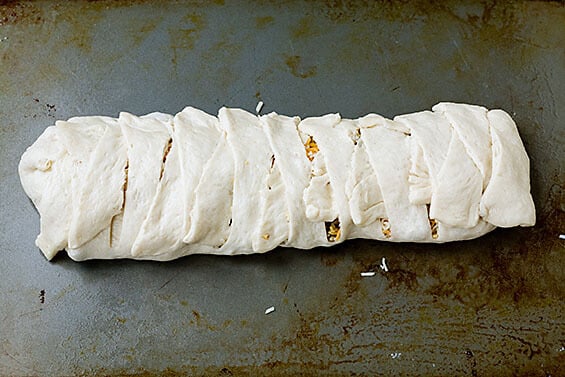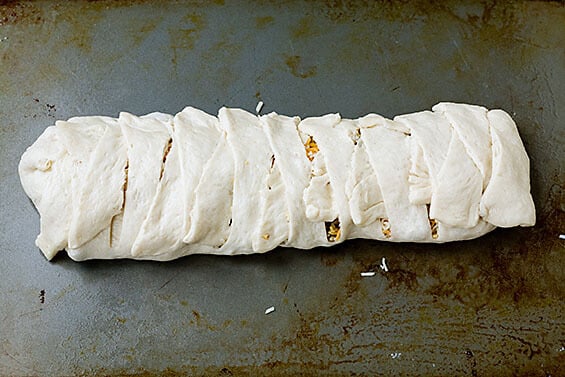 Ali's Tip:
If you're not a huge fan of sausage (like me!), feel free to sub in some bacon instead!  But if you use regular bacon, though, be sure to drain away any extra grease as it could make the dough a little soggy.  Turkey bacon would also be fantastic!  :)