Easy Lemon Chicken Potato Casserole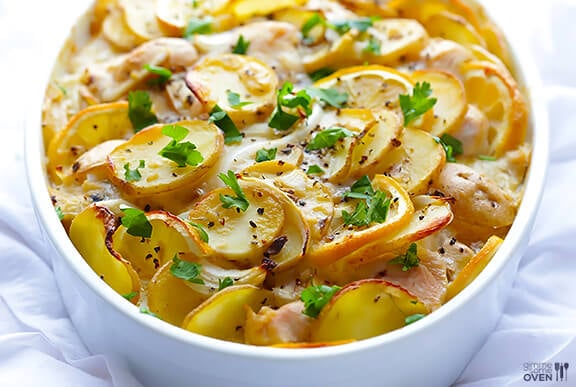 Look out, world.
I made a casserole.
Actually, I made my mom's easy lemon chicken potato casserole.  Partly because, you guessed it, I had leftover condensed cream of chicken and cream of mushroom soup sitting in the fridge waiting to be used.  But partly because I realized it had been years since I had made an actual factual casserole, which seems absolutely crazy since I grew up on casseroles.  Must remedy that.
The only thing was that I couldn't decide what sort of photo to post for the cover.  So I thought I'd let my Facebook crew make the call.  You all know how much I love my little rut, ahem, tradition of keeping my cover photos simple and portion-sized and bright.  But the overwhelming response on this one was in favor of the full dish above.  You all just can't resist a photo of a good ol' casserole.  ;)
Still, other readers brought up some persuasive points about featuring a "reasonably-sized" portion though.  So for the best of both casserole-loving worlds, you get cover photos of both.  I know — livin' on the wild side with blogging formatting today.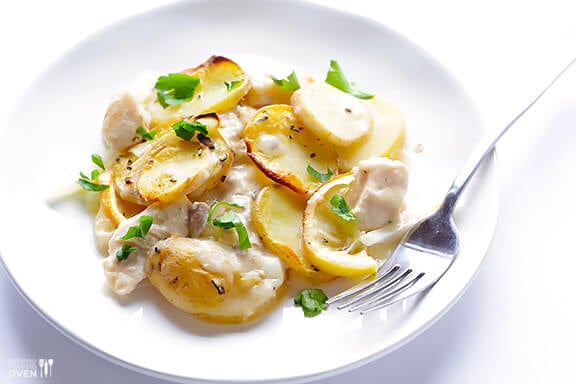 Ok, but more about this casserole…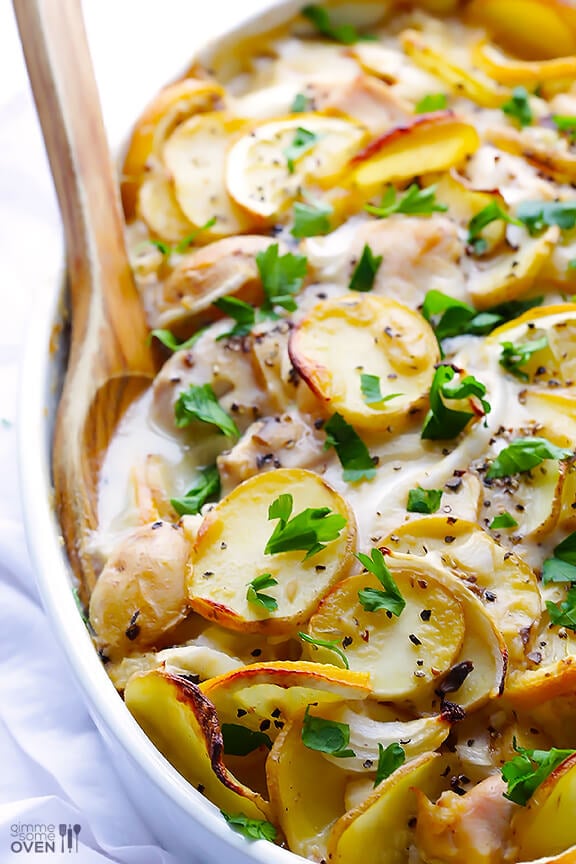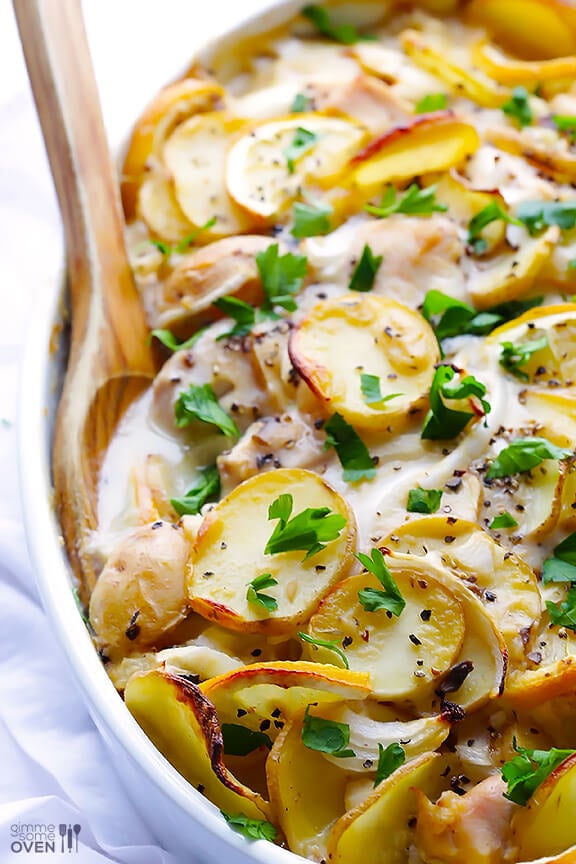 Growing up, this lemon chicken potato casserole was our family's version of total comfort food.  Granted, since it's made with milk instead of cream and is cheese-free (although you're welcome to add some in), it's arguably a little on the "lighter" side of comfort food.  But it's still you're basic chicken and potatoes flavored with classic cream of chicken/mushroom soup, with a hint of lemon sprinkled throughout.
I should note that my mom would also add hints of green olives sprinkled throughout.  I'm not a big fan, so I'll leave the olive adding or nixing up to you.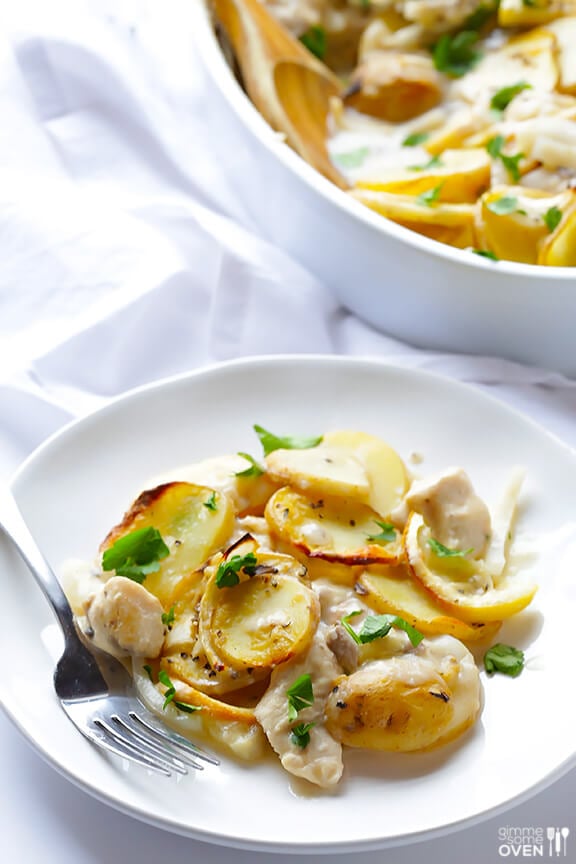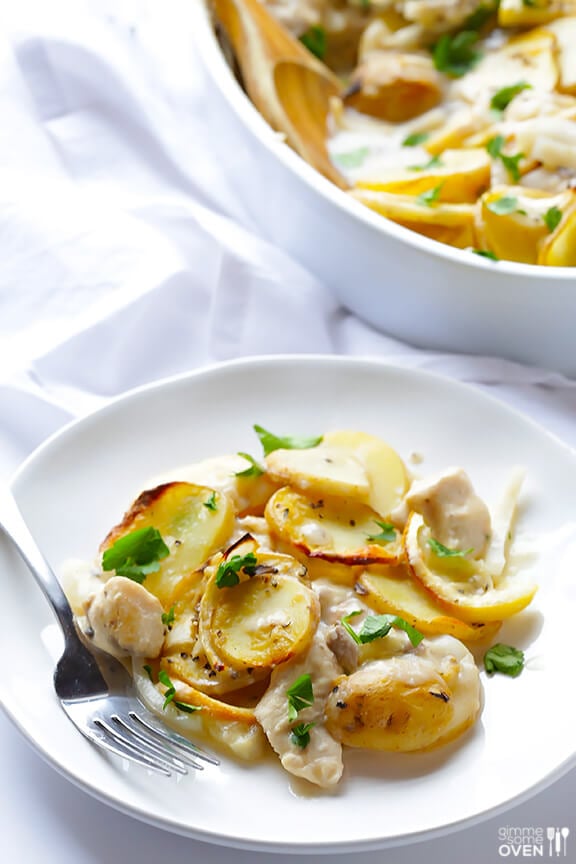 Of course, the hallmark of a good casserole is that it's easy to prepare, and this one is no exception.  It can be ready to pop in your oven in less than 15 minutes, and is super easy.  Here's the how-to: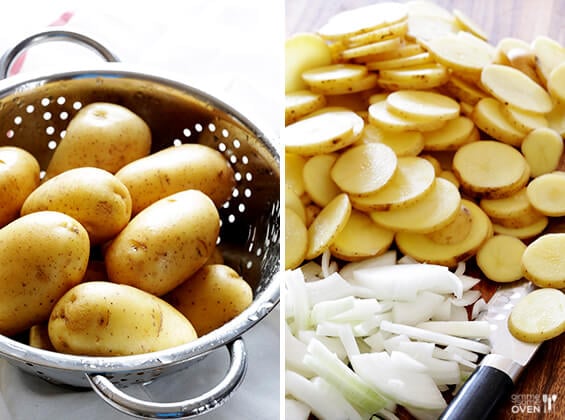 First, gather up your potatoes, onions, garlic, and lemons and get to slicing.  The key to making sure this recipe gets fully cooked is to slice everything very thinly, especially the spuds.
You can also use any kinds of potatoes for this recipe, but I highly recommend Yukon golds.  They worked perfectly.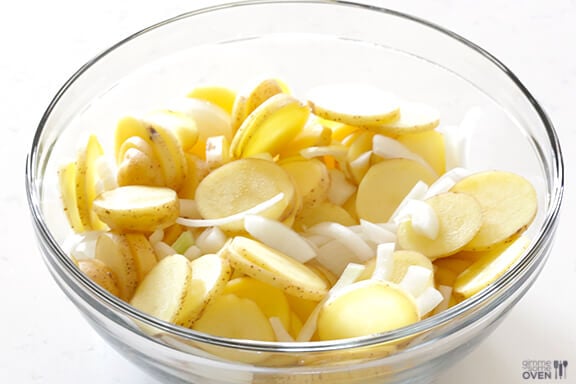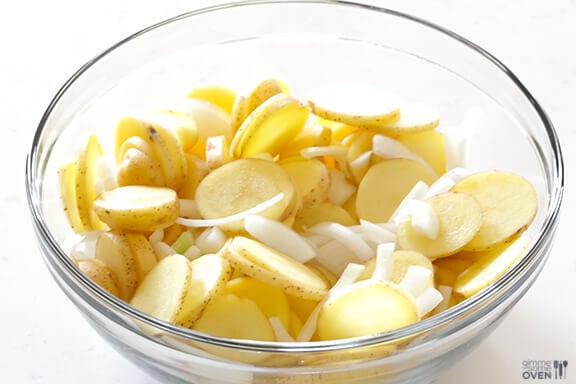 Then pop them in a big mixing bowl…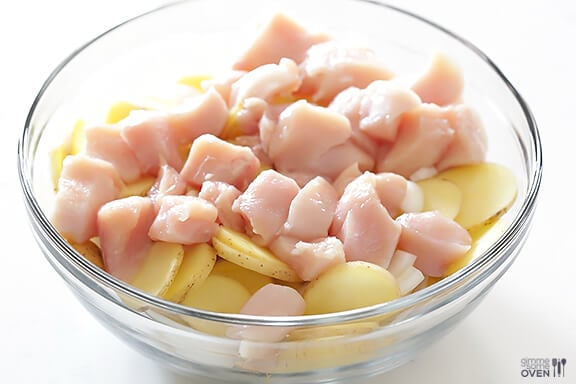 …and add your chicken.
My mom always made this recipe just using chicken tenders.  But I had chicken breasts on hand, so chopped them up into bite-sized pieces.  Your choice.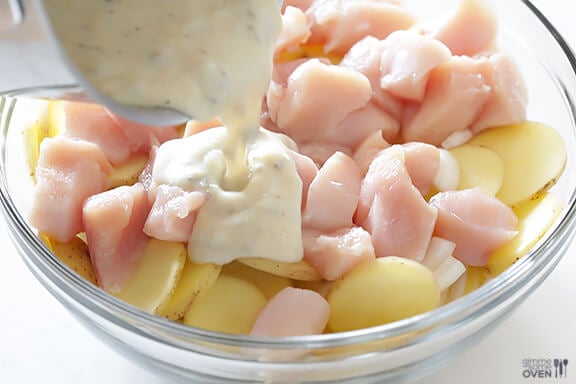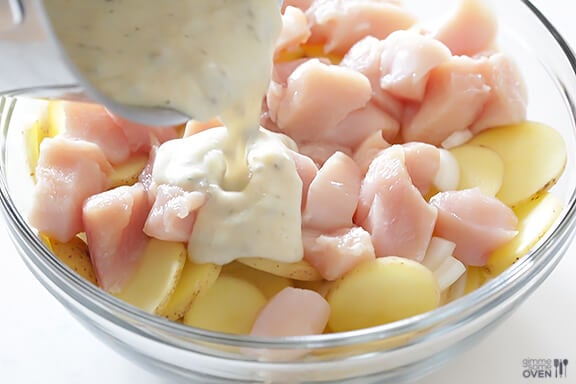 Then heat 2 1/2 cups (the equivalent of 2 cans) condensed cream of chicken or cream of mushroom soup with 1/2 cup of milk in a saucepan and whisk together until smooth.  And then pour it over the chicken and potatoes mixture.  Gently toss to combine.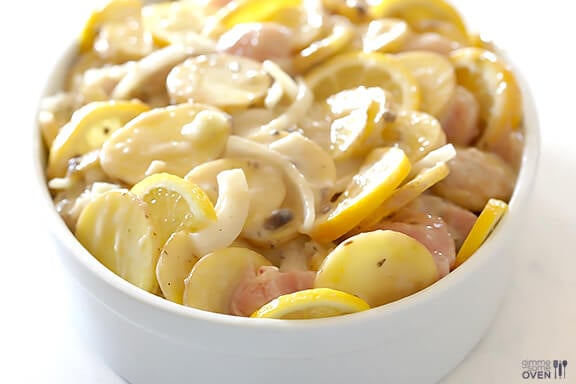 Transfer the mixture to a baking pan, and then tuck some lemon slices in amongst the casserole.  If you want a more lemony flavor, you can also sprinkle on some lemon juice.  But I kind of like the random pops of flavor from the slices.
Cover with aluminum foil and bake for about an hour, or until the potatoes are cooked and tender and the sauce is nice and bubbly.  Then finish it with the broiler so that the tops of your potatoes can get a little bit crispy.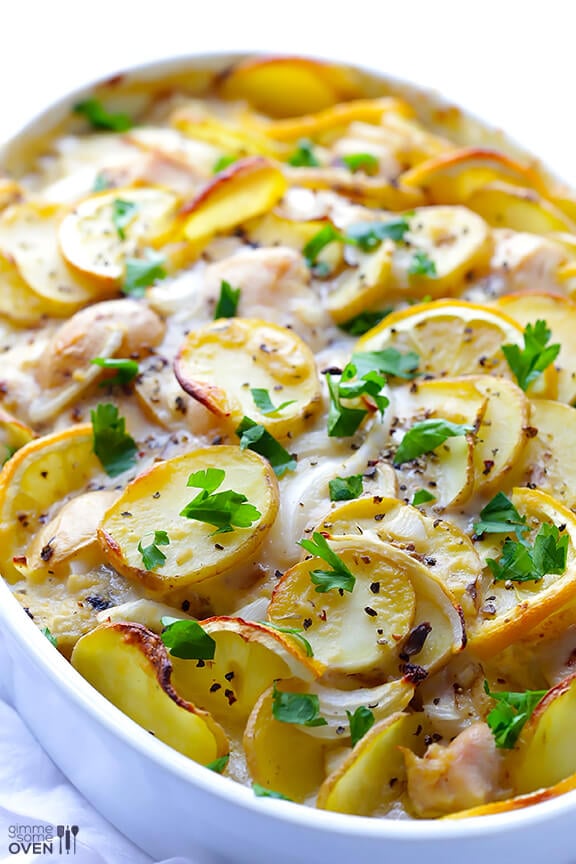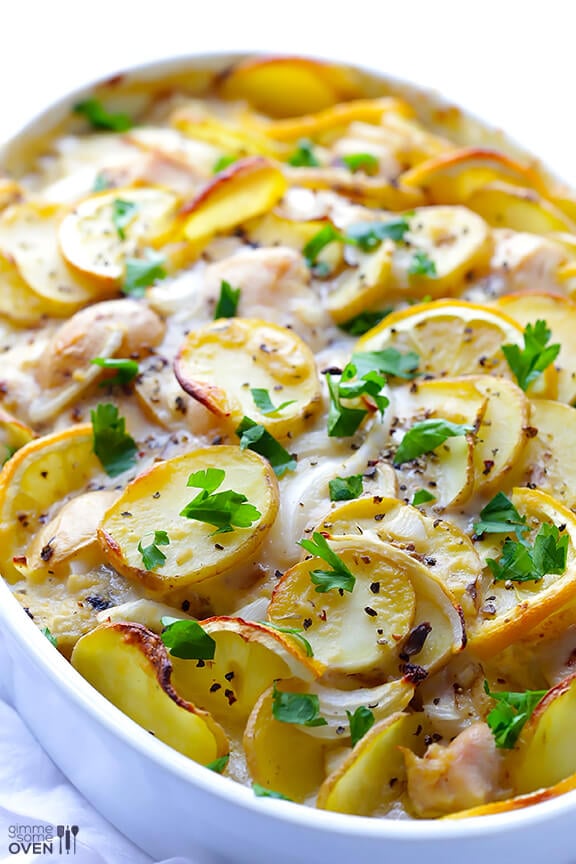 Then if you want a little extra color and flavor, garnish it with some fresh herbs.
And then behold the mighty casserole.  And dive in.  :)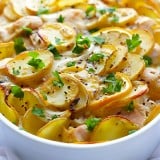 Easy Lemon Chicken Potato Casserole
This delicious Lemon Chicken Potato Casserole is simple to make, and full of that classic creamy lemon flavor you love!
Ingredients:
2.5 cups condensed cream of mushroom OR cream of chicken soup (the equivalent of 2 cans)
1/2 cup milk
1.5 lbs. Yukon gold potatoes, very thinly sliced (no thicker than 1/8″)
2 cloves garlic, minced
1 small white onion, peeled and thinly sliced
1.5 lbs. boneless, skinless chicken breasts
salt and freshly-ground black pepper
1 lemon, thinly sliced and halved (into half coins)
(optional garnish: chopped fresh parsley or fresh thyme)
Directions:
Preheat oven to 425 degrees F.
Add condensed soup and milk to a saucepan and whisk to combine. Heat over medium-high heat until simmering, stirring frequently. When it reaches a simmer, remove from heat and set aside.
Meanwhile, in a separate large mixing bowl, add potatoes, onion, garlic, and chicken. Pour in the condensed soup mixture, along with a generous pinch of salt and pepper, and gently toss to combine until the potato and chicken mixture is evenly coated.
Transfer mixture to a 9 x 13 baking dish. Tuck lemon wedges into the mixture randomly. Then cover the top of the pan with aluminum foil.
Bake for 1 hour or until the potatoes are tender. Carefully remove the foil, and change oven to the high "broil" setting. Broil the casserole for an extra 2-3 minutes to crisp up the top, watching very carefully so that it does not burn.
Remove pan from oven and serve warm.
All images and text ©
If you make this recipe, be sure to snap a photo and hashtag it #gimmesomeoven. I'd love to see what you cook!
Be sure to check out these other related recipes too:

Condensed Homemade Cream of Mushroom Soup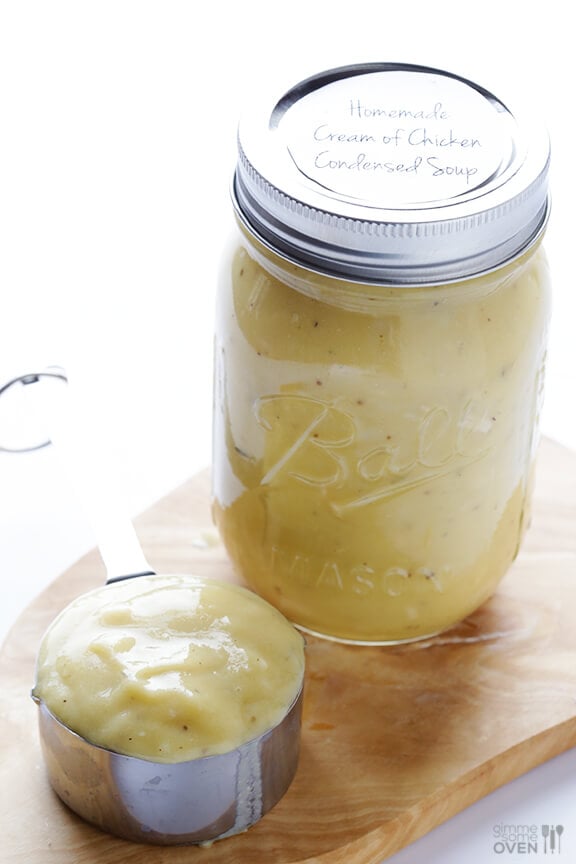 Condensed Homemade Cream of Chicken Soup