Espinaca Con Queso (Spinach Cheese Dip)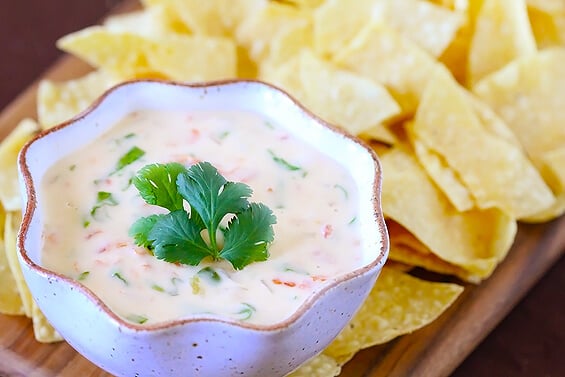 As much as I a-d-o-r-e going out for Mexican food, my friends would be the first to tell you that 90% of my meal usually ends up being three things: chips, salsa, y queso.  I'm a total lost cause, though, when the queso is "espinaca" — white cheese dip with spinach.
Oh my heavens.  This stuff is completely irresistible.
And it's even better homemade, because then you can play around with ingredients!  I love mine (as mentioned in the tip below) with some extra peppers thrown in for spice and flavor.  But if you're more on the "mild" side, you can also make it with just the basics.  Just be sure to throw in lots of spinach, and then you'll feel a little better about going back for seconds…and thirds…  :)
I made this for our RO*TEL party this month, and all of my friends gave it a big thumbs up.  So give it a try at home soon for a fun appetizer or (ahem) dinner!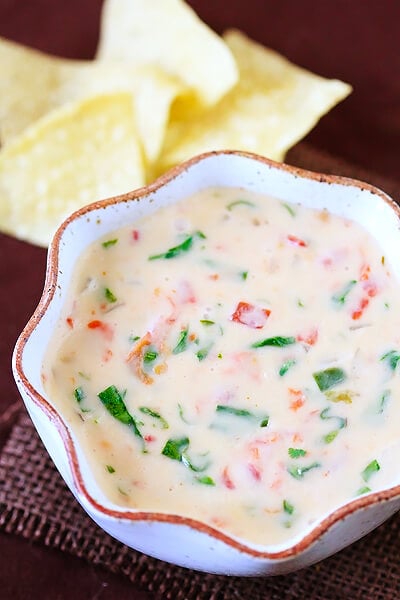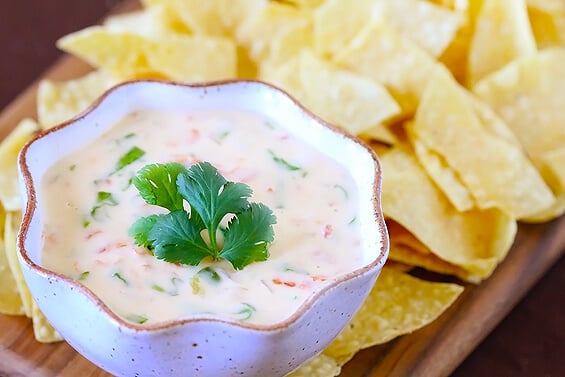 Espinaca (Queso Blanco with Spinach)
Learn how to make the irresistible white cheese and spinach dip that you LOVE at Mexican restaurants…at home! You'll love this espinaca con queso recipe!
Ingredients:
1 Tbsp. canola oil
1/2 cup diced white onion (about half a small onion)
1 jalapeno pepper, diced (and seeded if desired)
3/4 cup milk or half and half
1 pound (16 oz.) white melting cheese, shredded (I prefer asadero cheese, although you can use white
American cheese if you can't find asadero)
4 oz. Pepper Jack or Monterrey Jack cheese, thinly sliced or shredded
1 (15 oz.) can RO*TEL diced tomatoes and chiles
2 cups fresh baby spinach, roughly chopped
1/2 cup fresh cilantro, chopped
Directions:
Heat oil in a saucepan over medium-high heat. Add onion and jalapeno, and saute for 4-5 minutes until the onion is translucent. Lower heat to medium-low, then gradually add milk and cheeses. Stir together slowly for a few minutes until melted. Add the RO*TEL, spinach and cilantro, and stir until combined. Remove from stove.
Pour into a bowl and serve immediately with chips. Or transfer dip to a crock-pot to keep warm.
Ali's Tip:
I like adding an extra chipotle or poblano pepper to this dip for extra flavor and spice.  You would just pop this in at the same time as the jalapeno.  But I recommend trying the dip as is first to see if you would like the extra kick!  :)
All images and text ©
If you make this recipe, be sure to snap a photo and hashtag it #gimmesomeoven. I'd love to see what you cook!