Fuji Apple Chicken Salad (Panera Bread Copycat)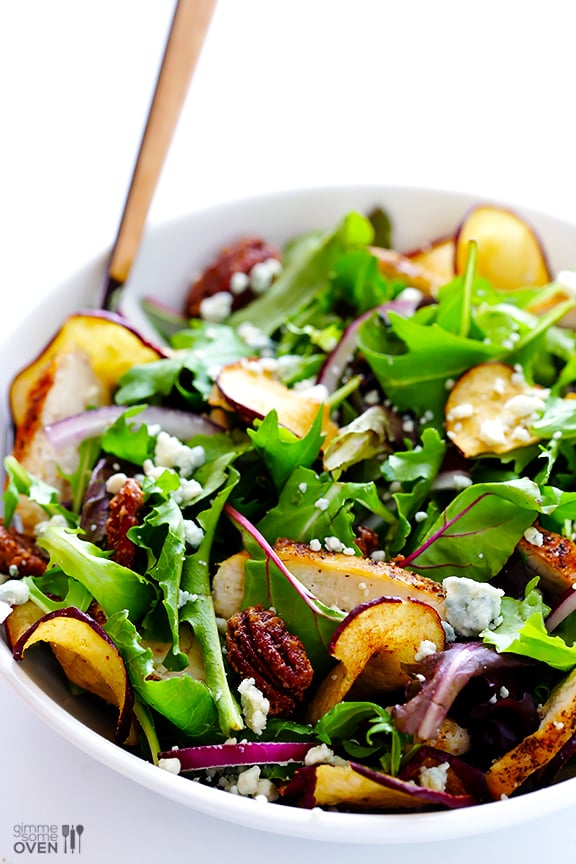 I'm bringing this one back up from the archives to share with you today.  Because I'm pretty sure we all need more of this salad in our lives.

I only have a handful of restaurant copycat recipes here on the blog.  But after having ordered the Fuji apple chicken salad at Panera for nearly a decade, I decided a few years ago that it was high time to learn how to make it for myself.  Because clearly, it must be a keeper if I'm still not tired of it after so many years.  (The same goes for their French onion soup, which I'm convinced is made with some magical secret ingredient that makes it better than all French onion soups.  I digress…)
The good news about this salad is that it's really nothing fancy.  Just a simple green salad made with dried apple chips, seasoned chicken breasts, and a white balsamic vinaigrette.  Although I have to admit that I do use this salad as an excuse to make a batch of my favorite candied pecans to throw on top of it.  I may use a few more of those than Panera.  ;)
Here's how to make it!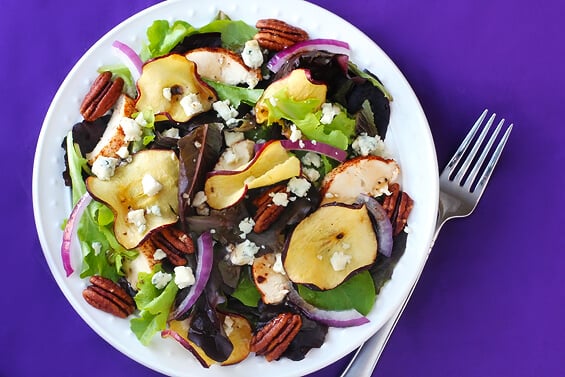 Well first off, here's a photo I took of the salad back in 2011.  It was when I was in my bright-solid-colored backgrounds stage, and when all of the walls in my house were painted bright colors.
Now I live in a loft with completely white and neutral tones, and I'm in a white-on-white photography stage.  Coincidence?
Well, at least the salad has remained the same over the years.  It's literally overflowing with mixed greens, sliced chicken breasts, apple chips (the crunchy, not soft ones), gorgonzola…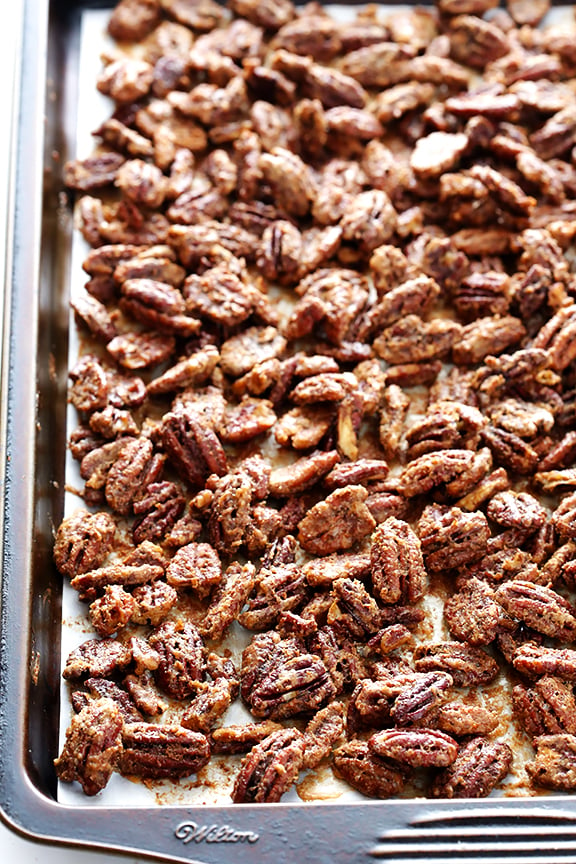 …and lots of those candied pecans I was talking about.
Then it's drizzled with a simple white balsamic vinaigrette.  (Although if you can't get your paws on white balsamic, traditional balsamic vinegar will also work well in the vinaigrette.)  Panera's version of the salad also includes tomatoes.  But I happen to prefer this salad without, so I left them out.
Just throw all of the ingredients in a bowl and give it a good toss.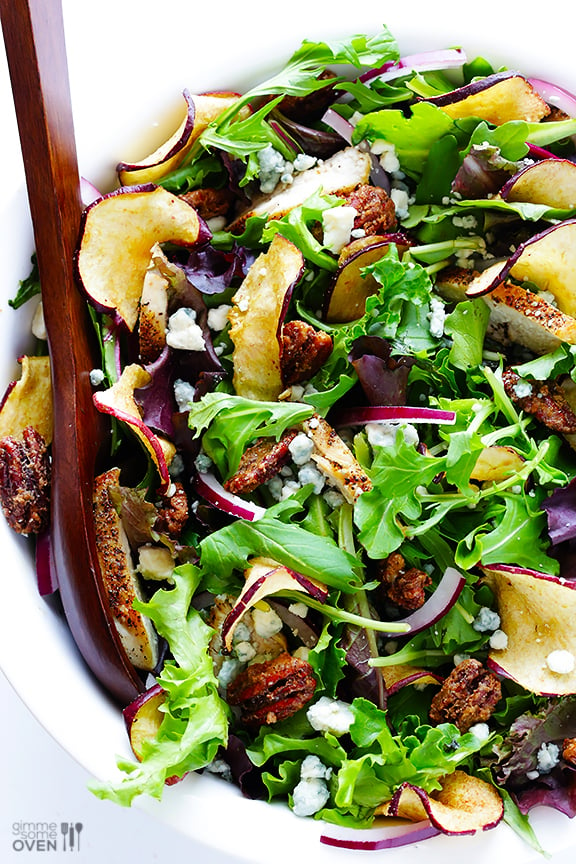 And then voila — a restaurant-quality salad is ready to go in the comfort of your own home.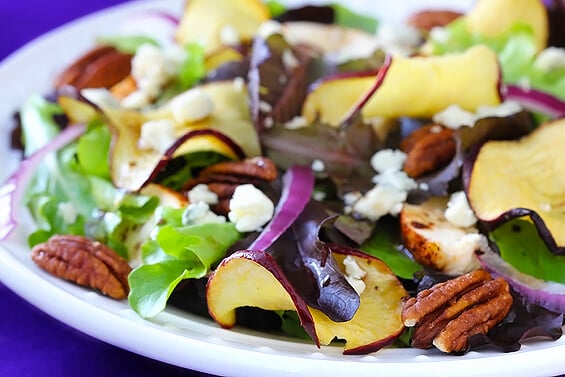 Thanks, Panera Bread, for the inspiration on this one.  It's a keeper!
Fuji Apple Chicken Salad (Panera Copycat)
This Fuji Apple Chicken Salad recipe was inspired by Panera Bread, but is simple and delicious to make at home.
Ingredients:
Salad Ingredients:
1 Tbsp. extra virgin olive oil
2 boneless, skinless chicken breasts
1 (10 oz.) bag mixed greens
quarter of a red onion, thinly sliced
2 cups apple chips
1 cup glazed pecans
1/2 cup gorgonzola cheese, crumbled
1 cup freshly-diced tomatoes (optional)
White Balsamic Vinaigrette Ingredients:
1/2 cup extra virgin olive oil
1/4 cup white balsamic vinegar
2-3 tablespoons honey
1/2 teaspoon sea salt
1/4 teaspoon freshly-cracked black pepper
1/8 teaspoon garlic powder
Directions:
To Make The Salad:
Preheat oven to 350 degrees F. Prepare a baking sheet with aluminum foil, then mist it with cooking spray or oil.
Brush chicken breasts with olive oil, then season with a pinch of salt and freshly ground black pepper. (Or you can add your favorite seasonings.) Place on prepared baking sheet, and cook for 20-30 minutes, or until internal temperature is 160 degrees and the juices run clear. Remove and let chicken cool for at least 10 minutes, then thinly slice or shred.
Toss the remaining salad ingredients together in a large bowl, and drizzle on your desired amount of vinaigrette. Toss and serve immediately.
To Make The Vinaigrette:
Whisk all ingredients together until blended.
If you make this recipe, be sure to snap a photo and hashtag it #gimmesomeoven. I'd love to see what you cook!