Favorite Apple Chicken Salad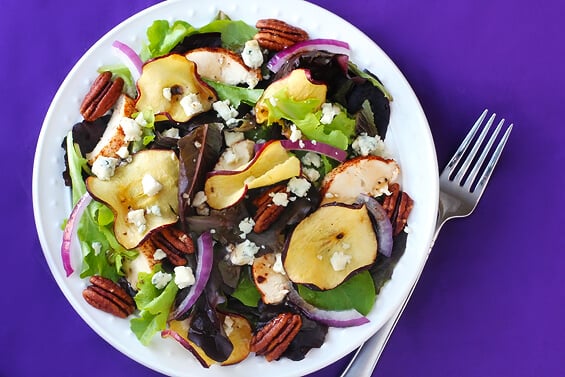 Remember what a terrible, horrible, no-good, very bad accusation it was when we were young to be a (gasp!)….copycat???
Well, in the world of home cooking and trying to live on a budget, I learned years ago that it pays — with budgeting and health — to figure out how to copycat my favorite restaurant recipes at home.  And it's often not that hard!
Case in point.  Panera Bread's® delicious and oh-so-popular "Fuji Apple Chicken Salad".
My office happens to be just down the street from a Panera.  And probably more often than I should, I find myself standing at their pickup line waiting for my soup and salad.  And of course, everyone is "ooohing" and "ahhhhing" as they watch everyone else's meals be prepared.  (Brilliant business model, yes?)  Sure enough, it always seems like every third person is ordering this salad.  And with good reason!  The combination of apple chips, grilled chicken, glazed pecans, red onions, tomatoes, gorgonzola, and a white balsamic vinaigrette on a bed of mixed greens is pretty much a guaranteed success.  I have always thought so!  (Well, minus the tomatoes.  I'm picky with my salads.)
Of course, once I realized I could make these at home with fresh ingredients year-round for a fraction of the price, this salad began gracing my table even more often!  So thought I'd share it with you.  Super simple.  Quite healthy.  Tastes wonderfully like the original.  Give it a go!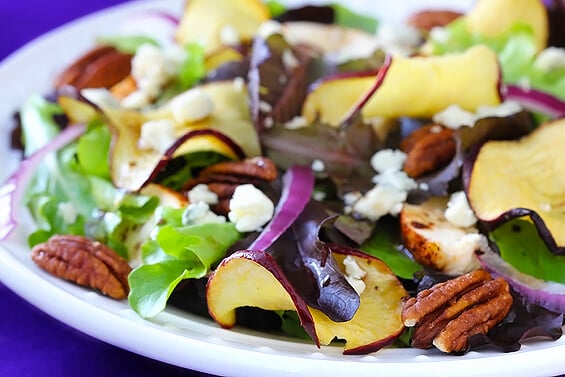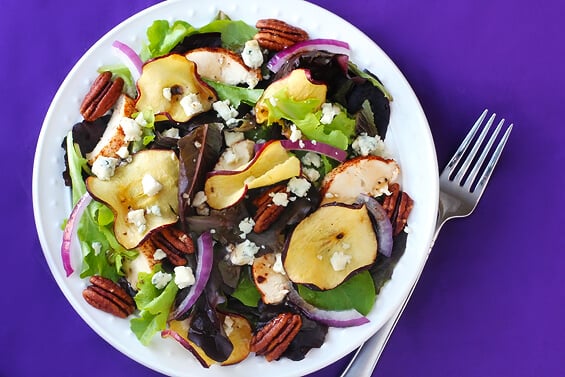 Favorite Apple Chicken Salad
You will love this quick and simple, yet delicious and crisp Favorite Apple Chicken Salad recipe! So healthy, and full of great flavor!
Ingredients:
Salad Ingredients:
1 Tbsp. olive oil
2 boneless, skinless chicken breasts
1 (10 oz.) bag mixed greens
quarter of a red onion, sliced thinly
2 cups apple chips
1 cup glazed pecans
1/2 cup gorgonzola cheese, crumbled
1 cup freshly-diced tomatoes (optional)
White Balsamic Vinaigrette Ingredients:
1/4 cup white balsamic vinegar (or regular balsamic vinegar)
1 Tbsp. minced garlic
1/2 tsp. salt
1/2 tsp. freshly-ground black pepper
3/4 cup olive oil
Directions:
To Make The Salad:
Preheat oven to 350 degrees F. Prepare a baking sheet with aluminum foil, then mist it with cooking spray or oil.
Brush chicken breasts with olive oil, then season with a pinch of salt and freshly ground black pepper. (Or you can add your favorite seasonings.) Place on prepared baking sheet, and cook for 20-30 minutes, or until internal temperature is 160 degrees and the juices run clear. Remove and let chicken cool for at least 10 minutes, then slice or shred.
Toss the remaining five ingredients together, then add your desired amount of vinaigrette. Toss and serve immediately.
***All ingredient amounts are approximate. I usually just toss in a little of this, a little of that.***
To Make The Vinaigrette:
Whisk all ingredients together until blended.
Ali's Tip:
You can take the time to prepare each of these ingredients "homemade"…..or take a few shortcuts.  When pressed for time, I'll often substitute in rotisserie chicken meat, storebought glazed pecans and apple chips.
Inspired by the "Fuji Apple Salad" from Panera Bread®.
All images and text ©
If you make this recipe, be sure to snap a photo and hashtag it #gimmesomeoven. I'd love to see what you cook!