My Favorite Things + iPad Giveaway
This post may contain affiliate links. Please read my disclosure policy.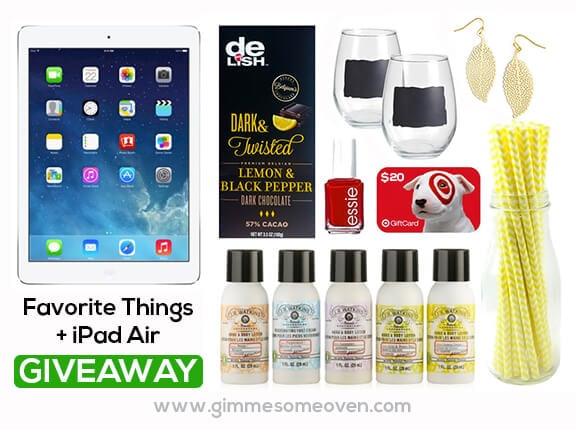 Raindrops on roses and whiskers on kittens…bright red nail polish and chalkboard wine glasses…a Target giftcard and a brand new iPad…these are a few of my favorite things…
And guess what?
This holiday season, I am giving them all away to one of you!!!
That's right. I am excited to be teaming up with 7 amazing bloggers for an epic "My Favorite Things" giveaway, in which all 7 of us are doing giveaway packages of our favorite things. And then we are also going to be giving away a brand new 16GB iPad Air! It's ho-ho-hopefully going to make for a very merry holiday for some lucky readers.
So read more to learn about my favorite things package, and enter for a chance to win them and an iPad air!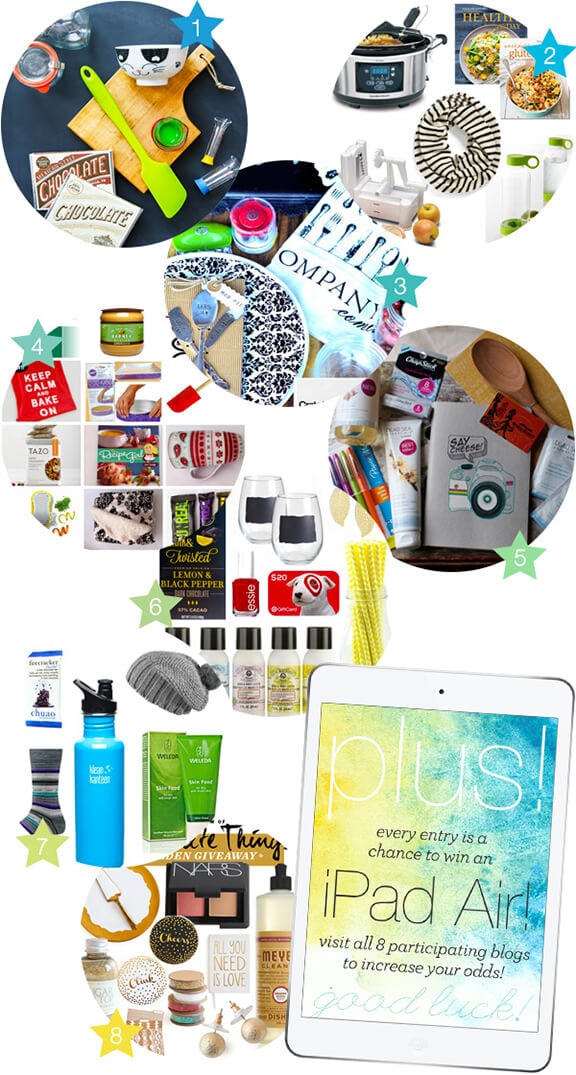 8 My Favorite Things Giveaways
Ok, first of all, did you catch that I am teaming up with 7 (seven!!) other bloggers on this mega giveaway? That's right! 8 of us food bloggers have created gift packages of their favorite things to share with you for giveaways, including:
1. Love & Olive Oil | 2. Skinnytaste | 3. Reluctant Entertainer | 4. RecipeGirl | 5. A Southern Fairytale | 6. Gimme Some Oven | 7. Mountain Mama Cooks | 8. FoodieCrush
Be sure to visit each of their sites to enter their specific giveaways and join in the fun. And each time you enter one of these food bloggers' giveaways (including mine!), you will automatically also be entered in a large group giveaway for a chance to win an iPad Air. (More about the iPad to come!)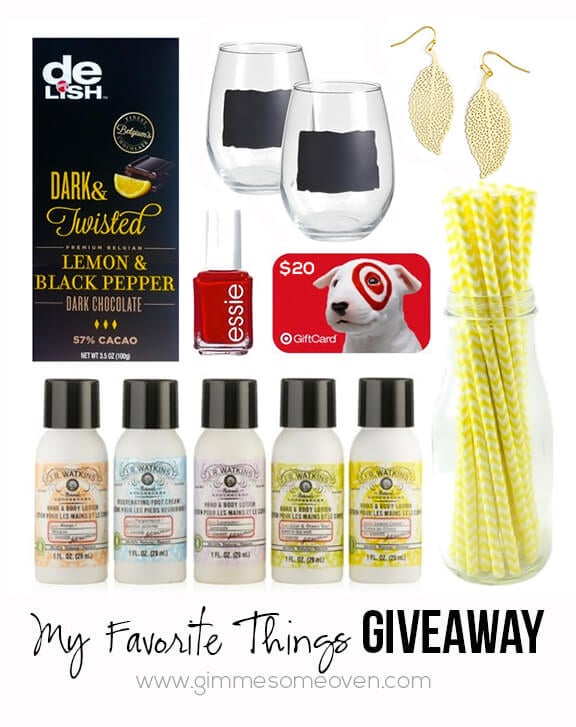 MY Favorite Things Giveaway
Starting from the top left and going clockwise to the center, here are a few of my favorite things that I'm giving away this Christmas. Hope you love them as much as I do!
1. DELISH Dark & Twisted Lemon & Black Pepper Dark Chocolate Bar: I know. The ingredient combination sounds suspicious, but trust me. This dark chocolate bar is going to rock your world. The bright citrus and spicy black pepper flavors are subtle, but present just enough to raise your eyebrows, and then have you instantly diving in for a second bite. I'm not even a huge chocolate lover, but I will ask for second and third bites of this bar in a heartbeat!
2. Chalk Note Wine Glasses: These chalkboard wine glasses from Pier 1 are a favorite in my house, and have also become my go-to wedding gift present. Everyone I know absolutely adores them. And they also are awesome to use with entertaining — either for writing names or cute notes on the wine glasses, or even to use them for serving utensils or straws and such. (I almost always put some out labeled "forks" and "spoons" when I have a happy hour at my place.)  Love them!
3. Lightweight Gold Leaf Earrings: I found these adorable earrings months ago on the $5 jewelry rack at World Market (my total weakness), and I now wear them literally multiple times a week. These adorable (and truly lightweight) earrings seem to go with everything and always get so many compliments! And for such a reasonable price tag, there's no reason not to pick up a pair or two for some friends this holiday season.
4. Yellow Chevron Paper Straws: Ok, I know that the paper straw fad may be overhyped, but you've gotta admit — they always seem to make drinks a little extra delightful. :)  My current favorite design is this yellow chevron pattern, which seems to go with everything. Cute, classy, and so fun!
5. J.R. Watkins Lotion Devotion Kit: Is anyone else in love with these yummy lotions? Well, if you have tried them, or if you're new to the line, I am giving away an entire sampler kit of lotions. They are the perfect way to keep your skin soft and hydrated this winter. And the delicious scents will make your day a little lovelier to boot. The kit includes:
Aloe & Green Tea Hand & Body Lotion
Lavender Hand & Body Lotion
Lemon Cream Hand & Body Lotion
Mango Hand & Body Lotion
Rejuvenating Foot Cream
Signature J.R. Watkins Pouch
6. Essie Forever Yummy Nail Polish: Every girl needs a good red, and this one is my favorite right now. It goes with everything, and will definitely add a festive touch for all of those holiday parties.
7. $20 Target Giftcard: For all of those times when you walk in with 5 things on your list and walk out with 10, this card will at least help with some of the difference. ;)  Enjoy!!!
iPad Air Givaway
As if all of these cool "My Favorite Things" giveaways weren't enough, all 8 of us bloggers are teaming together to also give one of our lucky readers a brand new iPad Air!!! This brand new version of the iPad is super lightweight, and comes with 16GB of storage to watch videos, listen to music, and pin yummy recipes to your heart's content. Read below for instructions on how to enter.
HOW TO ENTER The Giveaways
Alright, this may sound complicated, but it's actually really simple. Here are the steps to enter the giveaways:
Enter to win my "My Favorite Things" giveaway using the giveaway Rafflecopter widget below, and by doing so, you will ALSO be automatically entered in an iPad Air giveaway.
Visit the other 7 bloggers' websites and enter their "My Favorite Things" giveaways, and earn an additional iPad Air giveaway entry per giveaway that you enter. (So if you entered just my giveaway, you have one entry for the iPad giveaway. If you enter all 8, you will have 8 entries for the iPad giveaway.)
Best of luck, and I wish you all a very merry holiday season!!!
Be sure to also check out these other great giveaways happening right now on Gimme Some Oven!
Disclaimer: This giveaway is sponsored by myself, and the other bloggers who are part of the "My Favorite Things" giveaways. It is my holiday gift to show my thanks to all of you for following the blog. I'm really grateful for you!