Feel-Good Pineapple Smoothie
You would think that after 7 years of food blogging, I'd have this naming-my-recipes-thing down.  But once again, you loyal Facebook friends out there reminded me that asking for input is always a good thing.  ;)
I was an inch away from calling this an Anti-Inflammatory Pineapple Smoothie, since some of the ingredients are linked to anti-inflammatory benefits, and I thought sounded awesome.  And then I thought about just calling it a Pineapple Turmeric Smoothie, since those are the two ingredients that seem to stand out the most to me in this one.  But then I couldn't decide, so I popped onto Facebook and asked people to vote on those two options, and then randomly threw in a third (because who doesn't love a good three-option multiple-choice?!).  And lo and behold, guess which option everyone voted for by a landslide?
Feel-Good Pineapple Smoothie it is!
Haha, totally works for me, because this is definitely a recipe you can feel good about.  It's a riff on my favorite pineapple ginger smoothie recipe that I make regularly.  Although this version is kicked up a notch with the addition of some turmeric, which happen to be topping the food trends charts this year.  And it also just so happens to pair well with all of the sweet flavors in this recipe.
So let's make a smoothie you we can feel good about!  ;)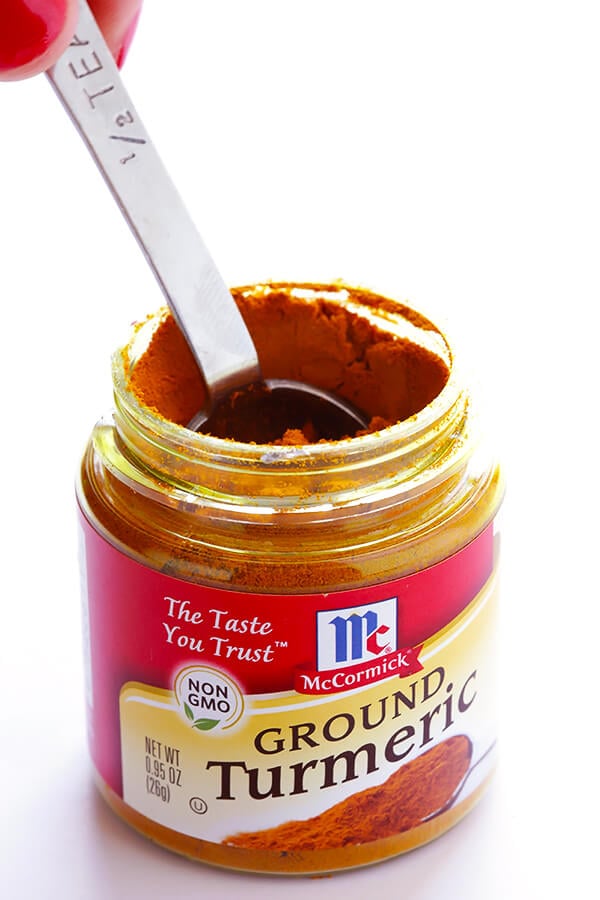 As I mentioned, the rockstar ingredient in this one is indeed a hefty teaspoon of ground turmeric.  I spoke about its potential health benefits awhile back in my post on golden (turmeric) milk, which I also highly recommend checking out.  But if you're unfamiliar with it, it's a popular spice that's most commonly used in curries, and has a nice warm, earthy, peppery, and slightly bitter flavor.  I love how it pairs with the pineapple, orange, ginger, coconut water and chia seeds in this recipe, each of which also happen to be known for their strong anti-inflammatory benefits.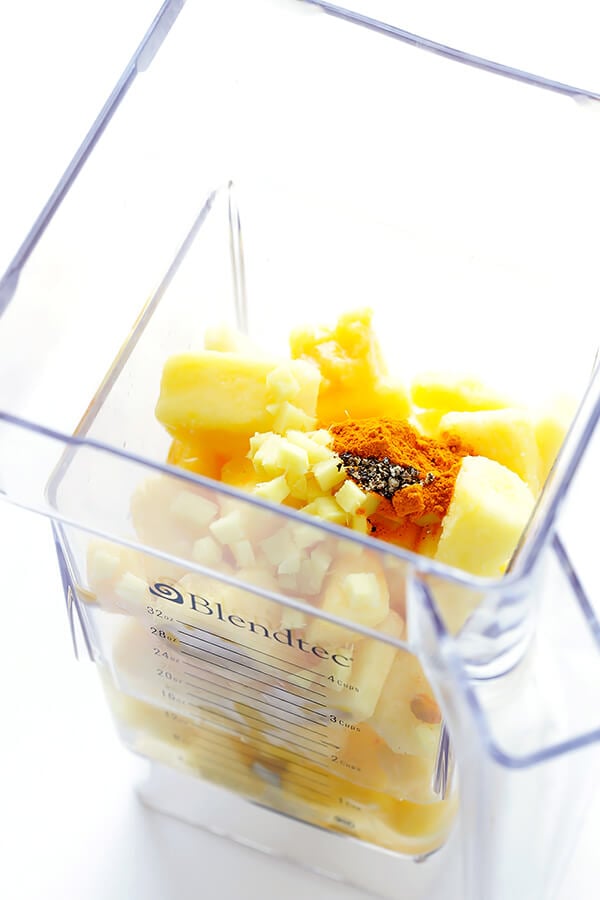 So to make the smoothie, simply add all of your ingredients together in a blender.  (And if you're new to eating turmeric, I might recommend starting with a 1/2 teaspoon of the ground turmeric, and then adding more as you like to taste.)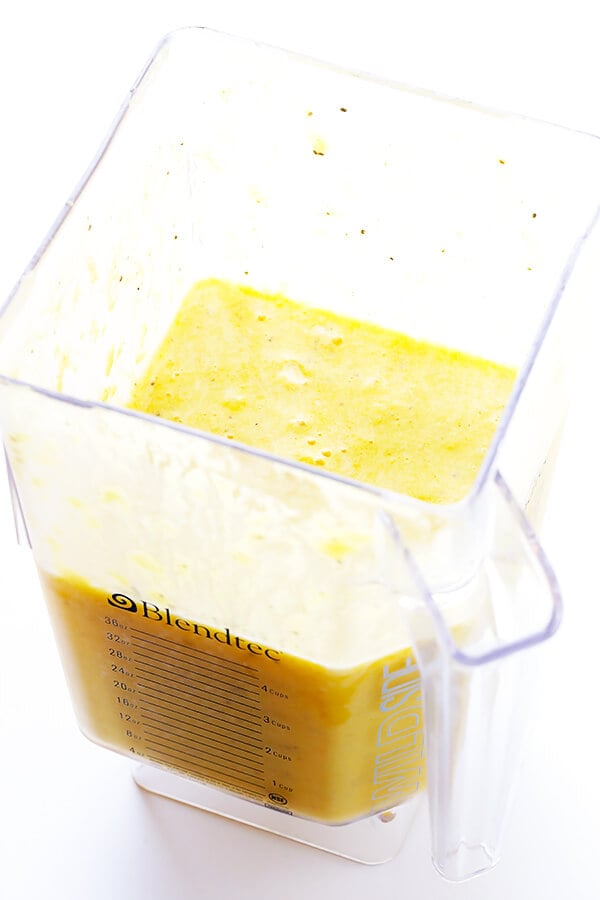 Puree it until smooth.  (And oh, I should also mention that I recommend being very careful not to spill any of this smoothie on your countertops or anything that might stain.  Turmeric will definitely leave a mark!)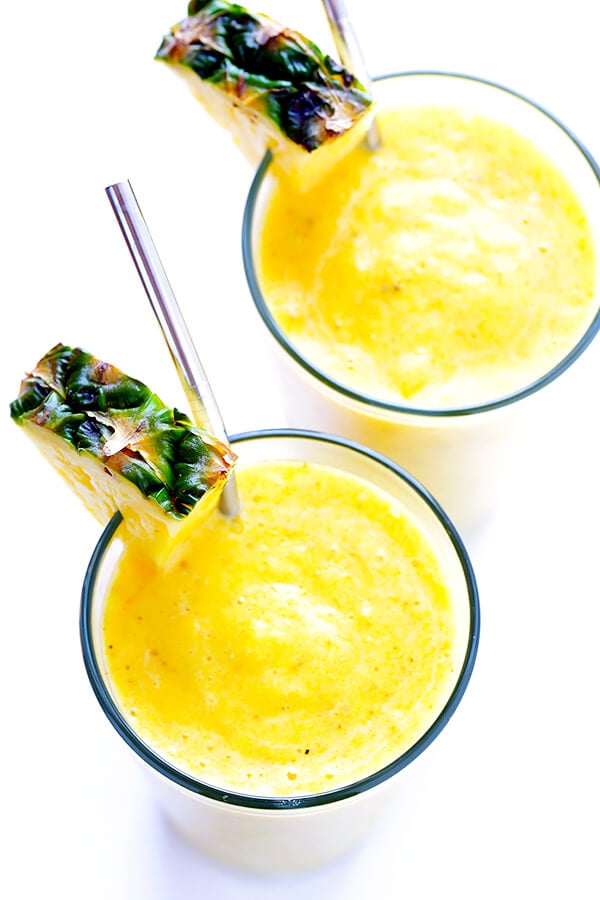 Then serve it up and enjoy!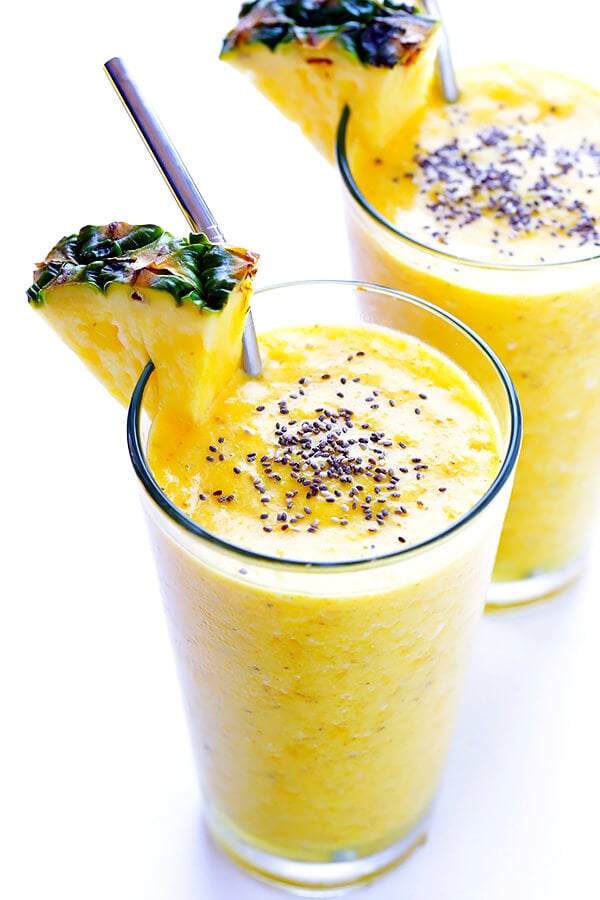 I sprinkled mine with a few extra chia seeds, and also garnished with some extra pineapple I had on hand to make this feel like a nice, beachy treat.  ;)  But however you serve it, I think you're going to love it!  It's naturally a very sweet smoothie, thanks to all of that pineapple and orange.  And the coconut water in there is also what I like to call "nature's sports drink", being chock-full of electrolytes.  And the ginger and turmeric combine to give it a nice somewhat-savory kick that I really enjoyed.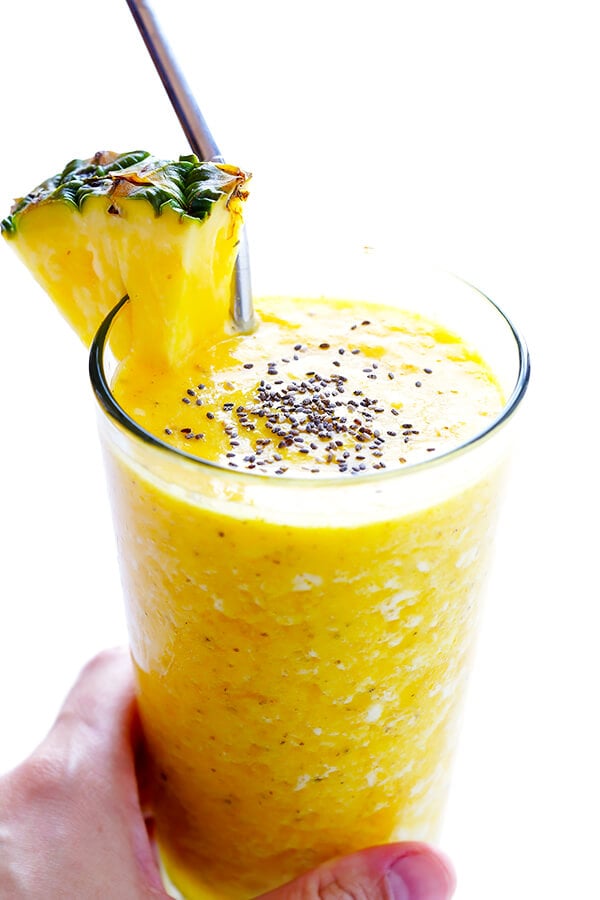 So if you're looking for another way to add some turmeric to your diet, I highly recommend giving this one a try.  I "feel good" that you're going to like this one.  ;)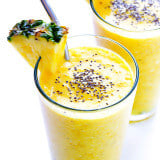 Feel-Good Pineapple Smoothie
This Feel-Good Pineapple Smoothie recipe is made of a delicious mix of ingredients that also have anti-inflammatory benefits.
Ingredients:
Directions:
Add all ingredients to a blender.  Pulse until smooth.
Serve immediately, garnished with extra chia seeds if desired.
*I made a double batch of this smoothie recipe for the photos in this post.
All images and text ©
If you make this recipe, be sure to snap a photo and hashtag it #gimmesomeoven. I'd love to see what you cook!
This post is sponsored by McCormick.  I use their spices regularly in my kitchen, and am happy to be partnering with them for this post.  Thanks for supporting the brands I love who help make this site possible!