Sundance Film Festival 2014: Day 1 (Whiplash and Lilting)
This post may contain affiliate links. Please read my disclosure policy.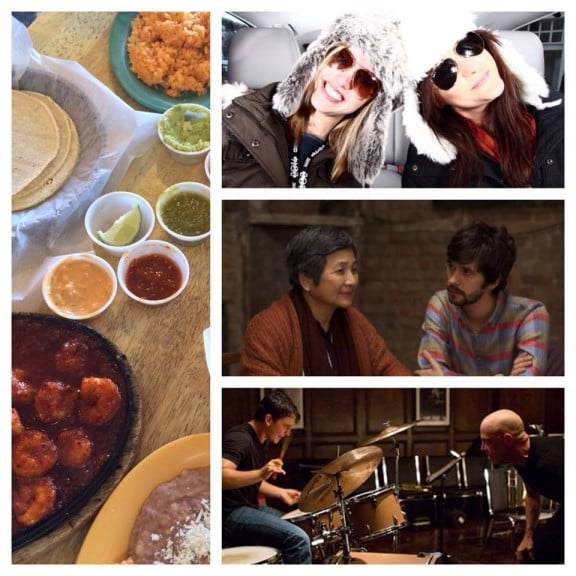 Gimme Some Blogs made it to Park City, Utah!
Ali and I picked up our Sundance Film Festival 2014 press credentials; puzzled out the shuttle system;  met the producer of one of the buzziest titles of the year (Effie Brown with Dear White People) and found out she's invited to be a juror at our own KC Film Fest this spring on said shuttle; strolled Main Street; noted locations for free tea/WiFi/veggie burgers/etc; ate some fantastic Mexican food; tried to get into the wait-list line to see the public premiere of Whiplash but were too late (but we did see Miles Teller make his big entrance to the theatre); and then figured out how the press & industry screenings go down. Oh, yeah, and we saw two films.
So join us for the adventure! I will be posting daily film capsule reviews, and Ali will be sharing about what we ate. If you have any recommendations for our time in Park City, be sure to share those in the comments below too.
Without further ado, here's the update from Day 1:
What We Saw:
Miles Teller and J.K. Simmons in Damien Chazelle's Whiplash.
Whiplash
Director &  Screenwriter: Damien Chazelle  Starring: Miles Teller, J.K. Simmons
This character study of two musicians obsessed with greatness took a while to find its footing but delivered in the end. Miles Teller (The Spectacular Now) plays Andrew, a college freshman who (literally) bleeds for jazz. He wants to be "one of the greats," and he thinks jazz teacher Fletcher (a muscular and terrifying J.K. Simmons) can get him there.
Fletcher's dream is to launch the next Charlie Parker (or Buddy Rich, in Andrew's case), and he uses a combination of fear, humiliation, and manufactured competition to push his students beyond their limits. Teller is startlingly good, managing to make Andrew's drive, conflicting emotions and prodigy-level drumming completely believable. The music, especially the final number, was engrossing and well done. The only hey-wait-a-minute-moment was when Fletcher tells his top ensemble students to pick up the charts to Duke Ellington's "Caravan" for their next practice…maybe I'm wrong here, but I thought "Caravan" was required learning for jazz musicians early on. Wouldn't that be in their repertoire already? Jazz people, weigh in here. I need to do some research to see how much of the drumming was actually Teller; there were many shots that would've been extremely hard to fake, so the kid must have had training. I'll report back tomorrow! The film's editing style was a little distracting to me – lots of quick-cut close-ups of scene details – but maybe that was all in service to the "whiplash" theme. The blood-and-sweat-on-the-cymbals visuals were a little over-played as well, but they got the point across. Drumming is hard! Being great is hard! And speaking of great, the ending really is. It's very hard to craft a satisfying film finale; writer/director Damien Chazelle gets major props for pulling this one off.
Lilting:
Director & Screenwriter: Hong Khaou  Starring: Ben Whishaw, Pei-Pei Cheng, Andrew Leung
Quiet and searching, Lilting is the love story of a recently deceased man, his boyfriend, and his mother. Told through flashbacks, fantasies, interpreted conversations, and many tears, Lilting looks at the power given to things unsaid. (Or left un-translated.) Ben Whishaw (the boyfriend) is heart-wrenching as he works through his grief and tries to honor both his dead lover and his lover's mother. Pei-Pei Cheng (the mother) is simply a force, making her meaning so clear, we often knew what she was saying without the translation. Despite the strength of the acting, and several frankly funny moments that had the audience chuckling, the film's pacing was a little too elegiac, even for the subject matter. A tighter edit could've made the film's emotion stronger.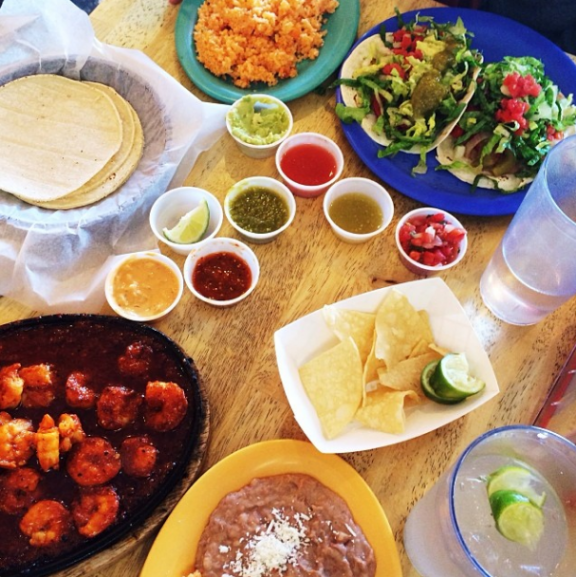 What We Ate:
We had been warned before arriving that dining out in Park City during Sundance can be a bit of a challenge, especially during the first weekend when the crowds are in full force. So thankfully, Sarah arrived with a backpack full of trail mix and goodies for us to snack on if we got caught without a meal (a good tip for any of you future Sundancers!), which came in handy when we missed dinner tonight. But we had time to spare on today over the lunch hour, so we decided to take Kelley's recommendation and visit the "best" Mexican food in Park City — El Chubasco.
Let's just say that I'm already planning a second trip back there before I leave. We loved this place!!
First of all, I love a good salsa bar, so I knew it was a good sign when we walked in and were immediately greeted by salsas, cremas, fresh limes, and other toppings galore. (I recommend the creamy chipotle salsa — so addictive!)  But at least for me, the entree was what stole the show. I ordered the camarones a la diablo after seeing the sizzling shrimp being served to another customer, which I assumed would be tasty. But I was not prepared for how outstanding the sauce would be. I don't know what combination of peppers they used in that spicy tomato sauce, but it was basically magical and I could not stop eating it. So good! Sarah is vegan and ordered the veggie tacos with a side of guac, which she said were also great. And then of course, we made multiple trips back to the salsa bar for more salsas to sample with the chips that come free with each meal. My kind of Mexican food.
Unfortunately, we ended up getting caught waiting in lines and racing down Main Street to catch a premiere over the dinner hour, so not much to report there. But hey — at least it justified eating every last bite of that shrimp over lunch, right? ;)
More to come tomorrow! Stay tuned and follow us with the hashtag #gimmesomesundance!