Sundance Film Festival 2014: Day 2 (Kristen Stewart in Camp X-Ray)
This post may contain affiliate links. Please read my disclosure policy.

Hey everyone! Ali here, with an update on Day 2 of our adventure at the 2014 Sundance Film Festival.
We began the day with a plan to see 3-4 films, and ended up seeing a grand total of…1 film. The festival has been trying out a new mobile wait list plan this year, and we literally had our thumbs ready to push the buttons the second those wait lists opened for each film. But apparently hundreds of other people had the same idea, which is great for the festival, but didn't end up making for a full day of movie-going.
Still, we did score majorly with the one film we did get to see, and got to sit on the front row during the panel afterwards with the cast and crew, including Kristen Stewart. (Whose name, we learned, is apparently the secret key to getting any tweets retweeted a zillion times.)  We also had the chance to try out a few new restaurants in Park City, spend more time exploring the town, stop by a few parties. We even got to meet the star of "Whiplash", Miles Teller, and chat briefly about all things drumming, jazz, and the fact that he likes the name of this blog. :)
It wasn't the Day 2 that we had planned, but I'd say it turned into a good one. Read on for Sarah's film review and my take on what we ate.
What We Saw
Camp X-Ray
Director & Screenwriter: Peter Sattler  Starring: Kristen Stewart, Payman Maadi
Camp X-Ray is an ambitious first feature by Peter Sattler with a gutsy performance by Kristen Stewart. Sattler hides big topics—Guantanamo Bay and moral surety (are you sure you're one of the good guys?)—in small conversations between a green Gitmo guard (Kristen Stewart) and a talkative detainee (Payman Maadi of A Separation fame) who's been locked up for eight years. This is not a sweeping political epic or a star-crossed love story. It's a collection of moments between two very different people, some brutal, some beautiful, that add up to an unlikely friendship in a horrific place. Sattler appropriately called it "a small story about big things," during the post-premiere Q&A.
Stewart does a fine job crafting soldier Cole's hard shell…and letting it break at just the right times. Maadi is riveting as Ali, a man struggling to hold onto his dignity any way he can. Neither is a saint, but they struggle together toward something that looks a lot like good. It's a human, everyday kind story. It mumbles a little, sometimes. Its running Harry Potter jokes are neither timely nor cool, just like most of real life. (Which made them all the more charming to me.) The climax was intimate in scale (no worlds hung in the balance) yet had deep moral implications for both characters. Again, just like in real life. Yes, in some places, the conversations go on too long. And I would've liked to have seen a little more of what motivated Cole to start opening up to Ali; perhaps that was clearer in some of the hundreds of scenes Sattler said he wrote that weren't shot. But overall, I was moved by both the film's intent and its sincere execution.
What We Ate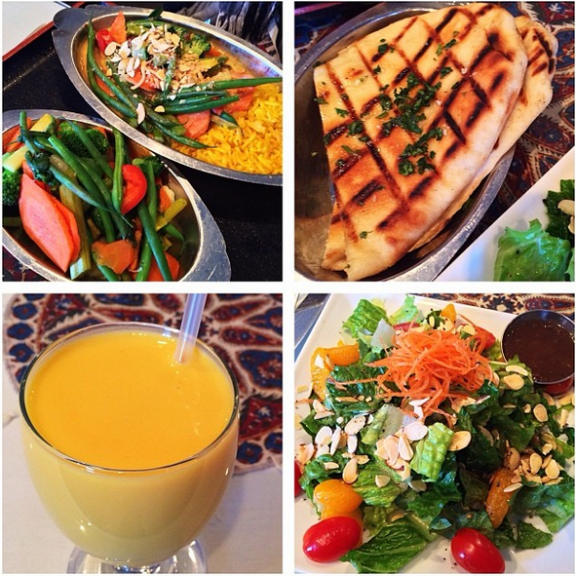 The one upside to missing a few movies today was that we had extra time to eat! So we had the chance to explore a few more Park City favorites today, including:
Casa de Kelley: Ok, sorry, the rest of you will have to tune into Kelley's blog to try her great food. But we began the morning with a quick bowl of homemade granola at Kelley's (where we're staying) before hitting the road, and boy was it good. This girl knows her granola. Stay tuned for the recipe to pop up on her blog soon!
Good Karma: This Indian restaurant came recommended to us by the Sundance staff at the media center. And since it was a block away (although Siiri steered us wrong, giving us a nice, snowy walk around the block), we decided to give it a try after our afternoon screening. I'm allergic to curry, so I played it safe with a simple mandarin salad (meh) and garlic na'an (better). But my favorite part was without a doubt the mango lassi for dessert — so tasty! Sarah went with the vegetable korma, which she noted seemed unusually mild (also a little "meh"). But she was thrilled when they listed a vegan rice pudding on the dessert menu, topped with pomegranate seeds, which I also sampled and loved.
Squatters Roadhouse Grill: For dinner, we ended up going on impulse to the closest nearby restaurant that a hotel clerk recommended — Squatters Roadhouse Grill. We walked in around dinnertime and somehow miraculously were given one of the last tables in the place without having to wait, which was amazing. We ordered some of their specialty brews — an apricot hefeweizen (me) and a pumpkin ale (Sarah) — which we agreed were decent, although not our favorite. Then Sarah ordered hummus, which came with big piles of tasty roasted red peppers, olives, and pita. And I ordered jambalaya, which followed our lunch trend of being unusually bland and was just so-so. Probably not the best decision to order jambalaya at a grill, but it came highly recommended by the menu and our waitress. If I go back, I would definitely order more pub food or burgers, including the beer pretzels that we saw on the table next to us. Now those looked amazing.
Stay tuned for more tomorrow at #gimmesomesundance!