Sundance Film Festival: Day 3 (God's Pocket and Wish I Was Here)
This post may contain affiliate links. Please read my disclosure policy.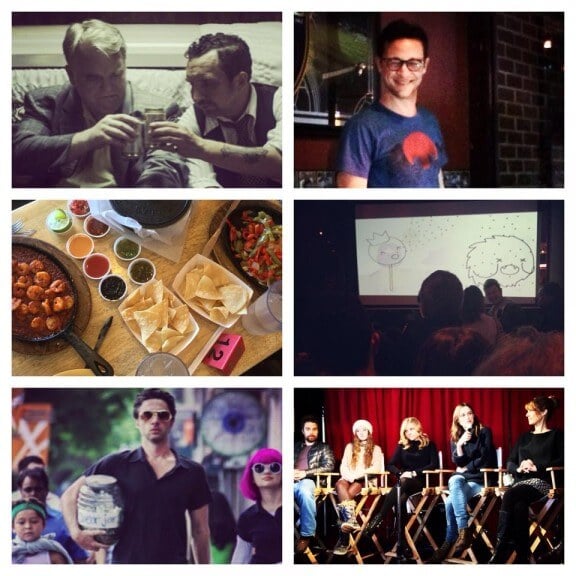 Sarah here with a report on our third day in Park City. We're getting better at navigating the town, timing our shuttle trips, and making up new plans on the fly. Highlights of today:
Read on for the details about what we saw and ate…
What We Saw
Wish I Was Here
Director: Zach Braff  Screenwriters: Zach Braff, Adam Braff  Starring: Zach Braff, Kate Hudson, Mandy Patinkin, Josh Gad, Ashley Greene, Joey King
Wish I Was Here is Zach Braff's crowd-funded, decade-later directorial follow-up to Garden State. It aims to be one of my favorite kinds of films: Small-scale, funny dramas about people trying to do their best. (That should be a Netflix meta-data category.) And, man, did it ever deliver. Written by Zach and his brother, Adam, the film follows Aiden (Braff), a wise-cracking, day-dreaming dad in need of an epiphany. His crises are common-place but emotionally compelling: His dad (Mandy Patinkin) is sick, he can't afford to send his kids (Joey King and Pierce Gagnon) to private school anymore, his acting career is stalled, and his wife (Kate Hudson) secretly hates her put-the-food-on-the-table job. He's also not sure what he believes, and his struggle with questions of God and faith and meaning deepens and distinguishes this comedy-drama. The script is quotable and itself quotes liberally (from T.S. Eliot, Robert Frost, and more). The editing is invisible in the best way. Braff balances the laughs and the pathos expertly. The acting is natural and heartfelt. Confession: I teared up. Multiple times. Yep, Wish I Was Here is my current Favorite of the Fest.
God's Pocket
Director: John Slattery  Screenwriters: John Slattery, Alex Metcalf  Starring: Philip Seymour Hoffman, Richard Jenkins, Christina Hendricks, John Turturro
In contrast, God's Pocket is one of my least favorite kinds of films: Men doing stupid things for no reason; subcategory: forced gritty tone. I got the feeling that Slattery cared less about telling us a story than convincing us that he was good director. The film tried too hard to establish its tone and didn't try hard enough to build complexity in its characters, drive momentum in the story, or develop a consistent theme. There were several really great dark comedy moments, and a number of visually exciting scenes, but the film was weighed down under its own misdirected ambitions.
What We Ate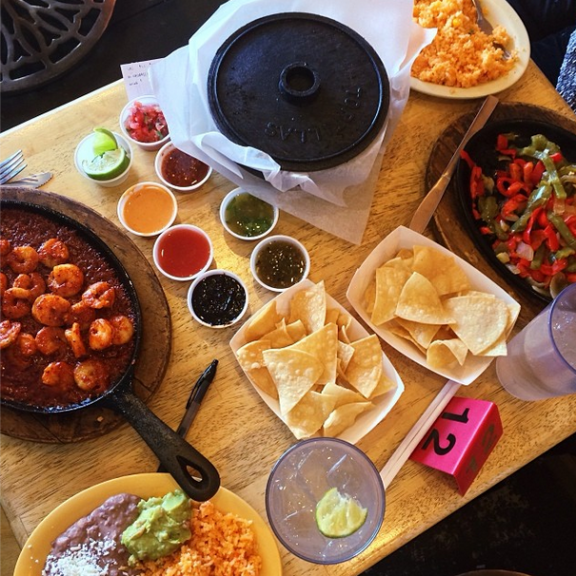 Today's menu was a bit of a dream come true for me – Mexican and Mexican! We were hoping to try a new restaurant on Main St for lunch, but we ran into a 2-hour wait at one restaurant and lines out the door at the next. C'est la vie with such a huge festival in a small town, we're learning. So we decided to pop back to our (2-day) ol' favorite for lunch, which was good and speedy. Afterwards, we hit up the Southwest Airlines party, which had an incredible array of sushi, apps, drinks and desserts. So by the time dinner rolled around, we weren't too hungry. Google told us that another Mexican restaurant was nearby, though, so we popped in for margaritas and more chips and salsa. Here's a more detailed rundown of what we ate:
Description: A casual Mexican restaurant in a strip mall, with walk-up ordering and sit-down dining, complete with a large salsa bar
Thumbs Up: salsa bar (especially the charred salsa verde), speedy service, inexpensive prices, generous portions, and kind staff
Thumbs Down: semi-squished seating, not many vegan options, and no margaritas
Ali Ate: Camarones a la Diablo (Spicy Shrimp), and absolutely loved it. The red sauce with the shrimp is outstanding, and the rice, beans and guac were tasty as well
Sarah Ate: Veggie Fajitas, and thought they were good but wished that the beans were vegan so that the meal would be more than veggies and carbs
Description: Another casual Mexican restaurant in a strip mall, with seated dining and ordering, also complete with a (smaller) salsa bar.
Thumbs Up: fast service, comfortable seating, good thick chips and salsa
Thumbs Down: so-so margaritas, closing at 9pm
Ali & Sarah Ate: Margarita on the rocks (Sarah liked it, Ali thought it was just "ok"), chips and salsa (great, especially the tomatillo and molcajete salsas), bean toastada (nothing fancy, but good for what it was).
Continue to follow along tomorrow at #gimmesomesundance. Cheers to you from Park City!